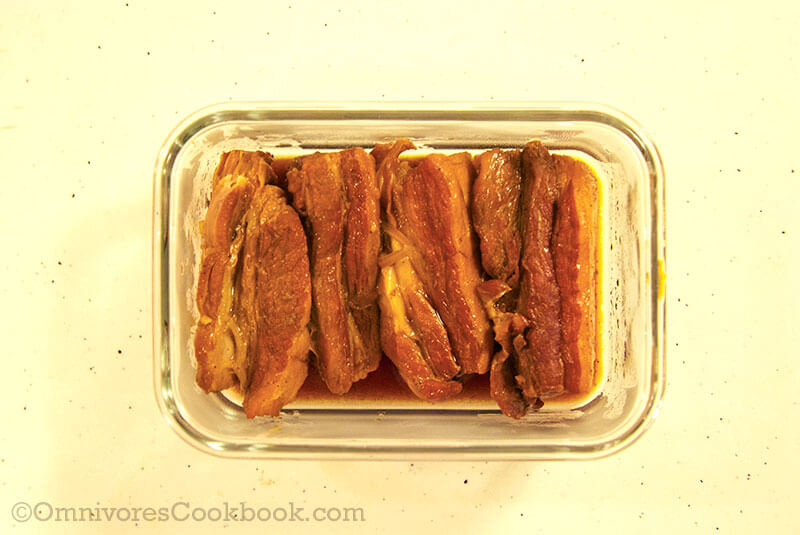 I will post series of ramen (Japanese noodles) making for the next few days. The publishing schedule is as below: Chapter 1 … Chashu (braise pork belly) Chapter 2 … Marinated Eggs Chapter 3 … Pork Stork Chapter 4 … Tonkotsu Ramen Ramen is such a simple dish at first glance, but it takes hours to prepare. I will post the steps separately because it's so time consuming and you will want to prepare them beforehand. Plus, either chashu or pork stock is good ingredient that could be utilized in various dishes. It's a good idea to make several batches and store for later use. I used Nami's homemade chashu recipe preparing chashu. I didn't realize how convenient they are, until I finished cooking. The pork tastes so tender and flavor is rich but not overwhelming. You can use it making fried rice, topping of pizza, Chinese fried noodles, or mix with green salad. I highly recommend freeze the chashu chunks separately in freezer. They'll become very handy whenever you want a quick stir fried rice or noodles. Please be noted: A stove-top high pressure cooker is used in this recipe to reduce cooking time. It could be replaced by a dutch oven, meanwhile the cooking time will be doubled or tripled. Also, add more water till cover the pork in step 2, since liquid reduces a lot braising by dutch oven.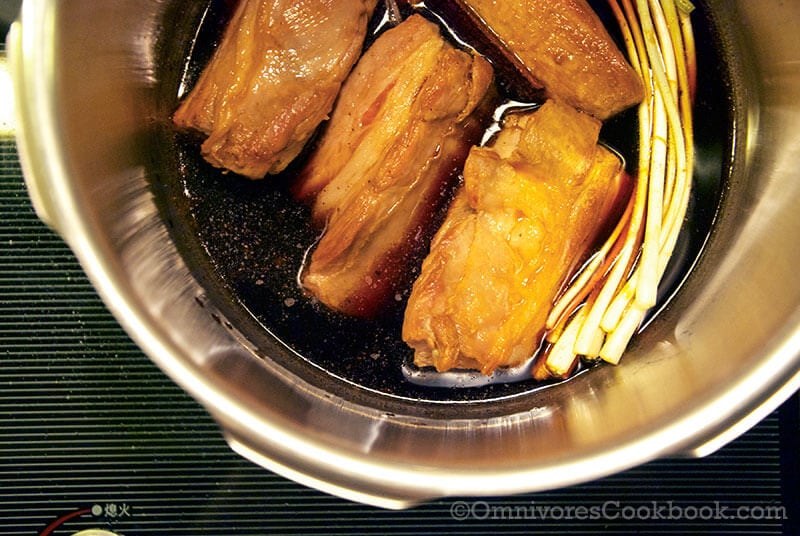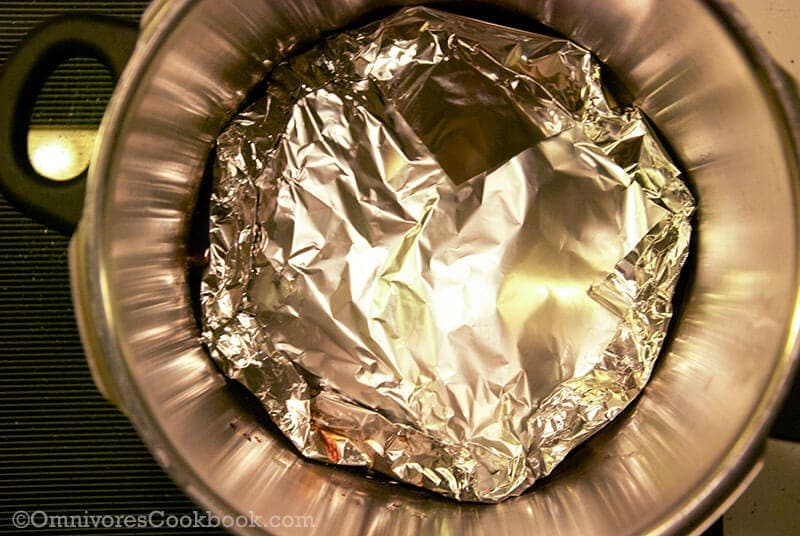 Want to Know More?
Receive our 5-Day Chinese Cooking Crash Course & Recipe Updates! Subscribe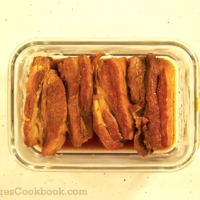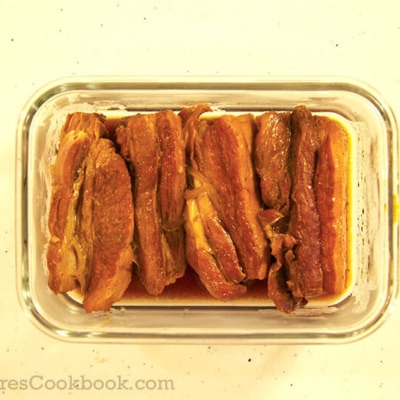 Chashu (Braised Pork Belly)
This recipe requires stove-top high pressure cooker
Ingredients
500

grams

pork belly

rind removed, cut into 2 to 4 pieces in order to fill in cooker

2

teaspoons

salt

1

tablespoon

vegetable oil

1

thumb ginger

sliced (3cm in length, 1cm in diameter)

4-5

green onion

white part (or 1 stalk scallion)

150

ml

water

100

ml

Chinese cooking wine

100

ml

soy sauce

3

tablespoons

sugar

1/4

teaspoon

nutmeg

1/2

piece

of cinnamon stick

5cm in length, 1.5cm in width
Instructions
Rub the pork belly with salt. Heat oil in a non-sticky skillet with medium high heat, add pork belly and brown each side till turning golden.

Add pork and the rest of ingredients in pressure cooker. Place

drop lid

on the pork. Lock the lid on pressure cooker, cook on medium high heat till pressure turned high, immediately turn the heat to lowest. Simmer for 20 minutes. Turn off heat and release pressure by

nature release method

, in about 20 minutes.

Put pork into a plate to cool down before cutting. The pork will taste better if making beforehand and let the flavor settle down for overnight.
Notes
After the pork totally cooled down, put each chunk of pork in separate ziploc and store in freezer up to 1 month.