Make the best Thai fish cakes with a springy and silky texture without running to an Asian market.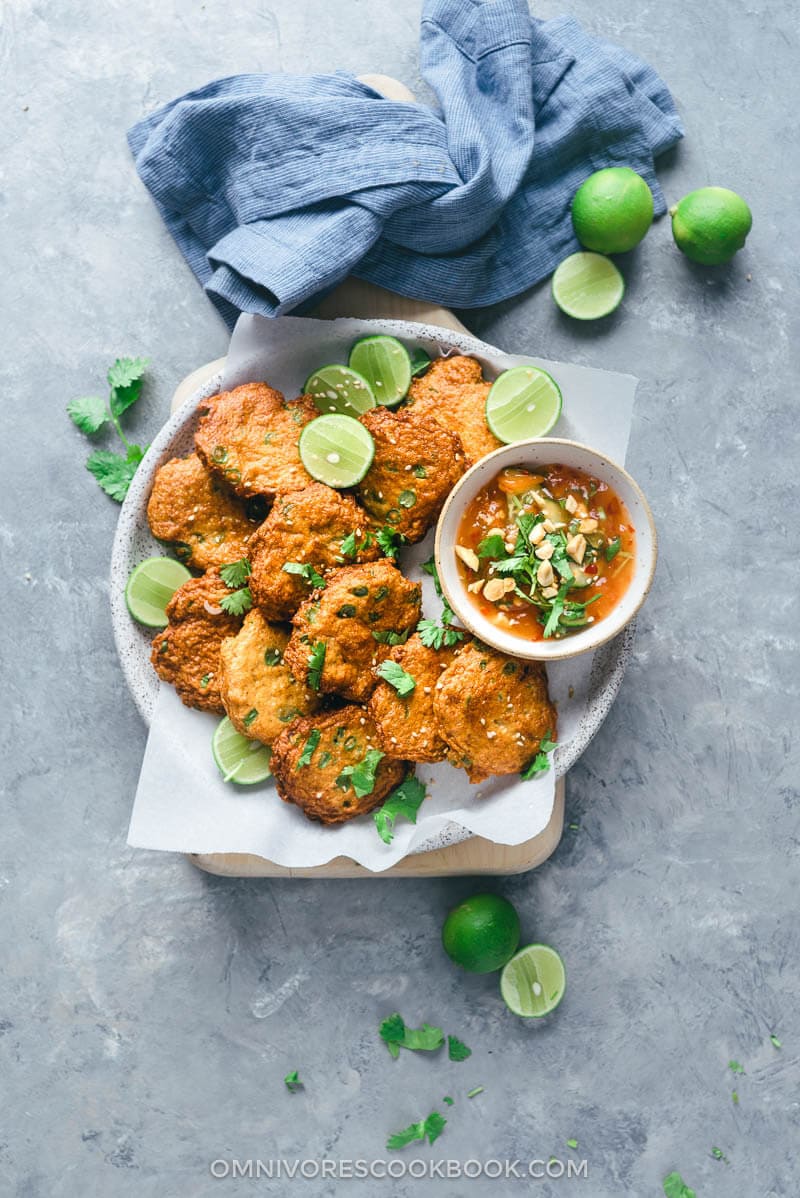 Lately we've been obsessed with these fish cakes. Here are three reasons you should try them out:
You can create that smooth and springy texture with normal white fish fillets from a normal grocery store. No need to run to an Asian store to get fish paste.
It's super easy to prepare the fish paste, with 5 minutes and a spin in the food processor.
These fish cakes are decadent enough to serve as a main.
Back in 2014 when I had just started this blog, I posted a Chinese fish cake recipe right here. I bought the freshest fish I could find. And I used a cleaver to chop the fish for 20 minutes to make the fish paste (I was living in China and did not own a food processor). The result was a mediocre fish cake with a grainy texture. I firmly believed that the sad results were caused by the fish I used. In Hong Kong and Macau, where I had some of the best fish cakes ever, they always used live, whole fish. To create the springy fish cake, they would baton the paste with wooden sticks for 30 minutes.
I thought it was a process that would be impossible to recreate at home.
I was dead wrong about that.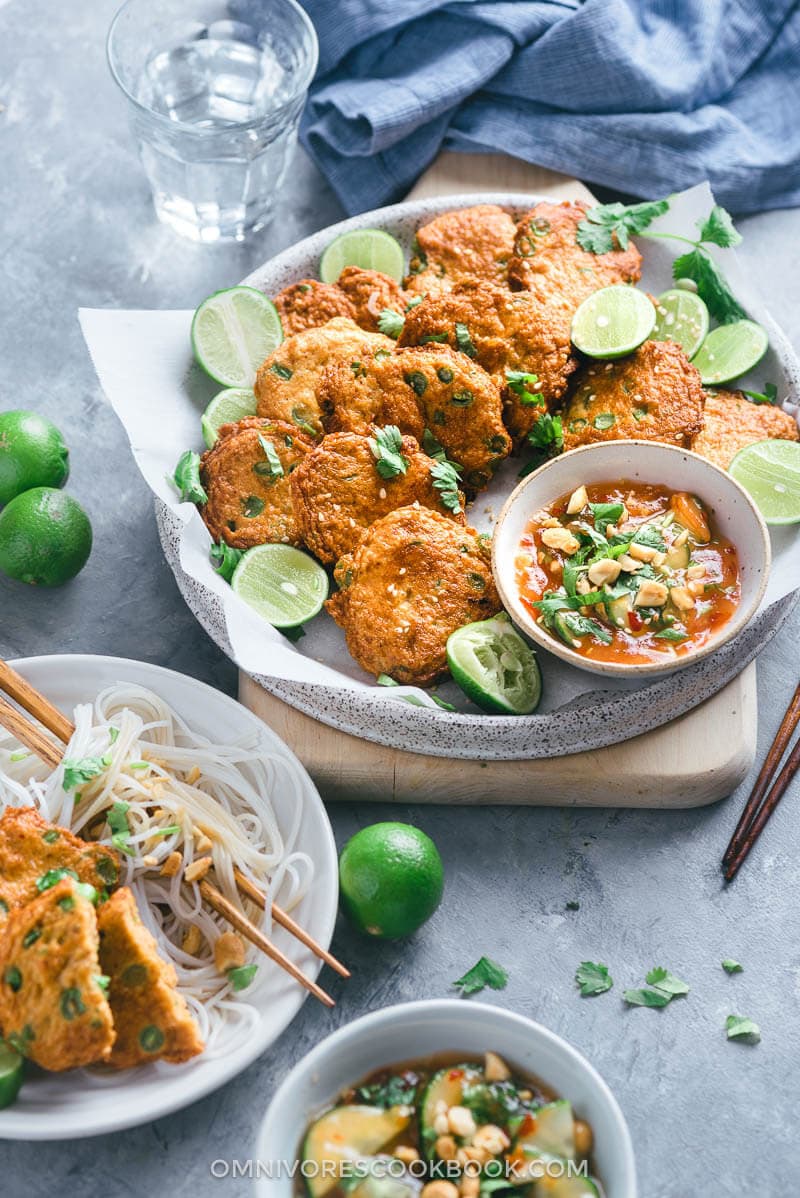 The key to the springy texture
Recently I came across the Tod Mun Pla recipe on She Simmers. If you haven't heard about this blog, it is my go-to place for all Thai recipes. Leela Punyaratabandhu started the blog back in 2008 and has a great collection of authentic Thai recipes. She is a serious cook who grew up in a traditional Thai family that loves cooking and appreciates good food. She is the author of two beautiful cookbooks: Bangkok: Recipes and Stories from the Heart of Thailand and Simple Thai Food: Classic Recipes from the Thai Home Kitchen. Her recipes might look quite long and they use exotic ingredients, just like in a real Thai kitchen, but my cooking of her recipes has always resulted in excellent dishes. This fish cake is no exception.
In her post, she shares the secrets of creating the perfect fish cake texture at home–by adding egg whites and beating the fish paste with a mixer, to create that airy, fluffy texture. It is a process that mimics the traditional method of beating the fish with wooden sticks. But with modern tools, you can actually accomplish it at home by simply turning on your mixer and letting it run for a few minutes.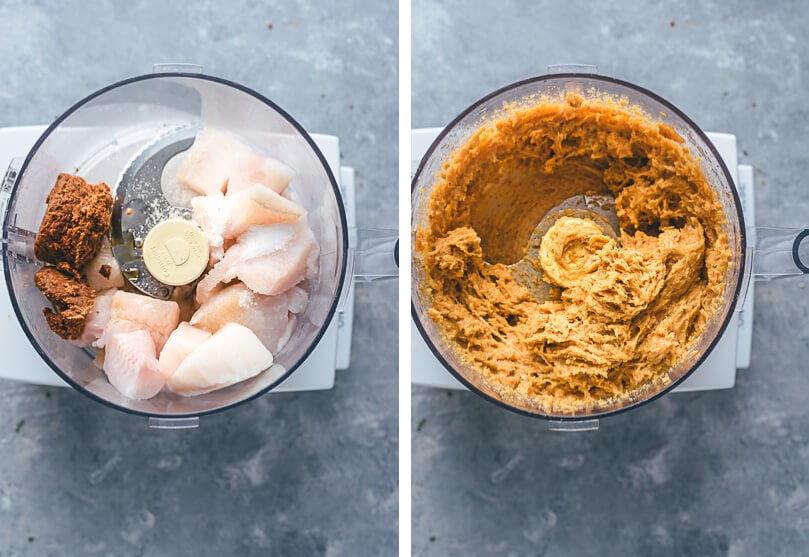 When I tried out her method, I did a few things differently:
I used fish fillets instead of fish paste. I was curious to see if I could recreate that smooth texture without running to the Asian market. The results turned out to be excellent.
I beat the fish paste while grinding it in my food processor. The fish paste turned out well without special mixture.
I didn't use kaffir lime leaves because I couldn't find them. It did not affect the flavor too much.
The result was perfect springy fish cake with a smooth texture and bold flavor, just like the ones you have in a restaurant.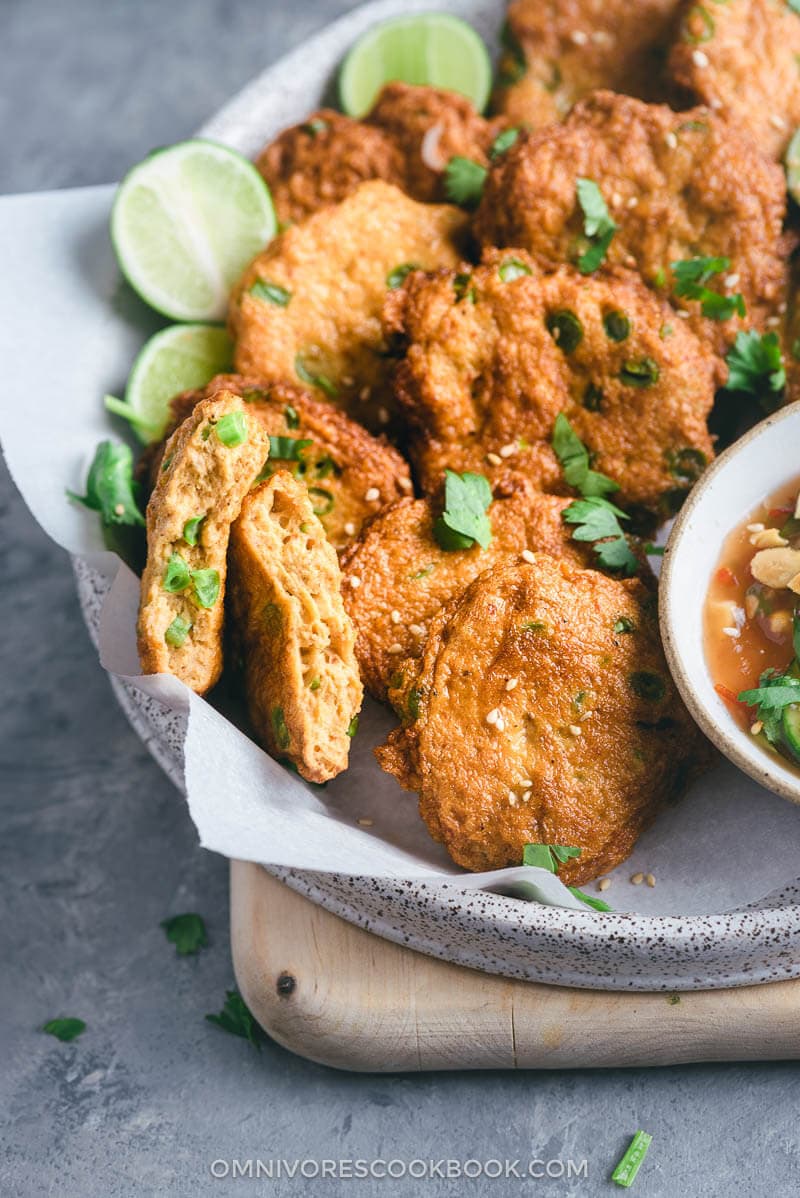 How to shape the fish cakes without getting your hands dirty
During the cooking, I also found a great way to create round-shaped fish cakes without shaping them with your hands. Here is how:
Use a cookie scoop to transfer a ball of 2 tablespoons of fish paste onto an oiled spatula.
Press the fish ball with the back of another spatula or a large spoon to flatten the ball into a 1/4-inch (1/2-cm) thick disc.
Gently slide the shaped fish cake into the pan. It will be easy because the spatula is coated with oil.
Fry until the fish cake turns golden.
OK, it might look like a lot of work. But I'm a control freak and I want my fish cakes to be perfectly round. Judge me if you want!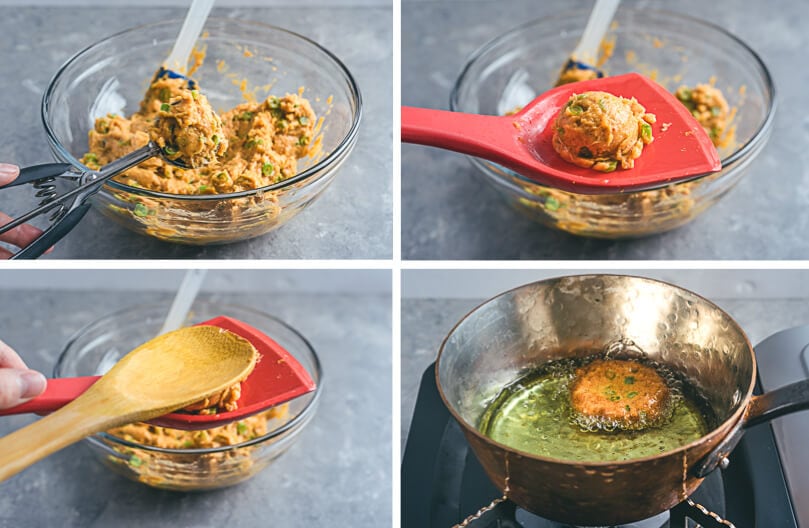 In case you don't want to deep fry the fish cakes, you can use a little oil and pan fry them as well. The fish cakes won't have a consistent golden surface, but it won't affect the taste.
A note on serving
Although an Asian restaurant would serve fish cakes as an appetizer, they are actually a great ingredient to serve as a main dish.
When I was visiting Singapore, I had the most excellent fried noodle dish at a hole-in-the-wall restaurant in the basement of an office building. The plate was extremely simple and did not even look appetizing (see the picture below). The thin strips of noodles were piled on a paper plate with a fish cake on top. When I had one bite, I blurted out "OH. MY. GOD!" It was one of my most satisfying meals ever.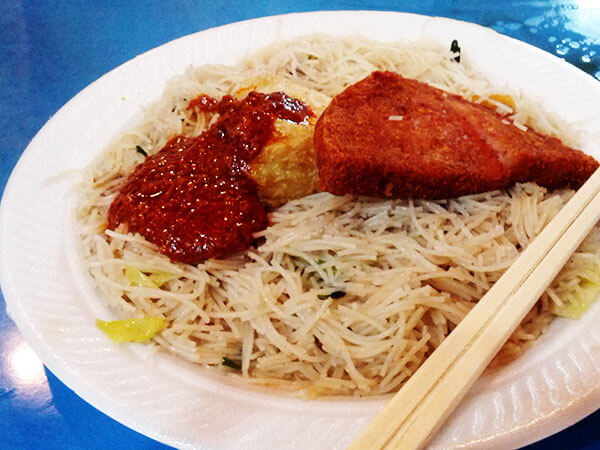 Back to the topic… Here are a few ways to serve the fish cakes to make a satisfying main:
Top the fish cakes on steamed rice and serve with a roasted vegetable on the side.
Make 15-minute fried rice noodles without adding any meat. Top the fish cakes on the noodles.
Make this 10-minute soy sauce noodle soup, and top with fish cakes.
I hope you enjoy this dish as much as I do!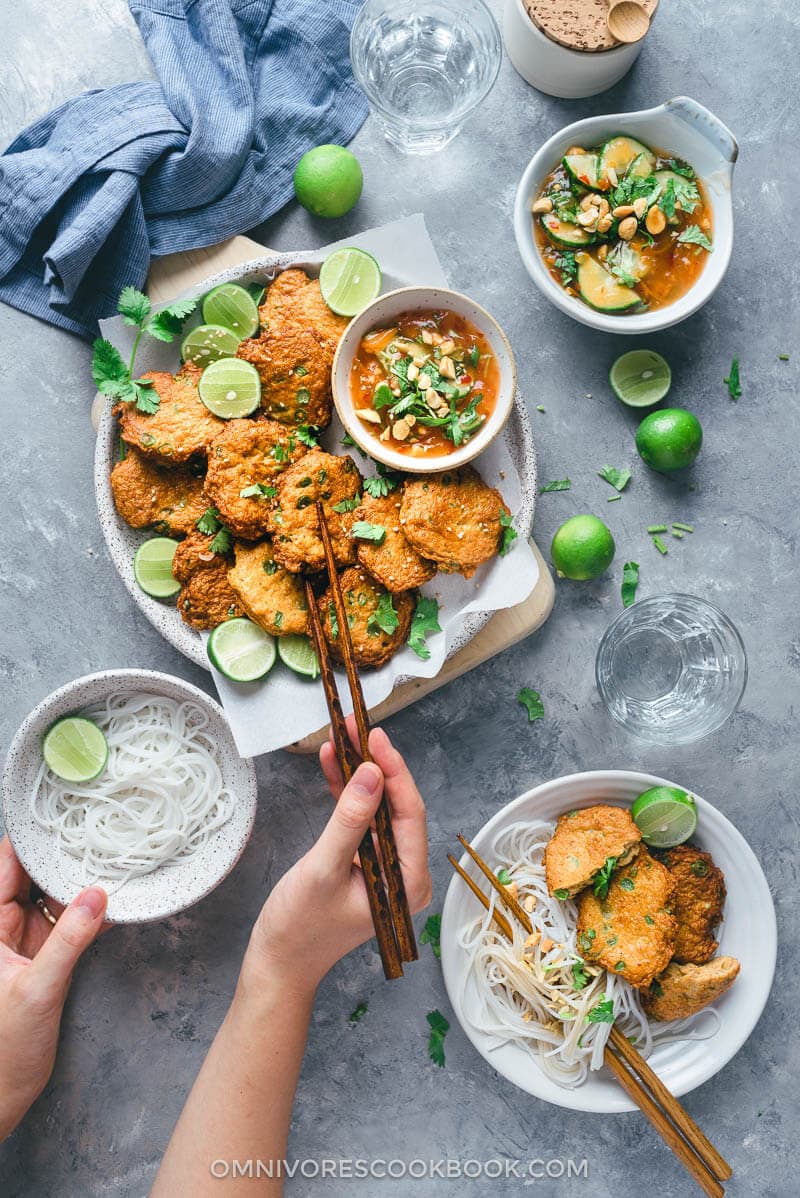 If you give this recipe a try, let us know! Leave a comment, rate it (once you've tried it), and take a picture and tag it @omnivorescookbook on Instagram! I'd love to see what you come up with.
More delicious seafood recipes
Want to Know More?
Receive our 5-Day Chinese Cooking Crash Course & Recipe Updates! Subscribe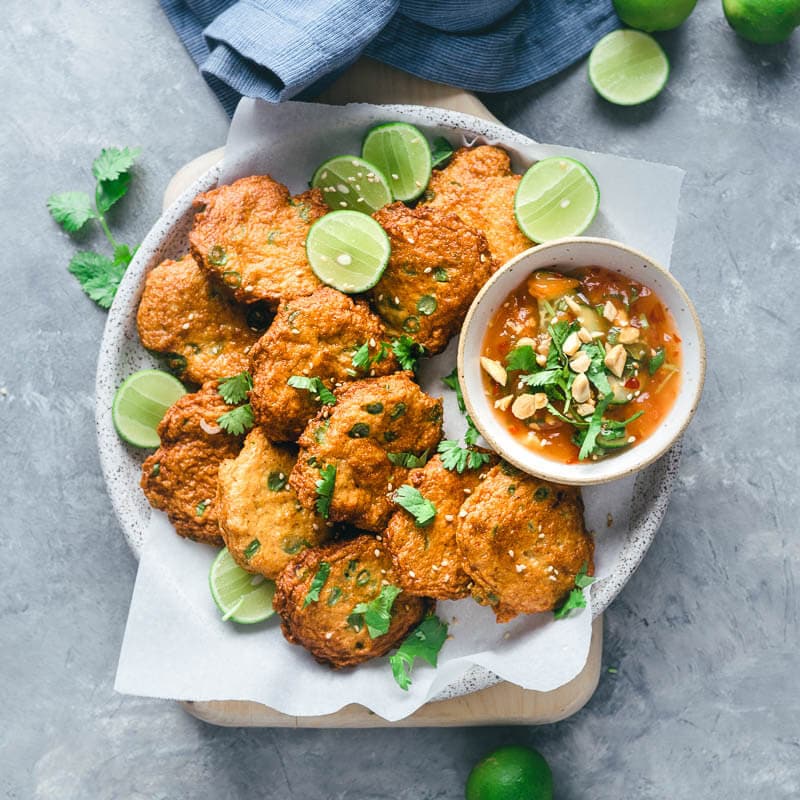 Thai Fish Cakes (Tod Mun Pla)
Servings:
4
to 6 servings
Ingredients
Fish Cake
1

pound (450 grams)

white fish fillet

, cut into 1-inch (2.5-cm) pieces (Footnote 1)

2.6

ounces

red curry paste

2

large egg whites

1

tablespoon

fish sauce

(or soy sauce if you don't like fish sauce)

1

tablespoon

sugar

1 cup thinly sliced green beans (*Footnote 2)

(Optional)

Vegetable oil for frying

(*Footnote 3)

Lime wedges for serving
Dipping sauce
1/2

cup

Thai sweet chili sauce

1

cup

seeded cucumber

, chopped

2

tablespoons

roasted peanuts

, chopped

2

tablespoons

cilantro

, minced

1

teaspoon

fish sauce
Instructions
Fish cake:

Combine the fish, curry paste, egg whites, fish sauce, and sugar in a food processor. Pulse a few times, to mix until it forms a smooth, thick, and sticky paste, 2 minutes or so. Once finished, poke the fish paste with a spoon. It should be firm, elastic, and springy. Transfer the fish paste into a big bowl.

Fold the green beans into the paste using a spatula.

Heat 1/2-inch oil in a small deep pot over medium heat until hot (*Footnote 4).

Work on the fish cakes in batches. Use a cookie scoop to transfer a ball of 2 tablespoons of fish paste onto an oiled spatula. Then use the back of another spatula or a large spoon to flatten the ball into a 1/4-inch (1/2-cm) thick disc. Gently slide the fish cake into the pan. Fry until the bottom side turns golden, about 30 to 40 seconds. Flip and cook the other side until golden. The whole process should take about 1 minute. (*Footnote 5) To test doneness, transfer a fish cake onto a plate and poke it with a toothpick. You should feel the bouncy resistance and the toothpick should come out clean.

Sauce

Mix all the sauce ingredients in a small bowl right before serving.

Serve the hot fish cake with dipping sauce as an appetizer, or serve them on top of rice or noodles as a main. Enjoy!

You can store the cooked fish cakes in the fridge for a couple days, or in the freezer for up to 3 months. One note: do not refrigerate the uncooked fish paste. I did it once, and fried fish cakes made from day-old fish paste and it resulted in a tough and grainy texture. I had to put it back into the food processor and beat two more egg whites into it to get the texture fluffy again.
Notes
Catfish, sea bass, cod and other types of white fish fillets will work. Try to find the freshest fillets possible. I prefer to use catfish to make this recipe, because the fish is fattier and creates a better texture.

Authentic fish cakes use thinly sliced green beans or Chinese long beans (string beans) to add texture. You can skip this, or add a handful of chopped green onion.

To create the best fish cakes that have a crispy golden crust and tender interior, you need to use a bit more oil, just enough to cover the fish cakes. But if you do not like frying, you can add just enough oil to cover the bottom of the pan. The surface of the fish cakes will turn darker but it will remain tasty.

I highly recommend using a small, deep pot if you plan to fry the fish cakes. You can cook the whole batch with about 1 cup of oil (or less). The fish cakes cook very quickly in the hot oil, so you won't be able to work on more than three cakes at a time. Alternatively, you can use a large nonstick skillet and roast the fish cakes with less oil.

If your fish cake turns dark brown too fast, not leaving you enough time to work on shaping the next fish cake, reduce the heat to medium or medium low. If the fish cake takes too long to turn golden, increase heat slightly.
Nutrition
Serving:
1
of the 6 servings
,
Calories:
308
kcal
,
Carbohydrates:
21.8
g
,
Protein:
16.3
g
,
Fat:
16.5
g
,
Saturated Fat:
3.9
g
,
Cholesterol:
61
mg
,
Sodium:
1053
mg
,
Potassium:
371
mg
,
Fiber:
1.5
g
,
Sugar:
10.9
g
,
Vitamin A:
15
IU
,
Vitamin C:
9
mg
,
Calcium:
4
mg
,
Iron:
12
mg
The recipe was originally published in August 21, 2014 and updated in September 10, 2017. I completely changed the ingredients and cooking method. Please replace your old copy with this new version for much better results.