Vegan Wonton Soup is a restaurant-quality treat that celebrates the bright flavors and diverse textures of a number of different veggies. The homemade broth is rich with umami and deeply comforting. The wontons and soup combine for a bowl of hot nourishment that is hard to beat.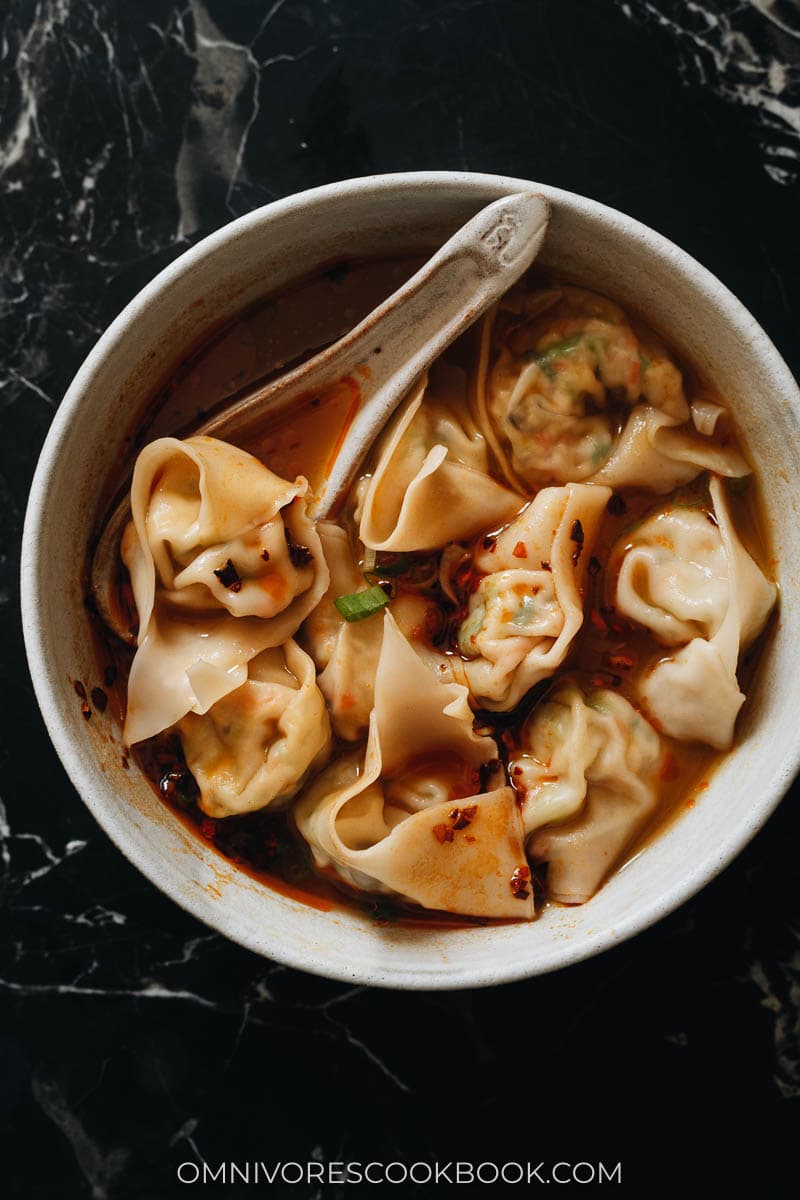 Vegan Wonton Soup: Satisfying on Many Levels
My vegan version of this classic Chinese dish packs the wontons with several different veggies, mushrooms, tofu, and lots of fragrant herbs to create fun and flavorful pouches. They get simmered in a vegetable broth that has its own delightful fragrance that works perfectly with the wontons.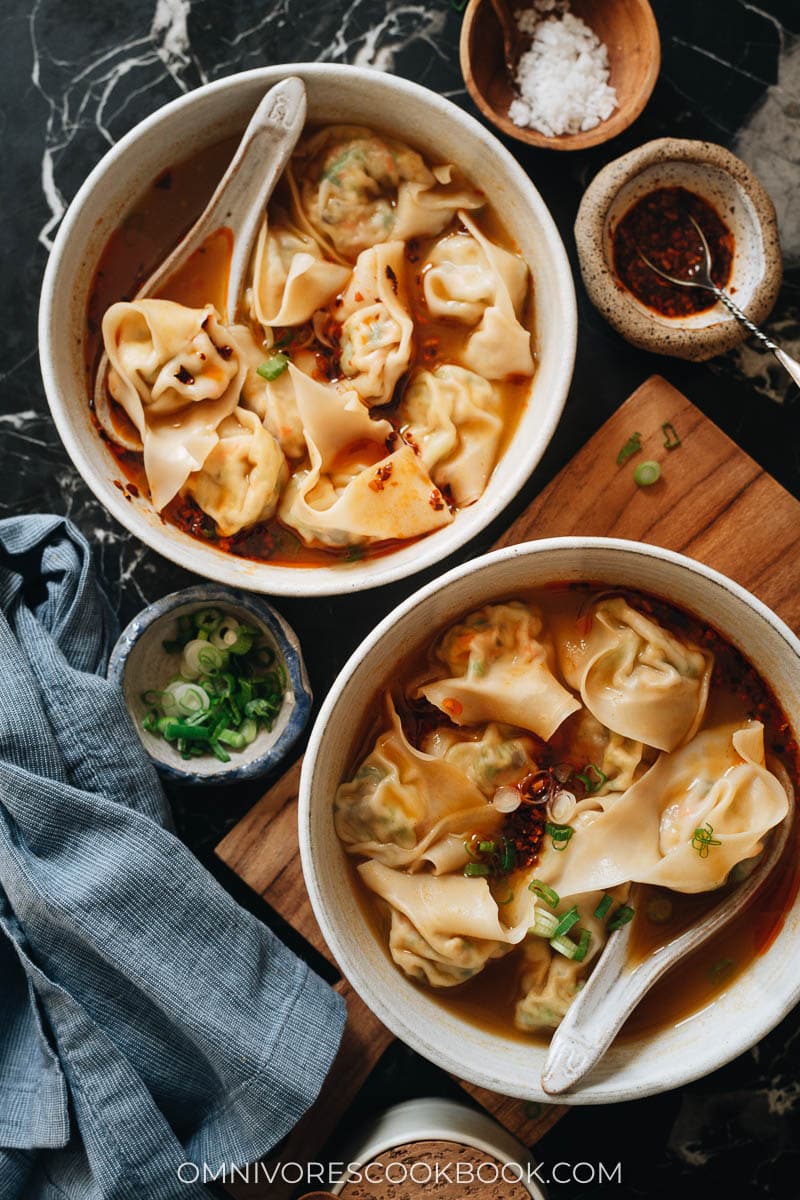 Texture, Texture, Texture
Anyone who's eaten Chinese dumplings can tell you that they are super satisfying, but it's not just a matter of flavor. A dumpling is a masterfully designed combination of different textures. Starting with the firm, doughy wrapper, you experience several different textures in a single bite.
Wontons are no exception to this texture rule. Whether served in soup or by themselves (perhaps with red oil), they absorb flavors quite nicely and the "wings" (the noodly flaps at the edges) create a fun, very slurpable texture.
Aromatic Healing Broth
In practically every culture on earth, soup is a universal medicine and all-around health and spirit booster, and this is very much the case in China.
You don't have to be sick or even feel unwell to eat soup. But regardless of how you feel, if you do have a bowl of soup, you'll most likely feel better than you did. How many modern pharmaceuticals can make that claim?
Part of the joy of soup has to do with the steam and aroma – breathing the steam, enjoying the aroma, and just experiencing the meal in several dimensions as you eat. It's an immersive experience that few non-soup meals can offer.
100% Plant-Based Goodness
While I am a full-blown omnivore (see: blog title), there are times that my body just feels better eating only plants for a day or two. It's not some kind of deprivation or fasting, but rather a prioritization.
Plants have all kinds of great nutrients and it can give me great energy to focus only on those nutrients. I'm not here to preach, but I encourage you to give it a try if you're curious. You might be surprised by the result!
Homemade Wontons = Low-Risk Fun
If you haven't made dumplings before, this recipe might seem a little daunting – but I promise it's easy to pull off!
By using store-bought wrappers, you take the guesswork out of rolling them to the perfect size and thickness (more on the wrappers in a bit) and you can focus on just filling, wrapping, and cooking.
Making wontons (and dumplings in general) is a ton of fun, like arts and crafts that you can eat. The first few in the batch might look a little wonky but by the end you've gotten them professional-looking.
I say that the wontons are low-risk because you'll cook them in the broth that you'll serve them in. Even if some fall apart (which is super unlikely!), you'll still get to enjoy the flavors and textures within the soup.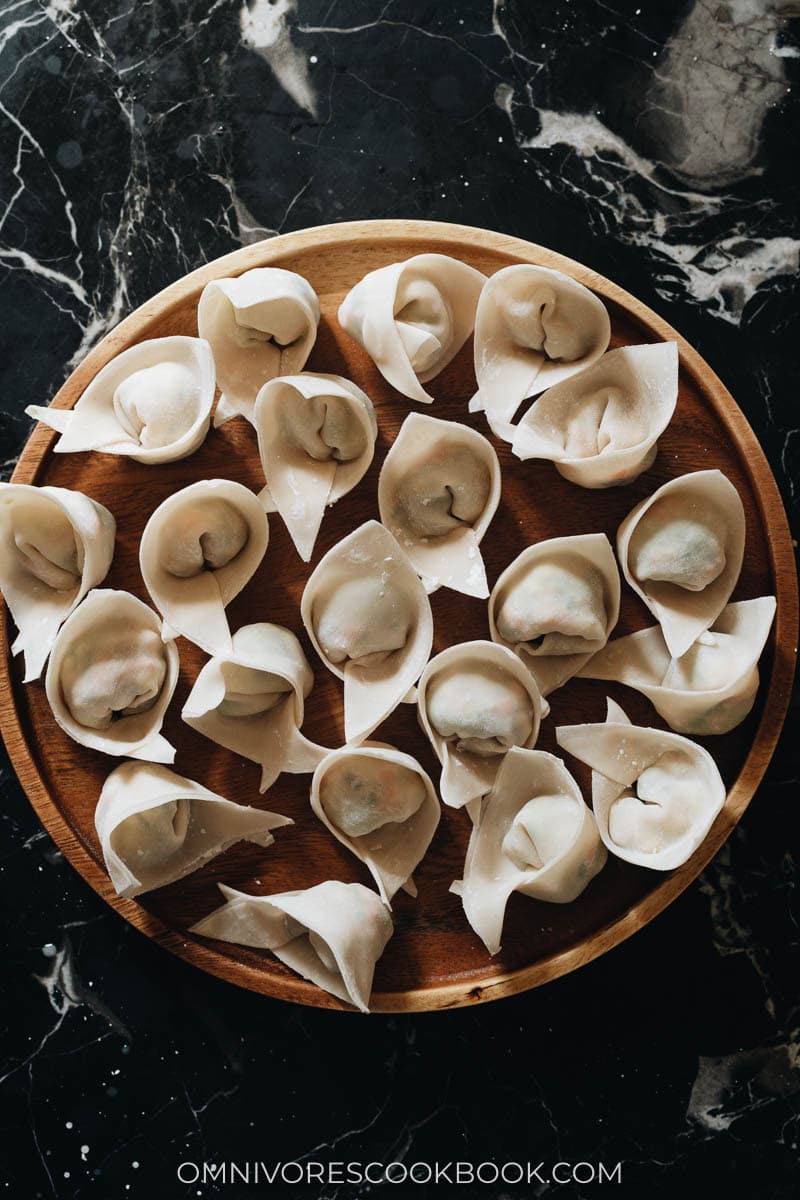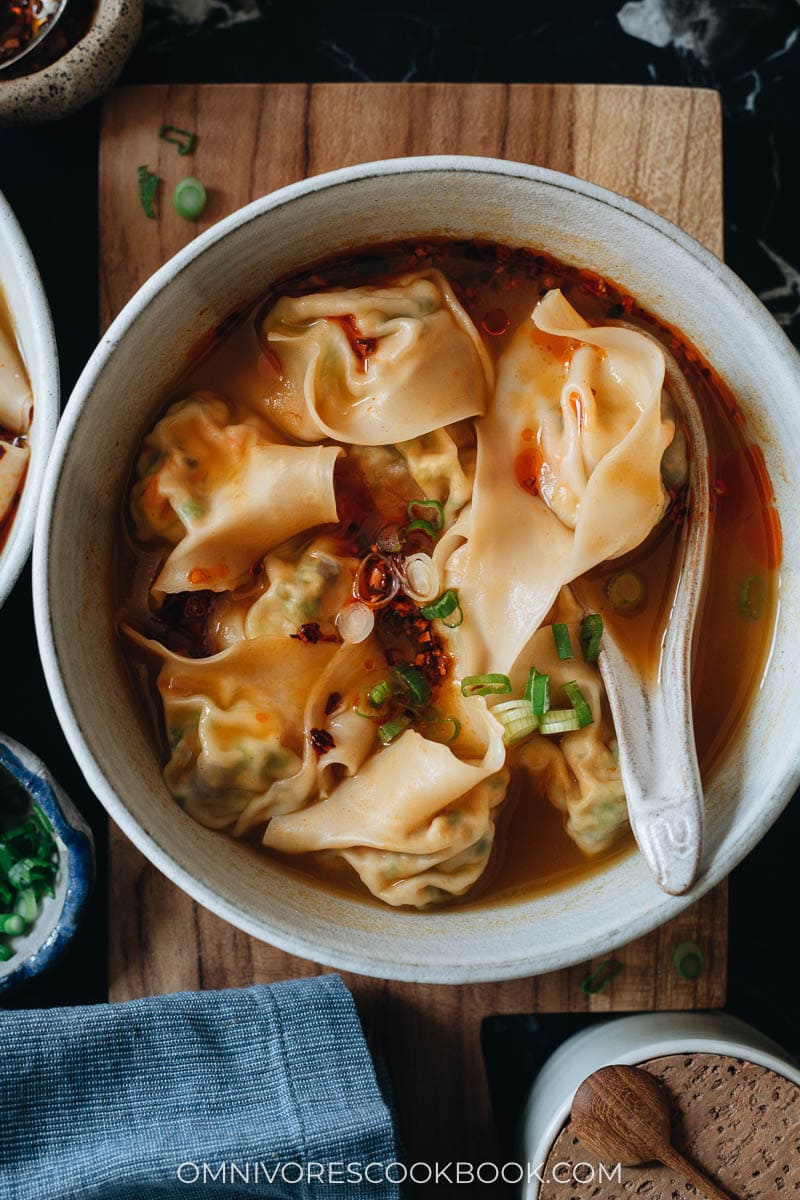 Shopping Tip: Check the Wonton Wrappers
I like the brand shown in the picture both because of the size of the wrappers – they're fairly large, which makes them easier to wrap the veggies and they don't contain any egg.
If you intend to keep the dish vegan, you should look for wonton wrappers that are egg-free in any case.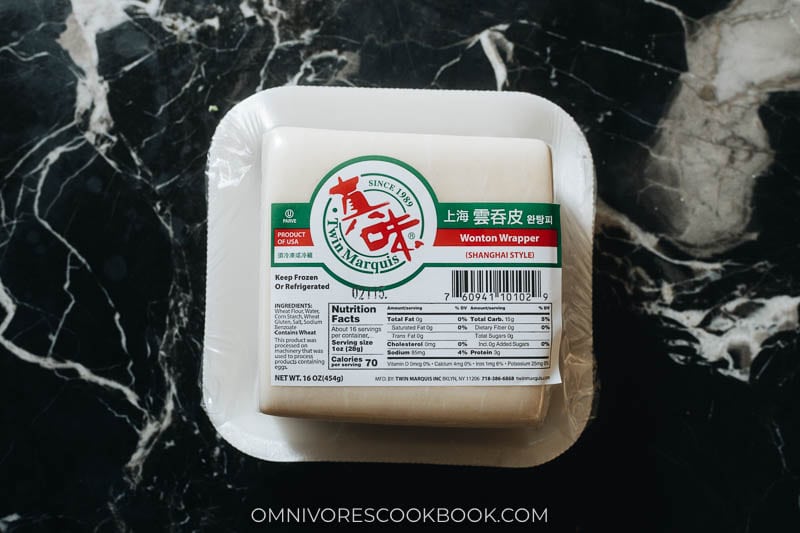 Vegan Wonton Soup Cooking Tips
Salt and Squeeze the Cabbage
It's important not to skip Step 2 in the recipe, where you'll salt the napa cabbage and let it sit for a while, then squeeze out the excess water.
This step dehydrates the cabbage a bit, so you can maintain the lovely crunchy texture but not have much liquid within the wonton. If you don't do this step, the wontons will be watery inside – not good!
See the photos here for a bit more guidance on how to do this step.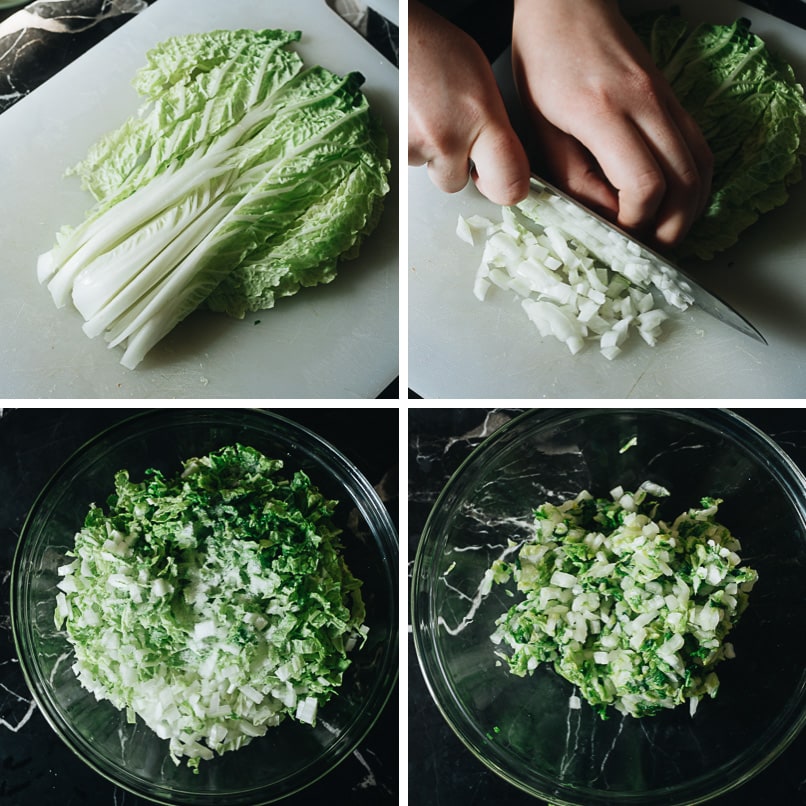 Working station
Your table should have the ingredients below when you've done prepping.
Cooking process
Prepare the filling
Mix the filling ingredients when you plan to start wrapping wontons. I prefer to mix all the filling ingredients later, so the vegetables won't start seeping water after you add the seasonings that contain salt.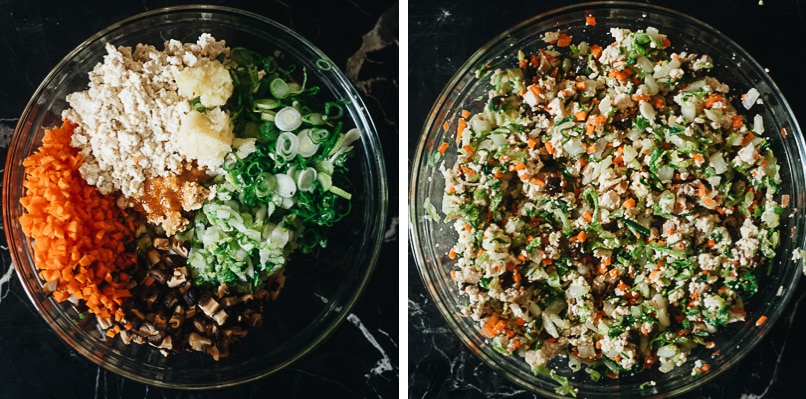 Wrap and cook the wontons
I've shared how to wrap wontons in a video in the past. However in this recipe I'm using a 5th method, so you can wrap in more filling while keeping the wonton tight without falling apart while boiling.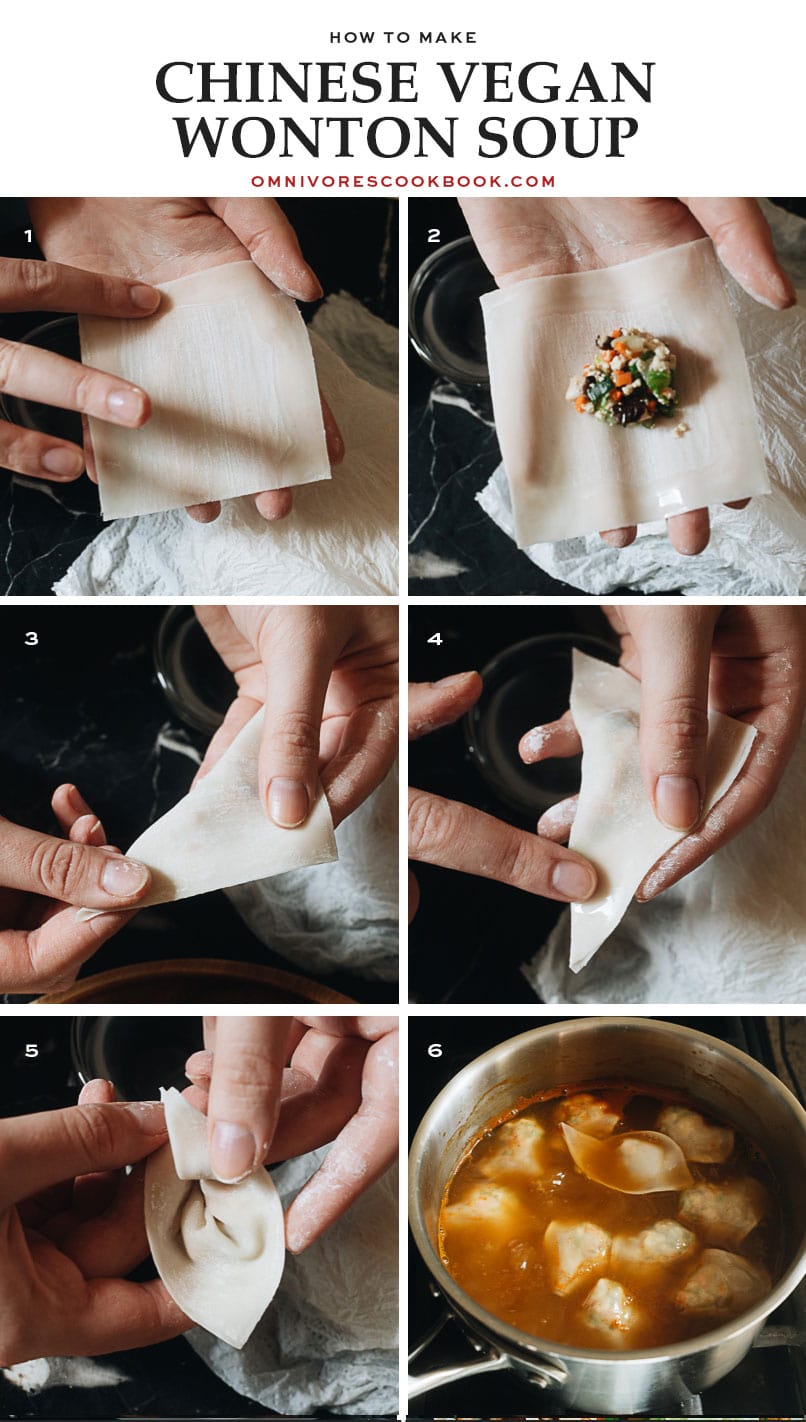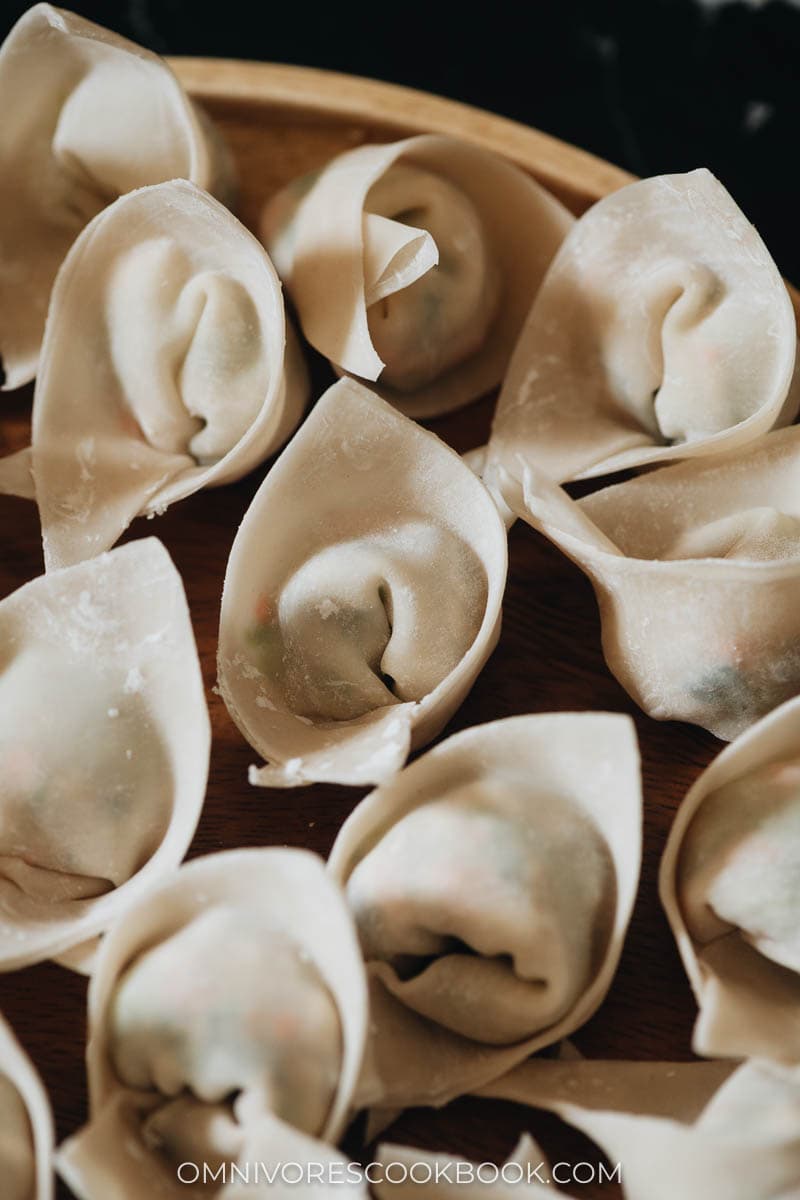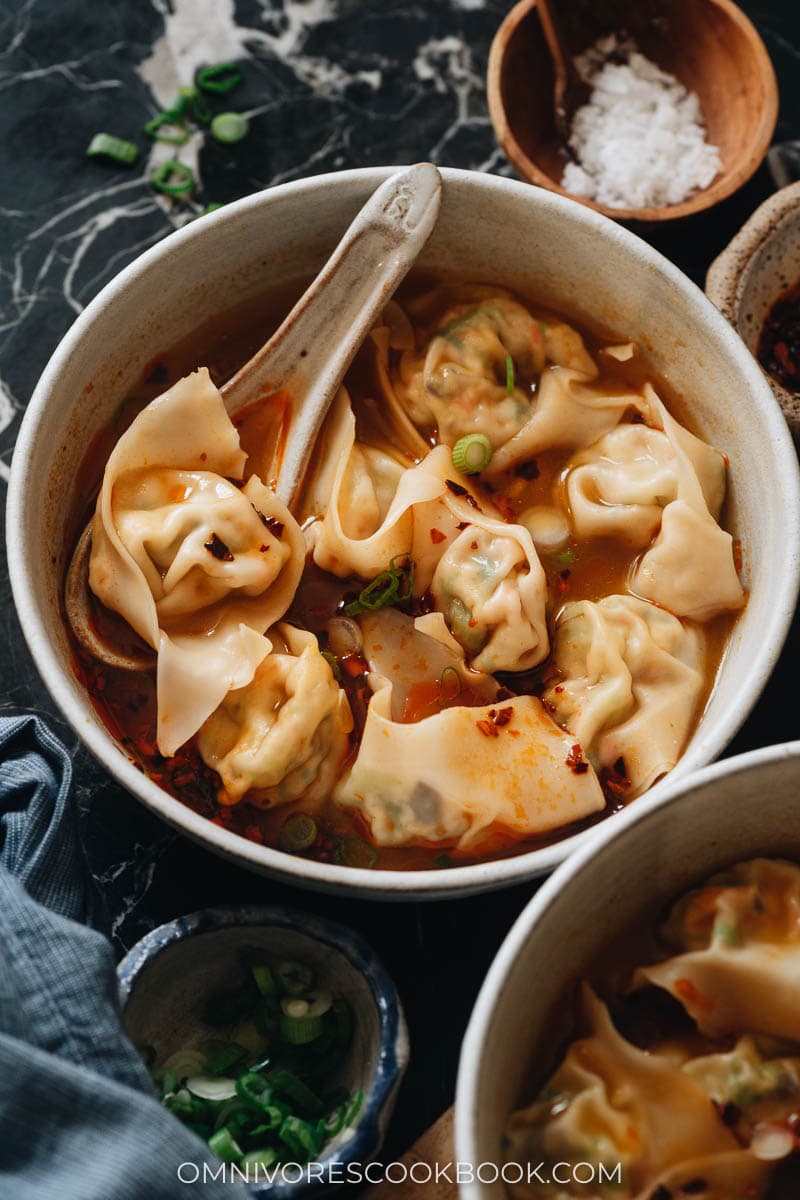 Be Prepared to Tweak the Broth
As we developed and tested this recipe, we did notice a bit of variation between different brands of packaged vegetable broth. There is no standard formula for vegetable broth, and some brands may be more carrot-heavy (thus sweeter) or mushroom heavy (darker and earthier).
We did our best to get you close to the flavor profile of a typical Chinese wonton broth, without needing to make broth from scratch, but you'll need to taste the broth and tweak it to your liking.
We recommend a combination of mushroom powder (bouillon) and light soy sauce, and you can use extra soy sauce if you don't have the mushroom powder.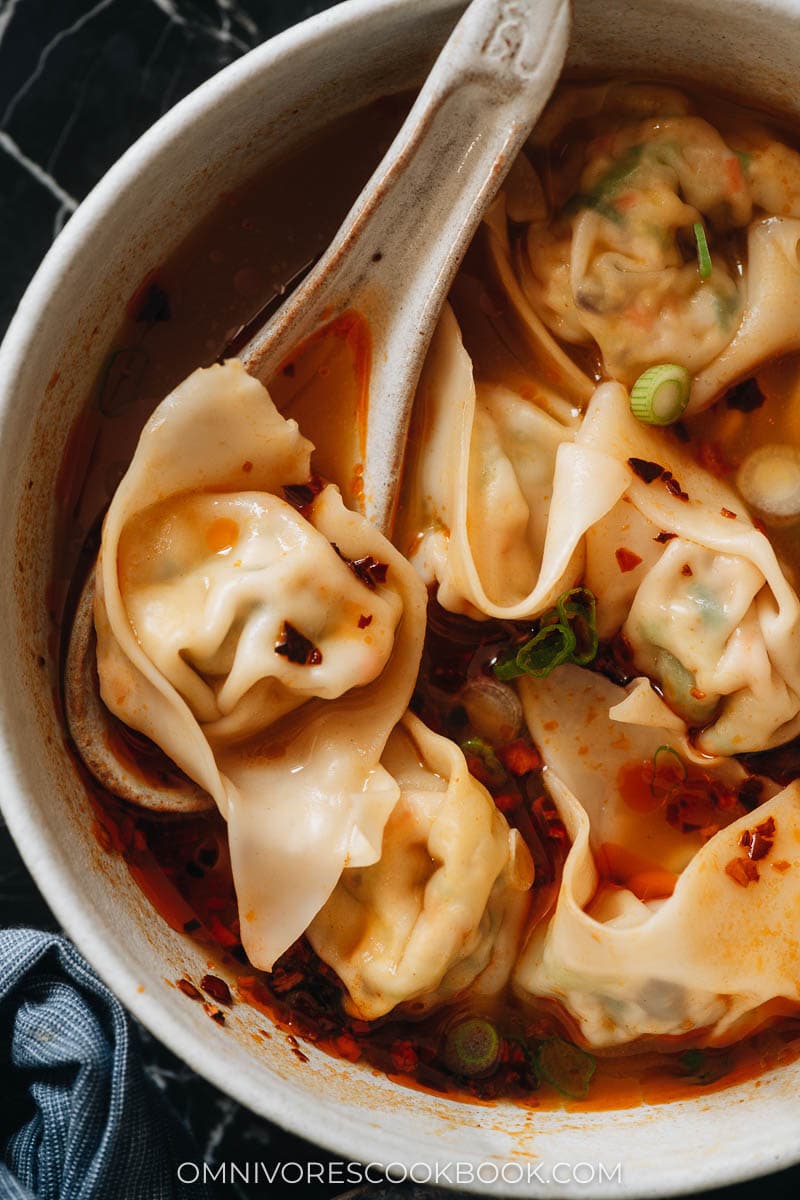 Want to Know More?
Receive our 5-Day Chinese Cooking Crash Course & Recipe Updates! Subscribe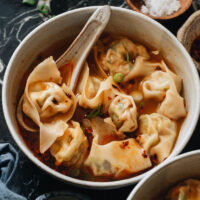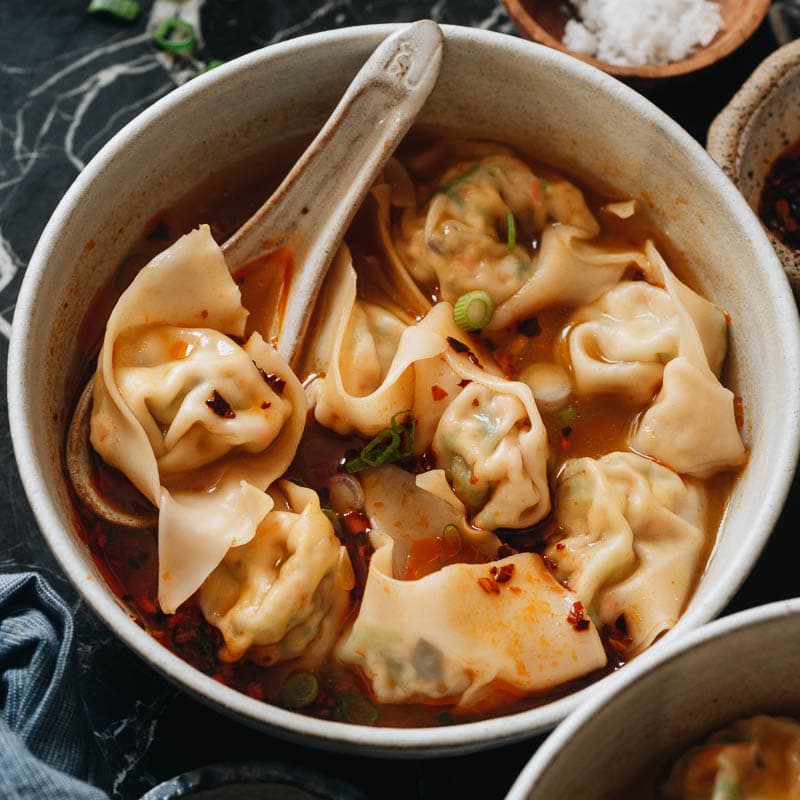 Vegan Wonton Soup
Vegan Wonton Soup is a restaurant-quality treat that celebrates the bright flavors and diverse textures of a number of different veggies. The homemade broth is rich with umami and deeply comforting. The wontons and soup combine for a bowl of hot nourishment that is hard to beat.
Servings:
4
to 6 servings (30 to 34 wontons)
Ingredients
Filling
6

oz (170 g)

napa cabbage

, finely chopped (about 1/4 small cabbage)

1 1/4

teaspoon

salt

, separated

1

small (35 g)

carrot

, finely chopped

1/4

block (100 g)

firm tofu

, crumbled

1

green onion

, sliced

1

clove

garlic

, grated (yield 1/2 teaspoon)

1/2

" (1 cm)

ginger

, grated (yield 1/2 teaspoon)

1

teaspoon

light soy sauce

1/2

teaspoon

sesame oil

1/4

teaspoon

rice vinegar

1/4

teaspoon

sugar

1/8

teaspoon

mushroom powder

(optional)
Broth
4

cups

low-sodium vegetable broth

1/2

cup

mushroom soaking liquid

1 1/2

teaspoons

mushroom powder

(optional)

1

teaspoon

light soy sauce

(2 teaspoons if not using mushroom powder)

1/8

teaspoon

white pepper powder
Garnish
green onions

, sliced

Toasted sesame oil or homemade chili oil

to taste
Instructions
Prepare the filling
Add the shiitake mushrooms into a small bowl and add 1/2 cup or enough hot water to cover. Soak for 20 minutes, or until the mushrooms turn tender throughout. Reserve the soaking liquid. Cut the mushrooms into 1/4" (0.5 cm) squares.

Place the napa cabbage into a large bowl and sprinkle with 1 teaspoon salt. Mix a few times and let sit for 15 to 20 minutes. Squeeze out the excess water. Discard the water and place the cabbage in a large mixing bowl.

Add the rehydrated and chopped mushrooms and the remaining filling ingredients to the drained cabbage. Stir to mix well.
Wrap the wontons
Prepare the wrapping station by placing the filling, wonton wrappers topped with a few layers of damp paper towels, a small bowl of water, and a tray for wrapped wontons.

Wrap the wontons one at a time, keeping the wrappers covered at all times to prevent from drying out. Take one wrapper and place it pointed side up. Use your finger to wet the wrapper along the two edges of one side. Place 1/2 tablespoon of filling in the center. Fold the wrapper over the filling to form a triangle. Seal the edges of the wrapper by pressing together the edges. Use your finger to smooth out any air bubbles as you go. Once the triangle is sealed, wet one of the bottom corners, fold the other corner over the wet one. Press the corners together to seal and place onto the tray. Cover the wrapped wonton with damp cheesecloth or a few layers of damp paper towel to prevent from drying out. Wrap the rest of the wontons.

(Optional) Once you wrap all the wontons, you can freeze the ones that you do not plan to serve immediately.
Cook and assemble
Combine the broth ingredients in a medium-sized pot and bring to a boil. Add the number of wontons you plan to serve. If planning to serve more than 15, you should separate the cooking into two batches. Cook for 2 minutes, until the wrappers turn semi transparent and bloated.

Once cooked, transfer the cooked wontons into small serving bowls using a slotted spoon. Pour in a ladle of the broth. Garnish with green onions and sesame oil or chili oil to taste.

Serve hot as an appetizer.
Notes
For a vegan dish, be sure to select wonton wrappers that do not contain egg.
Nutrition
Serving:
1
serving
,
Calories:
115
kcal
,
Fat:
1.4
g
,
Saturated Fat:
0.2
g
,
Cholesterol:
3
mg
,
Sodium:
607
mg
,
Potassium:
182
mg
,
Fiber:
2.1
g
,
Sugar:
3.8
g
,
Calcium:
62
mg
,
Iron:
1
mg
More Homemade Wontons & Dumplings
Vegan Apps & Sides to Pair with the Vegan Wonton Soup
Lilja Walter is a part of the Omnivore's Cookbook team and worked closely with Maggie to develop and test this recipe.