The silkie chicken soup is a healthy, nutrient-rich savory soup with a touch of sweetness ideal for cooler weather or when you're under the weather!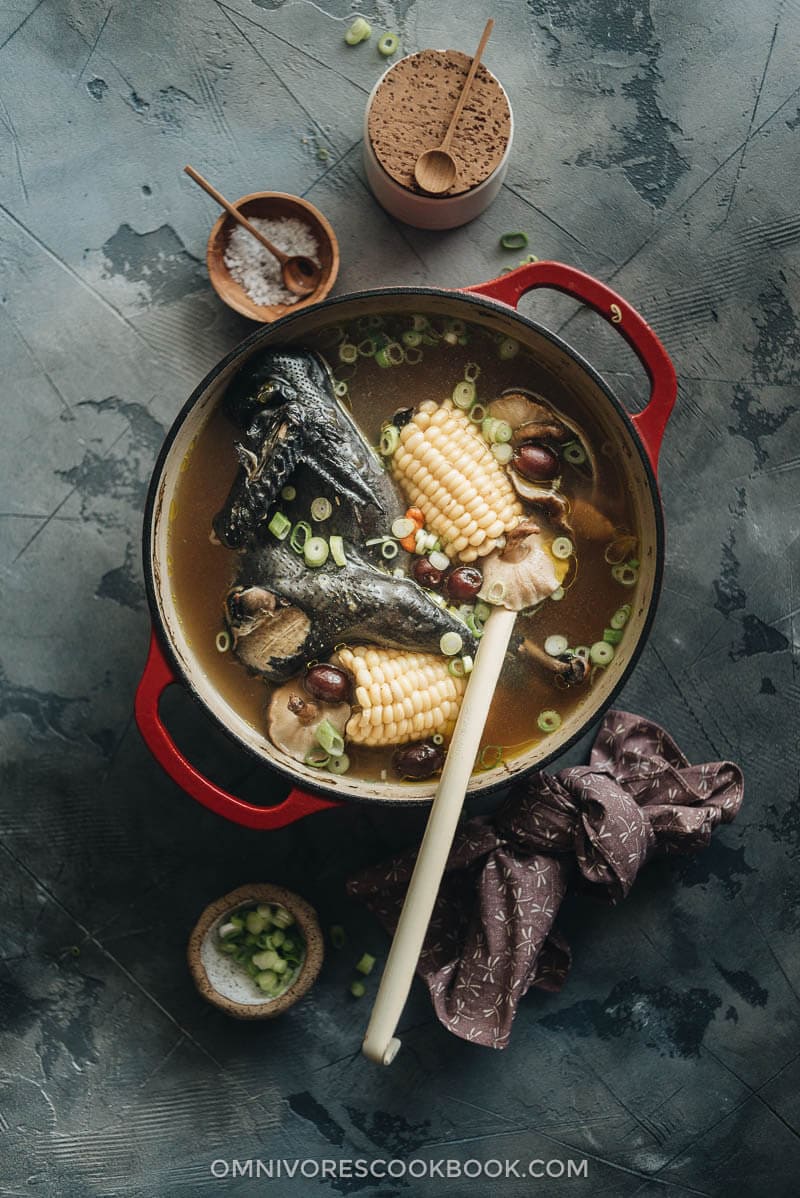 Ever heard of Chinese Silkie Chicken Soup (乌鸡汤)? It is made with silkie chicken, an unusual-looking bird that has black skin and fluffy white feathers. The Chinese name of the chicken Wu Ji can be directed translated as "dark chicken", referring to its unique skin color. This breed of chicken originally came from Jiangxi Province and has been around for thousands of years. The bird might look different from the typical chicken you're familiar with, but it has tons of benefits and makes the most delicious soup.
Revered throughout China for its health benefits, this soup is something women eat after giving birth. Parents also make this simple, nutritious soup for their children during exam season because they believe it to keep them in the best health. Speaking of health, like chicken soup in America, silkie chicken soup is used to help boost immunity and maintain one's wellness.
You can find silkie chicken at an Asian market or purchase online at Pasture Bird.
In addition to the great benefits of the silkie chicken, this soup has other ingredients in it that are ideal for good health. Ginger is one of them. A known anti-inflammatory, ginger is good for keeping illnesses away and adding that perfect flavor. I also include jujubes in my recipe. Jujubes are great for your digestive system, help regulate blood pressure, provide lots of vitamin C, and are very calming for the mind.
Goji berries rich in antioxidants and nutrients. They're good for improving immunity, giving skin a healthy glow, keeping blood sugar stabilized, detoxifying, and bringing a good mood. They're also what couples longing for a baby eat because they help promote fertility. It also has corn on the cob and shitake mushrooms in it which gives it even more depth. Corn is known for giving good eye health. Shiitake mushrooms are yet another immunity booster, one that give you good cardiovascular health and lots of vitamin D.
So, lots of healthy ingredients are in this simple soup. It looks quite elegant with the brilliant pops of color from the corn, jujubes, and goji berries contrasting with the black silkie chicken and the dark shiitake mushrooms. The broth gets a dark brown color from the chicken, and it takes longer, but the results are worth it. You get a broth that outshines any other chicken broth you've ever made.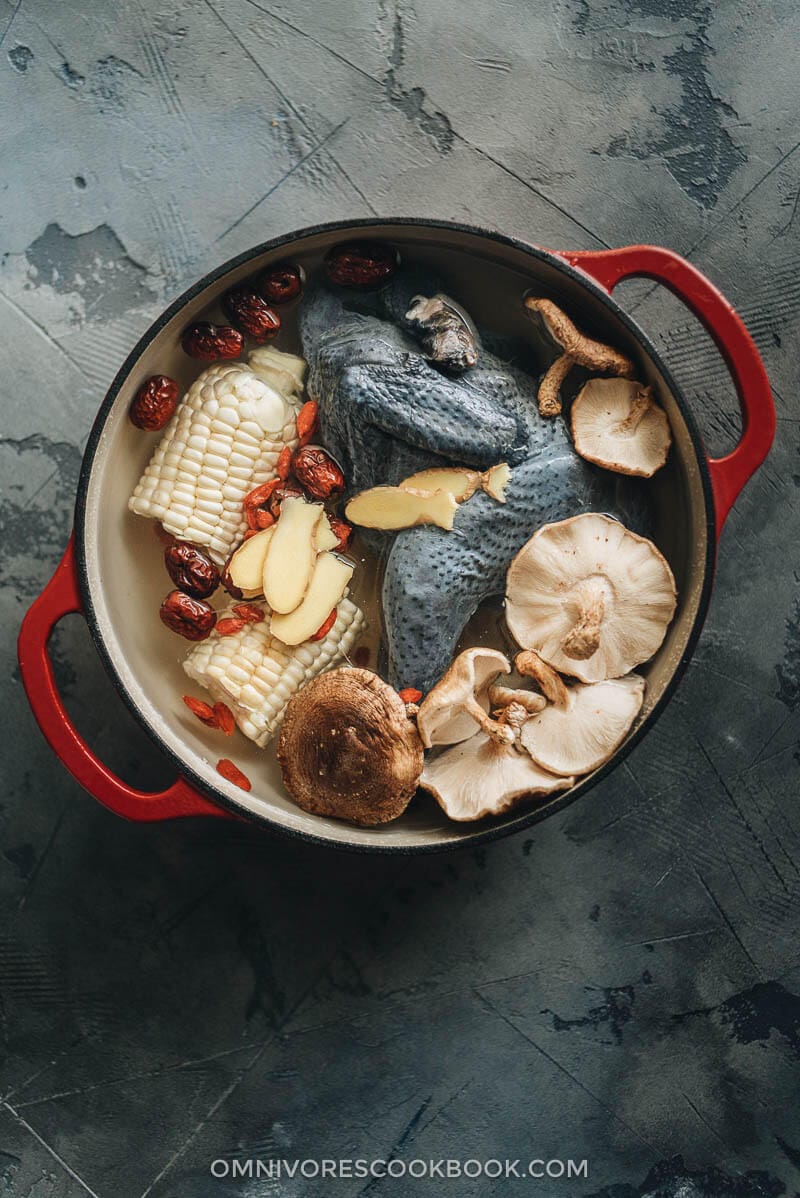 Using a Dutch oven makes the soup taste even better. You can use any large pot if you don't have one, but I've found the cast iron gives it the best flavor. Once it's finished, you can eat all the ingredients in the soup though if you'd prefer not to, you can remove the chicken and other ingredients and drain the soup prior to serving. The chicken starts off tougher but after all this simmering in these ingredients, it becomes extremely tender and falls right off the bone. You may prefer to drink the broth on its own and serve the chicken on its own platter as I do. I love to enjoy it with homemade dipping sauce.
Before cold and flu season gets here, make this soup to keep you and your family healthy. You can also freeze the excess for when someone starts feeling ill to help get them well again.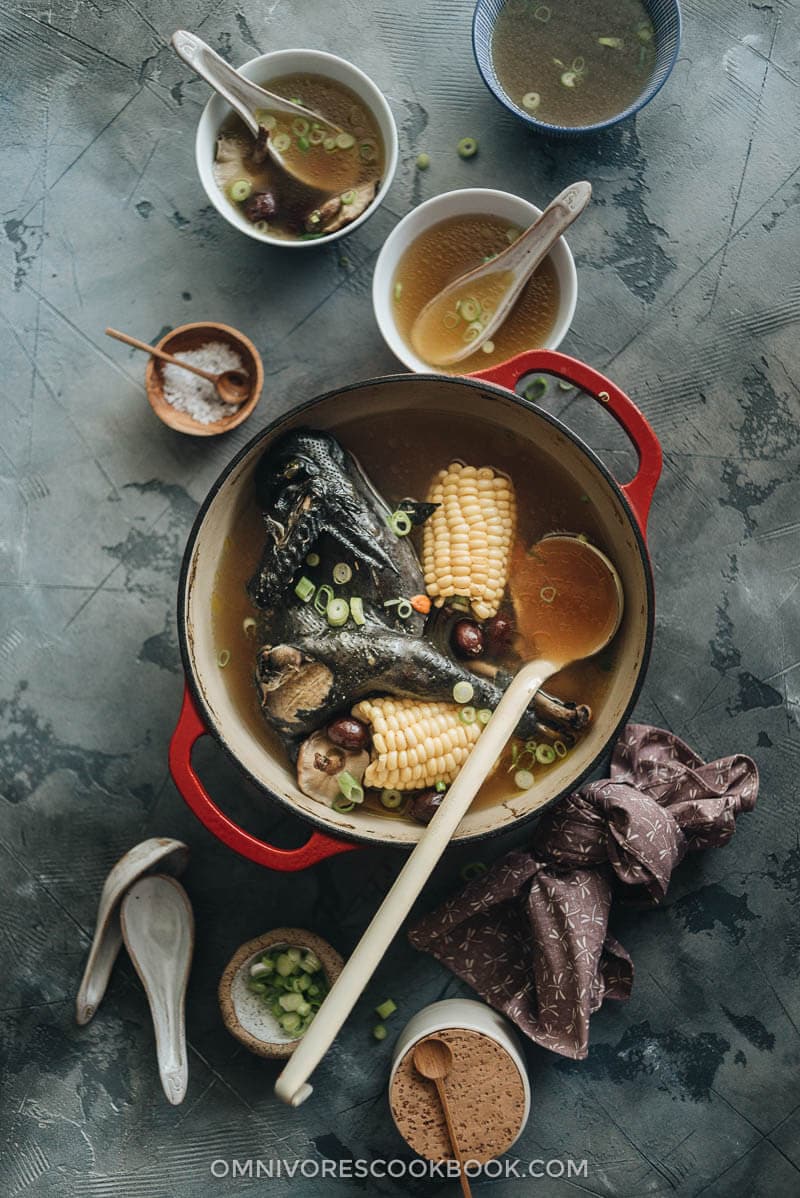 Other delicious Chinese soup recipes
If you give this recipe a try, let us know! Leave a comment, rate it (once you've tried it), and take a picture and tag it @omnivorescookbook on Instagram! I'd love to see what you come up with.
Want to Know More?
Receive our 5-Day Chinese Cooking Crash Course & Recipe Updates! Subscribe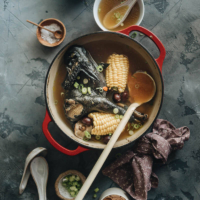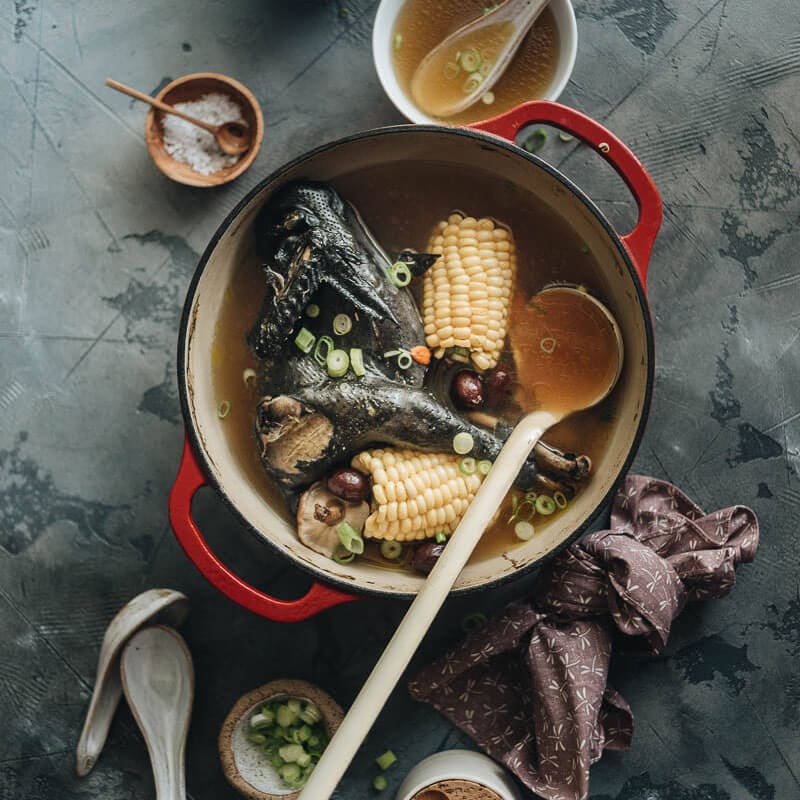 Silkie Chicken Soup (乌鸡汤)
A healthy, nutrient-rich savory soup with a touch of sweetness ideal for cooler weather or when you're under the weather!
Instructions
Combine everything in a small dutch oven that's just large enough to hold the chicken. Add water to cover the chicken. It's OK if some of the chicken is above the water.

Cook over medium-high heat until bringing to a boil. Turn to medium low heat. Skim the surface with a fine sieve to remove the brown bits, for 10 minutes or so, until the chicken broth is clear. Simmer covered for at least 1.5 hours, up to 2 to 2.5 hours, until the chicken turns very tender and almost falls off the bones.

All the ingredients in the soup are edible. But for a clear broth, you could remove the chicken and drain the soup before serving.
Nutrition
Serving:
1
cup
,
Calories:
128
kcal
,
Carbohydrates:
6.92
g
,
Protein:
17.81
g
,
Fat:
2.72
g
,
Saturated Fat:
0.696
g
,
Cholesterol:
60
mg
,
Sodium:
798
mg
,
Potassium:
284
mg
,
Fiber:
1
g
,
Sugar:
1.42
g
,
Vitamin A:
3250
IU
,
Vitamin C:
1.7
mg
,
Calcium:
20
mg
,
Iron:
1.1
mg