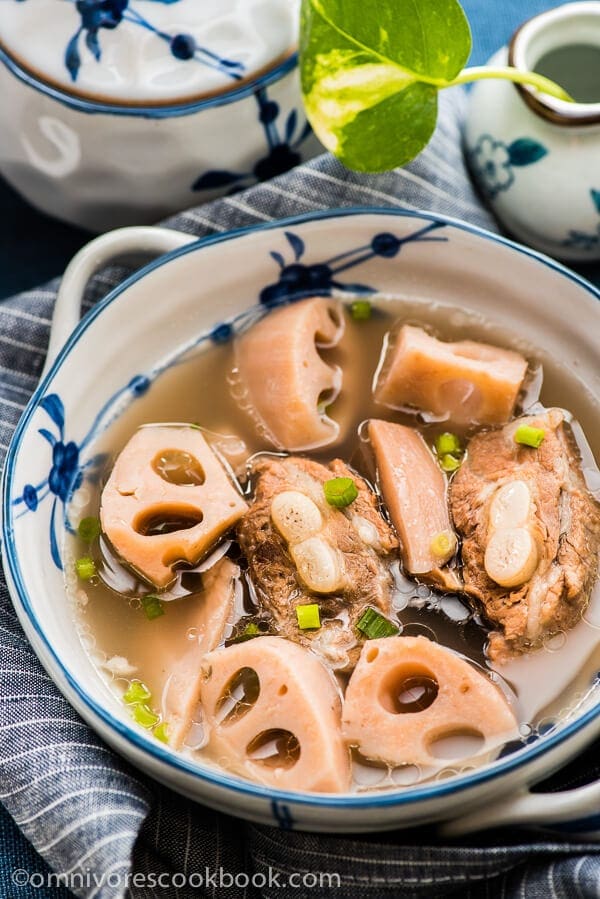 This rich soup is infused with the refreshing aroma of lotus root. The pork will fall from the bones when gently touch by chopsticks. The lotus root is slight sweet and tender. A great one-dish-meal for a light dinner.
Last Wednesday was the beginning of spring (立春, li chun) according to the Chinese lunar calendar. Despite temperatures still dropping as low as minus 10 degrees C (14 F) at night and the fact that it just snowed last week, we can sense that spring is approaching.
Are you looking forward to spring? I sure am! But I have to confess, I will definitely miss eating hot and hearty winter soup. I love all sorts of soups, and I enjoy them no matter which season it is. But especially in the wintertime, a hot bowl of soup not only satisfies our taste buds, but also warms up our hearts.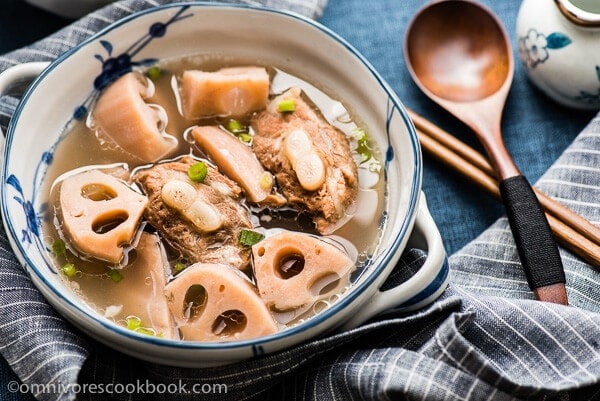 Last weekend, I cooked another big pot of lotus root soup and devoured it all. It felt like an addiction. I couldn't stop eating and was totally indulged in the warmth the hot soup brought me, while it was still freezing outside.
The combination of lotus root and pork ribs is a classic. It seems so simple, yet it creates a rich, flavorful, and satisfying soup.
Like other pork-based soups, the ribs are simmered until tender, creating a rich, savory soup. The lotus adds a nice flowery aroma, so the soup feels refreshing and light. After braising, the lotus root will be very tender and lose its crispness, becoming starchy and reminiscent of taro root.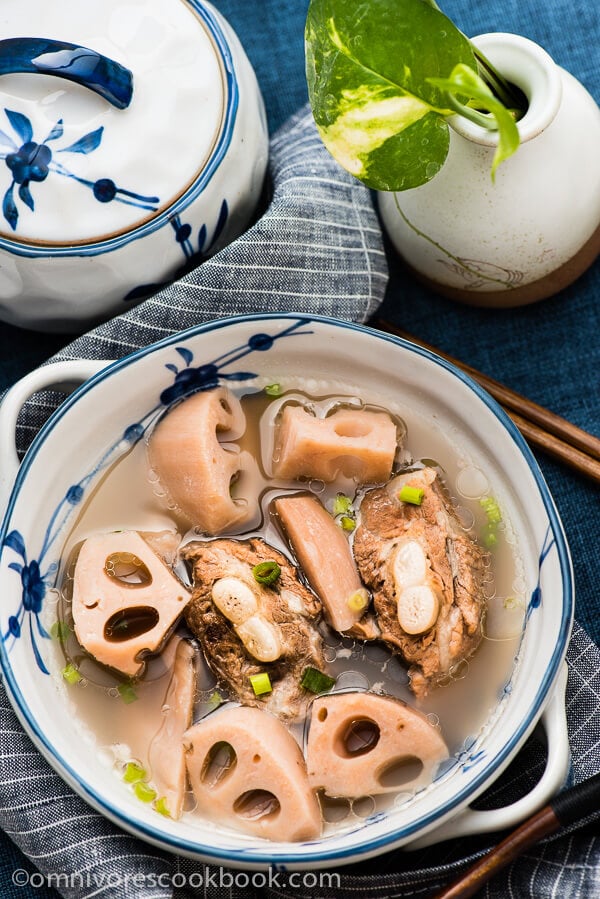 People in China consider this dish a medicinal one (药膳, yao shan), because traditional Chinese medicine considers it to have a great amount of health benefits. This is the type of food a mom would cook for her daughter who just gave birth. But for me, it's just a comforting and soothing dish that I enjoy as a complete meal. It contains a good amount of protein, vitamins, dietary fiber, and carbs. So why not?
To make this dish more interesting, I made a simple dipping sauce to serve with the ribs. It's my all-time favorite and I use it for almost every type of boiled meat – chicken, pork, beef, or duck. To create the sauce, simply mix some light soy sauce with Chinese black vinegar and a pinch of sugar. It's a savory sauce that's slightly sweet and brings out the great flavor of boiled protein. If you don't have black vinegar, simply use some soy sauce with a pinch of sugar. It works like magic.
If you've never dealt with fresh lotus root before, you should check out this video. I recorded the video for a stir fried lotus root recipe, but it includes the process of preparing lotus root at the beginning.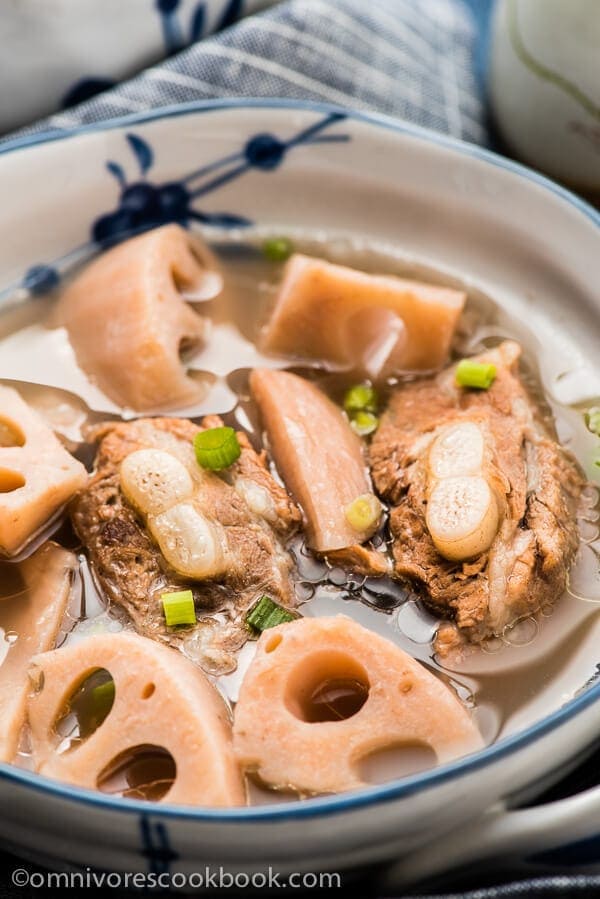 Do you like my recipe? Sign up for the Omnivore's Cookbook weekly newsletter to have the latest recipes delivered to your inbox and get a FREE e-cookbook!
Want to Know More?
Receive our 5-Day Chinese Cooking Crash Course & Recipe Updates! Subscribe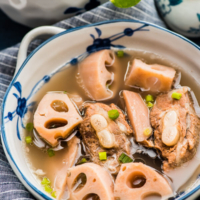 Lotus Root Soup With Pork Ribs (排骨莲藕汤)
Ingredients
For the soup
1

lbs (450 g)

pork spareribs

, cut into single ribs

1

lbs (450 g)

1 pound lotus root

2

tablespoons

Shaoxing wine

(or dry sherry)

1

thumb

ginger

, sliced

4

tablespoon

green onions

Salt

to taste
Instructions
Soup
Add pork spareribs and 8 cups water into a large pot. Bring to a boil over high heat. Skim the foam from the surface until the soup is clear.

While boiling the ribs, prepare the lotus root. Wash lotus root carefully. Peel the root and remove tough ends. Cut into 2 equal parts lengthwise, then chop into irregular bite size pieces.

(Optional) Transfer the ribs and boiling water into a dutch oven, without transferring the cooked blood on the bottom of the pot. This step helps you to get a clear soup in the end. You can skip this if you like.

Place lotus root into the dutch oven containing the ribs (If you skipped step 2, add the lotus root into the big pot with the ribs). Add Shaoxing wine, ginger, and green onion. Bring to a boil over high heat. Cover and cook over low heat for 1.5 to 2 hours, until the ribs almost fall off the bones and the lotus root becomes very tender. If the soup reduces too quickly, add a bit hot water during cooking. Do not add water during the final 30 minutes.

Add salt to taste.
Dipping sauce
Mix light soy sauce, black vinegar, and sugar in a small bowl.

Serve the soup warm with the dipping sauce. Dip the ribs in the sauce while eating.
The nutrition facts are calculated based on 1 of the 4 servings generated by this recipe.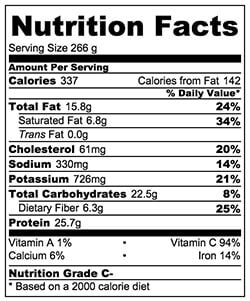 More recipes that use lotus root: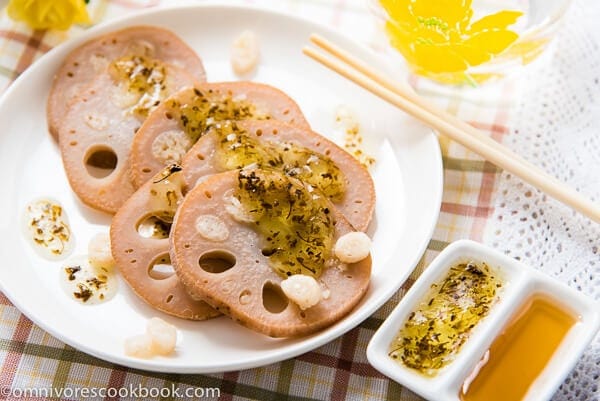 Honey Lotus Root with Sticky Rice (糯米藕)
A classic appetizer that is gooey and sweet. It's vegan and gluten-free.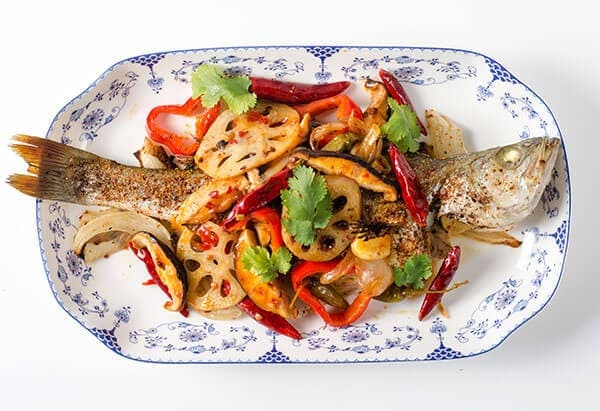 Chinese Spicy Roast Fish (重庆烤鱼)
The crispy and moist roasted fish is served with varies vegetables that are cooked in a pungent hot sauce.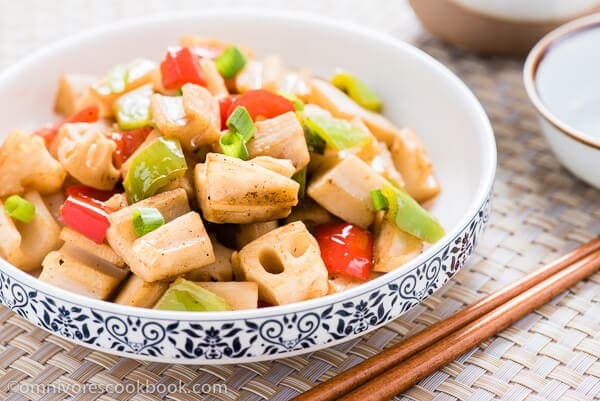 Stir Fried Lotus Root with Pepper
Cooked with a light and appetizing sweet-sour sauce, this is a super healthy side that you can have done in 15 minutes.