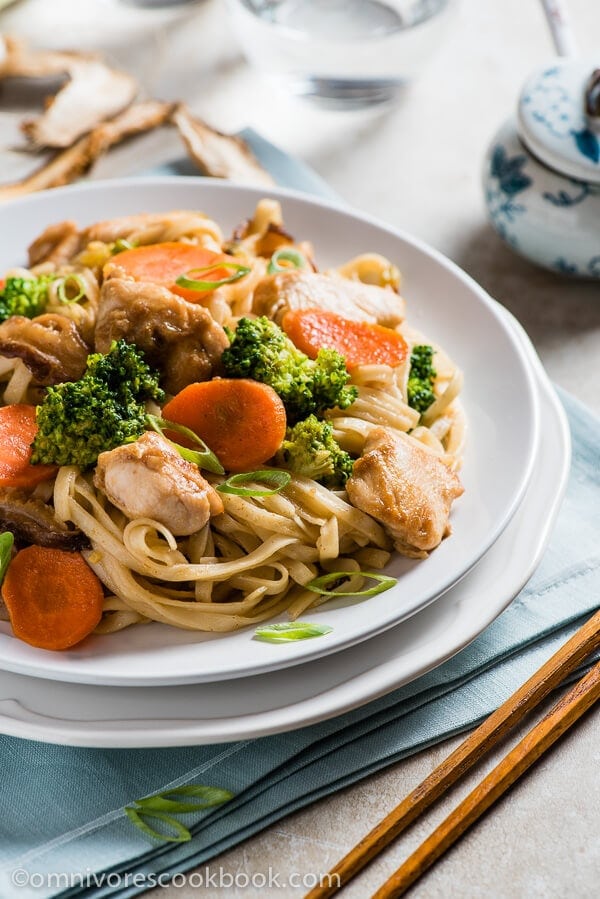 Shacha chicken chow mein brings fried noodles to another level. The noodles are soaked in a savory sauce that has a taste of the sea. The chicken is so moist and tender. Learn the secret sauce and foolproof method for creating a healthy, colorful, and delicious one-dish meal!
After a year of waiting, I finally moved to Austin!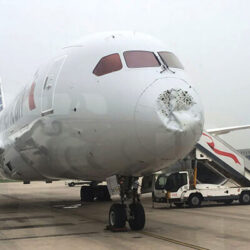 The trip was not a smooth one, though. My flight encountered a hailstorm 47 minutes after departure. The plane was damaged and returned to Beijing immediately. I was still enjoying my book and wondering when we would depart again, so I could catch the next connecting flight in Dallas. Not until the moment it was announced that the flight was cancelled, did I start to realize it was a serious problem. And then I saw the big dent on the nose cone of the plane. Wow, looking back, I'm really glad the pilot made the call to go back!
After a sleepless night at a hotel near the airport, I woke up at 4 AM to wait in line at the check-in kiosk, hoping to be assigned to a flight the same day. In the middle of the peak summer travel season, most flights to the US are full. I was really worried that I'd have to wait a few days to get another flight. Fortunately, I managed to get on a flight that departed at noon, just one day later than I'd originally planned. Thank God that the rest of the trip went smoothly. After 18 hours of traveling, I finally arrived in Austin.
I was really unlucky this time. The day before my intended departure, I caught a cold. It wasn't a big deal and I should have been able to recover within a day or two, but after nearly 48 hours of waiting and traveling with almost no sleep, dragging around four huge suitcases containing everything I own, I was totally deflated upon arrival. I slept through two days, and was only awake two or three hours every day.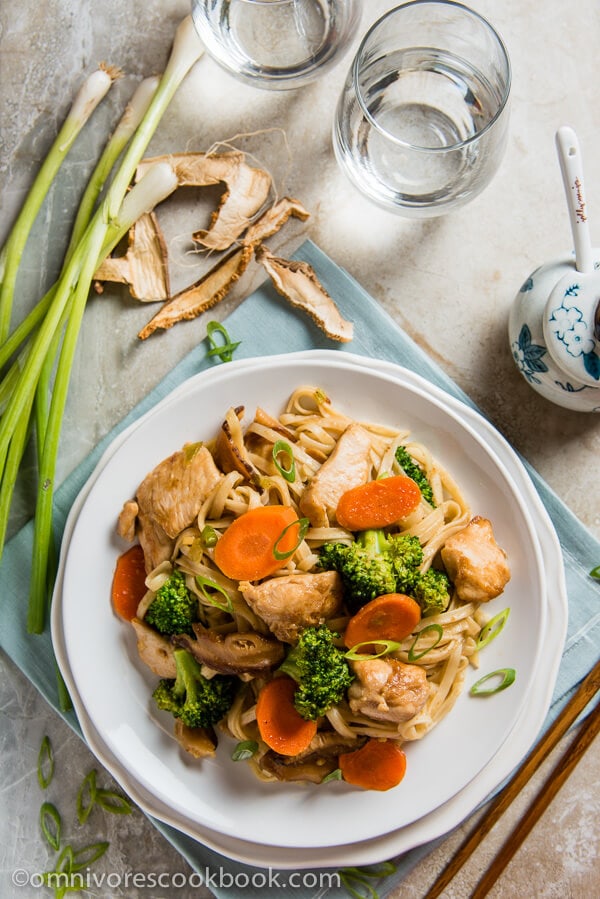 Thomas has been so sweet. He cooked my favorite tomato noodle soup and cream of mushroom soup every day. Those are my ultimate comfort foods that I really need in this kind of situation, one where I can sleep 20 hours without waking up.
It's my third day in Austin, and I can finally start to walk around without a headache. So, I decided to cook this chicken chow mein because it is almost as comforting as a hot noodle soup.
The secret ingredient here is shacha sauce (沙茶酱, sha cha jiang). It is a thick paste made from soybean oil, garlic, shallots, chili pepper, brill fish, and dried shrimp. It is commonly used in southern Chinese cuisine as dipping sauce, in stir fried dishes, and on BBQ. The sauce has a deep umami of the sea, with hints of sweet and spicy. Just like oyster sauce and doubanjiang, Shacha sauce is another basic ingredient that I recommend you keep on hand in your pantry. It stays good for a long time and can be used in all sorts of dishes. A small amount of shacha sauce goes a long way and makes a dish taste authentically Chinese.
Do not let the long ingredient list for this recipe scare you away. The recipe uses just a few basic ingredients to create a great savory flavor. I listed some of the ingredients separately, so it will be easier to follow during cooking. I made this dish a bit healthier by adding more vegetables and fewer noodles. The vegetables will be full of flavor too, so you'll be able to finish a big plate of it within a minute!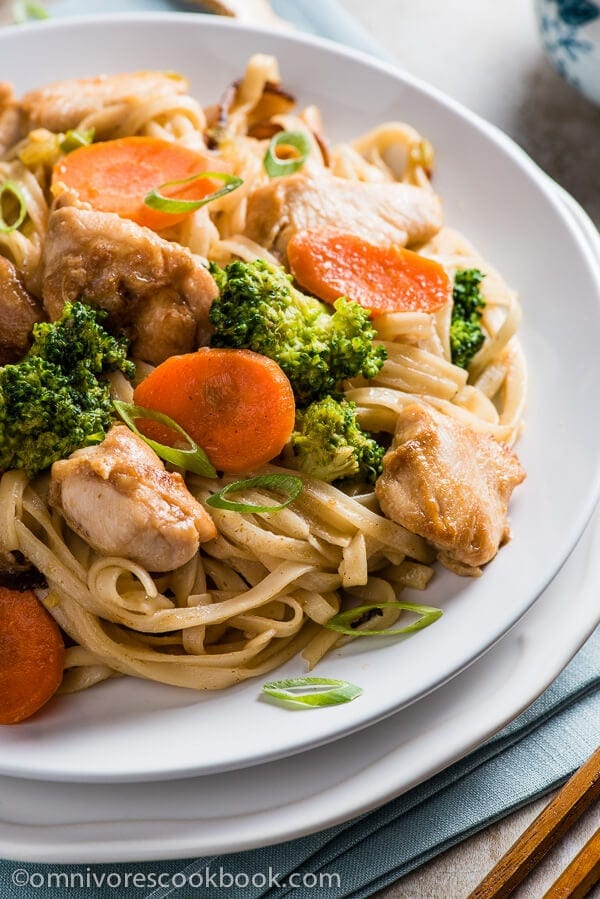 If you like fried noodles, don't forget to check out Char Siu Pork Lo Mein, 15-Minute Fried Noodles, and Beef Chow Fun.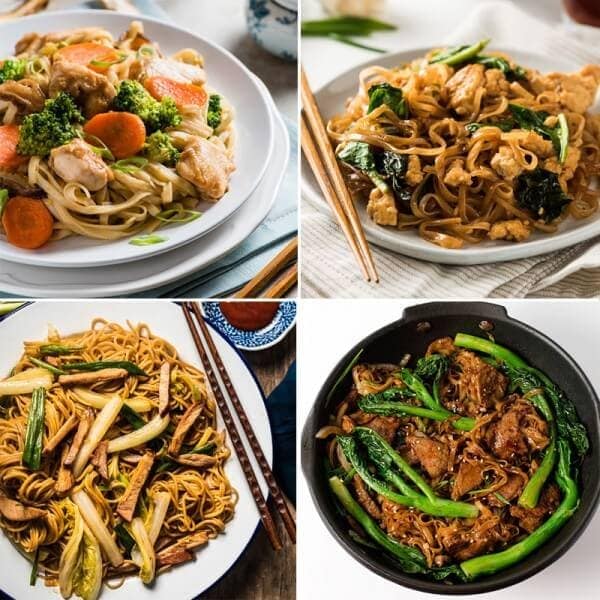 Do you like my recipes? Sign up for Omnivore's Cookbook's weekly newsletter to get the latest updates delivered to your inbox and a free e-cookbook!
Want to Know More?
Receive our 5-Day Chinese Cooking Crash Course & Recipe Updates! Subscribe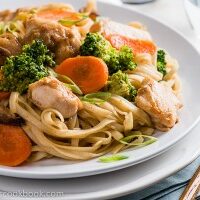 Shacha Chicken Chow Mein
Ingredients
Stir-fry
1

cup

dried shiitake mushrooms

or 2 cups fresh mushrooms (*see footnote 1)

1/2

head broccoli

separated into bite sized pieces

2

small carrot

sliced

1/3

cup

chopped green onion

1

teaspoon

grated ginger

250

grams

1/2 pound fresh noodles or 150 grams (1/3 pound) dried noodles

2

tablespoons

peanut oil

or vegetable oil
Instructions
(Optional) Add dried shiitake mushrooms into a bowl and add warm water to cover. Let rehydrate for 20 minutes, until the mushrooms turns soft. Rinse and slice.

Cut chicken against grain into bite sized chunks. (*see footnote 2)

Add light soy sauce, Shaoxing wine, and potato starch to chicken. Mix well and set aside.

Mix all the ingredients for the noodle sauce and set aside.

Prepare and cut vegetables.

If using dried noodles, boil the noodles according to the instructions until al dente. Drain and set aside.

Use the same pot of water to blanch the broccoli and carrots for 1 minute. Drain and set aside.

Heat 1 tablespoon oil in a large nonstick skillet over medium high heat until warm. Add chicken and quickly spread it with a spatula, so the pieces don't overlap. Grill until the bottom side turns golden. Flip and cook the other side until the surface is cooked but the chicken is still pink inside. Transfer to a plate.

Add the remaining 1 tablespoon oil to the same skillet. Add green onion and ginger. Stir a few times until fragrant.

Add mushroom. Stir and cook for 1 minute.

Add the noodle sauce and stir a few times.

Add broccoli, noodles, and chicken. Mix a few times with a pair of chopsticks (or tongs). Cover and cook over medium heat for 1 to 2 minutes, until chicken is cooked through and the sauce is fully absorbed. (*footnote 3)

Uncover and stir the noodles again.

Serve warm.
Notes
1. I personally prefer to use dried shiitake mushrooms because I always have them in the pantry and they add a stronger flavor to the dish. Alternatively, you could use fresh shiitake mushrooms or white mushrooms.
2. The recipe uses the stir-fry-and-steam method to create very tender chicken. You could cut large pieces of chicken and not worry about it not cooking through at first. I prefer to slice the chicken breast into 1 cm (1/2 inch) pieces, then cut the large pieces in half.
3. This is the most important step. By covering the skillet and letting it steam, the noodles and vegetables will soak up the sauce and the chicken will be cooked through while retaining its juiciness and tenderness.
The nutritional facts are calculated based on 1 of the 2 servings generated by this recipe.