The Brussels sprouts are roasted in the oven until crispy and served with a sweet and sour plum sauce. Learn how to use dried plums and curry powder to make an extra rich plum sauce.
Brussels sprouts are in that genre veggies that you either love or hate. And if you hate them, it's probably because they weren't cooked right.
I introduced my favorite way to cook Brussels sprouts in a previous post – you roast them until the surface turns crispy and the inside is tender. They are tasty in the same way potato chips are: you don't want to stop eating once you've started.
It's one of my favorites side dishes. Whenever we have steak night at home, I always grab a bag of Brussels sprouts and serve them with the steak.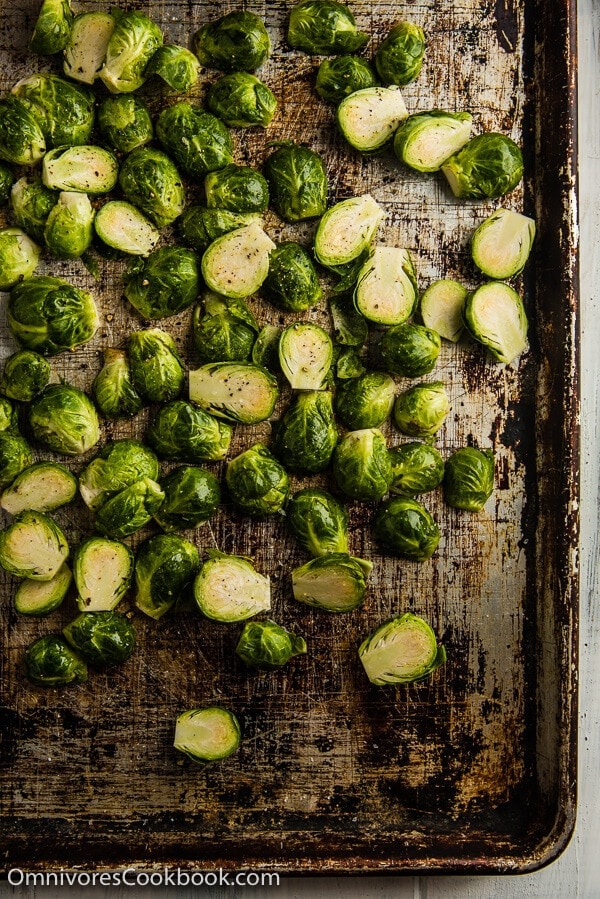 Just a few days ago, I discovered another great way to serve crispy Brussels sprouts. We were dining at Tatsu-Ya and ordered their dish "Sweet & Sour Yodas". It consists of deep fried Brussels sprouts served and a sweet-sour plum sauce that contains apricot vinegar and curry spices. Unlike the usual Chinese plum sauce, which is cooked with fresh plums, this one used dried plums and a vinegar base to create a condensed and pungent sweet and sour sauce. It tasted GREAT. In fact, it tasted so perfect that I stole the idea to make this copycat recipe the next day.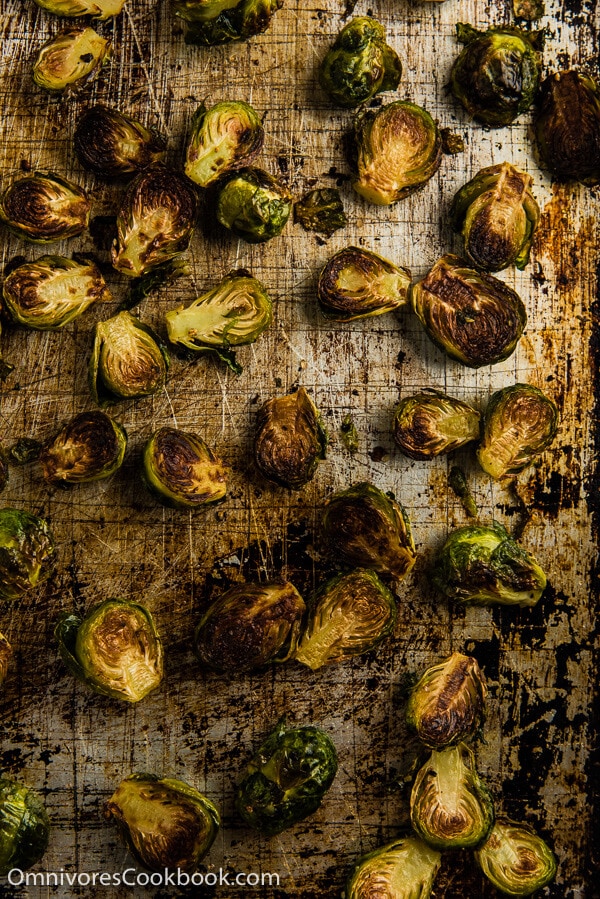 The thing I like the most, is that they used a small amount of curry powder in the plum flavored sauce to add a depth of flavor. If they hadn't told me, I probably wouldn't have noticed it at all. It blended in so naturally with the fruity flavor and created a hint of savoriness. To mimic the flavor, I used one of my favorite curry powders – mild Madras. It is not very pungent and tastes slightly sweet. I added a dash of it into the sauce as the hidden flavor. It worked like magic.
I cooked this recipe twice last week. We served it as a main dish for lunch one day, with a bi tof leftover rice and veggies. The other time, I served it as a side with a slice of prime rib. The Brussels sprouts and plum sauce worked out great in both cases.
Next time you're looking for a side or appetizer, try out this Asian style roasted Brussels sprouts. The flavor works well in both Oriental and Western meals.
Do you like my recipes? Sign up for Omnivore's Cookbook's weekly newsletter to get the latest updates delivered to your inbox and a free e-cookbook! And stay connected via Facebook, Instagram, Pinterest and Google+. Thanks for reading and happy cooking!
Want to Know More?
Receive our 5-Day Chinese Cooking Crash Course & Recipe Updates! Subscribe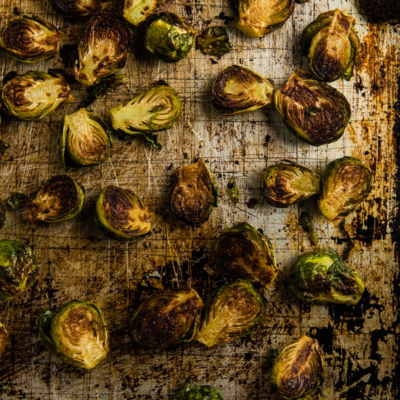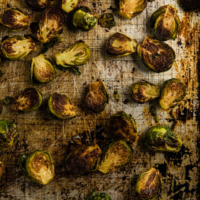 Roasted Brussels Sprouts with Plum Sauce
Ingredients
Brussels Sprouts
1

lbs (450 g)

Brussels sprouts

2

tablespoons

olive oil

, or vegetable oil

1/2

teaspoon

sea salt

1/4

teaspoon

black pepper
Plum sauce
1

tablespoon

olive oil

, or vegetable oil

2

cloves

garlic

, grated

2

tablespoons

finely minced shallot

4

seeded dried plums (prunes)

, chopped (yields about 2 tablespoons)

1/8

teaspoon

curry powder I used mild madras curry powder

2

tablespoons

balsamic vinegar

1

teaspoon

soy sauce

, or tamari for gluten-free

1

tablespoon

sugar
Instructions
Preheat oven to 400 degrees F (200 C).

Remove tough ends of Brussels sprouts and halve them. Try to keep them evenly sized; quarter very large ones if necessary.

Place Brussels sprouts onto a baking tray. Add vegetable oil, salt, and pepper. Toss to mix well. Bake on the middle rack of oven for 15 minutes. Toss again and flip to bake the other side, 10 to 15 minutes, until crispy and cooked through.

While baking Brussels sprouts, prep and cook the sauce. Heat olive oil in a small saucepan over medium heat. Add garlic and shallot. Stir and cook until the herbs start to sizzle. Add dried plums and stir a few times. Turn to medium low heat. Add curry powder. Cook until the ingredients are evenly coated with curry, 1 minute. Add balsamic vinegar, soy sauce, and sugar. Continue cooking until bringing to a boil. Let cook for another minute or two, until the sauce thickens.

Right before serving, place the Brussels sprouts in a bowl and add the plum sauce. Gently toss a few times and serve immediately as an appetizer or side dish.
The nutrition facts are calculated based on 1 of the 2 servings generated by this recipe.