A finger-licking tasty sandwich that is easy enough to make for a weekday dinner and fancy enough to serve at a party.
The authentic Macanese pork chop bun is a very simple sandwich that consists of just a Portuguese bread roll and a bone-in thin-cut pork chop. It is the most famous and popular street food in Macau, and for good reason. The bun is tender, crispy, and moist with butter. The pork chop is fresh, juicy, and either fried or grilled, right off the stove. No tomato slice or sauce required.
I love the simplicity of the original version, but found it challenging to serve for dinner or at a grilling party. The pork chop starts to lose its juices very quickly once it's off the stove. This isn't a problem for the street food version, since the juice will be absorbed by the bun immediately. It makes the sandwich moist without being soggy, and you'll finish the whole thing within a minute or two.

MY LATEST VIDEOS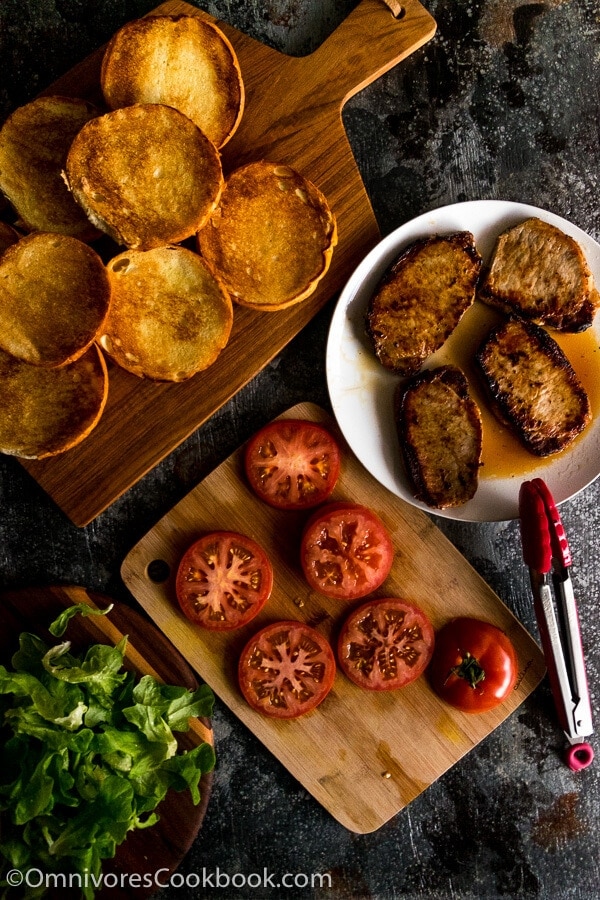 The pork chop bun will taste a bit dry if you don't serve it hot. So my suggestion is to add sliced vegetables and sauce when serving this dish for your dinner or party. This is easy to accommodate. You can choose from lettuce, tomato, onion, or pickled or fresh cucumber. As for sauces, my favorite in this case is mayonnaise, but ketchup and mustard work, too. Again, you want to keep this sandwich very simple so the pork chop will be the star. So, limit your toppings to two or three items.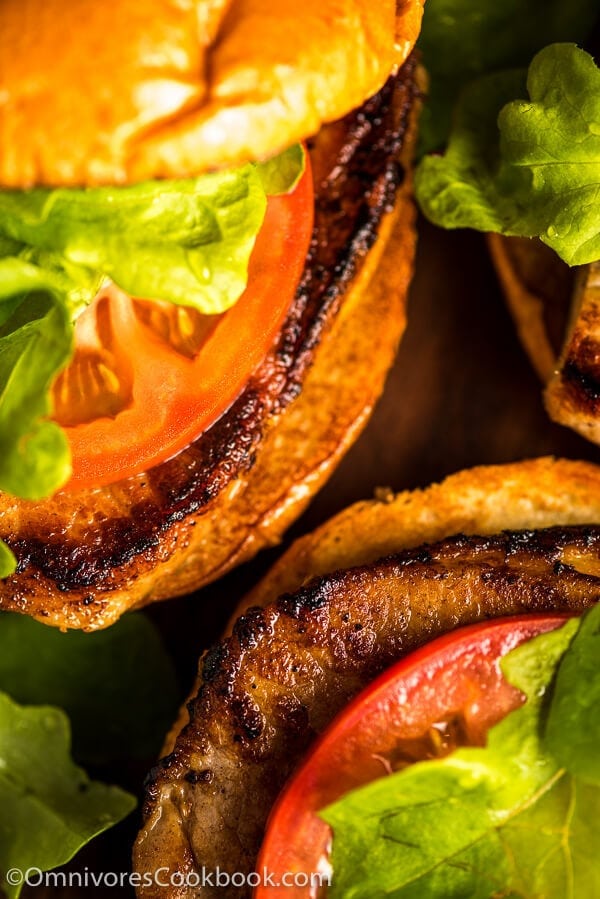 For the most flavorful pork chops, I highly recommend you marinate the chops overnight. Marinating them right before cooking will work, too. Simply sprinkle a bit more salt onto the pork chops during cooking, to get them well seasoned.
Need more ideas for your summer grilling party? Check out my Grilled Chicken Breast with Black Bean Sauce, Cha Siu Kebab, and Five Spice Chicken for mains. And my Cucumber Salad, Mango Spinach Salad, and Wood Ear Mushroom Salad for sides.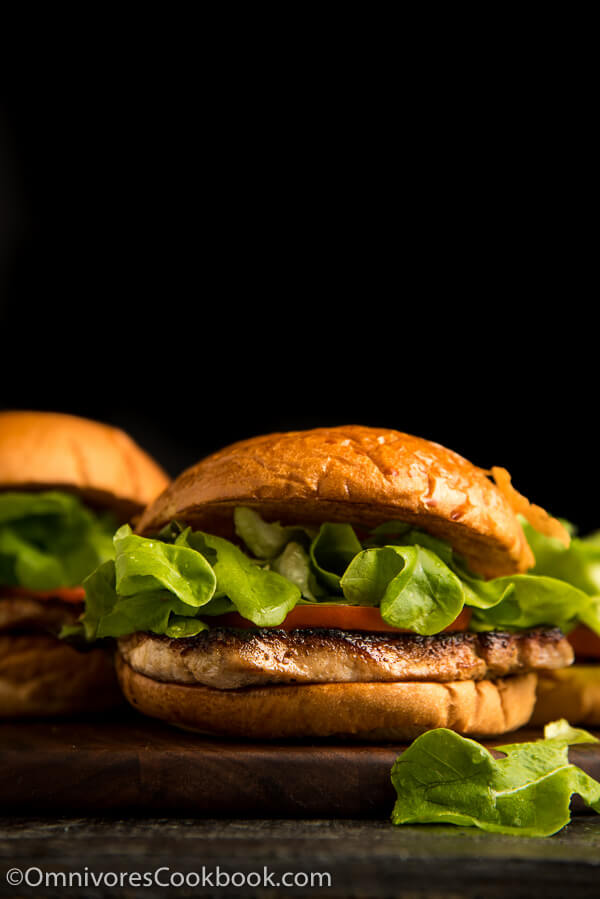 If you give this recipe a try, let us know! Leave a comment, rate it (once you've tried it), and take a picture and tag it #omnivorescookbook on Instagram! I'd love to see what you come up with. Cheers, friends!
Print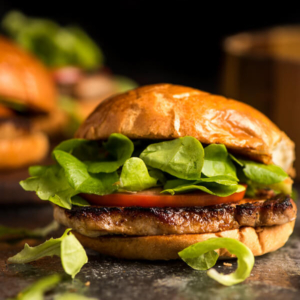 Macanese Pork Chop Bun (猪扒包)
---
Author:

Prep Time:

15 mins

Cook Time:

15 mins

Total Time:

30 mins

Yield:

4

Category:

Main

Cuisine:

Chinese
Ingredients
4 thin-sliced bone-in or boneless pork rib chops (1-cm or 1/2-inch thick)
Marinade
Bun
4 Portuguese bread rolls
2 tablespoon butter, softened
1 tomato, sliced
Lettuce leaves
(Optional) mayonnaise, ketchup, or mustard
---
Instructions
Combine all the marinade ingredients in a small bowl, mix well.
Place pork chops into a large ziplock bag. Pour in marinade. Squeeze out as much air as possible, and seal. Massage the bag so that both sides of the pork chops are coated with the marinade. Marinate in fridge for at least 1 hour, preferably overnight.
Right before cooking, split Portuguese rolls in half and brush the cut sides with a generous amount of butter.
To cook on the grill
Light one chimney full of charcoal. When the charcoal at the top of the chimney is lit, put on heat resistant gloves and pour the charcoal over one side of the coal grate to create a moderate two-zone fire. Set the cooking grate in place, cover the grill, and preheat for 5 minutes. Clean the cooking grate.
Pat pork chops dry with paper towel and lightly season with sea salt.
Arrange pork chops over direct fire. Cook until both sides turn golden brown, about 3 minutes per side. Lift a pork chop with a pair of tongs and insert a thermometer through the side of the chop away from the bone; it should read 60 degrees C (140 F). Transfer the pork chops to a tray and let rest for 5 minutes. The internal temperature should rise to 63 to 65 C (145 to 150 F).
While resting the pork chops, grill the cut sides of the Portuguese buns over direct fire until browned.
Assemble the buns and serve immediately.
To cook on the stove
Heat a cast iron pan over medium heat until hot. Cook the cut sides of the Portuguese buns until browned.

Pat pork chops dry with paper towel and lightly season with sea salt.
Add 2 tablespoon of oil to the same cast iron pan. Carefully place a pork chop into the pan and press with a spatula, so the chop will stay flat during cooking. When the first pork chop has cooked for about a minute, place another chop and press it with a spatula, repeating the process for each chop. Cook until both sides are evenly browned, and the internal temperature reaches 60 degrees C (140 F). Let rest for 5 minutes. The internal temperature should rise to 63 to 65 C (145 to 150 F).

Layer a pork chop, sliced tomato, and onion in each roll. Serve immediately with your choice of sauce.
The nutrition facts are calculated based on 1 of the 4 servings generated by this recipe.