This Japanese egg sandwich recipe is sponsored by Pete and Gerry's Organic Eggs. All opinions expressed are my own. Thank you for supporting the companies that keep this blog going.
Japanese egg sandwich, or tamago sando, features creamy egg salad packed between light and fluffy Japanese milk bread. It is so easy to put together and holds up well, so it's perfect for a light meal or wrapped up for your kid's lunchbox.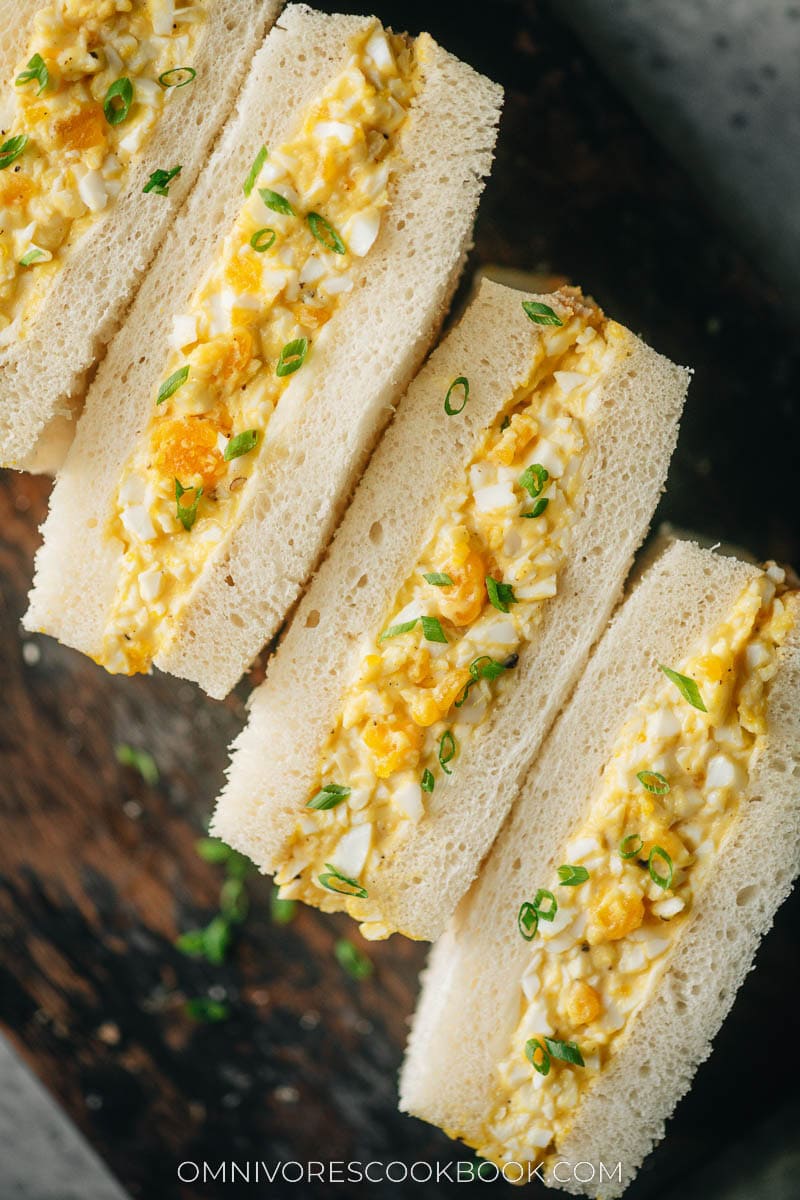 During my two years living in Japan, some of my most favorite foods were from convenience stores, or Konbini. The Japanese egg sandwich is among the most popular prepared foods and I enjoyed it all the time.
Making Japanese egg sandwiches is super easy – you just make an egg salad and then spread it between two slices of white bread. However, there are a few tricks you can follow to make the best egg sandwich!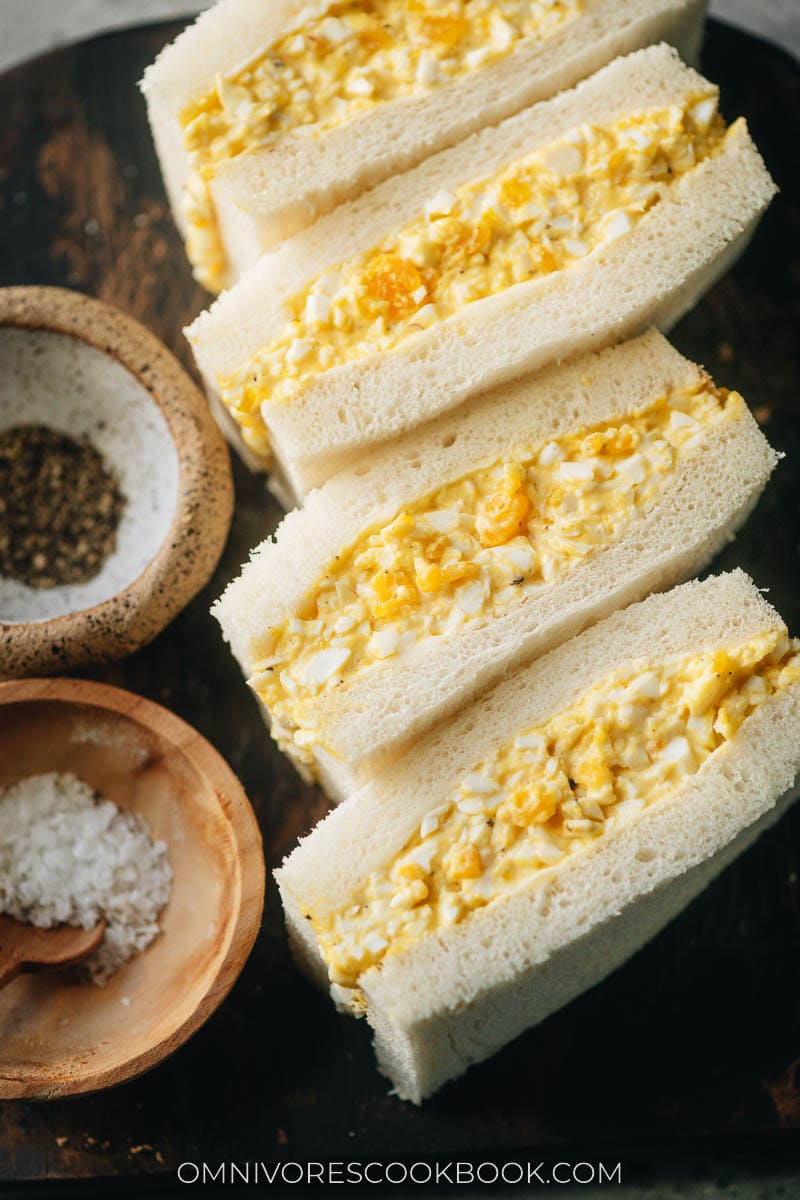 Ingredients
High quality eggs
Since the egg salad is lightly seasoned and the egg is the star of the dish, it's important to use high quality eggs. Pete and Gerry's Organic Eggs are always fresh and full of flavor, making them perfect for this purpose. Their free range eggs are raised on small family farms, not factory farms that simply use a farm label. Their organic eggs also contain no pesticides, no added hormones, no antibiotics, and no GMOs. Those eggs have a darker and harder shell, a big, vibrant yolk, and a richer taste.
Japanese mayonnaise
Japanese mayonnaise has a richer flavor and is creamier in texture than the typical American mayonnaise. The mayo is made with only the yolks, while American mayo usually uses whole eggs. Also, instead of distilled vinegar, rice vinegar and apple cider vinegar are commonly added to Japanese mayo for a hint of sweetness.
You can definitely use regular mayonnaise to make the Japanese sandwich, but the Japanese mayo definitely helps create a more authentic taste.
Milk bread
Milk bread is another key element of the perfect Japanese egg sandwich because of its light, fluffy, airy texture and silky mouthfeel. The taste of the bread is lightly sweet, and works perfectly with the creamy egg salad. You can find milk bread in most Asian markets. If it's not available, use a high quality white bread that has a very fine, spongy texture.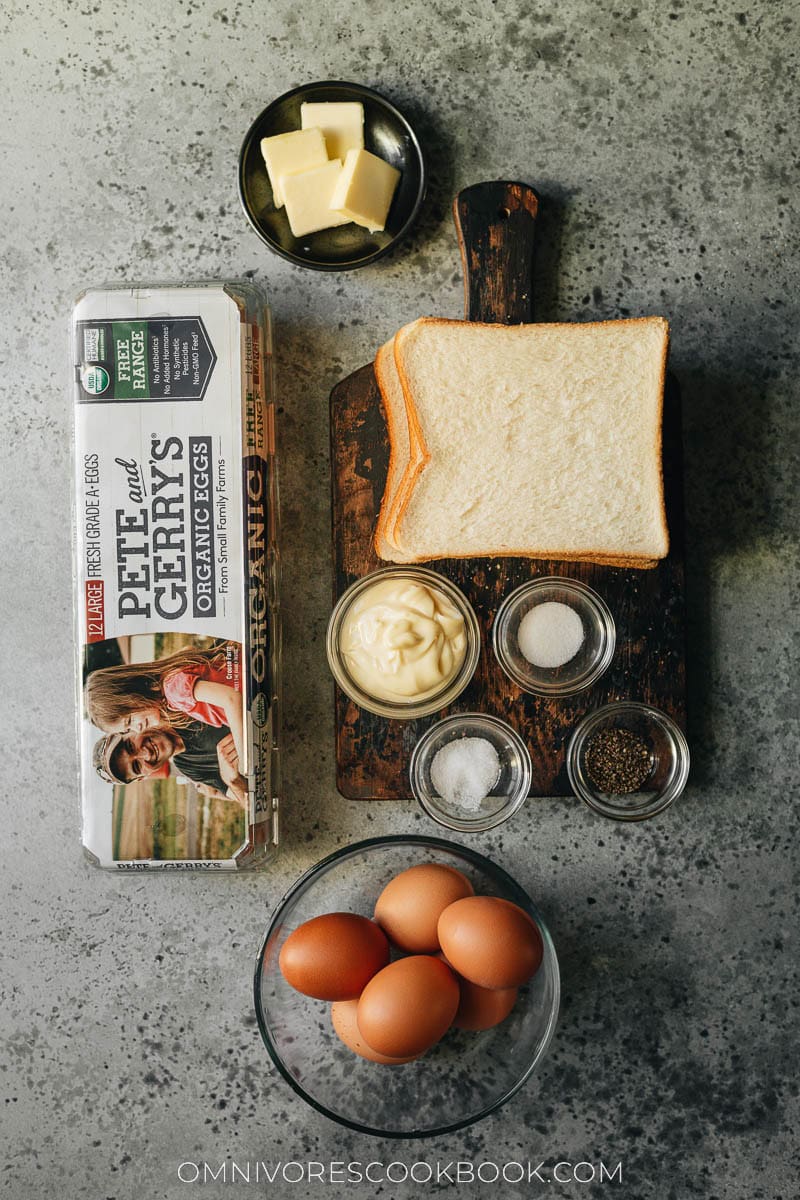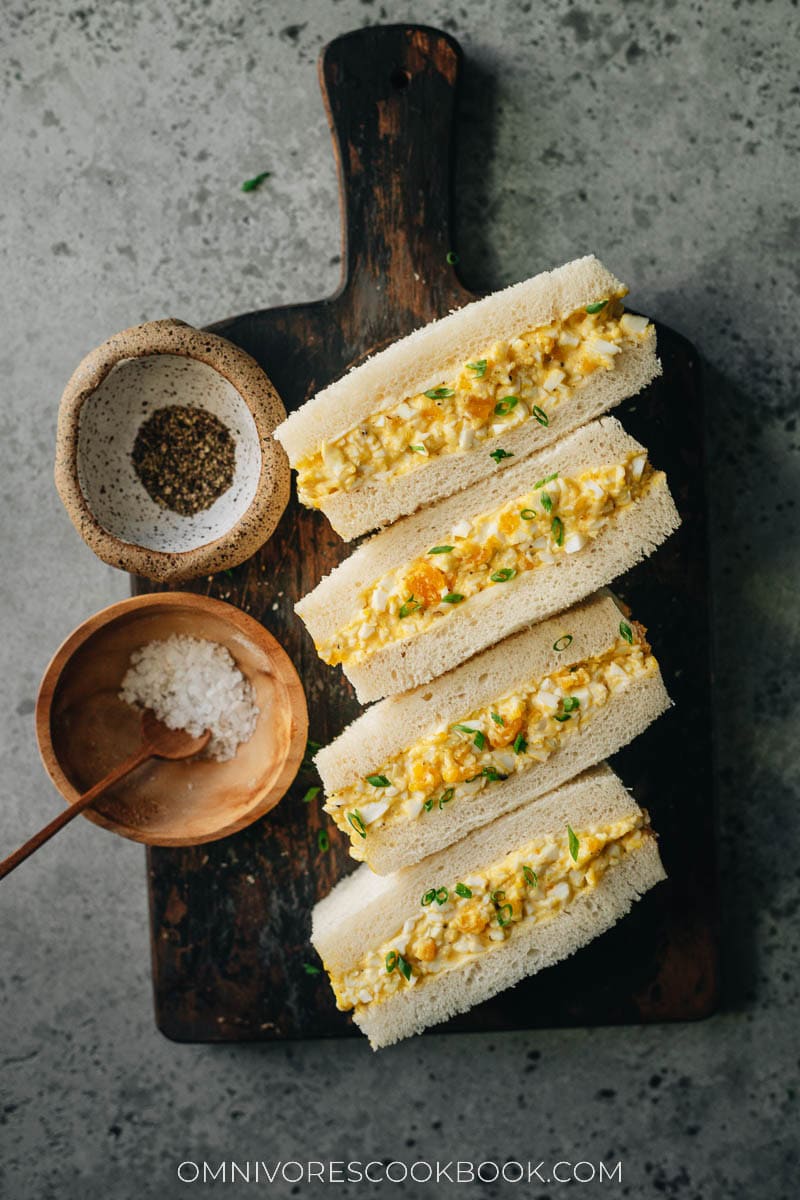 How to make the Japanese egg sandwich
Soft boiled eggs vs hard boiled eggs
Traditionally, Japanese egg sandwiches are made with hard boiled eggs. However, I really like the texture of soft boiled eggs, which is much creamier and less dry than hard boiled. Its taste is also more fresh, without the sulfuric hint that hard boiled eggs sometimes carry. That's why I chose to use medium soft boiled eggs with the egg yolks just set but still a bright orange color.
And of course, you can totally use hard boiled eggs as well. In this case, you can add a splash of milk to the egg salad so it remains moist.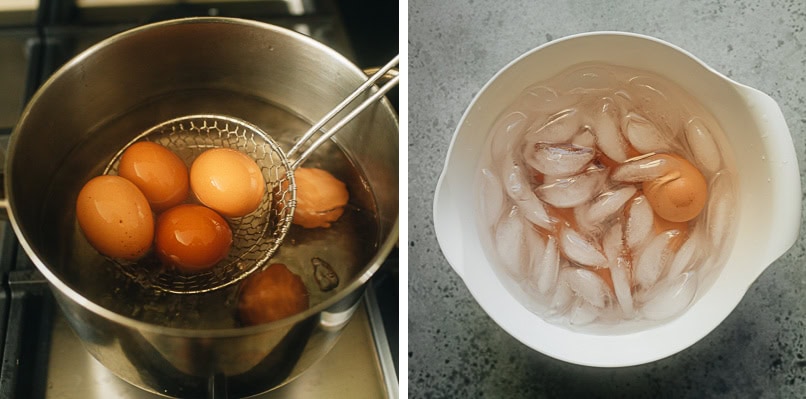 TIP: make sure to prepare an ice bath to chill the eggs immediately once they're done boiling. Not only does it stop the cooking immediately so you have the perfect yolk doneness, but the chilling process also makes it easier to peel the eggs.
Japanese egg sandwich Cooking process
Sprinkle with seasonings. (I like to peel and smash the eggs while they're still a bit warm, so the salt and sugar dissolve and incorporate better)
Smash the eggs into small pieces. I like to use a knife to assist the fork for this step.
Add the mayonnaise and mix again.
Taste the egg salad. You can add more seasoning if needed.
Butter the sandwich bread.
Add the egg salad, then layer the other slice of bread on top.
Slice off the crust, then cut the egg sandwich into two.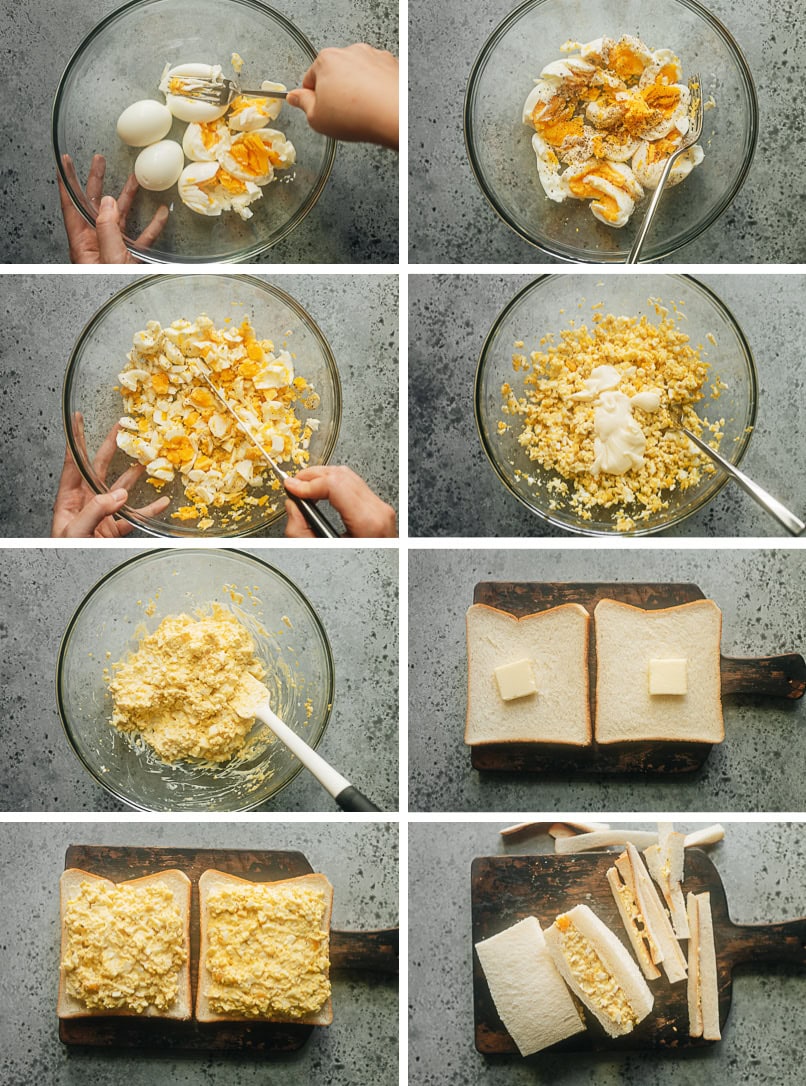 Now you can enjoy the creamy, rich Japanese egg sandwich!
How to store Japanese egg sandwich
If you use milk bread, you can store Japanese egg sandwiches in the fridge for up to 2 days. You can use an airtight container or plastic wraps to seal the sandwiches. Because the milk bread is very tender and has fine grains, it tends to maintain a nice fluffy texture even in the fridge.
If you use regular bread, the bread might turn a bit stiff in the fridge. For regular bread, I prefer to make the egg salad ahead of time and store it in a container. And I would assemble the egg sandwiches the day I plan to eat them.
If the bread you use is not super fresh, feel free to make toast, then spread the butter and add the egg salad. It will taste amazing this way as well!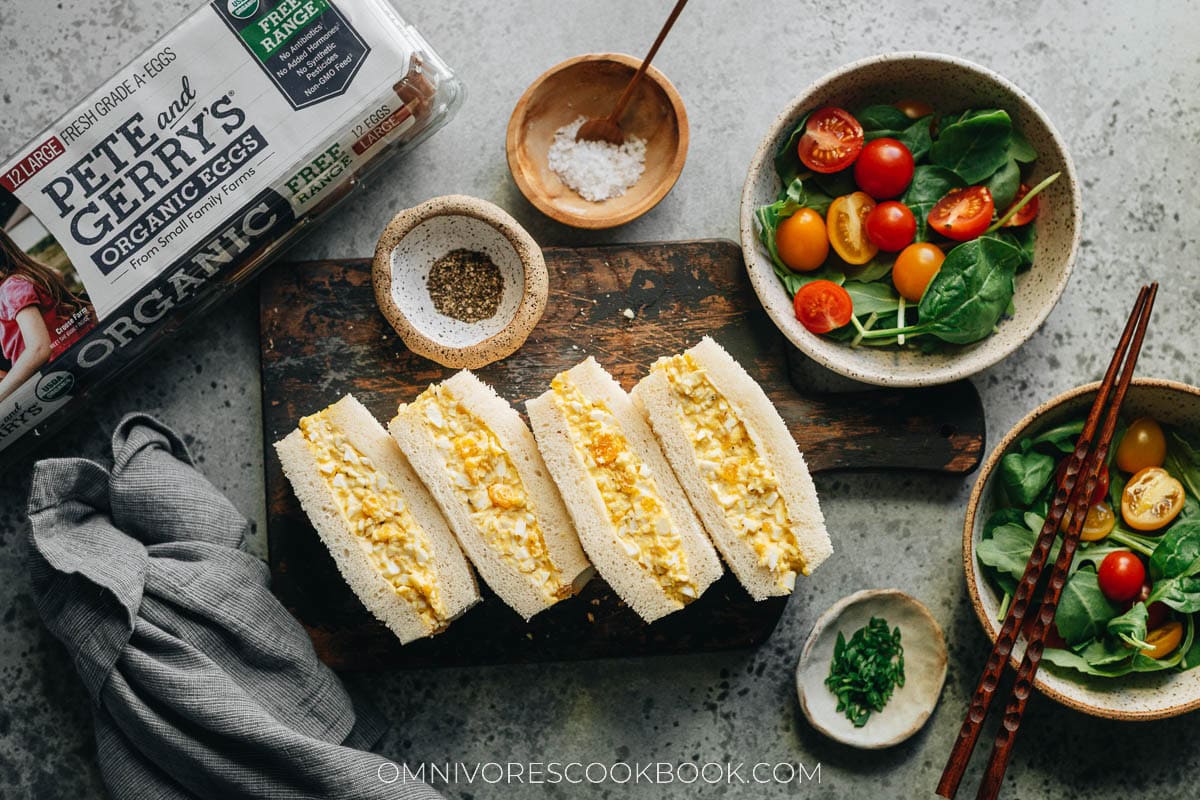 More delicious egg recipes
Want to Know More?
Receive our 5-Day Chinese Cooking Crash Course & Recipe Updates! Subscribe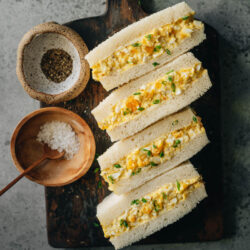 Japanese Egg Sandwich (Tamago Sando)
Japanese egg sandwich, or tamago sando, features creamy egg salad packed between light and fluffy Japanese milk bread. It is so easy to put together and holds up well, so it's perfect for a light meal or wrapped up for your kid's lunchbox.
Ingredients
Egg salad
1/4

teaspoon

sugar

1/4

teaspoon

salt

1/4

teaspoon

ground black pepper

1 to 2

teaspoon

milk

or plant milk (Optional) (Footnote 1)

4

tablespoons

Japanese mayonnaise
Sandwich
4

slices

Japanese milk bread

2

tablespoons

unsalted butter

, softened

chives

, sliced (for garnish) (Optional)
Instructions
To make the egg salad
Prepare an ice bath in a big bowl.

Bring a medium-sized pot of water to boil. The water level should be high enough to cover the eggs. Once the water is boiling, carefully lower the eggs using a ladle. Boil for 7 minutes (*Footnote 2), then turn off the heat and let the eggs sit for 1 minute for medium soft boiled eggs. Boil for 10 minutes for hard boiled eggs. Once done, immediately transfer the eggs to the ice bath and let sit for 2 minutes to stop cooking, but remove them while they're still lukewarm. Then peel the eggs.

Transfer the peeled eggs to a large bowl. Mash the eggs with a fork a few times to break them up. Add the sugar, salt and pepper. Keep mashing the eggs into small pieces that are smaller than a pea but larger than minced. You can use a paring knife to assist in the mashing, which might make it easier.

Add the mayonnaise (and milk, if you are using hard boiled eggs). Mix everything together. Taste the egg salad and add more salt, pepper, or mayonnaise if needed.
To cook and assemble the sandwich
To assemble one sandwich, spread 1/2 tablespoon of the butter evenly onto each slice of bread. Evenly spread the egg salad onto one slice of bread. Put the other slice of bread on top, buttered side down. Gently press the bread down. Then slice the crust off the bread. Assemble the other sandwich using the same method. Garnish with chives, if using.

Cut the sandwiches in half and serve immediately.
To Store
To store the sandwiches, wrap up each sandwich with plastic wrap and store it in the fridge for up to 2 days.
Notes
If you prefer soft boiled eggs, there is no need to use milk. If you cook hard boiled eggs, stir in 1 to 2 teaspoons of milk until the egg salad reaches desired consistency.
Nutrition
Serving:
1
serving
,
Calories:
215
kcal
,
Carbohydrates:
9
g
,
Protein:
10.3
g
,
Fat:
15.4
g
,
Saturated Fat:
4.9
g
,
Cholesterol:
290
mg
,
Sodium:
418
mg
,
Potassium:
112
mg
,
Fiber:
0.3
g
,
Sugar:
2.2
g
,
Calcium:
56
mg
,
Iron:
2
mg