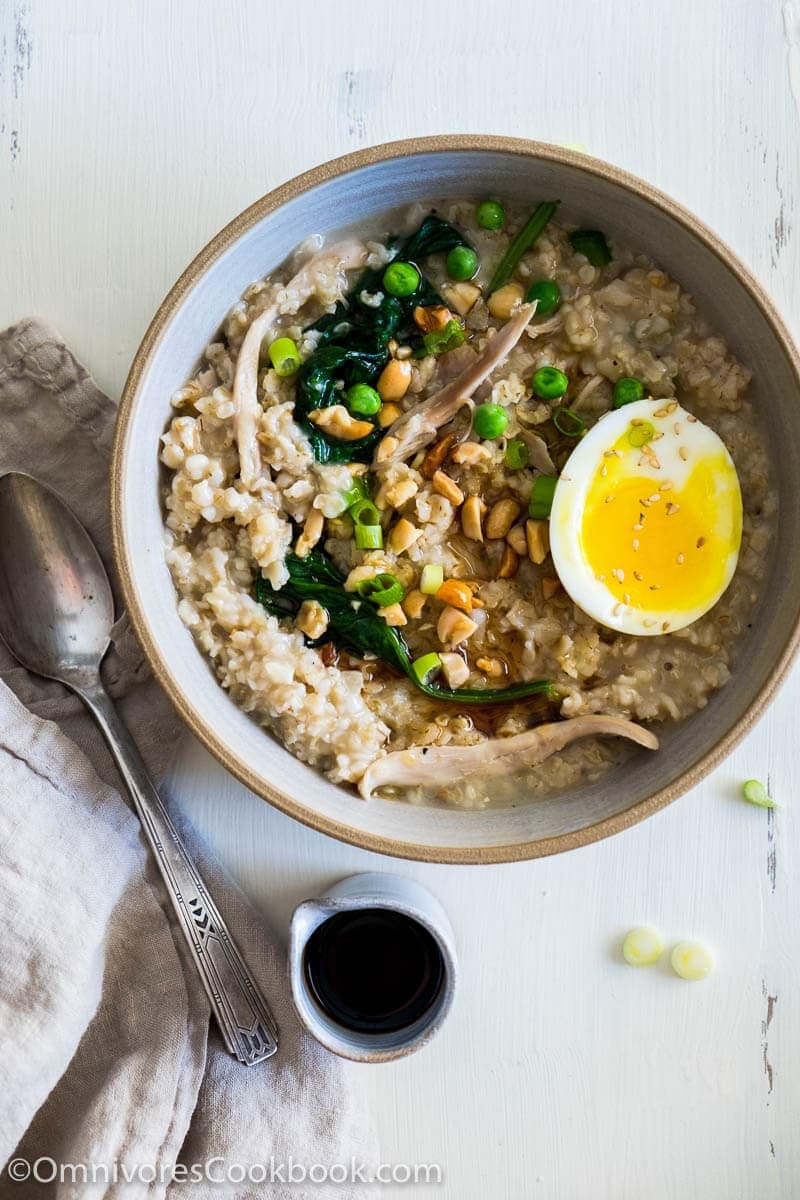 Learn how to create a hearty, whole grain savory oatmeal bowl with only 4 ingredients and in 5 minutes!
Oats are an incredibly versatile whole grain. You might be familiar with sweet oatmeal bowls that are topped with fruit and honey. But once you've tried making your oats into a savory bowl, you'll be surprised at how easy and quick it is to create a one-bowl meal!
The recipe I'm sharing today is inspired by a traditional Chinese chicken and spinach congee. When you swap the grain from white rice to quick cooking rolled oats, you reduce the cooking time from 1 hour to merely 5 minutes. Even better, the oats are rich in dietary fiber and can help reduce cholesterol. Your meal will immediately become healthier by simply using oats.
To cook the savory oatmeal, bring a pot of chicken stock to a boil, add oatmeal, leftover chicken and spinach. Season with salt and pepper. That's it! You can adjust the oatmeal to your preference. Don't like a gooey porridge texture? Use less chicken stock and you'll get the creamy oatmeal. Want to make the congee extra flavorful? Drizzle a bit soy sauce and sesame oil once you're done cooking. The topping options are endless. My favorites are a soft boiled egg and crushed nuts but you can use anything you like.
Not only you can cook and serve the oatmeal bowl in a busy morning, you can prepare it ahead of time too. The leftover overnight oats will taste even better. Heat it up in the microwave anytime during the day when you crave a snack or need an energy boost.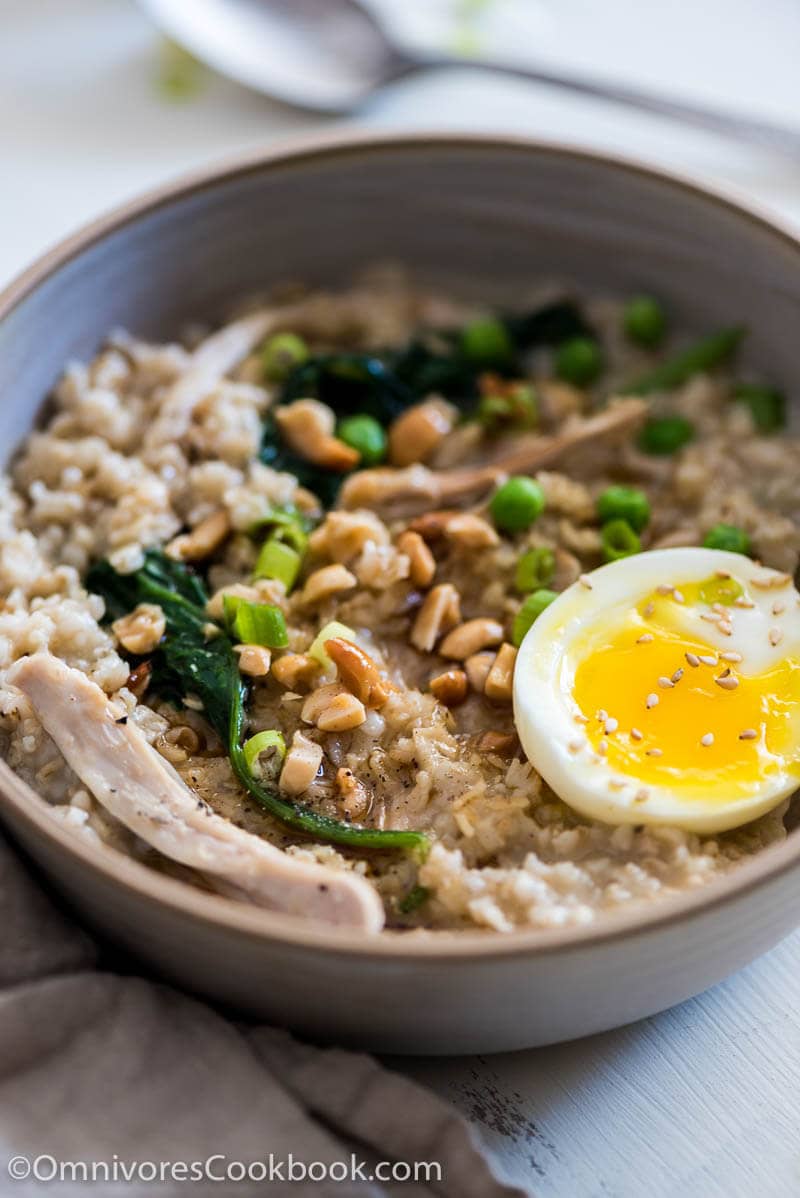 And there's more good news! Now you can go to this website and grab some coupons for Bob's Red Mill oats. There are many types of oats that you can choose from – gluten-free oats, old fashioned rolled oats, steel cut oats and quick cooking rolled oats.
The difference between rolled and steel cut oats is in how they have been processed. Rolled oats are rolled flat to produce those flakes you know and love. Steel cut oats are chopped into several pieces for a chewier oatmeal. Both the steel cut and the old fashioned require a longer cooking time (10 to 20 minutes) but in return you get the unique texture. The quick cooking rolled oats use only 5 minutes to cook, which is perfect for a busy morning when you need to prepare breakfast for the kids and drive them to school. No matter which one you choose, all Bob's Red Mill oats are kiln roasted to give them that wholesome flavor you come to expect.
Need more quick recipe ideas? Check out these quick recipes, one-bowl recipes, and 5-ingredient recipes!
Happy cooking!
Want to Know More?
Receive our 5-Day Chinese Cooking Crash Course & Recipe Updates! Subscribe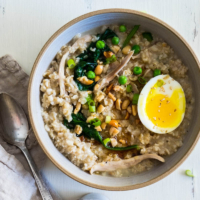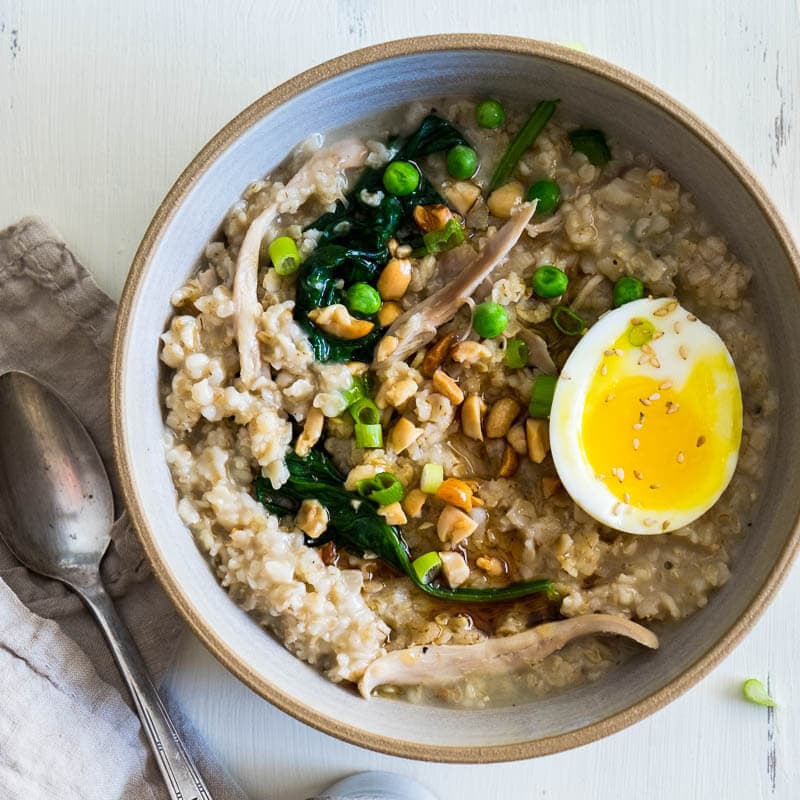 Savory Oatmeal with Chicken and Spinach
Learn how to create a hearty, whole grain savory oatmeal bowl with only 4 ingredients and in 5 minutes!
Ingredients
2 to 3

cups

Chicken stock

(*footnote 1)

1

cup

Bob's Red Mill Quick Cooking Rolled Oats

1

cup

leftover chicken

, shredded or cut finely

2

cups

spinach

1/4

teaspoon

sea salt

(or to taste)

black pepper

, freshly grounded
Topping options
Soft boiled

poached or fried egg

Green peas and chopped cherry tomatoes

Chopped green onion

(or chives)

Crushed roasted peanuts

(or sesame for garnish)

Sesame oil

soy sauce or chili oil to finish the dish
Instructions
Add chicken stock to a small pot and bring to a boil. Add rolled oats, leftover chicken and spinach. Cook for 5 minutes and until the oats are cooked through. Stir occasionally. Add salt and pepper to taste.

Add preferred toppings and serve hot.

You can make the oatmeal ahead and store it in an airtight container and refrigerate for up to 2 days. Reheat in microwave without cover until hot. Stir once in between.
Notes
If you want a porridge texture use 3 cups chicken stock. If you like a creamy texture, use 2 cups chicken stock.
I was selected for this opportunity as a member of Clever Girls and the content and opinions expressed here are all my own.