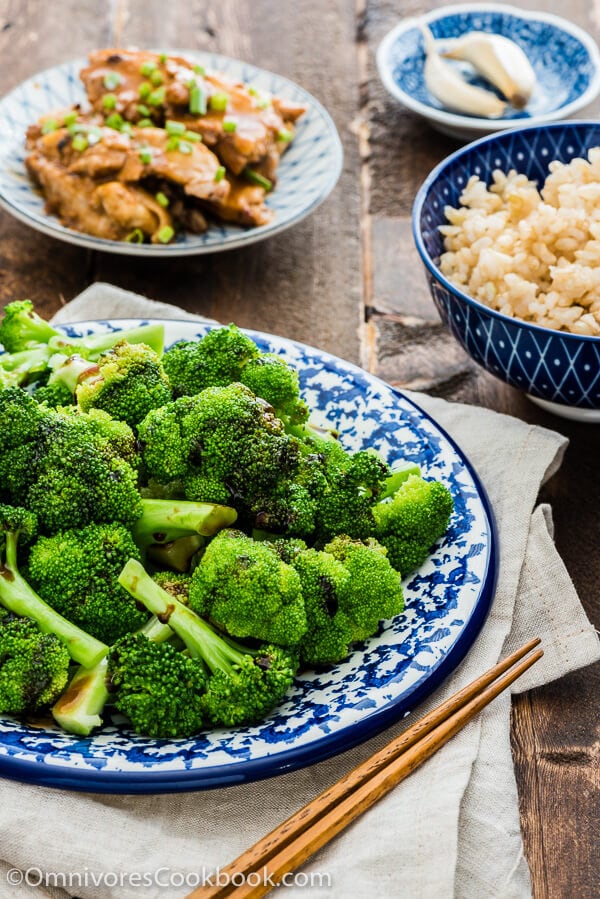 A plate of poached veggies served with Cantonese style oyster sauce is the quickest way to enjoy the freshness of the ingredients. Find out how real Cantonese restaurants serve this simple dish.
A simple broccoli served with oyster sauce might not sound very special. You can find recipes for it everywhere. The truth is, I posted a very similar recipe a while ago. But only after traveling to Guangzhou did I find out that I have been cooking this dish the wrong way.
Instead of adding plenty of fresh herbs, such as ginger and garlic, Cantonese style poached veggies are served with a simple drizzle of oyster sauce. That's it.

MY LATEST VIDEOS
The idea is contradictory to my basic understanding of Chinese cooking. No matter whether cooking a stir fried dish, braised meat, or a bowl of soup, I'd always fetch some fresh herbs that go with the ingredients before starting to prep. Sometimes I might overdo it, but the dish never went wrong.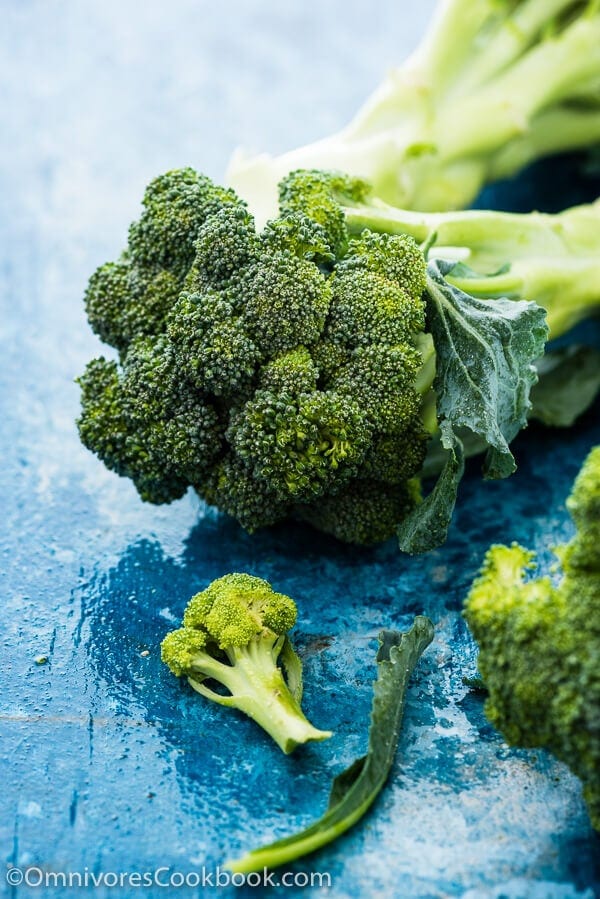 Also, it's very difficult to suppress my urge to add a handful of chopped green onions or a pinch of grated ginger to any Chinese dish I make. When the plate of quickly cooked lettuce served with oyster sauce was placed in front of me in Guangzhou, I felt there must be something wrong with it.
Turns out, I jumped to that conclusion too quickly. The sauce was not heavily seasoned with garlic, the way I would usually make it, but the mild savory and sweet sauce went so nicely with the lettuce and brought out its flavor without overpowering it. It was one of the best veggie dishes I'd ever had.
That's why I want to share this short recipe with you today. The only ingredients you need are a few drops of oyster sauce, soy sauce, and a dash of sugar. No fresh herbs needed. Make sure to cook the sauce slowly to avoiding burning it. You can serve it with all sorts of poached veggies. The most common ones on Chinese menus would be lettuce, gai lan, bok choy, broccoli, and other mustard greens.
This is one of my favorite ways to add greens to my dinner table. It is fast, fuss-free, and super healthy!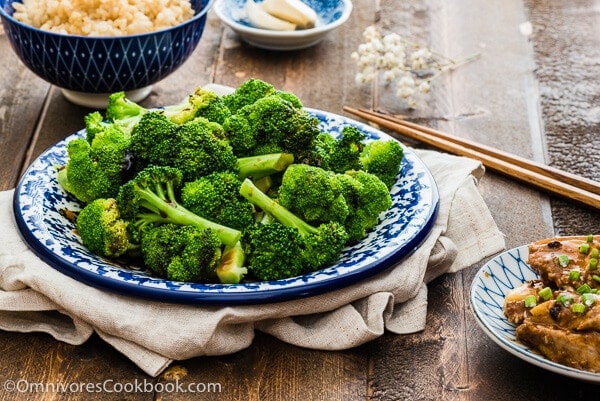 Do you like my recipes? Sign up for Omnivore's Cookbook's weekly newsletter to get the latest updates delivered to your inbox and a free e-cookbook! And stay connected via Facebook, Instagram, Pinterest and Google+. Thanks for reading and happy cooking!
Print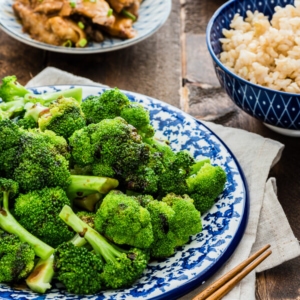 Cantonese Broccoli with Oyster Sauce
---
Author:

Prep Time:

5 mins

Cook Time:

10 mins

Total Time:

15 mins

Yield:

2

Category:

Side

Cuisine:

Chinese
---
Instructions
Bring a large pot of water to a boil. Add a pinch of salt and a spoonful of vegetable oil to the water, so the broccoli will retain its nice color through cooking. Add broccoli. Cook until soft. Strain and place on a plate. (*see footnote 1)
While boiling the water, combine 1/4 cup water, the oyster sauce, the soy sauce and the sugar into a small skillet. Cook over medium heat until almost boiling. Turn to low heat. Cook until the sauce reaches desired thickness.
Drizzle the sauce onto the broccoli right before serving.
Notes
1. As an alternative, you can steam the broccoli too. Steamed veggies retain even more nutritions.
The nutrition facts are calculated based on 1 of the 2 servings generated by this recipe.