Learn how to make extra tender and flavorful Chinese turnip cakes that are loaded with goodies. They taste way better than the restaurant version. This dim sum classic is a must-have for Chinese New Year and a great appetizer for any Chinese dinner party.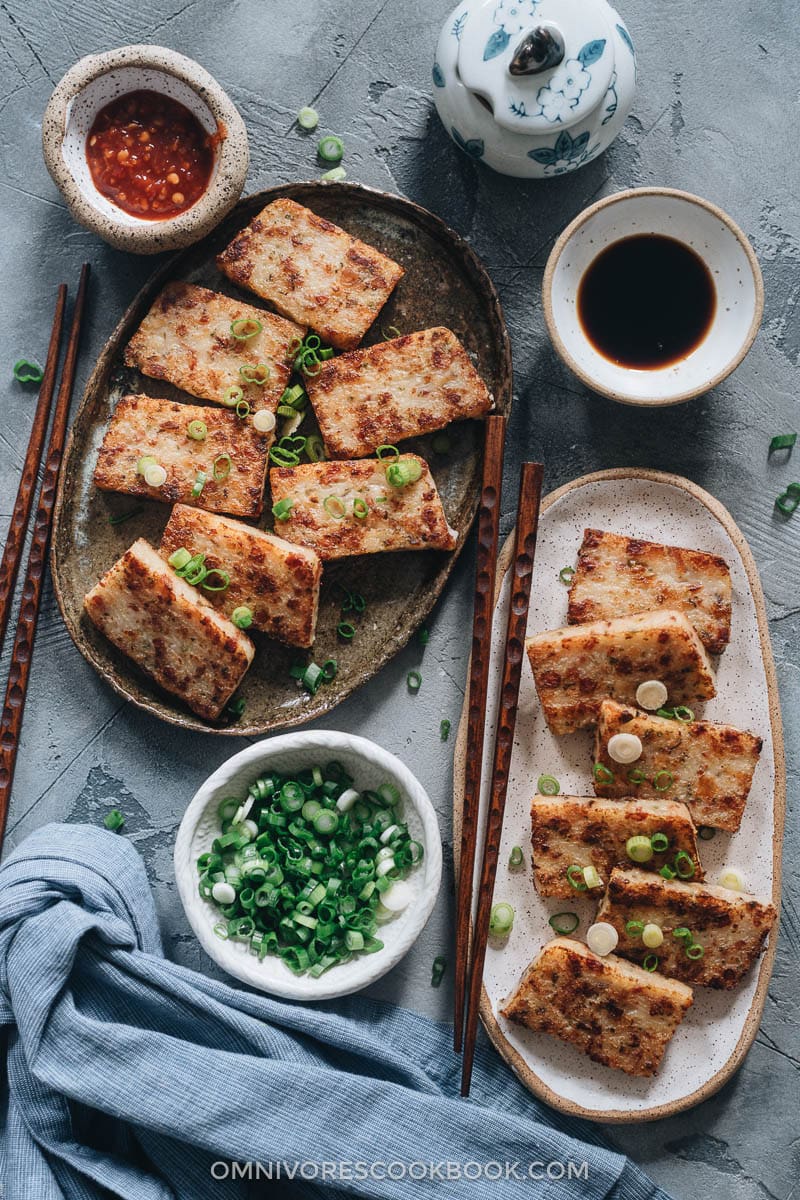 The Chinese turnip cake is a popular dim sum item and a festive dish for Chinese holidays, including Chinese New Year. It is a savory rice cake loaded with cured meat, daikon radish, mushrooms, and dried shrimp. It's steamed, and then pan fried to create a tender texture with a crispy crust.
The first time I tried turnip cake at a dim sum restaurant, I wasn't very impressed. You see, restaurants tend to skimp on ingredients. That rice cake contained barely any meat. It just tasted like a silky-textured salty bread, which was kind of boring. I fell in love with this dim sum dish once I tried the homemade version. Oh my, it was the opposite of the restaurant version and tasted SO GOOD!
I've updated the recipe with a new formula since I published it previously. I used a new approach to reduce rice flour and increase the liquid, so it yields an extra tender turnip cake just like your favorite dim sum spot.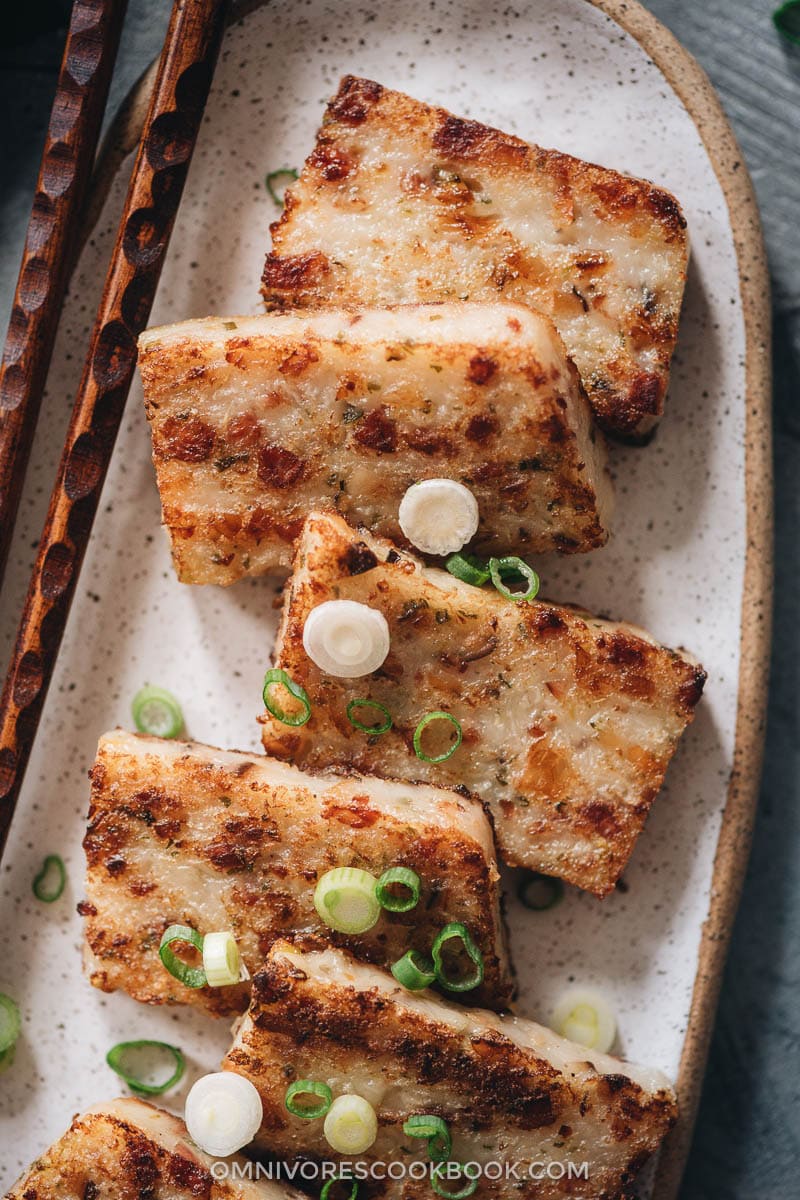 Ingredients
Key ingredients
These are the most important parts of the recipe. You might need to go to an Asian market to get them or purchase them online.
Chinese sausage (腊肠, Lap cheong) is a type of dried sausage that's slightly sweet. I've occasionally seen these at Costco and you can order them from Amazon.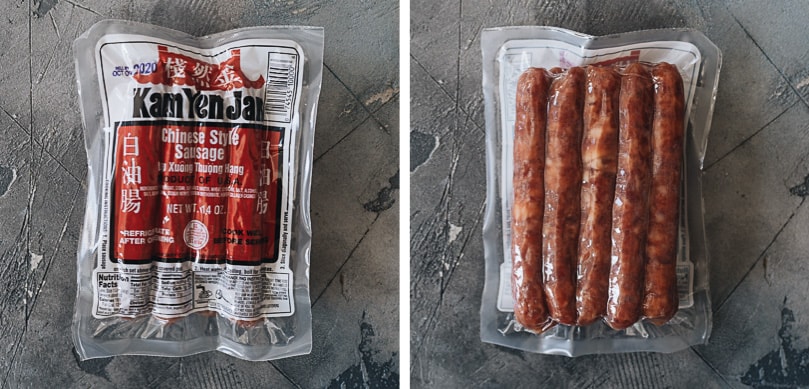 Dried shrimp (海米, Hai Mi) are small sun-dried shrimp that have an intense sea-like flavor. You can read more about them in a previous post. I've seen these in grocery stores in the Mexican spices section, and you can also order them on Amazon.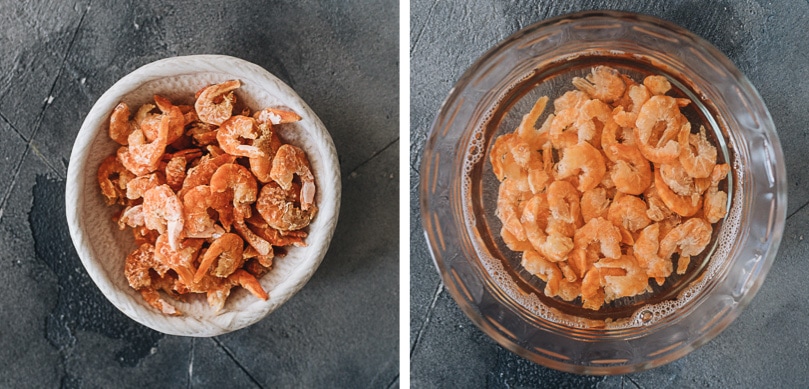 Dried shiitake mushrooms, which add tons of umami. They are my favorite flavor enhancer. You might be able to find them at a grocery store, and certainly on Amazon.
Daikon radish – Although the recipe is called "turnip" cake, it actually uses Chinese white radish (or daikon radish in Japan). Do not use turnip in this recipe, or else the finished dish could be off.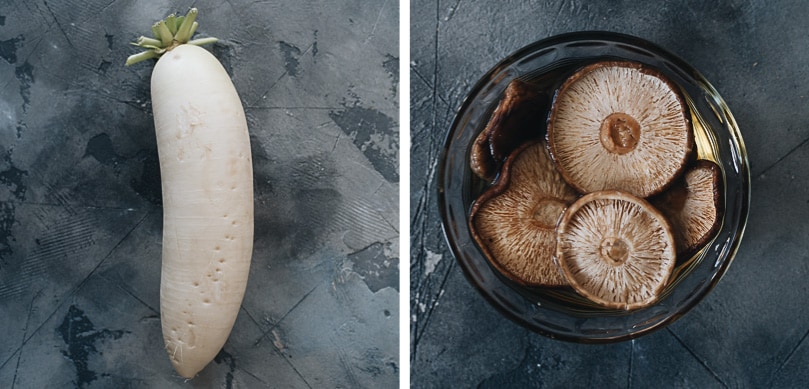 Although it's possible to make this dish skipping one or two of these dry goods, I highly recommend you use all of them to create the best turnip cake.
How to cut Chinese sausage
It's important to dice all the filling ingredients to small, even pieces to yield the best mouthfeel. To cut the Chinese sausage, I prefer to:
Slice it in half
Cut each half into thin strips
Further chop them into small pieces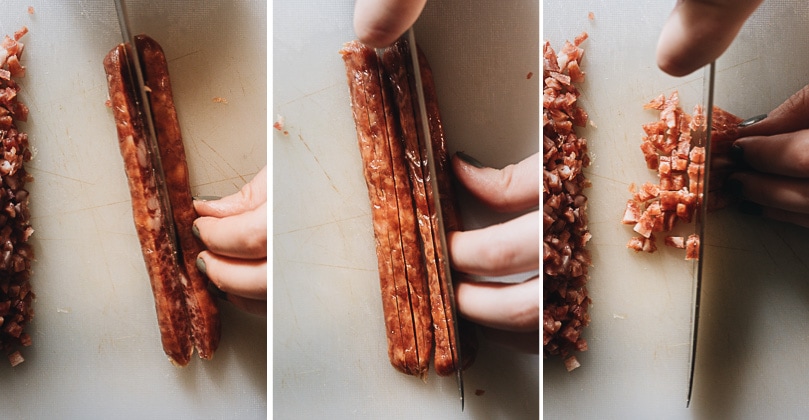 Prep work
Before cooking, your table should have: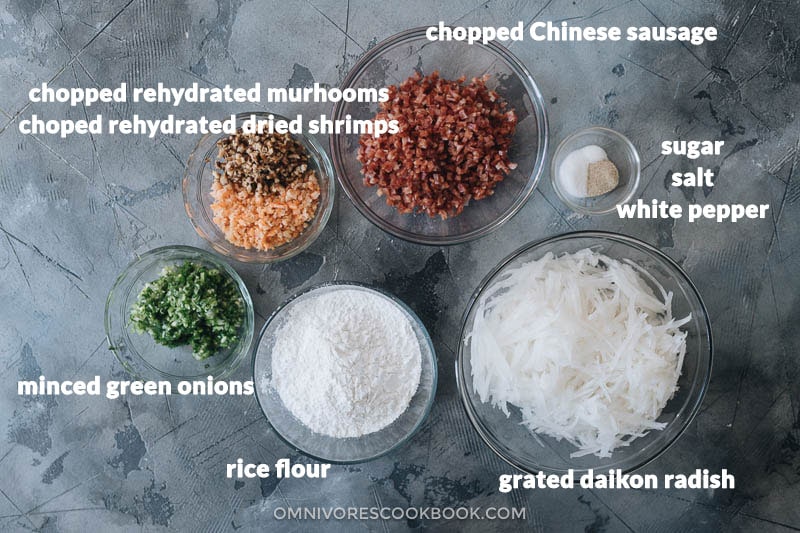 Cooking process
Cook the filling
Brown the Chinese sausage
Saute the dried shrimp
Quickly cook the green onions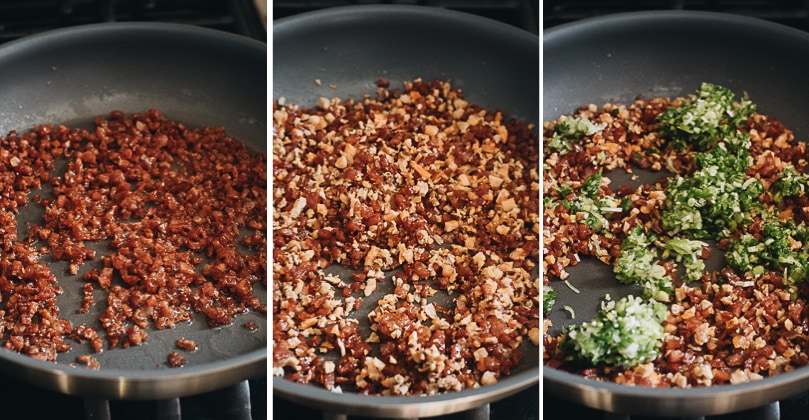 NOTE: I didn't use any oil in this step, because Chinese sausage will render a lot of oil as it cooks. I used it to cook the rest of the ingredients, so I can use less oil in the dish.

Cook the daikon radish
Boil the radish in a pan with water
Drain thoroughly, then use the daikon water later in the cooking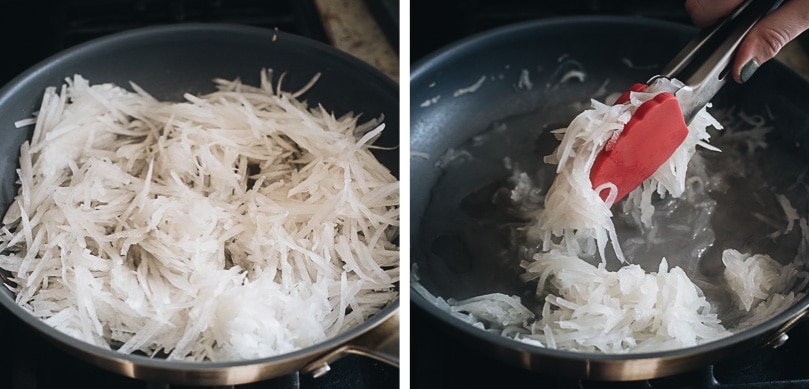 NOTE:
I didn't use any oil to cook the daikon, to further reduce the oil in the dish.
It's important to cook the daikon thoroughly, so it won't release water in the turnip cake.
I did one extra step by pressing the daikon and measuring the remaining liquid. This step is important to get an accurate water-flour ratio for the turnip cake.
Assemble & steam
Mix the batter with the cooked radish and cooled daikon water.
Cook the mixed batter in a pan.
The mixture will thicken just enough to draw a line on the bottom of the pan.
Add in the filling ingredients.
Mold the cake in a tupperware container.
Steam, then chill.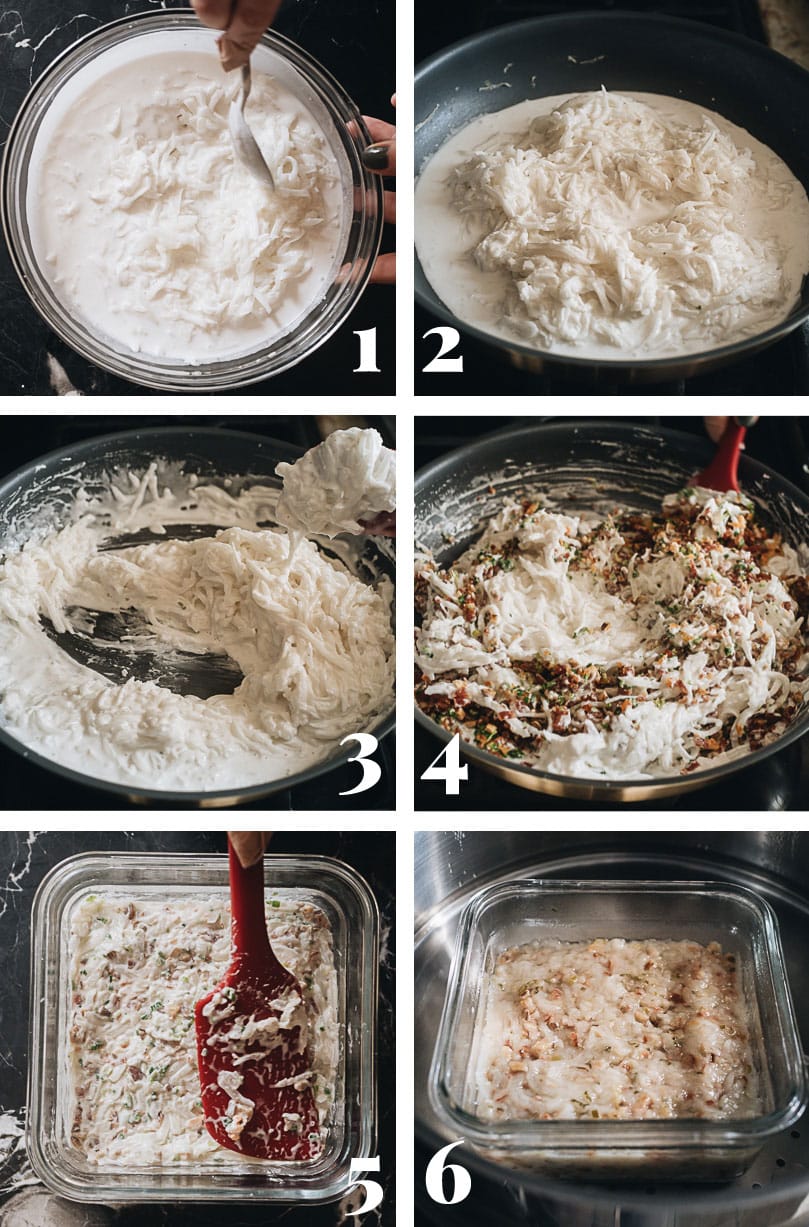 NOTE:
You will find the batter extremely thin at first. Don't panic! We will cook it lightly in the pan to thicken it. I've found that this approach is the only way to add more moisture into the turnip cake, creating an extra tender result.
As for the steamer setup, you can use a wok on the bottom, filled with water, and a big two-layer bamboo steamer on top, to hold the cake pan. This way you can fill the turnip cake in a bigger container and cook it in one go.
If you have a smaller steamer, you can pour the turnip cake batter into a smaller tupperware and cook in two batches.
Rest the steamed turnip cake overnight in the fridge. I found this step very important for the recipe, because it yields a very tender cake. I tried to rest it for just two hours, but the turnip cake turned out a bit too soft and mushy after frying.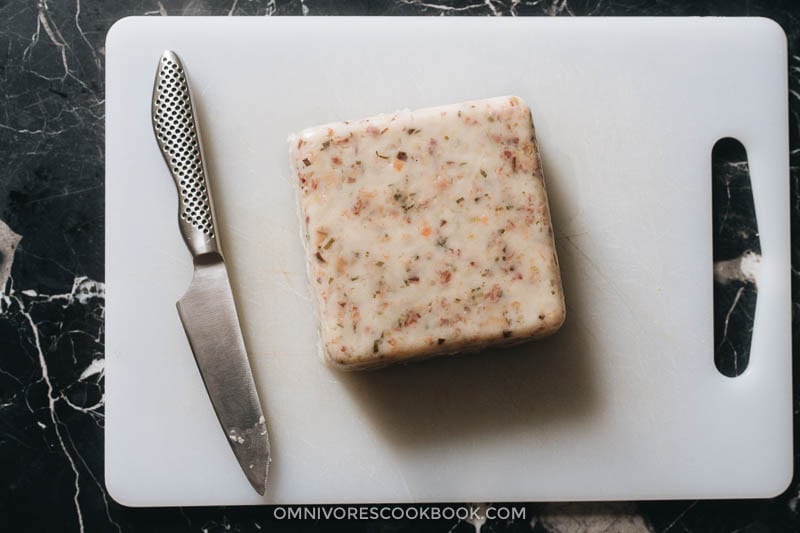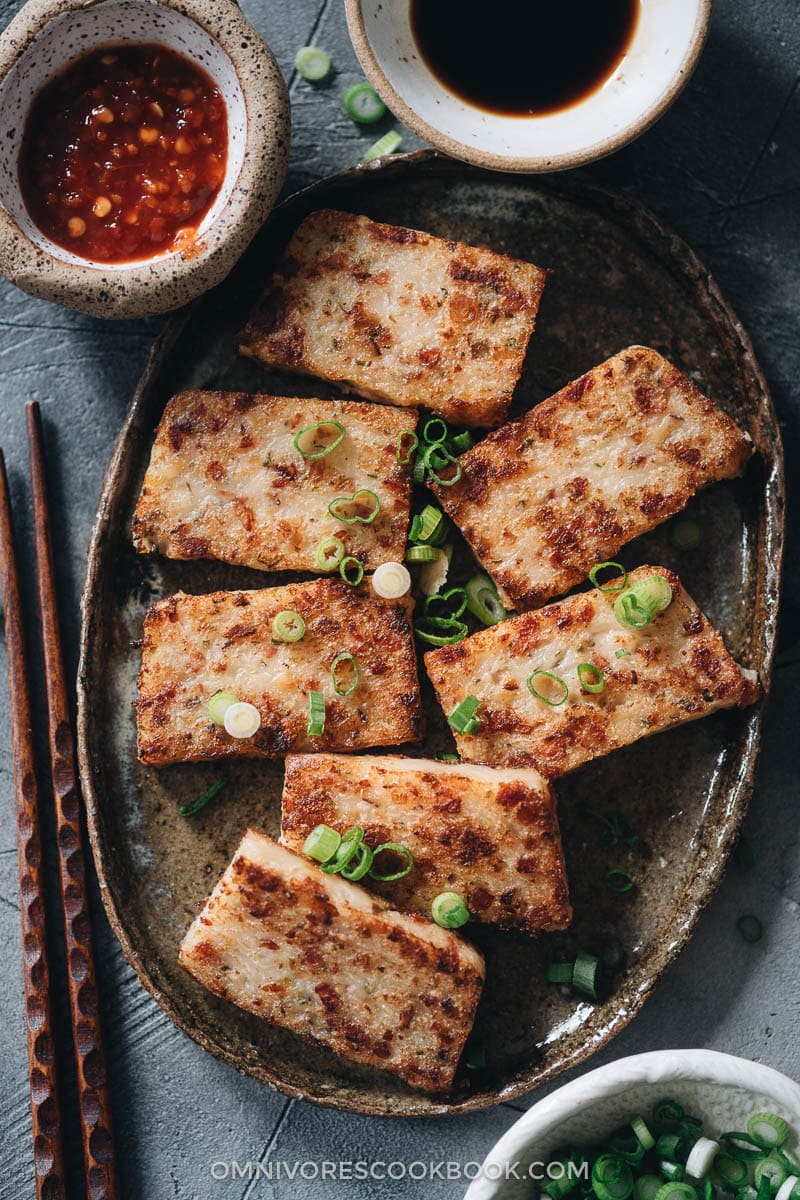 How to slice the steamed turnip cake
This recipe creates such an amazingly tender result that it can be tricky to slice the turnip cake without crushing it. I found that the best practice is to slice it with a sawing motion, so the cut edges will be smooth and clean (thus yielding an evenly browned result when pan frying).
You can see the slice on the far left is very coarse, and it was cut by pushing the knife directly downward. The rest of the pieces were cut with a sawing motion, which created smooth edges.
If you want further perfection, prepare a glass of hot water on the side. Dip your knife between each slice to rinse off the starch from the blade.
Rehat & serve
Although you can eat the turnip cakes right after cooking, I highly recommend using a bit of oil to pan fry them to create that irresistible crispy surface.
This recipe yields a very flavorful result that does not require any dipping sauce. However you can serve the cakes with hot sauce or soy sauce to give them a final boost.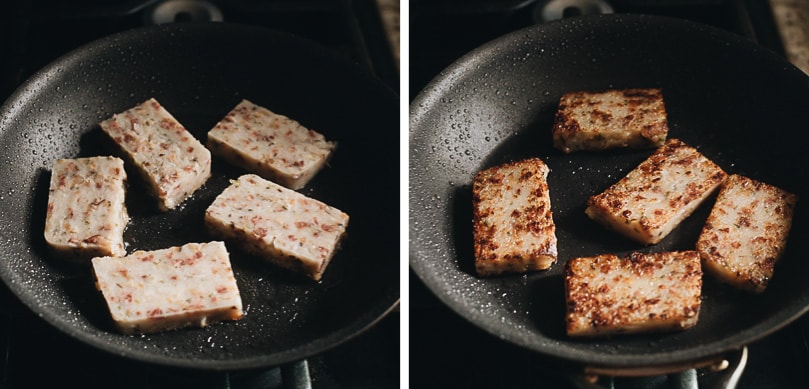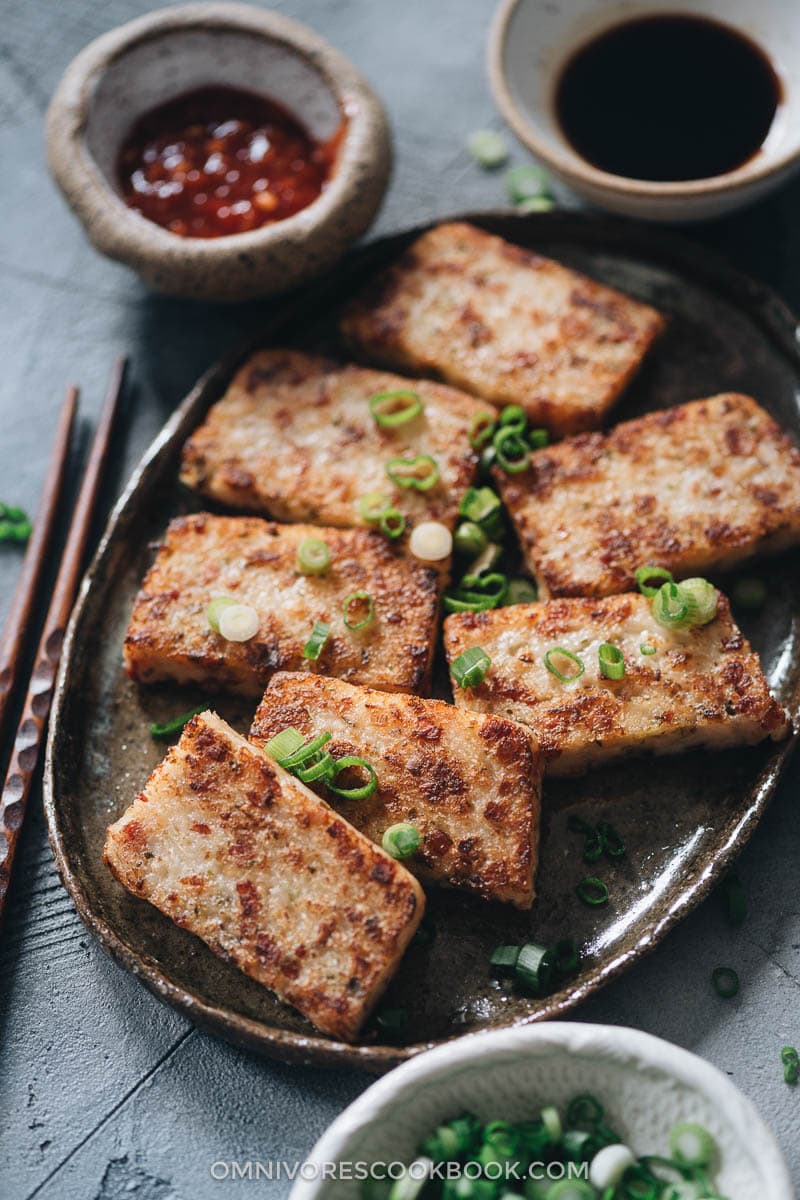 Storage
I recommend you make a full batch, because it takes about the same amount of work to cook as a half batch. Freeze some of the steamed rice cakes so you will have some awesome dim sum to snack on later!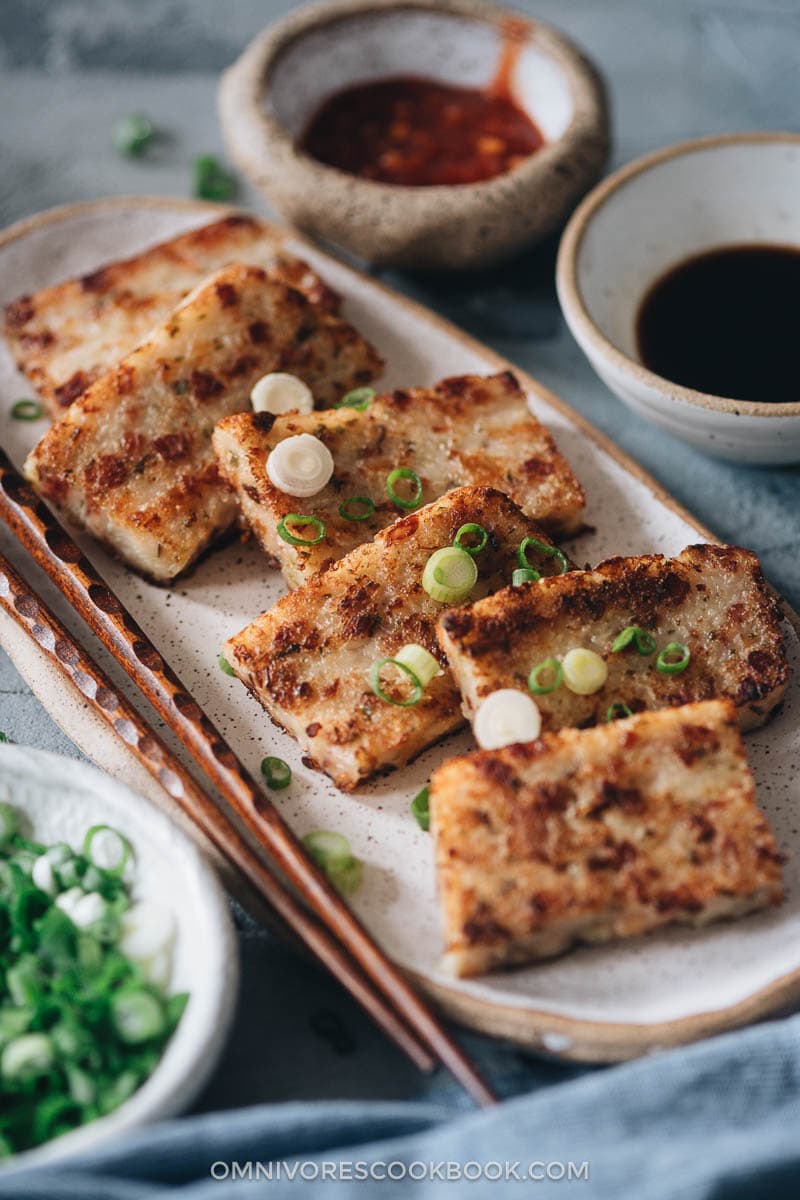 Other classic dim sum recipes
If you give this recipe a try, let us know! Leave a comment, rate it (once you've tried it), and take a picture and tag it @omnivorescookbook on Instagram! I'd love to see what you come up with.
Want to Know More?
Receive our 5-Day Chinese Cooking Crash Course & Recipe Updates! Subscribe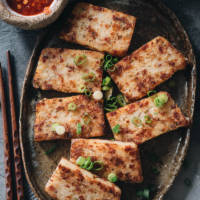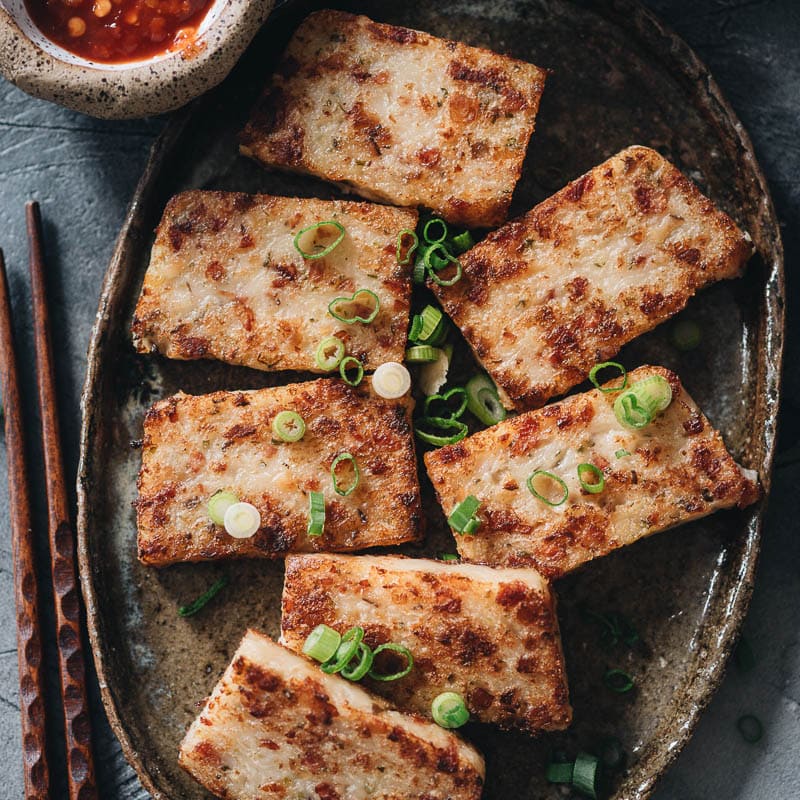 Chinese Turnip Cake (Lo Bak Go, 萝卜糕)
Learn how to make extra tender and flavorful Chinese turnip cakes that are loaded with goodies. They taste way better than the restaurant version. This dim sum classic is a must-have for Chinese New Year and a great appetizer for any Chinese dinner party.
Ingredients
1/4

cup

dried shrimp

2

lbs (900 g)

daikon radish

(yields 1 lb / 450 g after grating) (*Footnote 1)

3

(4.5 oz / 120 g)

Chinese sausages

, diced

4

green onions

, chopped

1/4

teaspoon

sugar

1

teaspoon

salt

1/2

teaspoon

white pepper powder

150

g (1 cup)

rice flour
Serving options
Soy sauce

(to taste)

Chopped green onions

(Optional)

Sriracha

, or other hot sauce (Optional)
Instructions
Prep
Rinse the shiitake mushrooms and dried shrimp separately with tap water and gently rub them to remove any dirt. Place each ingredient into a different bowl. Add hot water to cover. Soak for 15 minutes, or until the ingredients turn soft. Drain and dice into small pieces.

Peel the daikon radish and grate it into thin strips.
Cook
Add the Chinese sausage into a large nonstick skillet and heat it over medium heat. Cook until the sausage is lightly browned and some oil is rendered off, 5 minutes or so.

Add the shiitake mushrooms and dried shrimp. Cook and stir for 1 minute. Add the green onions. Stir a few times to release the fragrance. Transfer everything to a plate.

Add the daikon radish and 1 cup of water. Cover and cook over medium heat until translucent and soft but not browned, 12 minutes or so. Once done, taste the daikon to make sure it's fully cooked through and turned very soft. Transfer the cooked radish into a big bowl using a pair of tongs. Squeeze out as much juice as you can, back into the pan. Once done, transfer all the juice from the pan to a measuring cup. Then add more water until it reaches 1 cup (no need to add extra water if you end up with a full cup). Rest the liquid until it's slightly cooled, 10 to 15 minutes.

Add rice flour and the cooled daikon cooking liquid into the bowl with the cooked radish. Add the sugar, salt, and white pepper. Stir to mix well. It will form a very runny batter.

Pour the batter back into the pan you used to cook the radish. Cook over medium-low heat and stir constantly, until the mixture has thickened just enough to draw a line on the bottom of the pan, 1 to 2 minutes.

Add back the cooked Chinese sausage, dried shrimp and mushrooms. Stir to mix well.
Assemble & steam
Prepare 1 to 2 glass tupperware or baking dishes that can fit into your steamer. I used two 4.5" x 4.5" (11cm x 11 cm) glass containers to cook two batches. If you have a large wok or steamer, you might be able to fit an 8" x 8" (20cm x 20cm) baking pan in it. You'll only need to cook one batch in this case. If you'll be cooking in two batches, cover the uncooked batter with plastic wrap to prevent it from drying out.

Grease the glass tupperware with oil, so the turnip cake will come off easily later. Transfer the mixture into the tupperware, about 1.5" (4 cm) thick

Set up your steamer by adding water to the pan and bringing it to a boil. Add the steaming rack with the turnip cake container. Cook, covered, over medium-high heat, for 1 hour, until the turnip cake is cooked through. You can test the doneness by inserting a knife into the cake and it should come out clean. If your batter is slightly thicker or thinner, you might need to adjust the cooking time by adding or subtracting 10 minutes.

Once done, remove the container from the steamer and set it aside to cool. Once the container is no longer hot, transfer it to the fridge. Let the turnip cake set until it has cooled completely. I highly recommend resting it overnight before serving. I've tried resting it 2 hours, and the turnip cake was a bit too soft and difficult to slice.

To remove the fully chilled turnip cake, use a knife to loosen the edges from the container, then turn the container upside down. The turnip cake should come out in one piece.
Reheat & Serve
To serve, cut the turnip cakes into 1/4" (1 cm) thick pieces. Brown both sides in a heated skillet coated with a thin layer of oil until heated through and the surface turns golden.

To store, transfer the steamed turnip cakes (without pan-frying) into an airtight container and store them in the fridge for 2 to 3 days, or in the freezer for up to 1 month. To reheat, thaw the frozen turnip cakes first, and pan fry them before serving.
Notes
I used a 2-lb (900 g) daikon radish. After peeling and grating, I had 1 lb of grated radish to use in cooking, with a small end left. You will lose quite some daikon by peeling and grating, so it's better to purchase extra.
Nutrition
Serving:
1
serving
,
Calories:
170
kcal
,
Carbohydrates:
25.5
g
,
Protein:
7
g
,
Fat:
5
g
,
Saturated Fat:
1.6
g
,
Cholesterol:
19
mg
,
Sodium:
559
mg
,
Potassium:
282
mg
,
Fiber:
2.9
g
,
Sugar:
3.4
g
,
Calcium:
14
mg
,
Iron:
1
mg
Lilja Walter is a part of the Omnivore's Cookbook team and worked closely with Maggie to develop and test this recipe.