Learn this one secret ingredient to make the best General Tso sauce that you will want to pour on everything!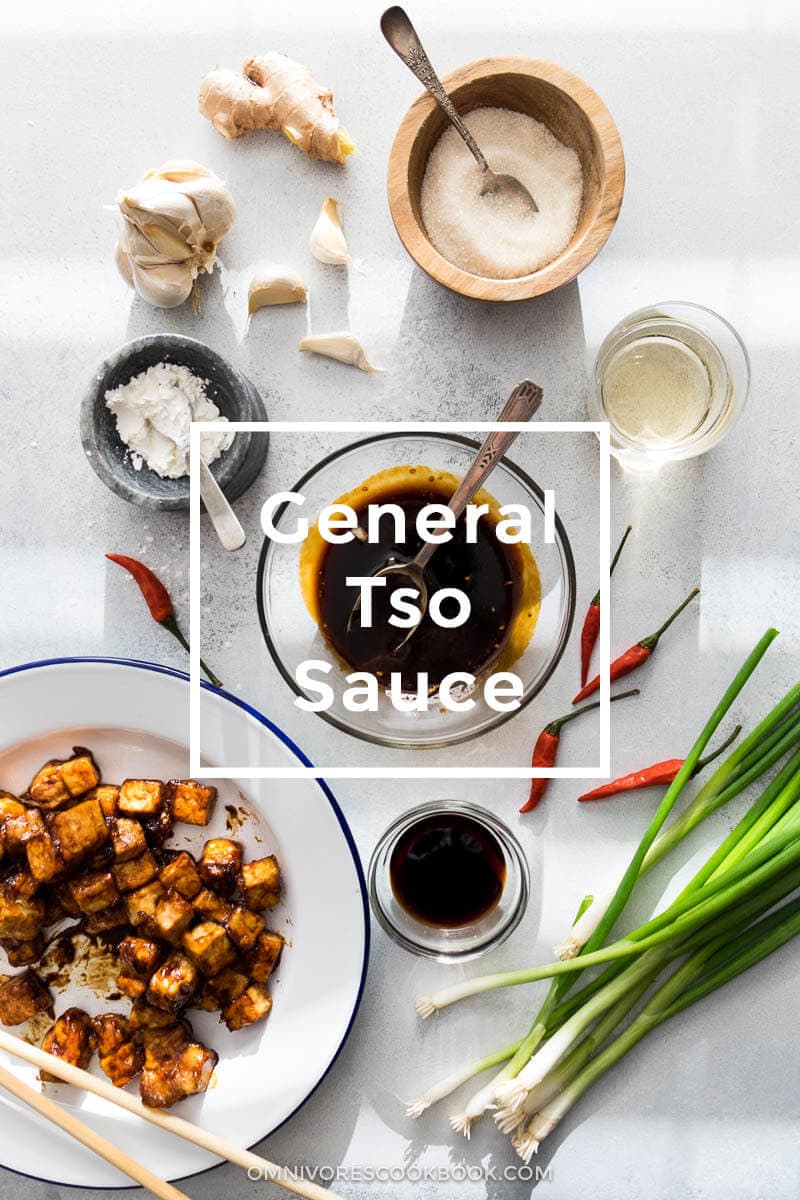 General Tso sauce is one of the most versatile stir fry sauces that I recommend every home cook store a jar in their fridge. Not only does it takes merely 3 minutes to make, but it also goes well with almost everything.
If you've never cooked a stir fry before and feel intimidated by words such as "wok" and "cook with high heat" – now is your best chance to cook your favorite takeout dish by simply following three steps.
Prepare a stir fry sauce.
Prepare one protein, one vegetable, and one to two aromatics.
Cook the protein and vegetables separately until they're just done. Cook aromatics to release their fragrance, pour in the stir fry sauce, and add the vegetable and protein back. Mix until the sauce thickens.
Sounds simple enough, right?
To get a better idea of how to make a dish using this sauce, check out my extra crispy General Tso Tofu recipe.
Introducing Homemade General Tso Sauce
The one ingredient that made this recipe stand out is the Chinkiang vinegar.
Chinkiang vinegar (Zhenjiang vinegar, 镇江香醋) is a type of Chinese black vinegar. It is made from various grains and is aged until the color turns dark brown or inky black. It has a fermented malty taste and woody character that distinguishes it from the light colored and fruity rice vinegar.
Consider this ingredient the balsamic vinegar of Chinese cuisine, as it has a rich, pungent, and tart flavor, sometimes with a hint of sweetness.
This vinegar will make your General Tso sauce really stand out – different from the other recipes out there.
Although I always try my to give different alternatives for unique Chinese ingredients, I found this vinegar hard to replace. I've tried using the light color rice vinegar and balsamic vinegar. I won't say the result was bad, but there was something lacking.
If you cook Chinese food once a year, then I'd recommend you to replace Chinkiang vinegar with another vinegar in your pantry.
But, if you want to make better sauce or would like to take your Chinese cooking more seriously, I highly recommend that you get a bottle of Chinkiang vinegar. Nowadays you can even find it in Walmart, or you can order it from Amazon. The best way is to purchase it in a grocery store if you can find it, because it's way cheaper. There are various brands, but the one shown in the picture below is the most popular (and common) one.
The rest of the sauce is quite simple. Just mix everything in a jar and keep it in the fridge for months.
How to use the sauce
To use the sauce, simply shake it, mix it with one part liquid (which can be stock or water), and cook with aromatics until it thickens.
Assuming that you are going to cook 2 servings, that can be 450 grams (1 pound) protein, or 6 to 8 cups vegetables, or 220 grams (1/2 pound) protein and 3 cups vegetables.
You will need 1/4 to 1/3 cup sauce plus 1/4 to 1/3 cup liquid.
(1) Pick 1 to 2 aromatics. Prep according to the list below.
General Tso sauce is very pungent and always benefits from more herbs. Garlic and dried chili pepper are the two common aromatics that are used in most General Tso sauces. You can use the others on the list as well. But adding one pungent herb, such as ginger or garlic, is highly recommended.
Recommended aromatics
Ginger – 1 large piece minced (yields 2 teaspoons to 1 tablespoon)
Garlic – 3 to 4 cloves, minced
Green onion – 4 to 6 green onions, coarsely chopped
Dried chili pepper – 2 to 4 peppers, torn into 3 to 4 pieces. (Or, keep whole for less spiciness.)
Shallot or onion – 1 big shallot or 1/2 onion, thinly sliced or diced. (It taste better when combined with another more potent herb, such as ginger or garlic.)
(2) Choose and cut the protein.
Recommended Protein
Beef (flank steak or short ribs) – thinly sliced (1/8 to 1/4-inch thick), or cut to strips
Chicken (skinless boneless breast or thigh) – Diced to 1-inch pieces, or sliced to 1/4-inch thick
Pork (tenderloin or loin) – thinly slice (1/8 to 1/4-inch thick), or cut to strips
Shrimps – peeled and deveined
Tofu (firm or extra firm) – Diced to 1/2 to 2/3 inch pieces
(3) Marinate and prep the protein.
For each pound of meat or seafood, mix with 1 tablespoon vegetable oil (or peanut oil), 1/2 teaspoon salt, and 1 tablespoon cornstarch. Let it marinate for 5 to 10 minutes.
To create a crispy restaurant-style chicken, learn this method so you can achieve the goal without deep-frying.
For tofu, marinate with 2 tablespoons soy sauce and 1 tablespoon syrup (or honey) for 10 to 15 minutes. Drain and coat with a thin layer of cornstarch. See this post to learn how to cook crispy tofu without deep-frying.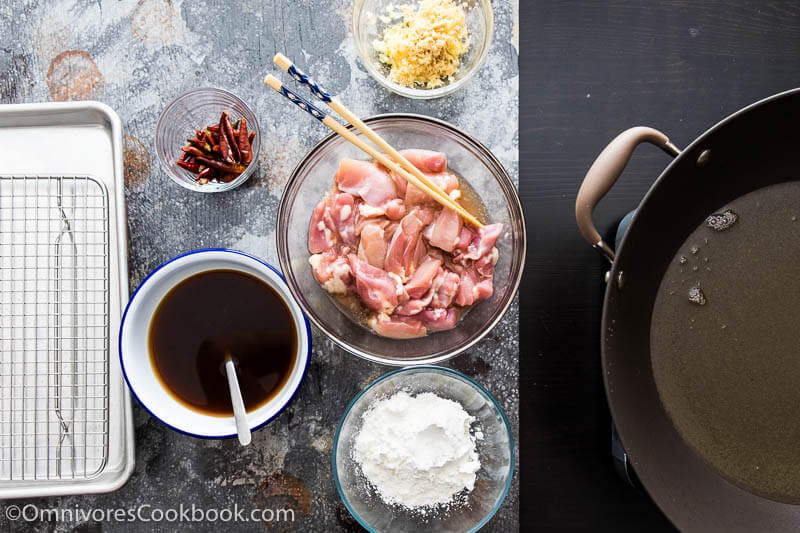 (4) Cut and prep the vegetables.
To make a quick dinner, my favorite way is to only use one type of vegetable. You can use two, but no more.
Recommended vegetables
Asparagus – Chopped to 1-inch pieces
Baby bok choy – Tear off large leaves and halve lengthwise, halve or quarter the rest
Bell peppers – Sliced or chopped
Broccoli (fresh) – Divide to small florets; steam or blanch (see this post to learn how to blanch the broccoli quickly in the same stir fry pan)
Broccoli (frozen) – Microwave for 2 to 4 minutes (depending on the quantity), so the broccoli is thawed and luke warm, but not heated up
Brussels sprouts – Roasted (see this post for how to roast Brussels sprouts)
Cabbage – Coarsely chopped
Cauliflower (fresh) – Divide to small florets; steam, blanch, or roast
Cauliflower (frozen) – Microwave for 2 to 4 minutes (for stir fry), or roast (see this post to learn how to crisp up frozen cauliflowers in the oven)
Carrot – Sliced into pieces or strips (by using a julienne peeler); or cut to chunk and roast
Celery – Sliced or diced
Eggplant – sliced (see this post to learn how to prep eggplant so it crisps up during stir frying)
Green peas (fresh or frozen)
Kale – Stalk chopped to small pieces, leaves coarsely chopped
Onion – Sliced
Snow pea
Zucchini – Seeded and sliced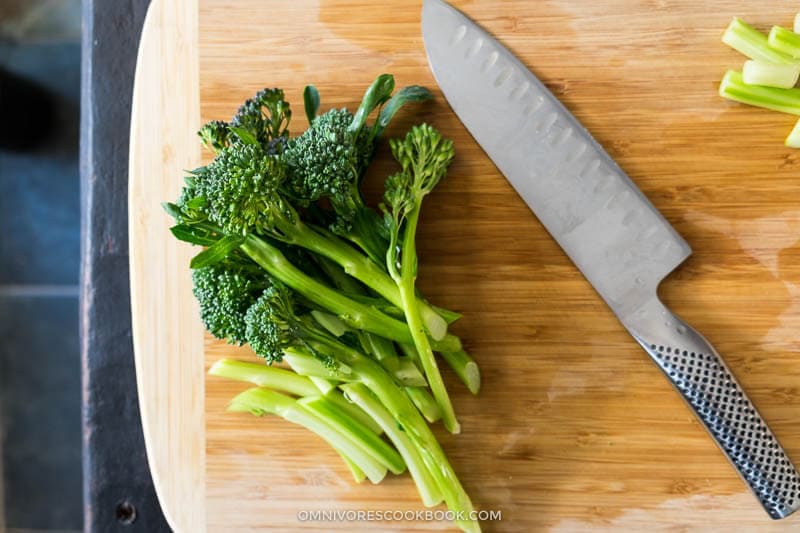 (5) Make the stir fry, or use the stir fry sauce on baked or steamed food.
Read this post to learn the basic steps of making Chinese stir fry.
To learn how to use this General Tso sauce now, go to: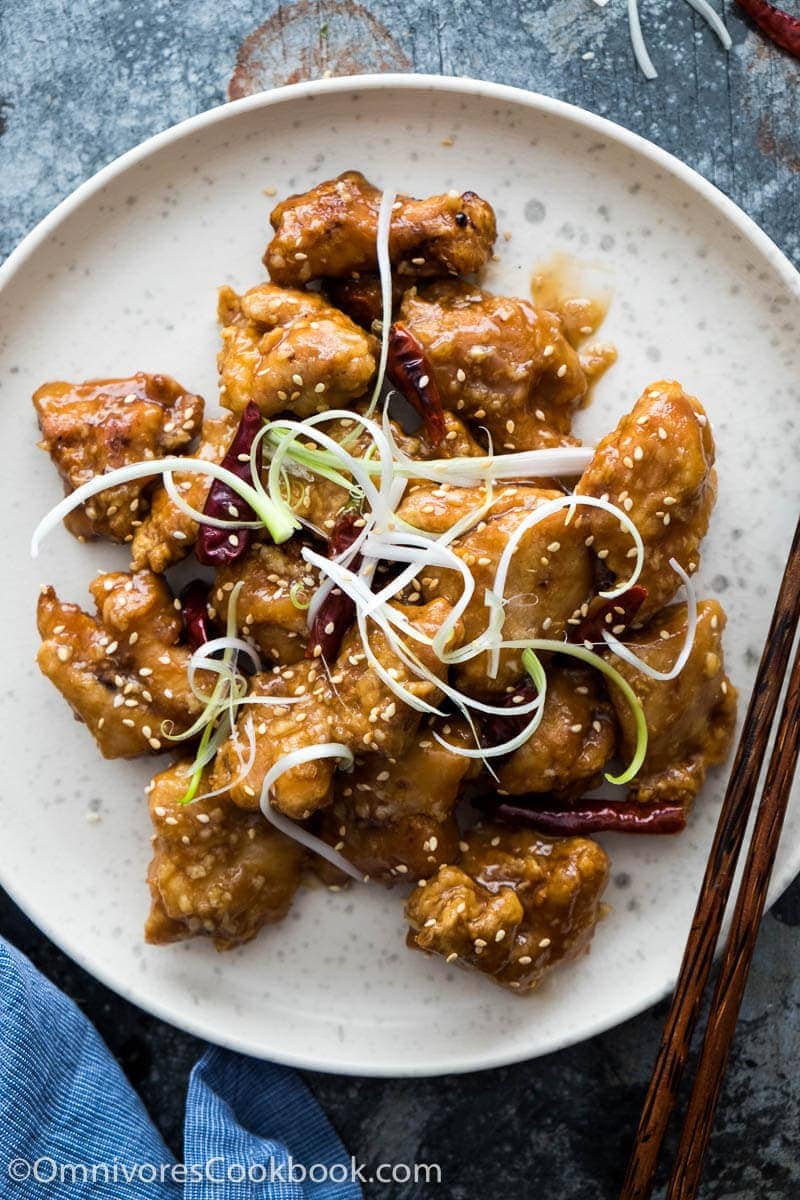 Get New Sauce Recipes!
If you're not on the mailing list yet, enter your email below and press "subscribe". You will receive weekly updates over the next few weeks on new sauce recipes and how to use them to create delicious, fuss-free dinners.
Homemade General Tso Sauce (Bulk Version)
This recipe is the bulk version that is designed to be made ahead and stored for relatively long period of time. Different from the small quantity version further below, this recipe does not contain raw herbs, so you can store it in the fridge for much longer. To use the sauce, see the instructions here.
Instructions
Mix all the ingredients in a jar and shake to combine. Every time before you use the sauce, shake well to dissolve all the cornstarch. Pour 1/3 cup sauce into a bowl and add 1/3 cup stock (it can be either chicken stock, vegetarian stock, or water). Mix well again right before pouring into the pan.
You can store the sauce in a glass jar in the fridge for up to 3 months.
Notes
(1) Chinkiang vinegar is highly recommended in this recipe. But if you do not have it, use rice vinegar or balsamic vinegar instead. If you want to create gluten-free sauce, use one of the alternative too. Chinkiang vinegar contains wheat bran. Wheat bran itself does not contain gluten but has a high risk of cross contamination.

(2) You can use soy sauce to replace the light soy sauce and the dark soy sauce alternatively. Use tamari to create gluten-free sauce.
Homemade General Tso Sauce (One-meal Version)
This recipe is designed for cooking one meal that yields 2 to 3 servings. It is slightly different than the bulk version above, because I assume you will use the sauce immediately after it's cooked.
Ingredients
Sauce
1/3 cup stock (chicken stock or vegetarian stock, or water)
2 tablespoons Chinkiang vinegar (or rice vinegar, or balsamic vinegar)
2 tablespoons Shaoxing wine (or dry sherry, or Japanese sake, or stock)
1 tablespoon light soy sauce (or soy sauce, or tamari for gluten-free sauce)
1 tablespoon dark soy sauce (or soy sauce, or tamari for gluten-free sauce)
1/4 cup sugar
2 teaspoons cornstarch
Cook
2 teaspoons oil
1 tablespoon minced garlic
2 teaspoons minced ginger
Instructions
Mix all the ingredients in a bowl and stir to combine.
Heat oil over medium heat until warm. Add garlic and ginger. Stir a few times to release the fragrance. Stir the sauce again and pour it into the pan. Let it simmer and stir until it thickens.
Now you can pour the sauce over roast vegetables, serve it as a dipping sauce, or use it in your stir fry.
If you give this recipe a try, let us know! Leave a comment, rate it (once you've tried it), and take a picture and tag it @omnivorescookbook on Instagram! I'd love to see what you come up with.