Tomato shrimp stir fry is a classic homestyle Chinese dish that requires minimal effort and delivers the freshest taste.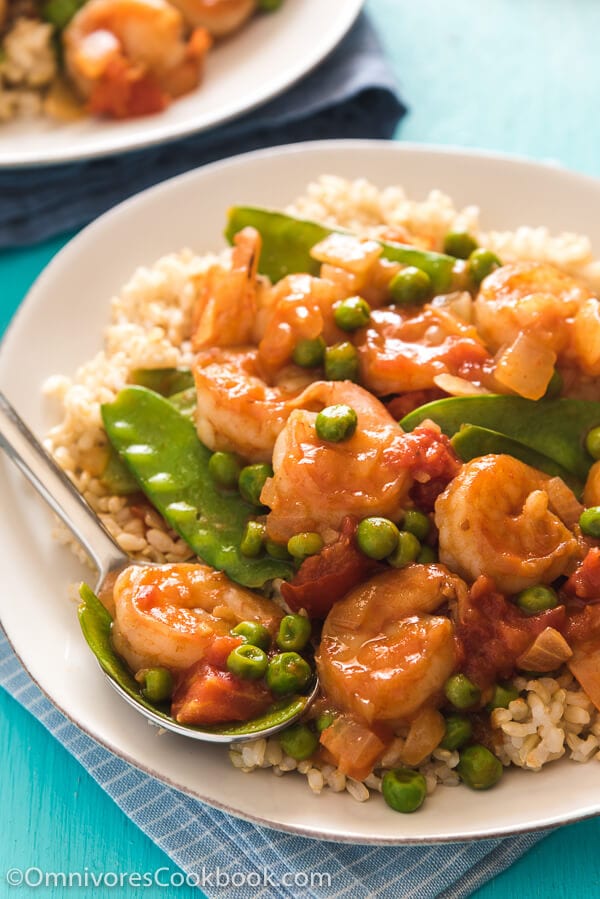 Since moving to the US, I'm constantly hearing the debate around how to eat healthier food while maintaining a busy lifestyle. I hear new moms talk about how to get a fresh dinner on the table without spending too much time in the kitchen. I never dug very deep into this question while living with my parents. My mom had been cooking our lunch and dinner every single day, throughout her life.
Back in Beijing, I used to spend a lot of time in the kitchen, preparing complicated meals, but only on the weekend. I love the challenge of a new recipe, and I enjoy playing with ingredients. And I am picky about food. Sometimes I was very rigorous about the process, because I knew the extra steps would make the food tastier.
My mom used to warn me, "You really need to master a few simple dishes, so you can deal with everyday cooking." I never listened.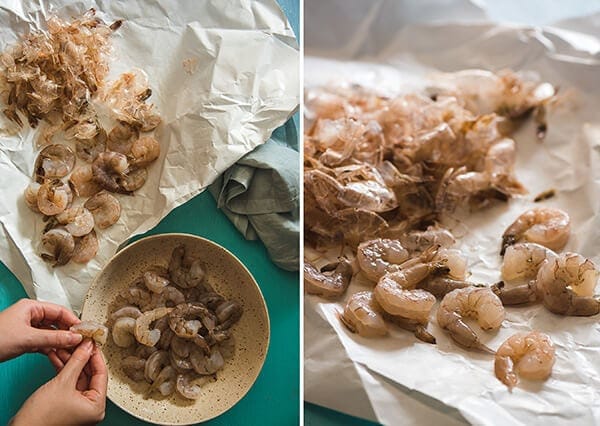 When I started my new life in Austin, I realized my mom was right after all. Ah, I hate the feeling when someone looks into my eyes with a smiling look of "I told ya so!"
Now I cook lunch and dinner for me and my husband every day (mostly!). And I'm also starting a new business in a new country with zero network and a tight budget. I'm finally getting to understand the feeling of, "I really don't have the time and energy to cook".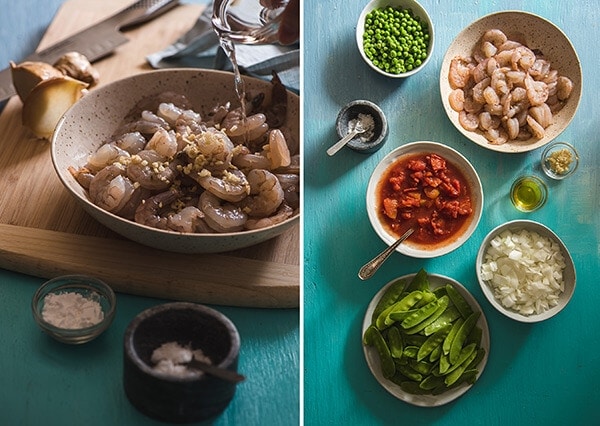 OK, now you might feel weird hearing this from a food blogger. But you know what? 80% of my work requires sitting in front of a computer to deal with paperwork. Only 20% of my time involves with food, and even then, I spent more time shooting pictures than actually cooking.
Everything in my new life led me in the direction of simplifying my cooking process. And I just realized that shortening the cooking time does not necessarily mean creating less tasty food. Quite the opposite. I found it absolutely possible to create super delicious and fresh food with the minimum amount of time in the kitchen.
For example, the tomato shrimp stir fry I'm going to share with you today.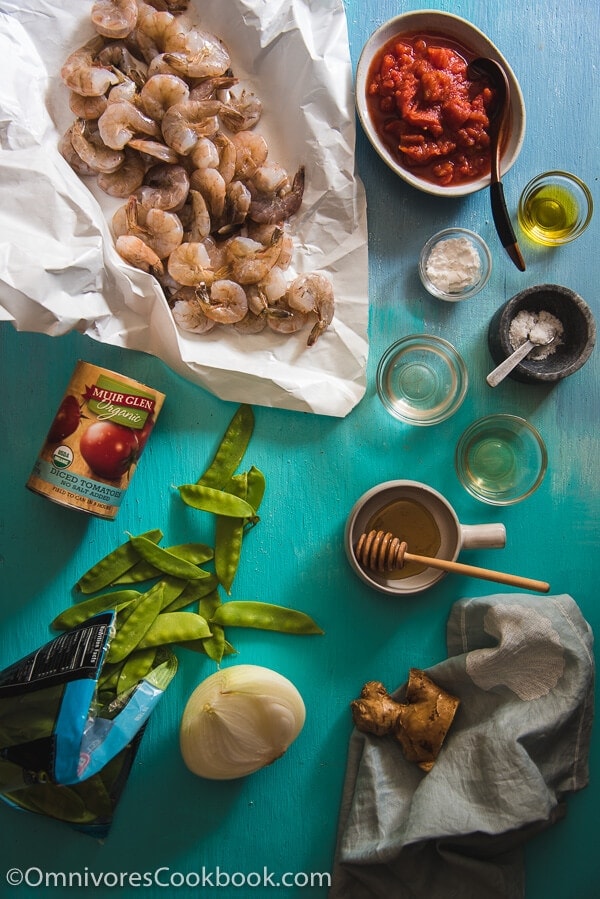 This is a classic Chinese homestyle (家常菜, jia chang cai) dish that every kid enjoys. It's simple, fresh, and bold in flavor. When you get a spoonful of juicy shrimp with tomato sauce and freshly steamed rice, your happiness will be several times what it would be if you were dining in a restaurant.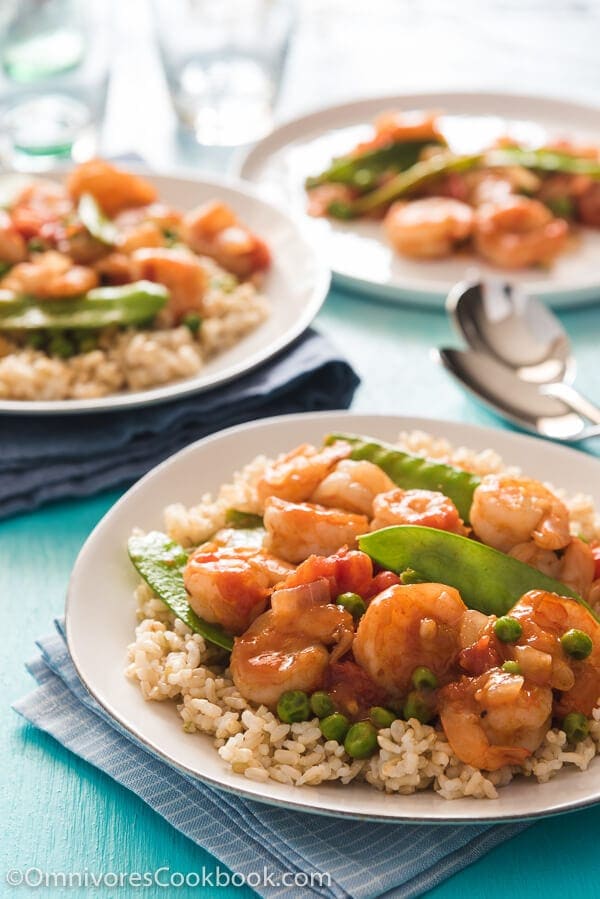 To create this dish, what we usually do is dice fresh tomatoes and cook them into a sauce with water and tomato paste. Then we use the sauce to cook a stir fry.
Since I discovered Muir Glen diced tomatoes, I found it makes prepping and cooking much faster. It also yields a more delicious flavor. The reason I love to use diced canned tomatoes is that it has a good amount of tomato juice to create a sauce, yet it still has the small bits of tomato that add texture to the dish.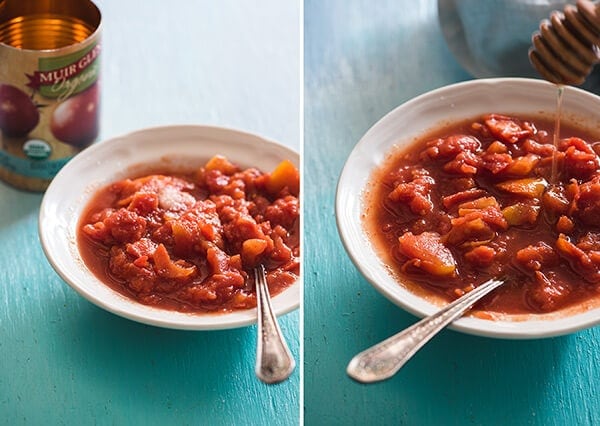 Here we add some freshly chopped ginger, rice vinegar, rice wine, and honey to the diced tomato, to make a sweet, savory sauce that is irresistible. It is OK if you use frozen ingredients, such as frozen ginger paste, snow peas, and green peas. The dish will still turn out refreshing and tasty. And of course, it will still be well balanced in nutrition and you'll get your daily veggie consumption covered.
You see, cooking a healthy dish from scratch is not difficult at all, as long as you use the right recipe 😉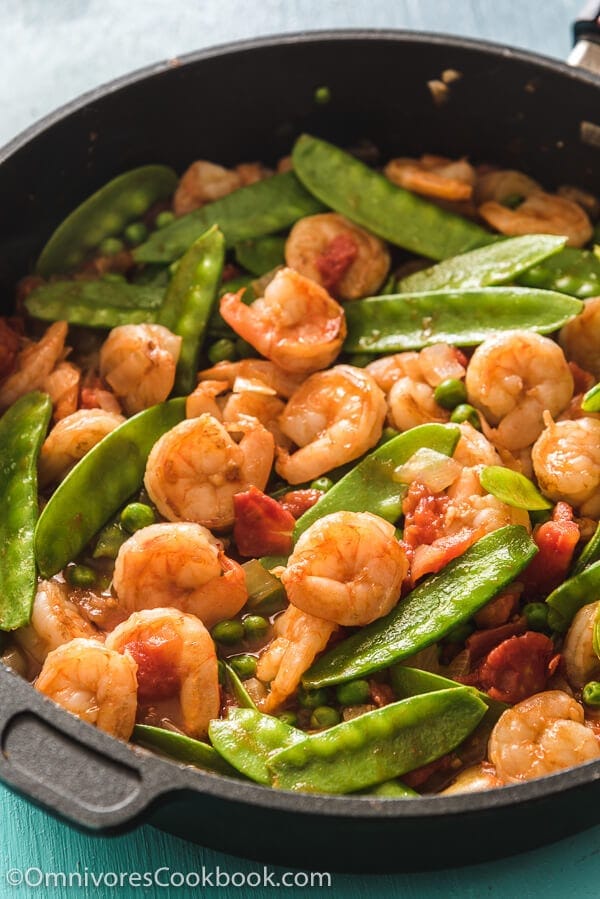 I'm partnering with Muir Glen Organic to share this recipe with you. All opinions/endorsements are my own. Thanks for your support!
If you give this recipe a try, let us know! Leave a comment, rate it (once you've tried it), and take a picture and tag it #omnivorescookbook on Instagram! I'd love to see what you come up with. Cheers, friends!
Want to Know More?
Receive our 5-Day Chinese Cooking Crash Course & Recipe Updates! Subscribe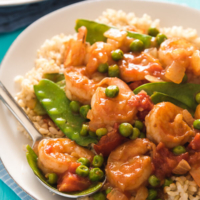 Tomato Shrimp Stir Fry (番茄炒虾仁)
Tomato shrimp stir fry is a classic homestyle Chinese dish that requires minimal effort and delivers the freshest taste.
Ingredients
1

pound

shrimp

, peeled and deveined (*see footnote 1)

2

teaspoons

ginger

, minced

2

tablespoons

Japanese sake

(or Shaoxing wine) (*see footnote 2)

1

tablespoon

potato starch

(or cornstarch)

1/2

teaspoon

salt

1

can (6oz./170g)

Muir Glen diced tomatoes

1

tablespoon

rice vinegar

2

tablespoons

honey

1

tablespoon

oil

1/2

onion

, chopped

1

cup

fresh or frozen snow peas

(*see footnote 3)

1

cup

fresh or frozen green peas
Instructions
Combine shrimp, 1 teaspoon minced ginger, 1 tablespoon Japanese sake and the potato starch in a small bowl. Mix well and let marinate for 5 minutes.

Add diced tomato, rice vinegar, the remaining 1 tablespoon of Japanese sake, honey, and the remaining 1/4 teaspoon salt in a bowl. Mix well.

Heat oil in a large skillet over medium high heat until hot. Add onion. Cook and stir until slightly browned. Add the remaining 1 teaspoon ginger. Stir a few times. Move all the ingredients to one side of the pan with a spatula.

Add shrimp, with all the marinade, onto the empty side of the pan. Immediately spread, so the shrimp cover the pan evenly. Let cook without stirring for 30 seconds to 1 minute, until the bottom is slightly browned. Stir to combine everything, until the surface of the shrimp is cooked.

Add the tomato sauce mixture. Stir to mix well.

Add snow peas and green peas. Continue cooking and stirring until the snow peas start to turn tender, and the shrimp are cooked through. Carefully taste the sauce and adjust seasoning if necessary. Transfer everything to a plate.

Serve warm over steamed rice.
Notes
If you're using frozen shrimp, thaw them thoroughly before cooking.
Any type of rice wine will add a nice umami to the dish. You can skip this ingredient for a non-alcoholic dish.
You don't need to thaw the snow peas or green peas before cooking.
Nutrition
Serving:
219
g
,
Calories:
283
kcal
,
Carbohydrates:
40.2
g
,
Protein:
18.9
g
,
Fat:
4.7
g
,
Saturated Fat:
0.8
g
,
Cholesterol:
119
mg
,
Sodium:
929
mg
,
Potassium:
318
mg
,
Fiber:
5.9
g
,
Sugar:
24.8
g
,
Vitamin A:
2750
IU
,
Vitamin C:
119.6
mg
,
Calcium:
130
mg
,
Iron:
3.4
mg