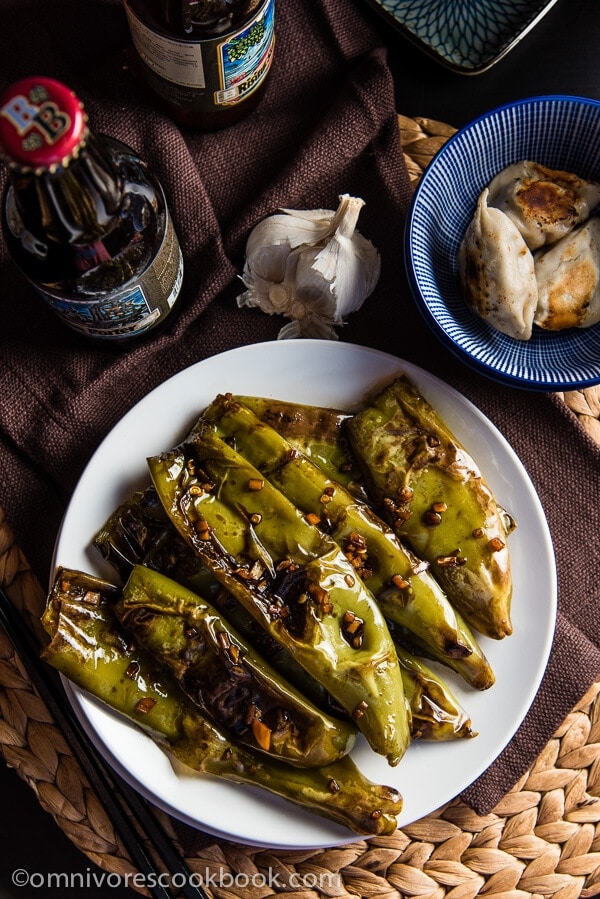 These peppers are pan fried until blistered and tender, then cooked in a sour, savory sauce. The finished dish is hot, flavorful, and appetizing and will add a nice sizzle to your dinner table!
The Hatch Chile Festival is underway at Central Market lately and we got a big batch of these beautiful hatch peppers last week. Thomas requested tiger skin peppers be cooked immediately. We cooked this dish and served it with potstickers and some cold beer for a quick lunch. It was so refreshing on a hot summer day!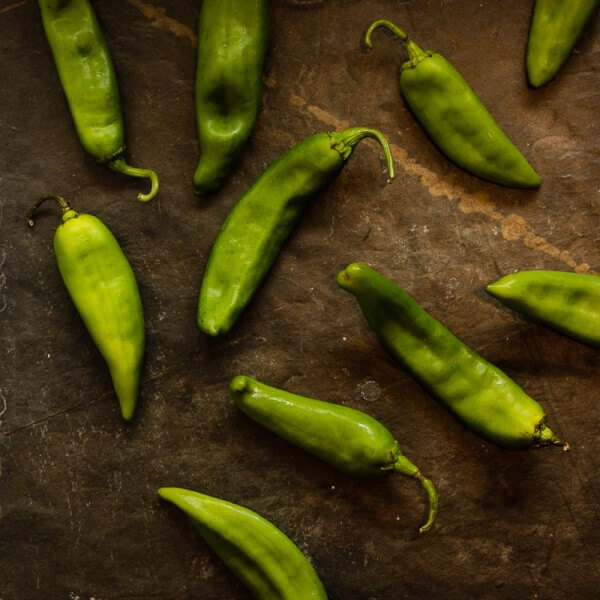 Tiger skin peppers (虎皮尖椒, hu pi jian jiao) is a classic Szechuan dish that is very popular for home cooking. The truth is, you see it more often on the family dinner table than at restaurants. It is super rich in flavor, goes great with rice, is cheap and easy to make, and is a great way to consume a large quantity of peppers. The peppers are cooked until charred, at which point they have a beautiful tiger-like pattern, so the dish is known as tiger skin peppers in Chinese.
To make nicely charred and blistered peppers, you only need a frying pan with a bit of vegetable oil. If you cook the peppers on a hot skillet long enough, they will turn very tender and the skin will get crispy. You can use this stovetop method to create a great texture similar to that of grilled peppers. You can then add the garlicky vinaigrette sauce and let it cook until it thickens. The finished dish is so flavorful that I can finish a big bowl of rice with it within minutes. Of course, you can serve it as a side itself, or even serve it cold.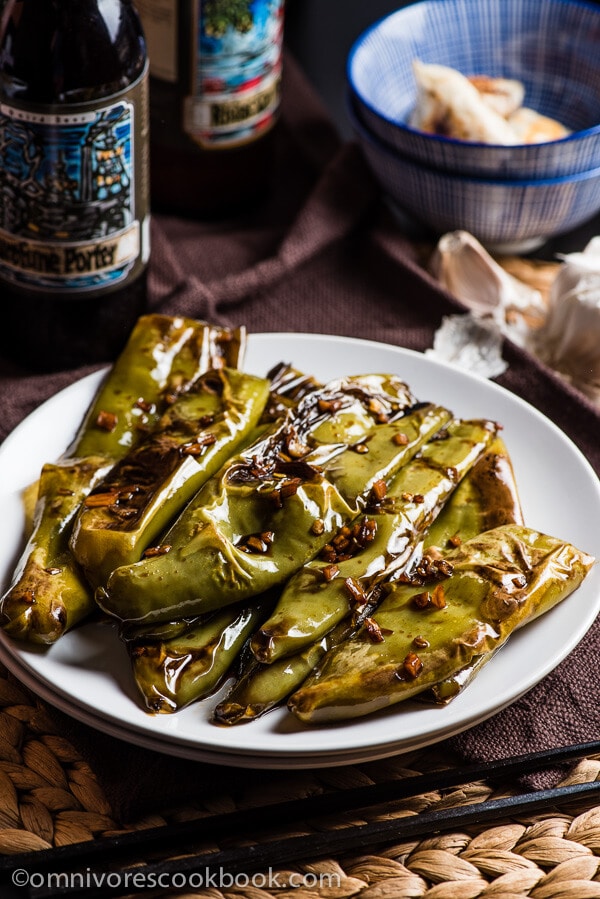 Fire Alert
I highly recommend you deal with these peppers with gloves on, when removing the seeds. Even if using a mild variety of pepper, after handling so many peppers, your hands will feel burnt and hot (been there, done that). If you do not want to use gloves, try using a spoon to scoop out the seeds. You can then rinse the pepper in water and give it a nice shake. This should remove all the seeds without touching the inside of the pepper with your hands.
And be careful, do not touch your eyes or any part of your face after handling the peppers. There was one time I forgot this and removed my contact lenses with pepper on my hands. It burned so badly that I cried for 10 minutes.
If you accidentally get burned by peppers, rub some olive oil on your hands for a minute and rinse them with dish soap and water. The olive oil will help dissolve the capsaicin in the pepper, which is more soluble in oil than in water. It won't cure the burning completely, but it will help relieve the pain.
Finally, if you forget to put on gloves when dealing with the peppers and wash your hands thoroughly with soap, there is still a chance that the capsaicin won't be completely removed from your hands. So be careful when removing your contact lenses after cooking peppers for dinner.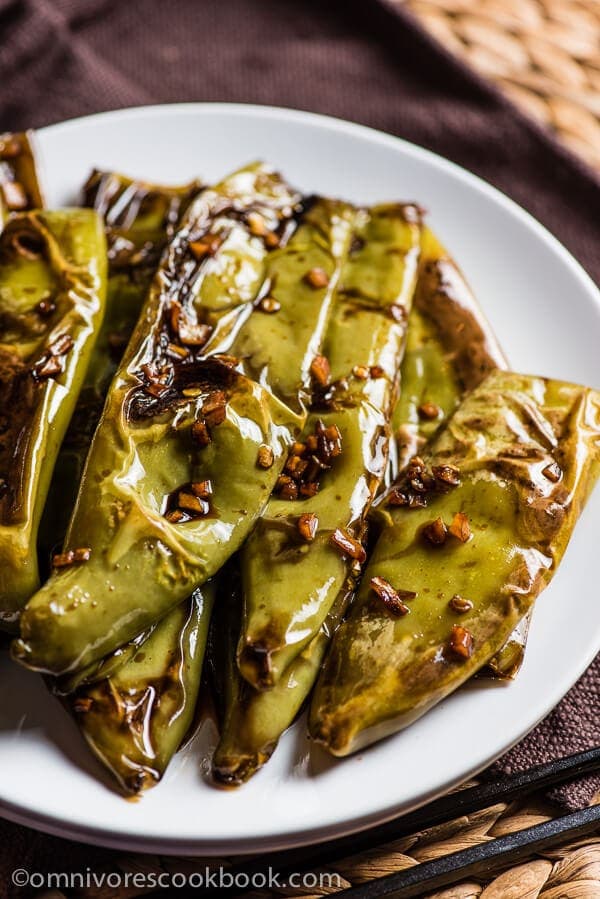 Meal Plan
Classic Chinese: Tiger skin peppers + Steamed white rice + Scallion beef stir fry
Healthy Paleo: Tiger skin peppers + Salt and pepper tofu + Bang Bang chicken
Quick & delicious lunch: Tiger skin peppers + Potstickers (pre-made or frozen)
Want to Know More?
Receive our 5-Day Chinese Cooking Crash Course & Recipe Updates! Subscribe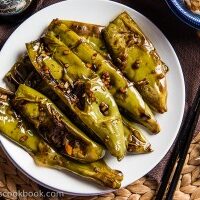 Szechuan Pan Fried Peppers (Tiger Skin Peppers, 虎皮尖椒)
These peppers are pan fried until blistered and tender, then cooked in a sour, savory sauce. The finished dish is hot, flavorful, and appetizing and will add a nice sizzle to your dinner table!
Ingredients
Sauce
3

tablespoons

soy sauce

3

tablespoons

black rice vinegar

1

tablespoon

sugar
Stir-fry
1

and 1/2 tablespoons

peanut oil

(or vegetable oil)

4

cloves

garlic

10

500 grams hatch peppers

(or anaheim peppers)
Instructions
Combine soy sauce, black rice vinegar and sugar in a small bowl. Mix well.

Cut peppers from the top to the end. Remove stem and seeds with a knife or spoon (*see footnote).

Add 1 tablespoon oil to a large nonstick skillet (or a wok). Heat over medium heat until warm.

Add peppers. Cook and stir until the peppers turn tender and the color turns yellowish green, and the skin is blistered nicely, about 15 minutes. Turn to low heat if the skillet starts to smoke. Transfer to a plate.

Add the remaining 1/2 tablespoon oil and garlic. Turn to medium high heat. Stir a few times until fragrant.

Add peppers back to the skillet. Stir a few time.

Pour the sauce onto the peppers. Cook and stir until the sauce thickens, 1 minute.

Serve warm or cold, over steamed rice or by itself as a side.
Notes
If you want to remove the seeds by hand, I recommend you wear gloves. After deseeding a huge batch of peppers, your hands will burn badly.
Nutrition
Serving:
157
g
,
Calories:
97
kcal
,
Carbohydrates:
12.3
g
,
Protein:
2.6
g
,
Fat:
4.2
g
,
Saturated Fat:
0.6
g
,
Sodium:
678
mg
,
Potassium:
307
mg
,
Fiber:
3.7
g
,
Sugar:
7.6
g
,
Vitamin A:
1000
IU
,
Vitamin C:
77.6
mg
,
Calcium:
20
mg
,
Iron:
1.1
mg
Like this recipe? Sign up for Omnivore's Cookbook's weekly newsletter to get the latest updates delivered to your inbox and a free e-cookbook! And stay connected via Facebook, Instagram, Pinterest and Google+. Thanks so much for reading, and happy cooking!