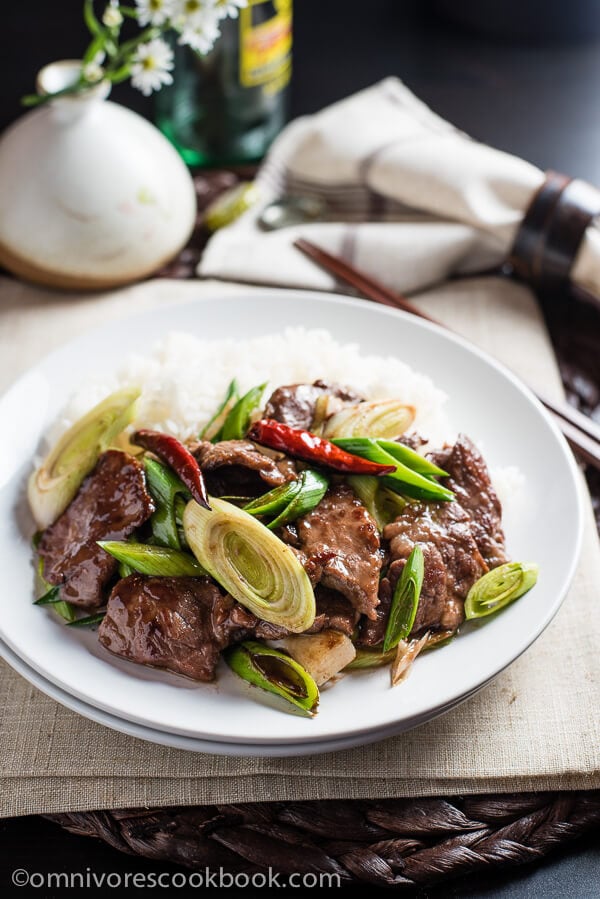 Scallion beef stir-fry creates the most scrumptious flavor in minimal time. The beef is caramelized and cooked in a sweet savory sauce. The leeks add great texture and plenty of nutrition. Can you imagine that this only takes 15 minutes to prep and cook?
Time has been passing extremely quickly lately. After a week of preparation for the wedding, Thomas and I got married last weekend! I know I did a poor job of keeping you updated with our ceremony. Our photos will be ready at the beginning of September. I promise I will share the stories of our big day, along with some photos, as soon as possible!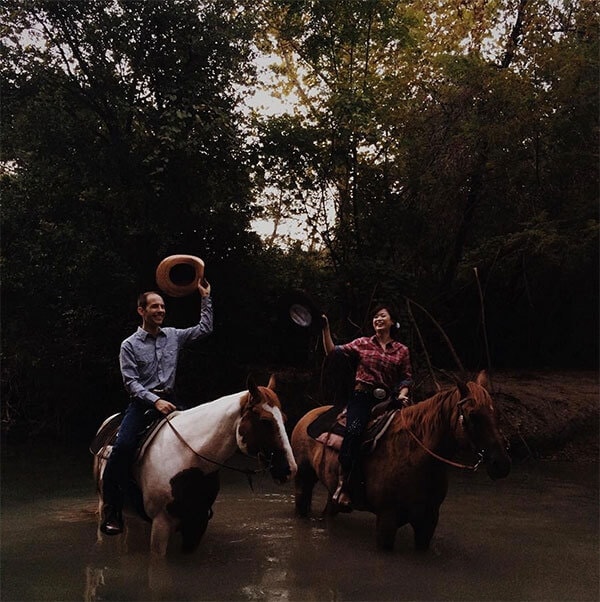 After the wedding, Thomas and I were exhausted and mentally drained. We have been eating comfort food outside, without cooking at all for the past few days. Yesterday, I finally returned to the kitchen to cook lunch. I wanted a really quick meal, so I chose to make this dish.
This recipe is actually an adaptation of the traditional Chinese scallion lamb (葱爆羊肉, cong bao yang rou). You won't find scallion beef stir fry in a Chinese restaurant, as beef is not a staple for most Chinese families. It's very pricy and the average beef quality is quite low in China. We do not usually cook with beef in stir fried dishes, since it requires a tender cut.
After moving to Austin, I found beef prices so low and the quality wonderful, even when it comes to cheap cuts. We got these short ribs at Costco. They came in 7-ounce (200-gram) chunks. Not very fatty, but well marbled. We froze them in separate Ziplock bags, and when we need to roast some beef to top a salad, or cook a beef stir fry, we simply pull out a bag to thaw.

When I was planning to cook this classic scallion lamb, I went for the beef short ribs instead. The flavor of the dish turned out slightly different, but I enjoyed it a lot.
The beef steak slices are nicely caramelized, tender, and moist, with a rich sweet-savory flavor. The leeks add vibrant color, crisp texture, and plenty of nutrition. The best part is, you only need 15 minutes to do all the prep and cooking. You can stir-fry all the way through, in one skillet, without taking the beef out in the middle. Pour the beef and leeks onto some steamed rice, and you'll have a great meal ready!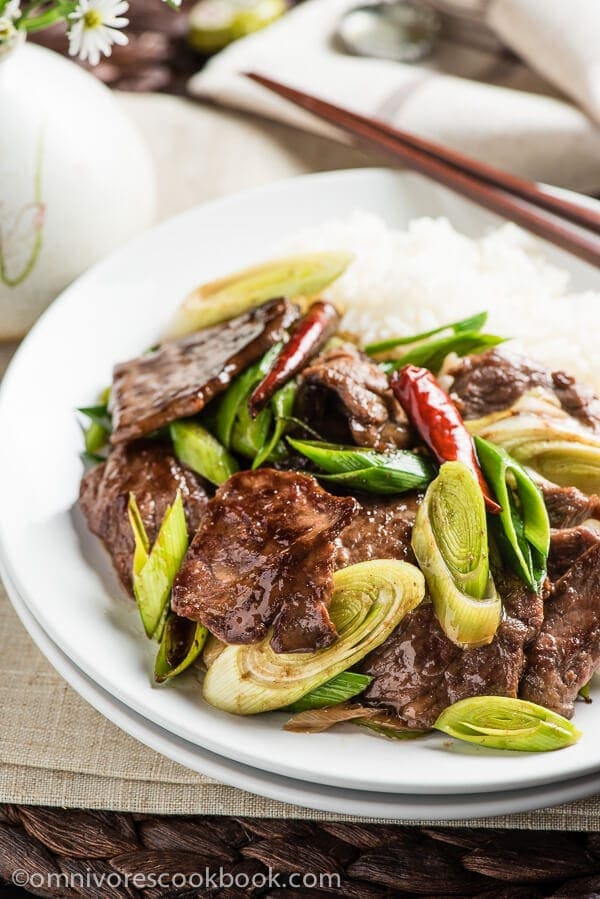 Meal Plan
For dinner, I like to add a simple salad or a veggie dish as a side. But for a quick lunch, I feel totally comfortable serving the scallion beef with some steamed rice as a one-dish meal.
Quick lunch: Steamed Rice / boiled noodles + Scallion Beef Stir-fry
Healthy dinner: Steamed Brown Rice + Scallion Beef Stir-fry + Spinach salad
Traditional Chinese meal for 4: Steamed Rice + Scallion Beef Stir-fry + Braised Chicken with Mushrooms (Cook ahead of time) / Mapo Tofu + Spicy Cabbage Stir-Fry + Hot and Sour Soup
That's all for today! Hope you enjoy 🙂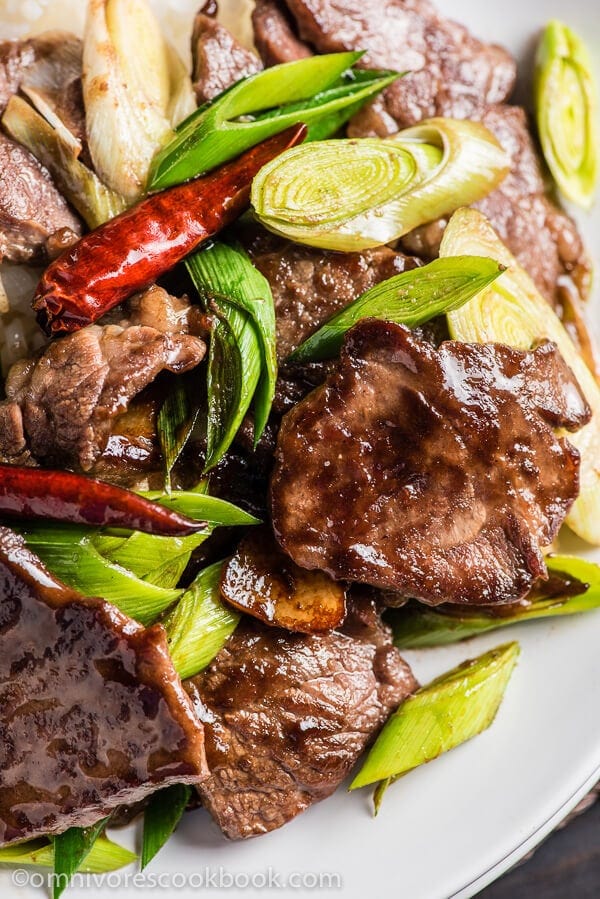 Scallion Beef Stir Fry (葱爆牛肉)
Ingredients
Marinated beef
14 ounces (400 grams) beef short ribs
1/4 teaspoon salt
1 teaspoon cornstarch
Sauce
Stir-fry
2 tablespoons peanut oil (or vegetable oil)
3 dried chili peppers
4 cloves garlic, sliced
2 leeks (or Chinese scallions), sliced
Instructions
Cut beef against the grain into slices 1/8 inch (4 millimeters) thick.
Add beef, salt, 2 teaspoons water, and cornstarch into a bowl. Mix well.


Remove and discard the tough leaves of the leeks. Chop leeks into large pieces.
Mix all the ingredients for the sauce in a small bowl. Set aside.


Heat oil in a large nonstick skillet (or a wok) over medium high heat until hot. Add chili pepper. Cook until the chili pepper turns dark brown.


Add garlic and spread beef over skillet. Let cook for 20 seconds without stirring. Cook and stir until both sides are slightly charred, 1 minute.


Mix the sauce again to dissolve the cornstarch. Swirl starch mixture over the beef. Stir and cook until the sauce thickens, 30 seconds to 1 minute.


Add leeks and turn off heat. Stir for another 30 seconds so that the leek mixes well with the sauce.


Transfer everything to a plate. Serve warm with rice.
The nutrition facts are calculated based on 1 of the 2 servings generated by this recipe.