Try this extra fluffy monkey bread inspired by the flavors of China with fragrant jujube syrup and a buttery taste that's impossible to resist!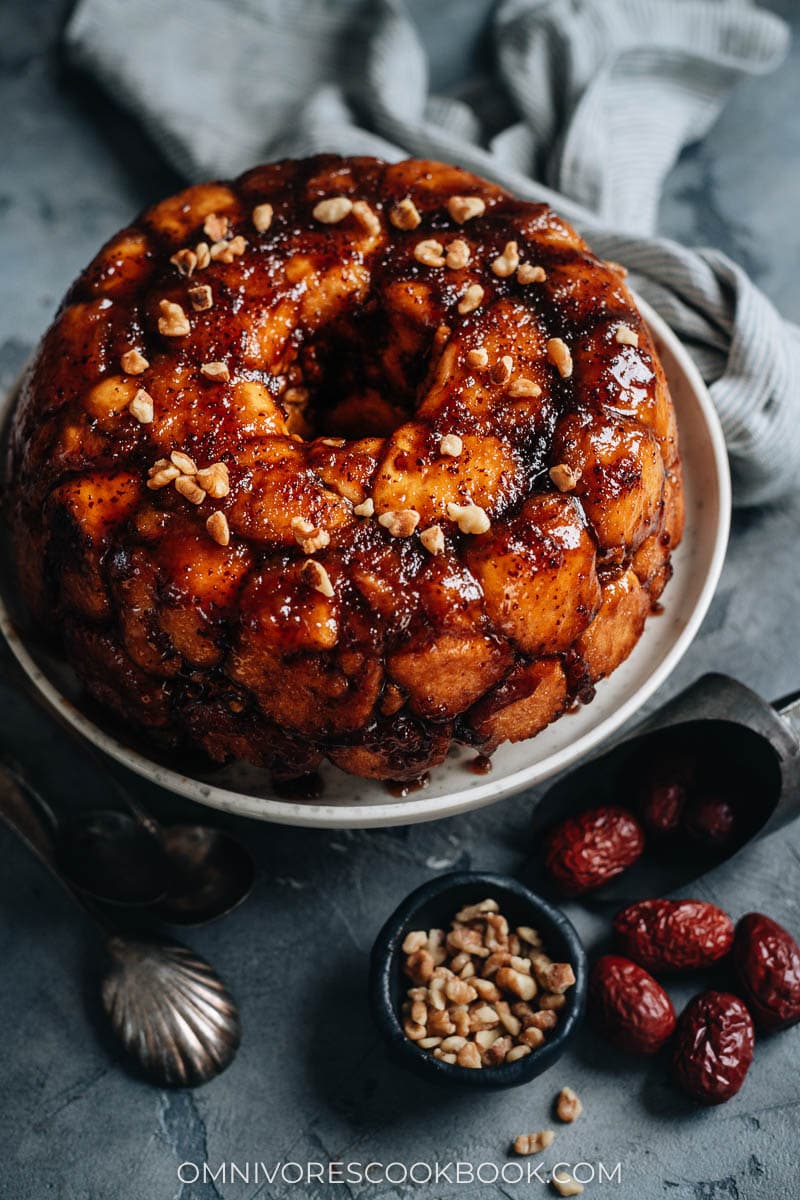 I love when I can take something Western and meld it with something Eastern. I love American desserts but sometimes think they're kinda heavy or too sweet for my taste. On the other hand, Asian desserts can be a bit too healthy when it comes to holidays and festive occasions. I think combining the best of both worlds truly makes for the tastiest creations. That's why we made this fluffy monkey bread with jujube syrup. If you're looking for something different, look no further!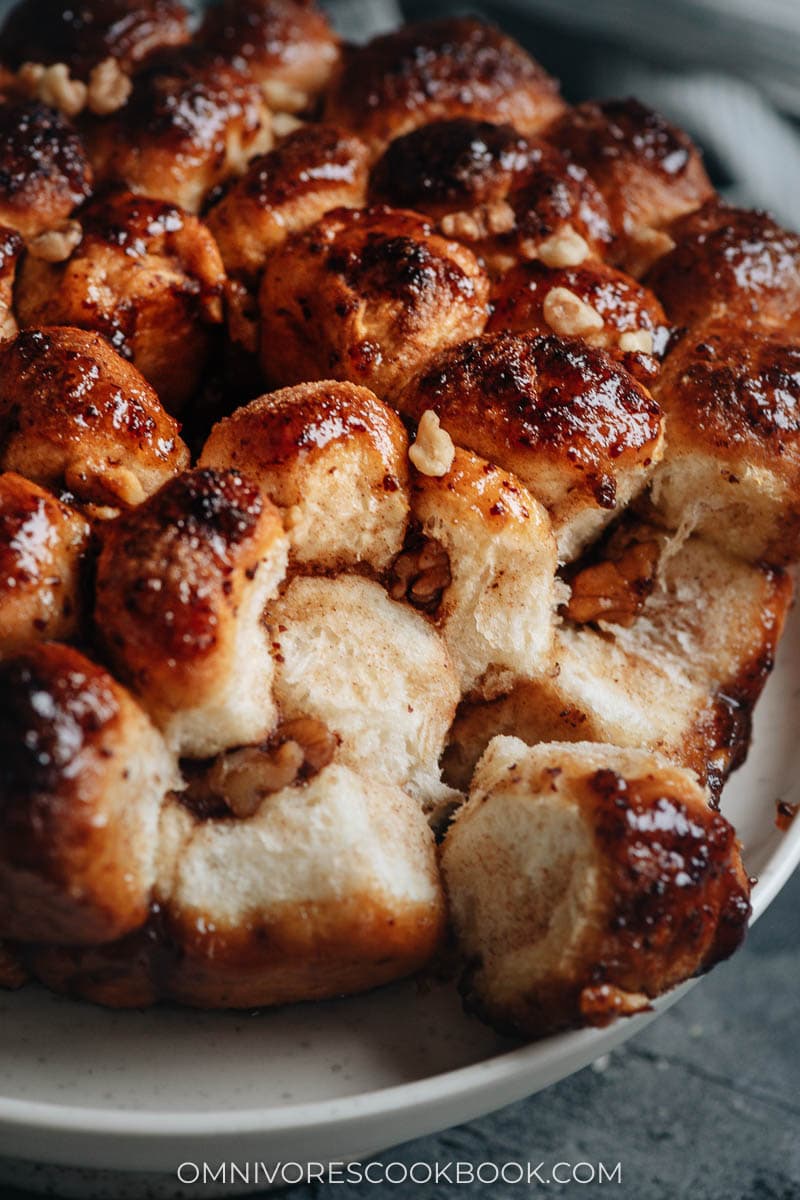 Why this recipe
My sous chef Lilja and I wanted to make a fun dessert for the holidays. We decided to make a monkey bread that uses our milk bread as a base, to create an extra fluffy texture. The syrup is made with dried jujubes, a classic ingredient in Chinese desserts.
This fluffy monkey bread has three layers of flavor and texture, making it even more fun to eat. The bottom layer is extra gooey because it soaks up all the syrup. Meanwhile, the top layer is crispy and fluffy. I love to brush extra syrup on it after it finishes baking, to add a light sweetness to it. But that middle layer is my absolute favorite. It gets a slight char on the side from touching the pan so it has an extra crispy texture along with the caramelized syrup. It's heavenly!
When you compare this to traditional monkey bread, which is more dense, this fluffy monkey bread is light, yet still so indulgent. I will say this…it's highly addictive so the only downside is that you may eat more than your fair share, though it's worth it. We gobbled ours up in just two days!
Cooking process
Make the jujube syrup
The syrup uses dried jujubes, brown sugar, and butter to make a puree that is rich, not too sweet, and very fragrant.
Soak the dried jujubes so they turn tender
Remove the pit by cutting the jujubes into halves and cutting out the pits
Add water to the pitted jujubes and mix with a blender
Melt the butter
Add the brown sugar and jujube puree
Cook until the sugar melts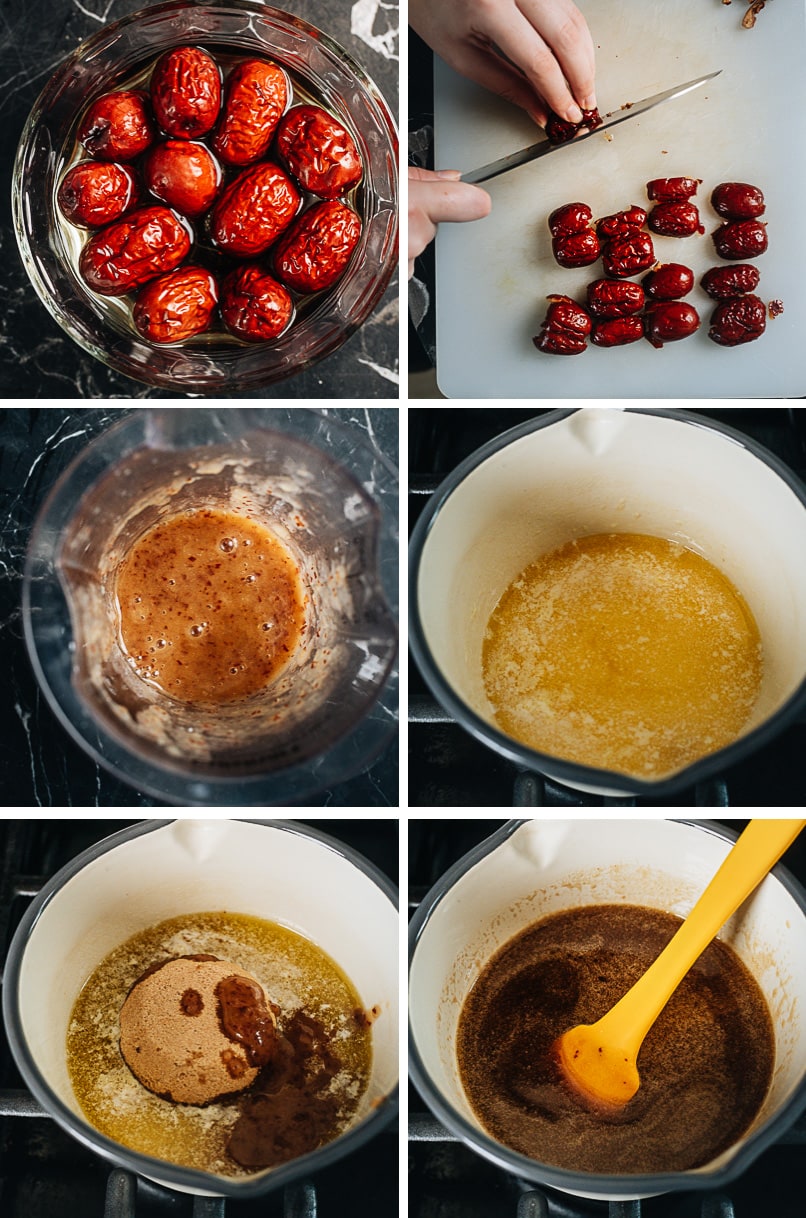 Make the monkey bread
As for the cooking process for this fluffy monkey bread, it will take some time, but with a stand mixer it's really easy. It's a very forgiving recipe and shaping it is fun, so if you have kids, try making it with them. They'll love it!
Mix the dry and wet ingredients
Knead the dough with a stand mixer
Rest the dough
The dough is ready when it's doubled in size
Punch down the dough and gently knead it again
Divide the dough into 4 pieces, then further cut into 15 pieces
Shape the dough into balls, then coat with cinnamon sugar
Add the dough balls to a bundt pan, filling halfway up, then sprinkle with some chopped walnuts
Drizzle some jujube syrup over the dough balls
Fill the pan with the rest of the dough balls, cover, and rest for 20 minutes
Add the rest of the syrup right before baking
Bake for 35 to 45 minutes until cooked through

You can flip the bread to serve it the traditional way. But for this recipe, I found that it's quite delicious to serve it bottom-side (crispy side) up. You can even reserve 1 to 2 tablespoons of the syrup and brush it onto the crisped bread. It's so delicious!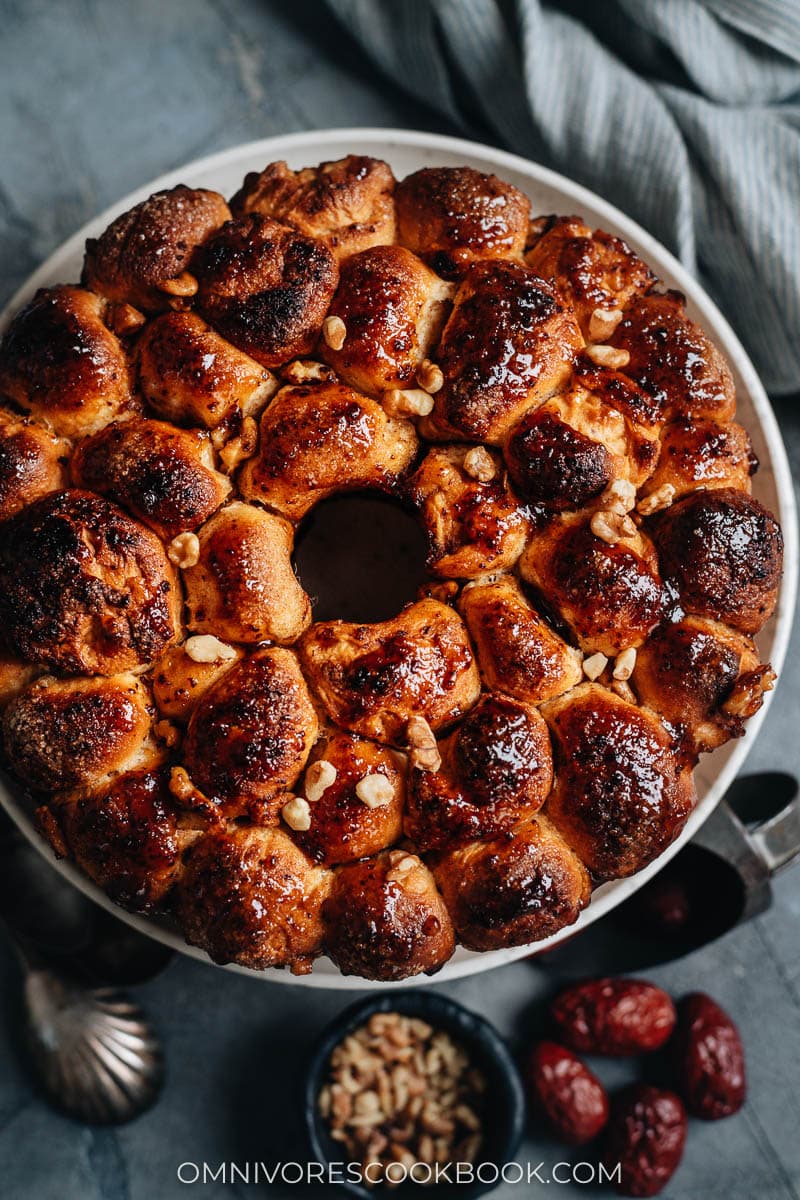 Shortcut
I know that not everyone has the time or desire to make this bread and that's totally fine. You can use canned biscuit dough to make it more quickly. It will have a denser texture but the taste will be delicious regardless.
This festive dish is something that would be perfect for the holidays, but I think you can come up with an excuse to make it any time because it's so delicious!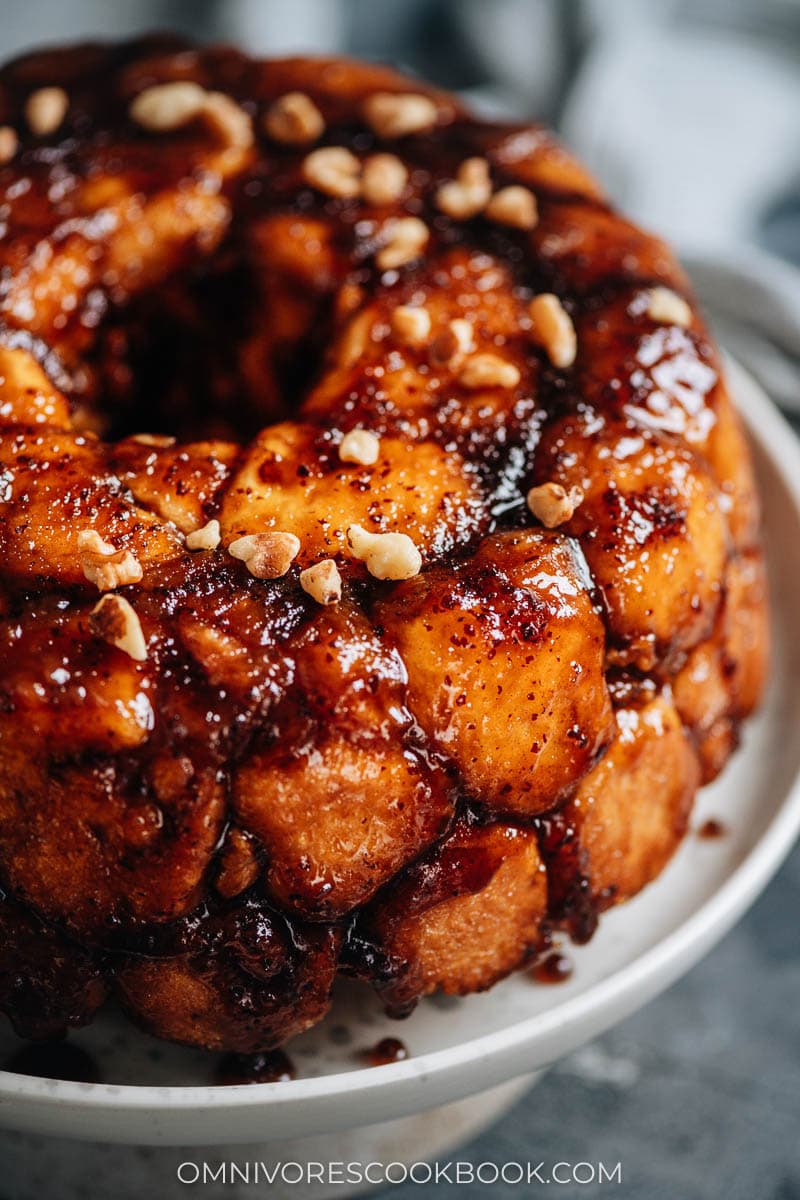 Want to learn more about Chinese Cooking? Sign up for my newsletter to receive the 5-Day Chinese Cooking Crash Course and recipe update!
Want to Know More?
Receive our 5-Day Chinese Cooking Crash Course & Recipe Updates! Subscribe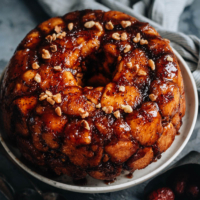 Fluffy Monkey Bread with Jujube Syrup
Try this extra fluffy monkey bread inspired by the flavors of China with fragrant jujube syrup and a buttery taste that's impossible to resist!
Servings:
8
to 12 servings
Ingredients
Bread
3

cups (450 g)

all-purpose flour

1/4

cup (50 g)

sugar

1

teaspoon (4 g)

salt

1 1/2

teaspoons (4.5 g)

instant yeast

1 1/4

cup (300 mL)

milk

(Use 1 cup / 250 mL milk if hand knead) (*Footnote 1)

1

large egg

3

tablespoons (42 g)

butter

, melted and cooled
Syrup
1/2

cup

dried jujubes

4

tablespoons (57 g)

butter

1/2

cup (170 g)

packed light brown sugar

(or regular sugar)
Coating
1/2

cup (100 g)

sugar

1

teaspoon

ground cinnamon
Instructions
Prep
Rinse the jujubes with tap water to remove the dust from the surface. Add the jujubes to a small bowl and 1/2 cup boiling water to cover. Let soak for a minimum of 1 hour, or up to overnight. Once done soaking, reserve the soaking liquid. Halve the jujubes using a paring knife and remove the pits by cutting them off. Discard the pits.

(Optional) Have a few extra tablespoons of softened butter ready for the forming process. You can use vegetable oil for this purpose as well.
Make the dough & 1st rise
In the bowl of the mixer, combine all of the bread ingredients. Attach the mixer with the hook, start on low, until a dough forms. Switch the mixer to setting 4 and knead for 10 to 15 minutes, until the dough is smooth and elastic. You can test the dough by stretching a piece into a thin sheet. It should be thin and semi-transparent without easily tearing apart.

Smear a thin layer of butter onto the inside of a big bowl and place in the dough. Cover with plastic wrap and let it rise until the dough doubles in size, about 1 hour.
Make the jujube syrup
While the dough rises, add the soaked jujubes and soaking water to a blender or an immersion blender cup. Blend until a smooth paste forms. If the mixture is too thick to blend, add water, 1 teaspoon at a time, until it's workable.

Combine the 4 tablespoons of butter with the jujube paste in a small pot and light brown sugar. Heat over medium-low heat. Cook and stir until the sugar is melted and the syrup is smooth. Remove the pot from the heat and set it aside.
Make the coating
Combine the coating sugar and cinnamon in a small bowl, mix well. Pour into a medium-sized tray or a big dish.
Assemble & bake
Smear a thin layer of butter onto a 10″ bundt pan.

Preheat the oven to 350°F (176°C).

Once the dough has risen, punch it down, gently knead it a few times, and divide it into 4 even pieces.

Roll each piece into 4 long logs, about 1 ft (30 cm) long. Slice each long log into 15 pieces of dough, for a total of 60 doughs.

Grease your hands with a small amount of melted butter. Roll each piece of dough into a ball between your palms. Place each dough ball in the tray of sugar once formed.

Once the sugar tray is mostly filled, about half way through the rolling process, shimmy the tray to coat the dough balls with the cinnamon sugar. Roll the doughs with your hands to help coat evenly.

Distribute the dough balls throughout the greased pan. Sprinkle over a few pieces chopped nuts if using, and then drizzle a small amount of syrup.

Repeat steps 12 to 14 to fill the pan with coated dough balls, without pouring the syrup. Once all the dough balls are in the pan, cover with plastic wrap and rest for 20 minutes.

Just before baking, pour the rest of the syrup evenly over the dough (you can also reserve 1 to 2 tablespoons syrup to brush onto the crispy side of the bread if you wish).

Bake for 35 to 45 minutes. Check the bread after 25 minutes, and then at the 35-minute mark. If the surface of the bread starts to brown too much, cover the pan with a foil tent. Once done, the bread should be fluffy and golden brown on top. You can test the doneness by inserting a bamboo skewer and the skewer should come out clean.

Let the monkey bread cool for 10 minutes. Cover the pan with a large flat plate. Use one hand to hold the plate and the other hand to flip the pan. Remove the pan and now you can serve the bread.

(Optional) If you like the crispy side of the bread, you can flip the bread again and brush the reserved syrup onto the crispy side. Enjoy!
Notes
The dough is designed for a standing mixer and it's very wet. You should use less liquid (reduced from 1 1/4 cup to 1 cup) if you hand knead the dough so it's easier to work with. It will make the texture slightly less fluffy but taste great nonetheless.
Nutrition
Serving:
1
serving
,
Calories:
345
kcal
,
Carbohydrates:
60
g
,
Protein:
6.3
g
,
Fat:
9.6
g
,
Saturated Fat:
4.8
g
,
Cholesterol:
35
mg
,
Sodium:
265
mg
,
Potassium:
128
mg
,
Fiber:
1.4
g
,
Sugar:
27.6
g
,
Calcium:
59
mg
,
Iron:
2
mg
If you give this recipe a try, let us know! Leave a comment, rate it (once you've tried it), and take a picture and tag it @omnivorescookbook on Instagram! I'd love to see what you come up with.
Other delicious baking recipes
Lilja Walter is a part of the Omnivore's Cookbook team and worked closely with Maggie to develop and test this recipe.