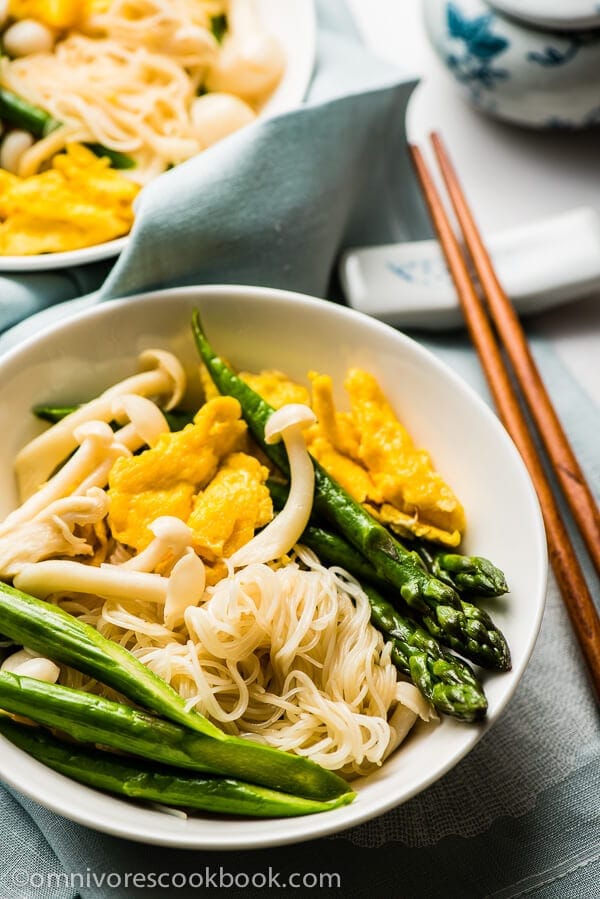 A simple yet scrumptious spring salad that is wonderfully flavorful, rich in nutrition, low in calories, and takes less than 30 minutes to get ready.
This asparagus salad with mushrooms, eggs, and glass noodles is a great new way to enjoy bright spring flavors.
The crunchy texture of the asparagus, the earthy umani of the mushrooms, the tender mouthfeel of the noodles, and the rich flavor of the scrambled eggs – all come together to create a perfect combination. The flavor of the fresh ingredients is enhanced by a bit of soy sauce and a few drops of sesame oil. A taste of spring.
I first had this salad in a Yunnan restaurant and was surprised by its great flavor (I will talk more about Yunnan food in a separate post). Although the seasoning here is not quite typical Yunnan, the use of mushrooms and asparagus is a common practice in Yunnan cuisine, and it works like magic in this dish.
I thought about recreating this dish at home several times, but was reluctant to try it.
Reason one: I couldn't find a single recipe for this dish online. This is one of a kind. No reference at all. I was on my own to figure out the recipe.
Second, the seasoning of the salad was so simple and I couldn't figure out what made it stand out. No matter how hard I thought about the taste of the original salad, I only remembered a very simple, yet great, savory flavor that made me think of chicken soup.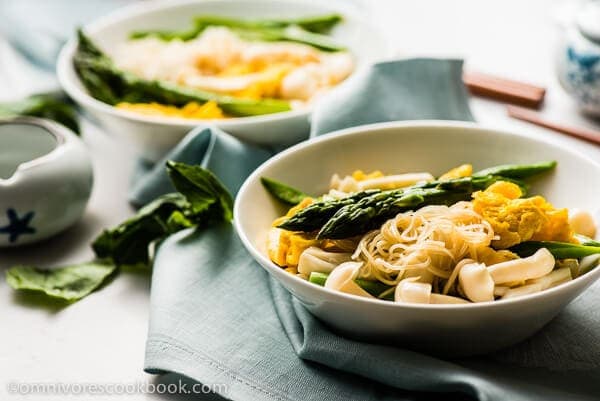 The truth is, after I got all the veggies and eggs cooked and ready, I still had no recipe written down.
So I decided to go with my gut.
Since I couldn't recall any special flavors in the dish, I started with a pinch of salt and several drops of soy sauce (the salad in the restaurant looked clean and fresh, which meant no seasoning with any special color). Then I finished it up with a few drops of sesame oil. Soy sauce and sesame oil are the typical way to enhance the flavor of a salad in Chinese cooking. My backup plan was, if this seasoning didn't work, I would blend in chicken bouillon powder (a.k.a MSG).
The result surprised me.
The salad tasted just as awesome as I remembered. All the ingredients came together to create such a rich flavor, like drinking a bowl of slowly cooked chicken soup, with extra goodies in the bowl.
The glass noodles were soaked with savory and nutty flavors. Their texture became silky with the addition of the sesame oil. The mushrooms and asparagus didn't absorb so much seasoning, so you could taste their natural refreshing and earthy flavor, as they should be. The eggs just made everything taste better, as they always do. And the truth is, the scrambled eggs infused the salad with a great chicken broth aroma.
This is the type of dish that you won't want to change a single item in, but rather just leave the ingredients as they are, to work their magic.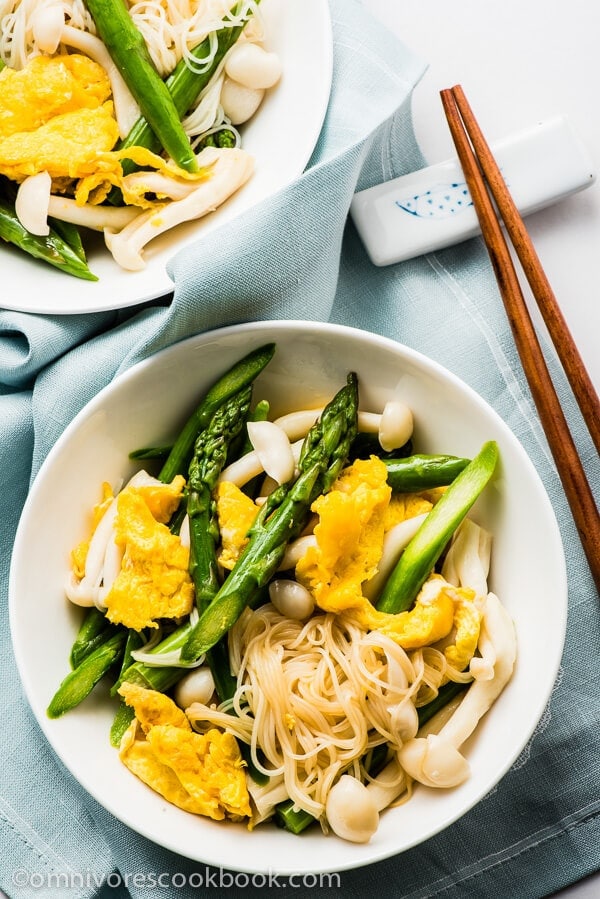 Did I convince you of the great flavor of this salad? Take 30 minutes to put these ingredients together, and you can easily convince yourself!
Want to Know More?
Receive our 5-Day Chinese Cooking Crash Course & Recipe Updates! Subscribe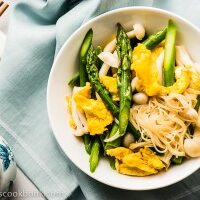 Asparagus Salad with Mushroom, Eggs, and Glass Noodles
Ingredients
1/2

25 grams bundle bean thread noodles

2

cups

120 grams white enoki (or white beech) mushrooms, tough ends removed and separated

10

200 grams asparagus spears, tough ends removed and chopped

2

teaspoons

vegetable oil

2

eggs

beaten

1/4

teaspoon

salt

1/2

teaspoon

light soy sauce

1/2

teaspoon

sesame oil
Instructions
Prepare a bowl of tap water and set aside. Bring a pot of water to a boil.

(Optional) Add a few drops of oil and a pinch of salt, so the veggies will be greener after cooking.

Add bean thread noodles and stir with chopsticks to separate them. Boil until the noodles are cooked through, about 1 minute. Transfer the noodles to the bowl of water to chill. Set aside. (*see footnote 1)

Add mushrooms to the same pot of water. Cook until mushrooms turn tender, about 1 minute. Transfer to a colander to cool.

Add asparagus to the same pot of water. Cook until the asparagus is cooked but still crisp, 30 seconds to 1 minute (you might need longer time if the asparagus is bigger). Transfer to a colander to cool.

Heat oil in a nonstick skillet over medium high heat until warm. Add egg. Stir and cook until egg is just cooked through. Transfer to a plate to cool.

Transfer the bean thread noodles to a colander to drain.

Combine asparagus, mushroom, bean thread noodles, and egg in a large bowl. Sprinkle salt and drizzle with light soy sauce and sesame oil. Toss to mix well.

Serve warm or cold.
Notes
1)The reason for soaking the noodles is that it helps them cool and prevents them from sticking together. You should drain them right before using. However, if you aren't going to make the salad immediately, you can drain the noodles and toss them with a few drops of oil. This way, they won't become too tender and fall apart after soaking in the water for so long.
The nutrition facts are calculated based on 1 of the 2 servings generated by this recipe.