The Instant Pot rice pilaf is loaded with veggies and tastes even better than fried rice. You only need 10 minutes to prep before hitting a button. Your one-dish dinner will be ready in 15 minutes.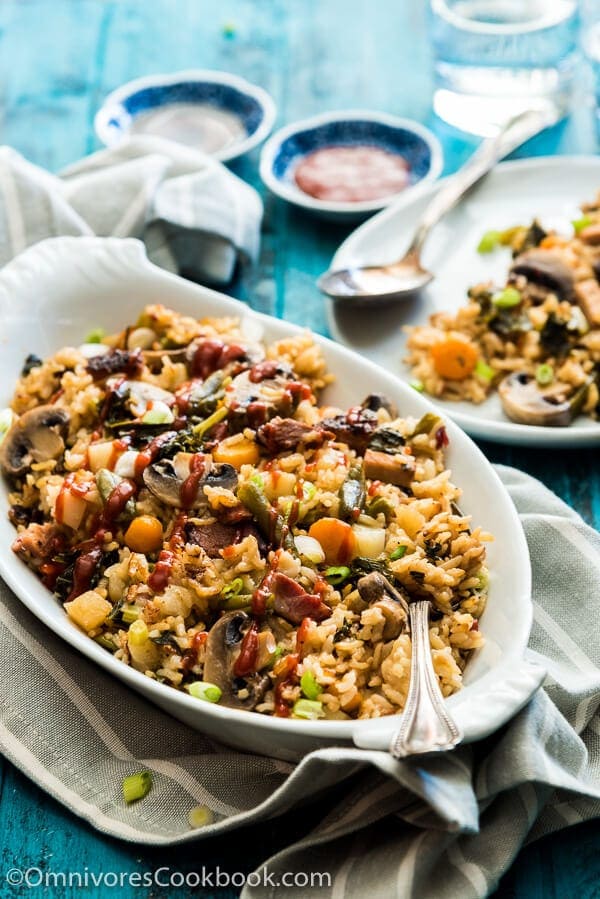 One of the greatest things about being a food blogger is that you're constantly exposed to new things and forced to learn. A month ago, I first heard the term "Instant Pot", from Kathy Hester, the blogger and cookbook author behind Healthy Slow Cooking. A few days later, when my reader and friend Chin mentioned it again, I immediately purchased one from Amazon to play with.
What is the Instant Pot?

The Instant Pot is a very trendy electric cooking appliance that combines a slow cooker, pressure cooker, rice cooker, yogurt maker, steamer, and saute pan.
I know this sounds too good to be true. I was very suspicious about it at first. The Instant Pot I got was $114. It is not that cheap, but considering the functions you get, it's way cheaper than buying all those appliances separately. When I told Thomas about this, he said there was no way this pot could create better rice than our rice cooker.
We invested in a high-end Zojirushi rice cooker when moving into our new house in Austin. The same kind that my mom has been using for years. We use this rice cooker to cook brown rice and sushi rice, and they come out perfectly every single time. The rice cooker cost $300. That's why we thought there was no way the Instant Pot could beat it.
The Instant Pot proved me wrong. In fact, I found my Instant Pot creates even better rice than the rice cooker!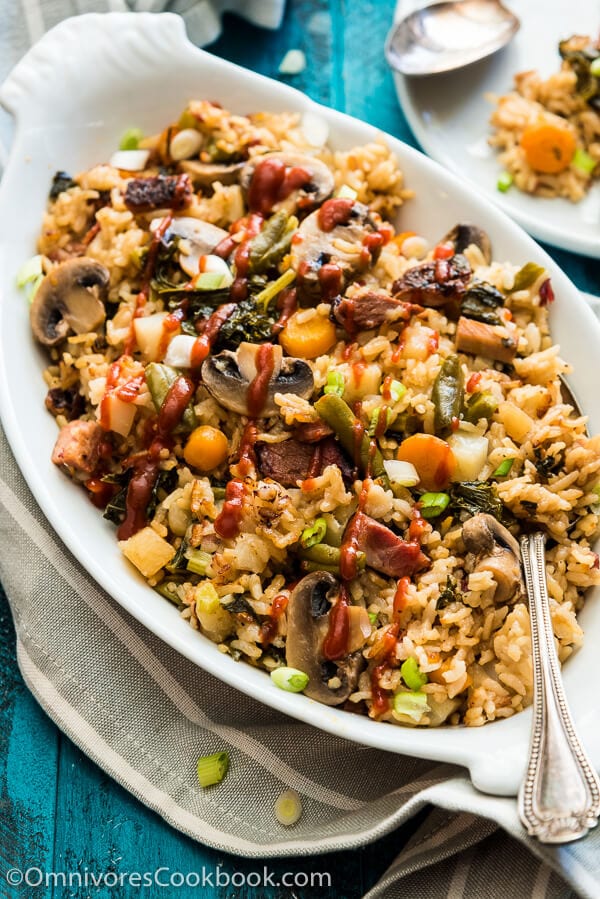 The secret to cooking perfect rice
The secret is to use high pressure (not the "rice" program).
Not only is it faster, but it also releases flavor from the rice and makes it tender and sticky.
Today I want to share a super cool and lazy way to create a healthy one-pot rice bowl.
All you need to do is add raw rice, chicken stock, a bit of leftover meat, and tons of veggies into the Instant Pot. Cook it on high pressure for 8 minutes. Then you'll get a pot of Jambalaya-style rice that is perfectly cooked and very fresh in flavor. The texture beats fried rice!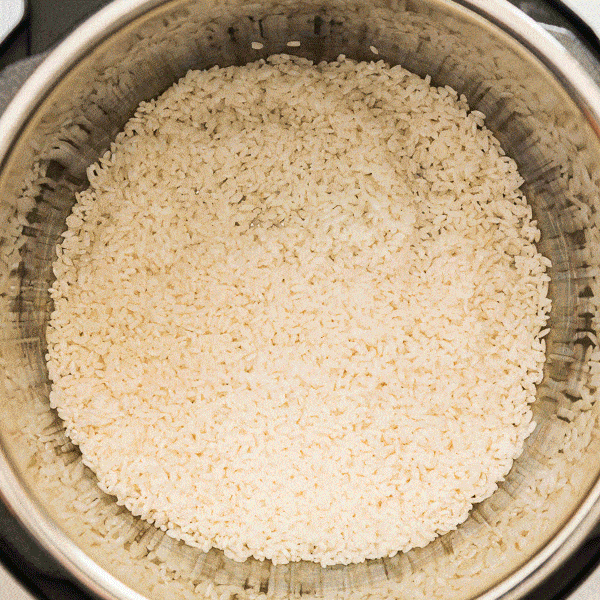 The high pressure cooking releases tons of flavor from the vegetables. So even with minimal seasoning, in this case, soy sauce + rice wine + oyster sauce, your house will smell very fragrant when you uncover the pot.
A tip on creating even quicker meals
Use chopped frozen veggies.
I personally recommend you use fresh produce, which always tastes better. But if you're really short on time, simply buy pre-chopped frozen veggies and cook them without thawing. Everything will be cooked through in 8 minutes.
Ready to learn this lazy and healthy one-dish dinner? Let's start!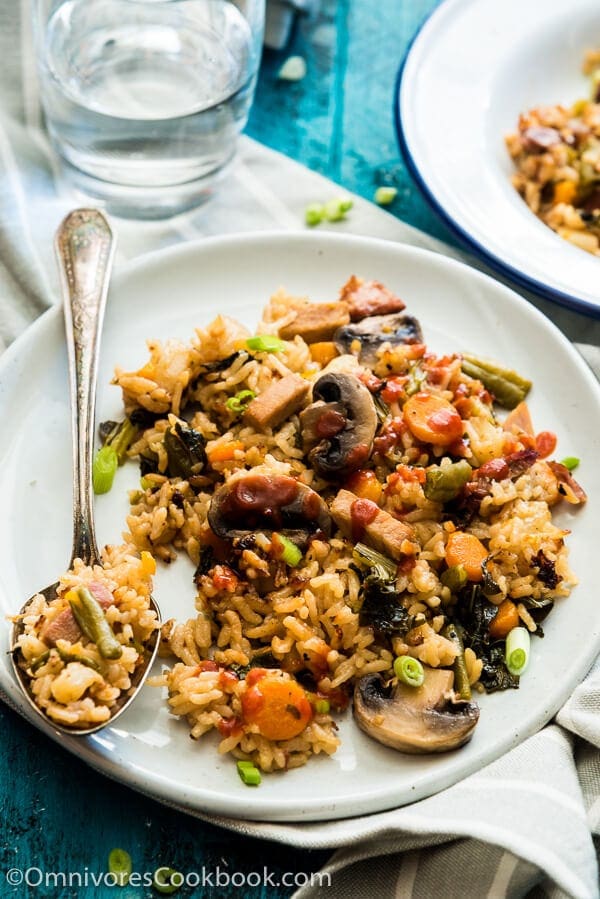 More delicious Instant Pot recipes
Do you like my recipes? Sign up our weekly newsletter to get the latest updates delivered to your inbox and a FREE e-cookbook that contains my top 30 most popular recipes!
Want to Know More?
Receive our 5-Day Chinese Cooking Crash Course & Recipe Updates! Subscribe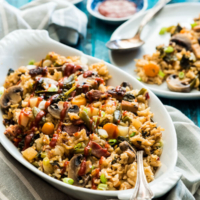 Instant Pot Rice Pilaf
The Instant Pot rice pilaf is loaded with veggies and tastes even better than fried rice. You only need 10 minutes to prep before hitting a button. Your one-dish dinner will be ready in 15 minutes.
Ingredients
2

180-mL rice cups (360 mL total) raw short grain white rice

(*see footnote 1)

2

and 1/2

180-ml rice cups chicken stock, or water

(*see footnote 2)

1

tablespoon

rice wine

(or Japanese sake)

1

tablespoon

vegetable oil

1

cup

leftover meat

, chopped (or fried tofu for vegetarian meal)

2

waxy potatoes

, cubed

2

carrots

, chopped

1

pound

white mushrooms

, halved

1

pound

green beans

, chopped

2 to 3

cups

kale with stem

, chopped

2

tablespoons

soy sauce

1

tablespoon

oyster sauce

(or to taste or mushroom sauce for vegetarian)

chopped green onion for garnish

(Optional)

Sriracha

(Optional)
Instructions
Rinse white rice with tap water 2 to 3 times. Transfer to a strainer to drain extra water.

Prepare and chop vegetables.

Combine rice, chicken stock, rice wine, and vegetable oil in a 6-quart Instant Pot (or any type of pressure cooker). Top with leftover meat, potato, carrot, mushrooms, green beans, and kale. Pour soy sauce on top. Do not stir. (*see footnote 3)

Cover and seal. Make sure the valve is set to high pressure. Click "Manual" or "Bean/Chili" (Very important). Set timer to 8 minutes. And make sure the high pressure light is on. Do not use the "rice" function. It won't add pressure that way.

If using a stovetop pressure cooker, cook over medium heat until the target pressure is reached. Turn to low heat. Cook at high pressure for 8 minutes. Remove the pressure cooker from the stove.

Let the pressure release naturally. Or you can use quick release.

Gently mix everything with a spatula. Add oyster sauce and green onion. Mix again. Adjust seasoning by adding more sauce, if necessary. If you're not going to serve the rice immediately, let the pot sit covered.

Serve warm as a main.
Notes
The cup I used in this recipe is the one that comes with the Instant Pot. It is a standard Asian rice cup that is 180 mL. If you're using American cups (250 mL), you will need to measure 1 and 1/2 cups rice instead.
To measure in American cups (250 mL), you will need 2 cups minus 2 tablespoons chicken stock.
Soy sauce chars the bottom layer of the rice. But if there is too much soy sauce, it will cause some rice to burn.
Nutrition
Serving:
748
g
,
Calories:
506
kcal
,
Carbohydrates:
92.8
g
,
Protein:
24.1
g
,
Fat:
5.4
g
,
Saturated Fat:
1.1
g
,
Cholesterol:
27
mg
,
Sodium:
591
mg
,
Potassium:
1441
mg
,
Fiber:
8.6
g
,
Sugar:
7
g
,
Vitamin A:
11050
IU
,
Vitamin C:
116.3
mg
,
Calcium:
120
mg
,
Iron:
9
mg