If you're looking for an easy dinner, look no further than this one-pan seafood chow mein that's even more scrumptious than the restaurant version!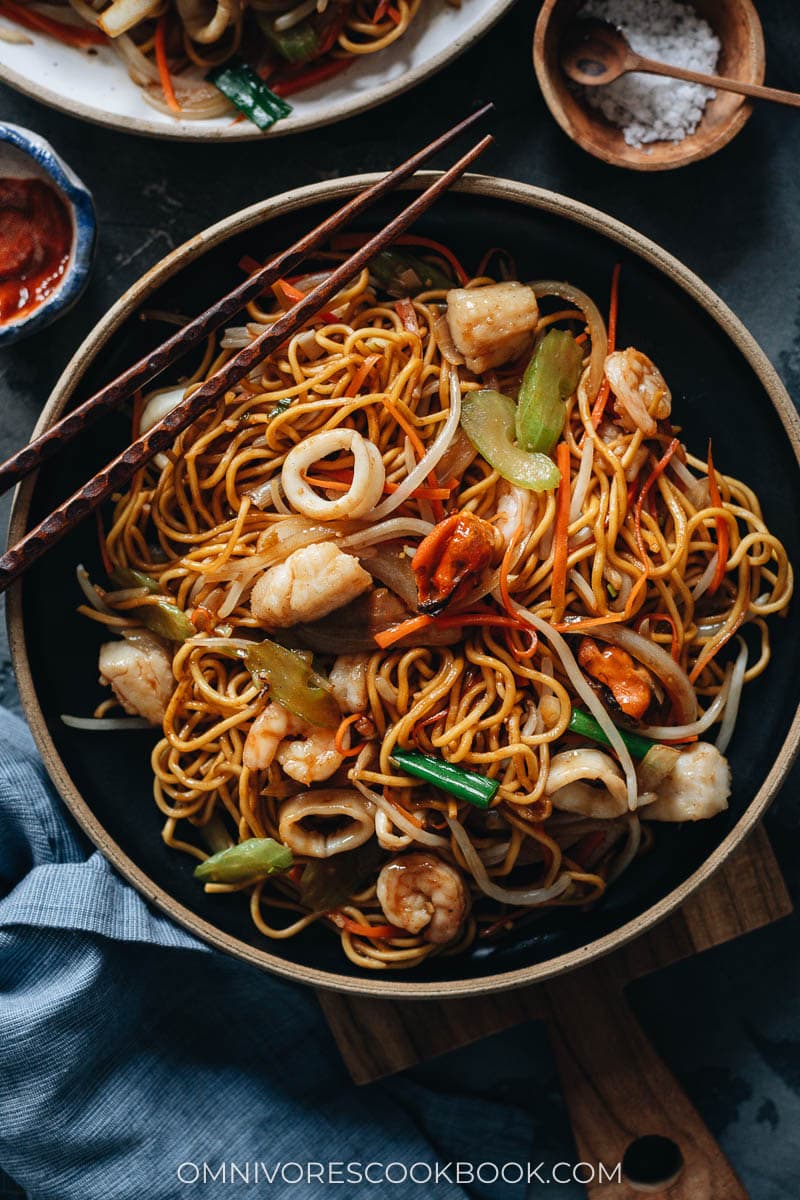 Seafood is something I've always adored. If I have the option to eat shrimp, fish, or any shellfish, I always go for it. This seafood chow mein takes all your favorite elements and puts them together in one pan for a simple and delicious meal, with easy cleanup too.
Chow mein noodles are a popular menu item at Chinese restaurants everywhere. Seafood chow mein is something your local Chinese takeout place might offer (sometimes it's just shrimp chow mein), but if you follow the steps below, you'll have your own version that tastes even better. Because you can use more seafood. And it will be faster than getting takeout too!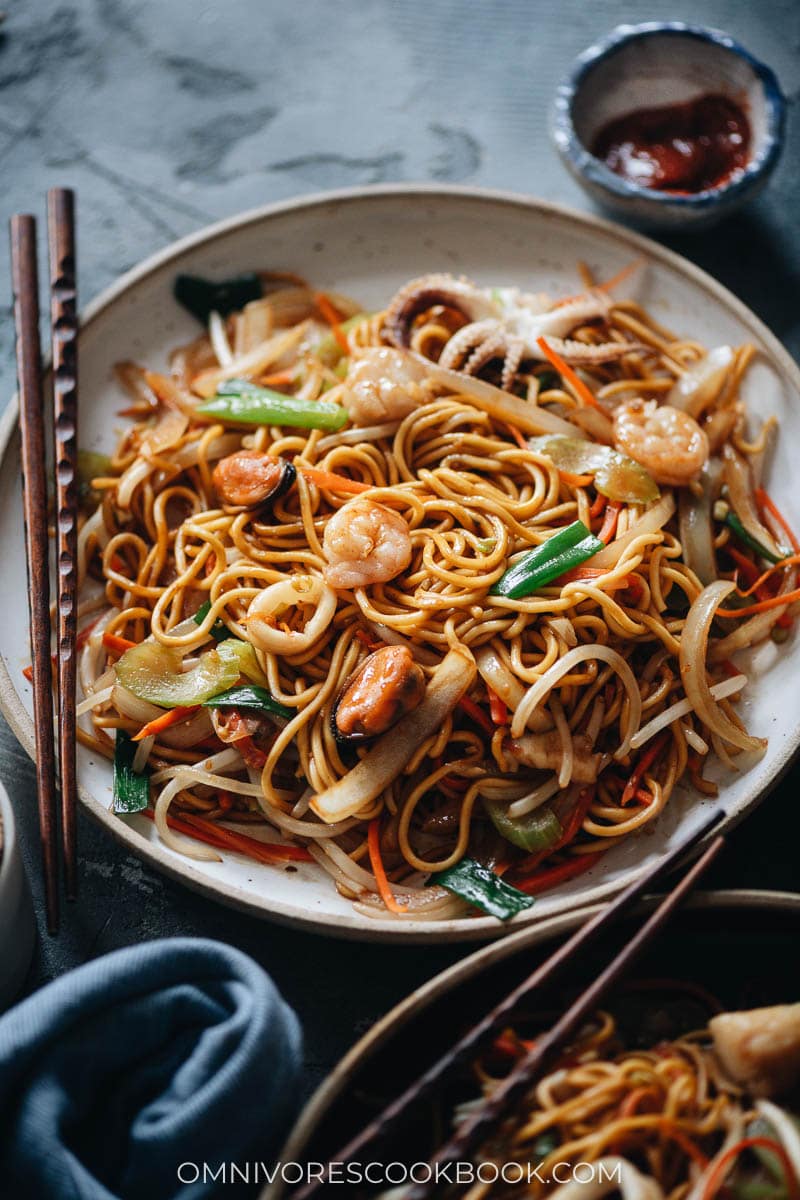 Ingredients
I used a combination of colorful vegetables in this recipe. They are easy to find except for the bean sprouts. But you can totally skip the bean sprouts and still get an amazing result.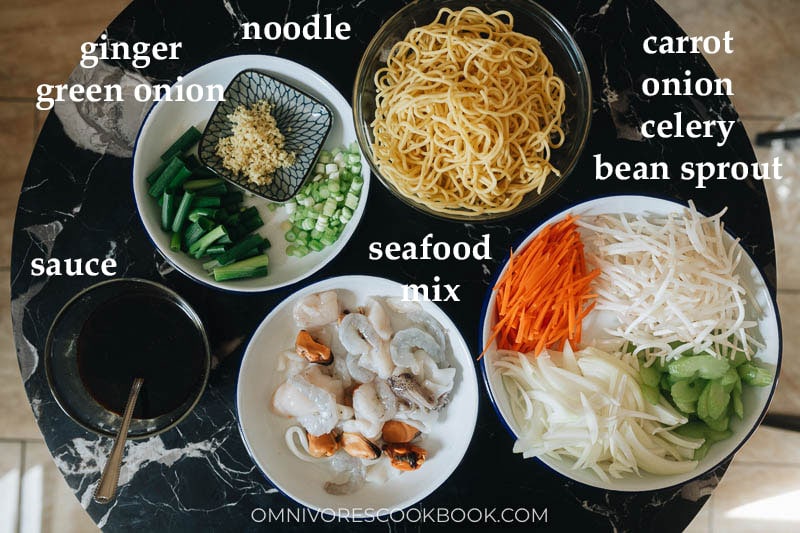 Seafood
My secret for making this even fancier than what you'd get at a restaurant is to use a high-quality frozen seafood mix. I love the one from Whole Foods. It features large chunks of scallops, clams, shrimp, and squid. It won't have that frozen taste, either.
If you do not wish to use a frozen seafood mix, that's totally fine, too. Simply replace it with some shrimp, squid, fish pieces, or whatever seafood is left in your fridge.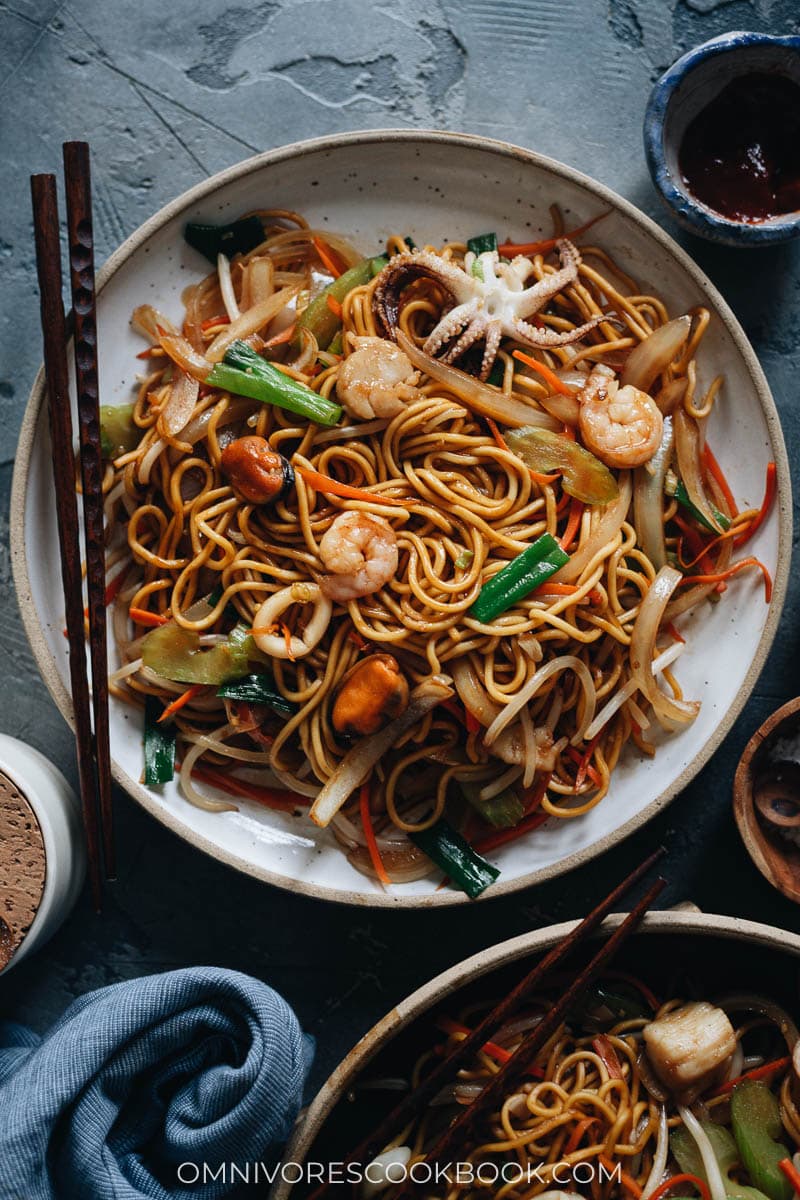 What type of noodles to use
There are several types of noodles you can use in seafood chow mein.
I used fresh Yakisoba (labeled as Japanese-Style Chinese Noodles on the package) from my neighborhood grocery store. I like the fact that the noodles are slightly thicker than the Hong Kong pan fried noodles, but not as thick as udon noodles. They yield a nice chewy texture while absorbing sauce very well.
On the other hand, you can also use:
Hong Kong Pan Fried Noodles
Chow Mein Noodles (fresh or dried)
Lo Mein Noodles (fresh or dried)
Dried Spaghetti (when you don't have any fresh or Chinese noodles on hand, this will do!)
You can usually find the fresh noodles in the refrigerated section of an Asian market. But sometimes they are in the frozen section. You can usually find frozen yakisoba at Japanese grocery stores.
The key to great texture with fried noodles is, you should only cook them until al dente, so they won't be overly soft once fried. If the noodle package only comes with one cooking time, I always reduce it by 1 minute to have slightly underdone noodles before frying.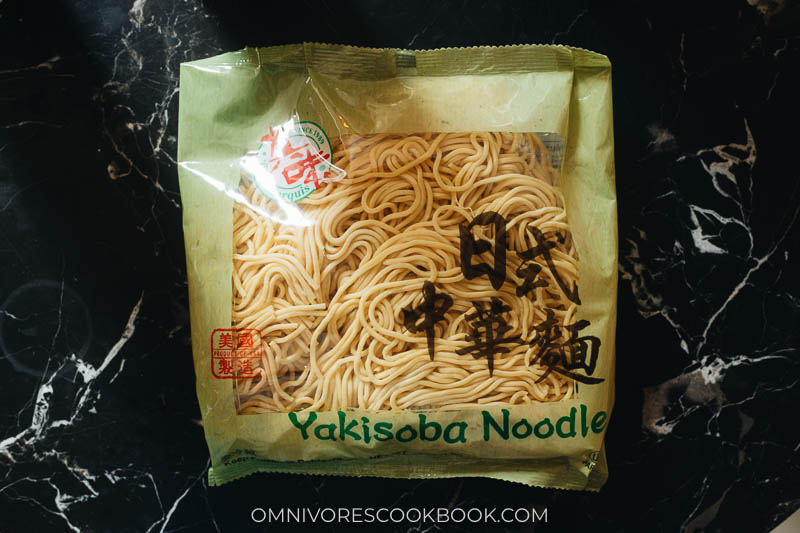 Cooking process
Cooking seafood chow mein couldn't be easier:
Prepare the noodles according to the package instructions
Saute the aromatics
Stir fry the seafood with onion and carrot, remove them once cooked
Fry the noodles with some oil
Toss with the sauce
Add the rest of the veggies
Add back the cooked seafood and veggies
Toss together and serve!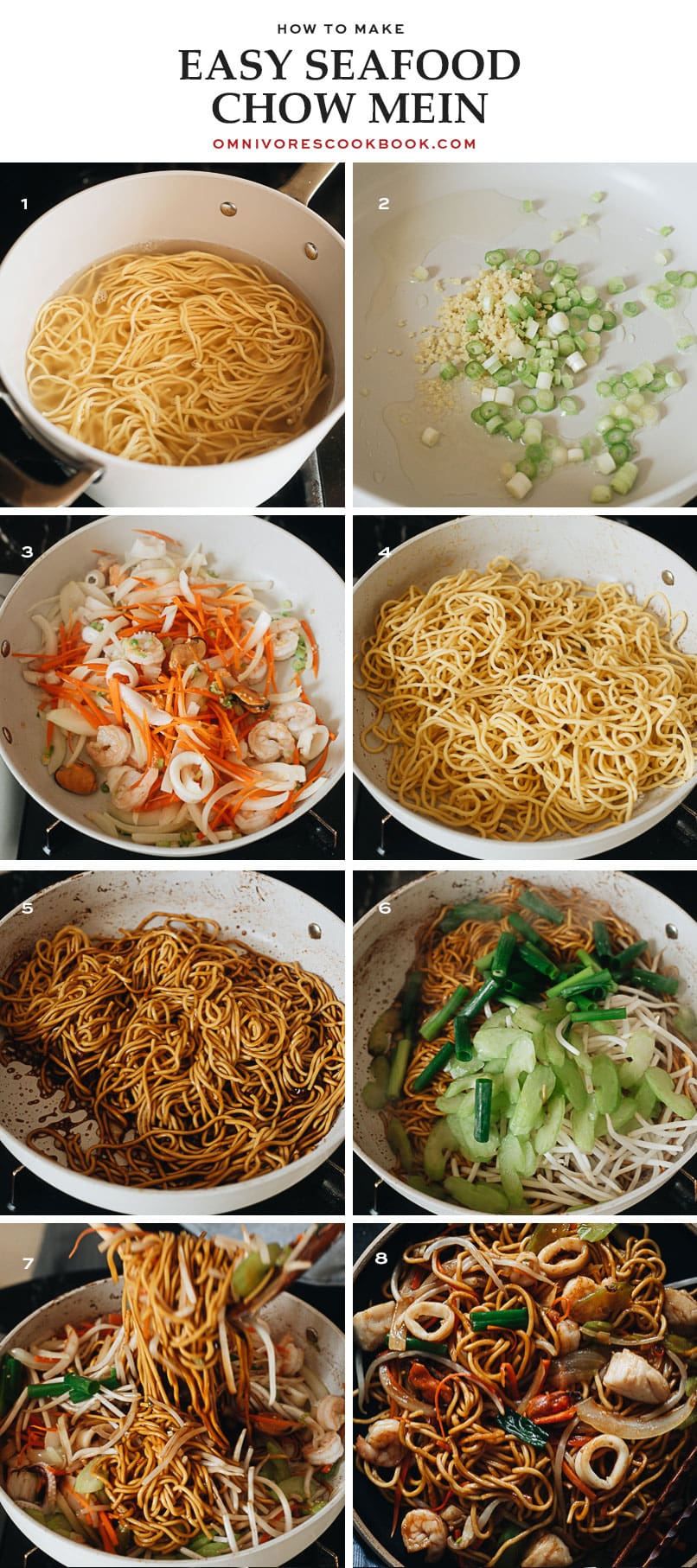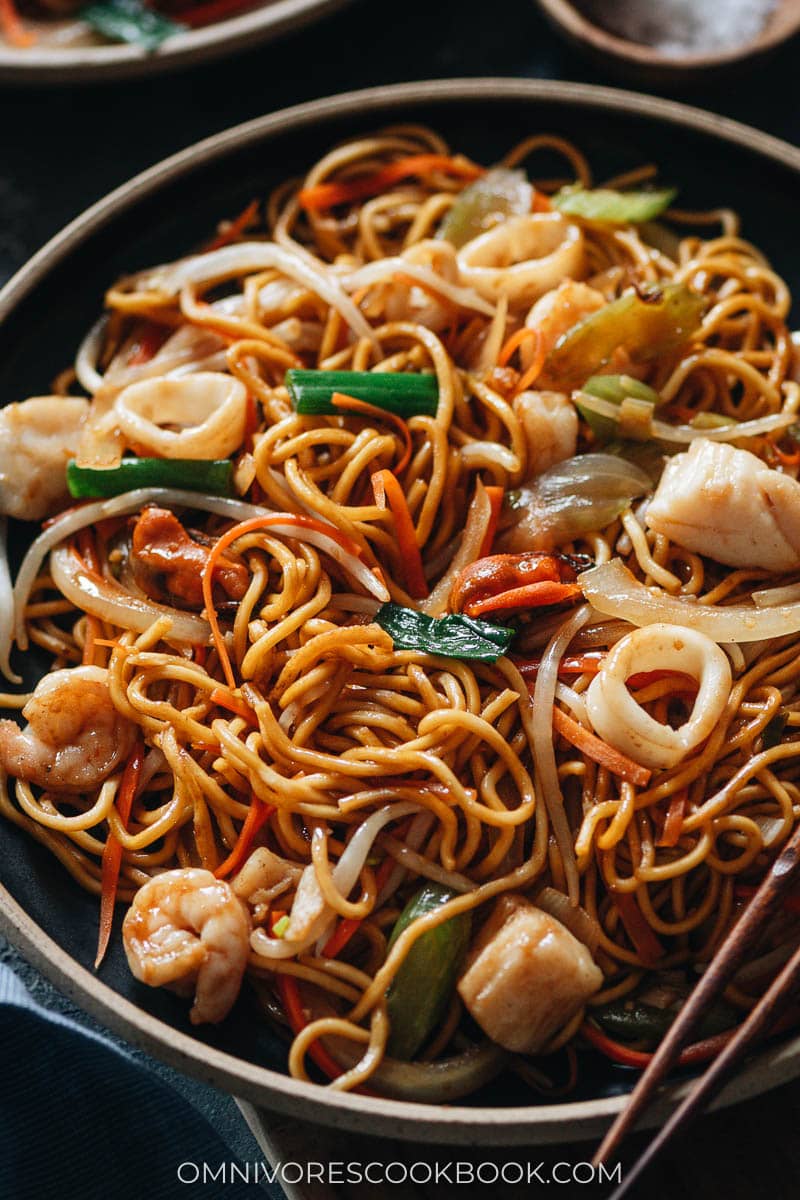 Afterthoughts
While the ingredient list might seem a bit long, you should have most of this stuff in your kitchen already. It comes together really quickly too. You only need 15 minutes of prep time and then it's just another 5 minutes to cook it. Everything is in one pan, giving you a nutritious and absolutely divine meal all in one. Even on your busiest day, you can make this after work and treat yourself to the flavor you deserve!
Want to Know More?
Receive our 5-Day Chinese Cooking Crash Course & Recipe Updates! Subscribe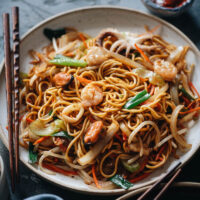 Seafood Chow Mein (海鲜炒面)
If you're looking for an easy dinner, look no further than this one-pan seafood chow mein that's even more scrumptious than the restaurant version!
Servings:
2
to 4 servings
Ingredients
8

oz (225 g)

frozen seafood mix

, thawed and drained

Pinch of

salt and white pepper

6

oz (170 g)

chow mein noodles

(Hong Kong Pan Fried Noodles, or Yakisoba) (*Footnote 1)
Stir Fry
2

tablespoons

peanut oil

(or vegetable oil)

1

tablespoon

ginger

, minced

4

green onions

, chopped to 1" (2.5 cm) pieces, whites and greens separated

1/2

large white onion

, sliced

1

carrot

, sliced into thin strips

1

stalk celery

, sliced on the bias

1

cup

bean sprouts
Instructions
Add the seafood mix to a bowl to thaw. Once mostly thawed, sprinkle with a pinch of salt and white pepper and mix together. (*Footnote 2)

If using noodles that require boiling, cook them 1 minute less than the package instructions indicate. Once done, rinse the noodles with running tap water to stop cooking, drain, and set aside.

Combine all the sauce ingredients in a small bowl. Mix until the sugar is dissolved. Set aside.

Heat a large skillet over medium-high heat and add 1 tablespoon of oil. When the oil is hot, add the ginger and green onion whites. Cook and stir for 30 seconds, or until the edges turn lightly golden.

Add the seafood mix, onion, and carrot. Cook and stir for 30 seconds. Add 1 tablespoon of the sauce and continue to cook until the seafood is almost cooked through, another 30 seconds to 1 minute. Transfer everything to a big plate.

Add the remaining 1 tablespoon of oil and the noodles to the pan (if using fresh HK noodles, add 1/4 cup water and toss to loosen the noodles). Toss the noodles using a pair of tongs so they are coated evenly with oil. Pour in a bit more oil if the noodles look dry.

Pour the sauce over the noodles and toss to coat the noodles evenly.

Once the noodles have absorbed most of the sauce, add the cooked seafood and veggie mixture, green onion greens, celery, and bean sprouts to the pan. Stir vigorously for 1 minute to toss everything together. Immediately transfer everything to serving plates.

Serve hot as a main dish.
Notes
If you use fresh Yakisoba, you need 8 oz (225 g). Use 6 oz (170 g) if using Chow Mein Noodles, Dried Noodles, or Hong Kong Pan Fried Noodles.
If you have trouble separating the seafood mix and it is in a big clump, you can rinse it with tap water to thaw quickly. Make sure to drain it well before cooking.
Nutrition
Serving:
1
serving
,
Calories:
193
kcal
,
Carbohydrates:
16.6
g
,
Protein:
11.9
g
,
Fat:
8.9
g
,
Saturated Fat:
1.8
g
,
Cholesterol:
58
mg
,
Sodium:
650
mg
,
Potassium:
261
mg
,
Fiber:
2
g
,
Sugar:
4
g
,
Calcium:
66
mg
,
Iron:
4
mg
Lilja Walter is a part of the Omnivore's Cookbook team and worked closely with Maggie to develop and test this recipe.