Introducing 3 ways to cut napa cabbage, so you can create the best texture when you cook different dishes.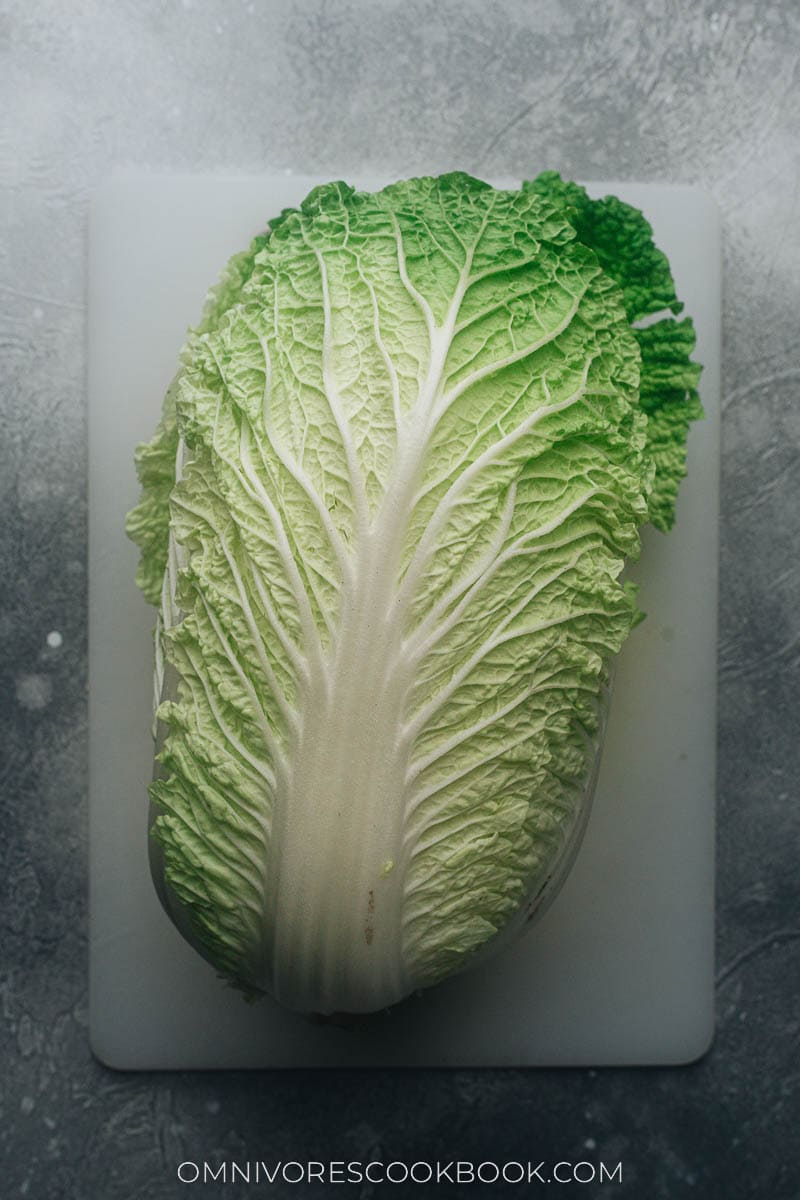 Napa cabbage, also known as Chinese cabbage, is called Bai Cai (directly translates as "white cabbage") in China. Compared to regular cabbage, napa cabbage is bigger and longer. The leaves have a white thick part that is quite crisp and juicy. The leaves are more wrinkled than regular cabbage and they turn tender after cooking.
It is a very versatile vegetable and one of the most popular vegetables in Northern China, where I was born and grew up. In the early 90', modern supermarkets were not widespread and we didn't have many varieties of vegetables from the South like we do these days. In the winter, napa cabbage was one of the few green vegetables we could get our hands on.
There are many ways to cook with napa cabbage. We often add it to soups, make napa cabbage stir fry, make it into a stew to serve with rice, and make sauerkraut with it.
How to cut napa cabbage
There are a few ways to cut napa cabbage to use in Chinese cooking. And it's important to prep it properly so you get the best texture.
Method 1 – the best texture
This method is suitable when you need a smaller amount of napa cabbage in the cooking. And it is especially helpful when cutting outer leaves, which have a thick and tough white part.
Remove the outer leaves using your hands, so you only take the leaves you will be cooking, leaving the rest of the napa cabbage intact. This way, the rest of the napa cabbage can be stored in the fridge for a very long time, usually up to a month or so.
Stack 2 to 3 leaves at a time, and halve them crosswise, to separate the white stem part from the leafy part.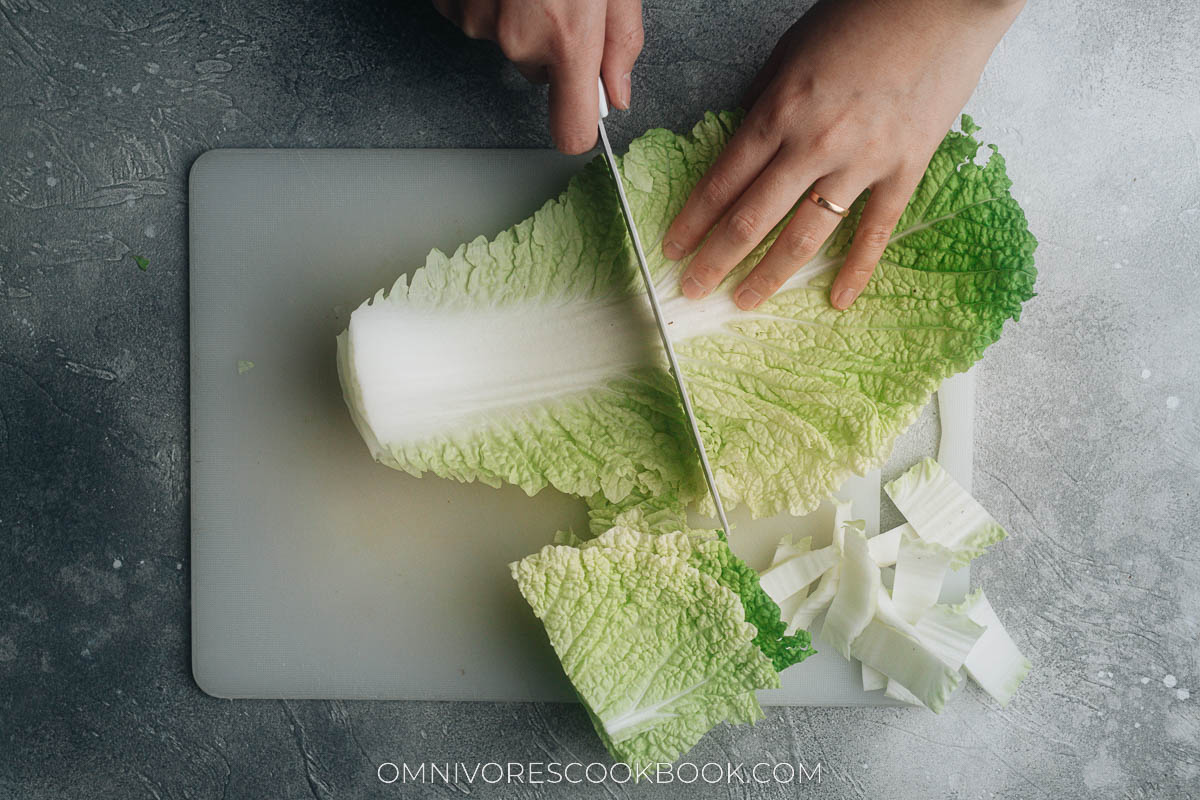 Slice off the green part from the white stem.
Slice the white part into small bite-sized pieces.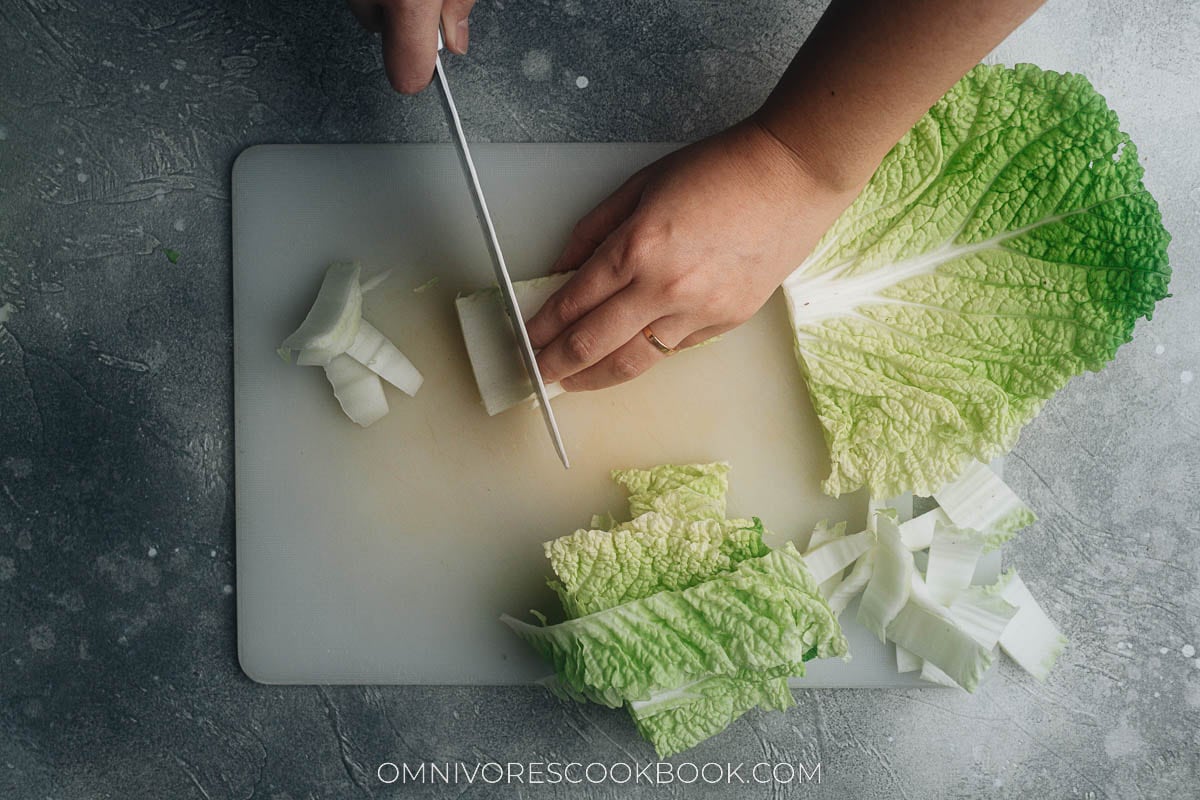 Cut the green leafy part into large bite-size pieces.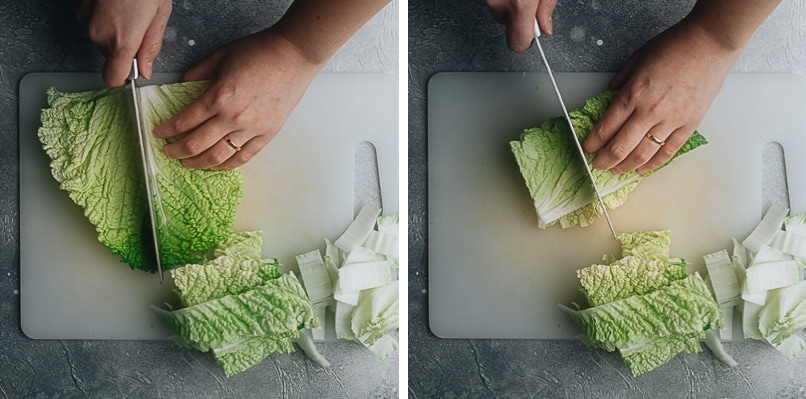 Keep the white and the green parts separated. Cook the white part first before adding the greens, for the perfect cooked texture.
(Optional) You can further slice or dice the white or green parts into smaller pieces, for example, long thin strips for making salad and coleslaw, or a small dice for dumpling filling.
This method can take an extra minute, but it is my favorite way to cut napa cabbage. The white part usually takes a little longer to cook, and it tastes the best when it becomes tender. The greens are faster to cook, and they shrink a lot. So I keep the cut pieces quite large to yield a good texture.
Method 2 – a fast way
This cutting method is very fast, and it is suitable for when you need to cook with a large amount of napa cabbage.
Halve the whole head of napa cabbage lengthwise.
Then quarter the head of napa cabbage.
For each quarter, further cut it in half.
Slice each eighth of the cabbage into bite-sized pieces.
This cutting method is great for braising, when it is OK to slightly overcook the greens or keep the white part a bit al-dente.It is also great for younger and smaller napa cabbages, or when you've used the outer leaves and need to use the tender core. In this case, the white part is thin and tender, so it cooks almost as fast as the green part.
Method 3 – for stir fries
The third cutting method is especially helpful when you deal with extra thick white stem parts, especially in a stir fry.
Separate the napa cabbage leaves by only tearing off the ones you plan to cook with.
Cut off the green parts and slice them into large bite-sized pieces.
When cutting the white part, tilt your knife to 45 degrees and slice the stem into irregular bite-sized pieces.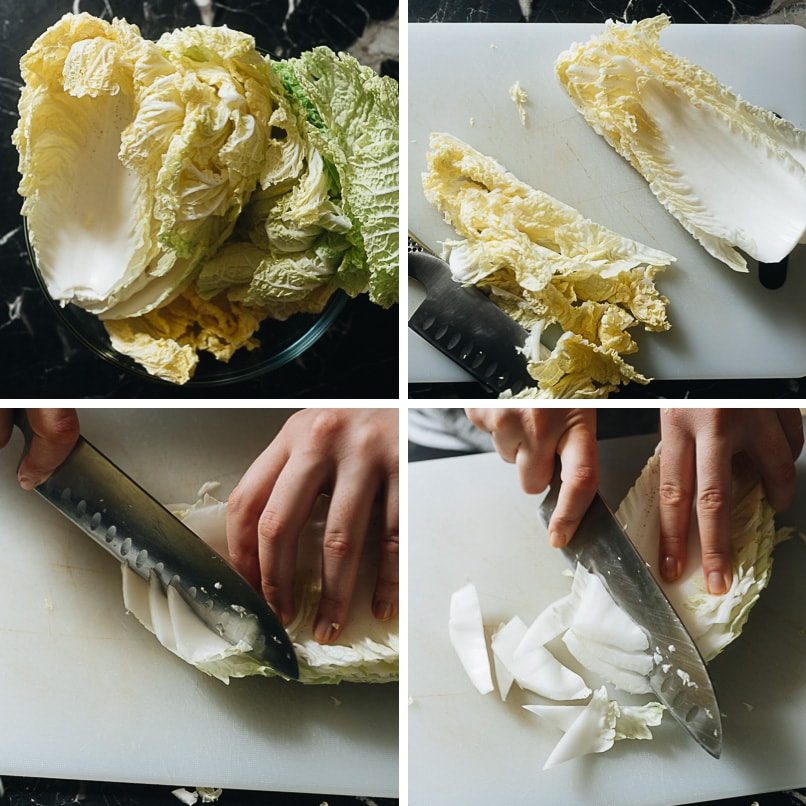 This method is perfect for a stir fry, when you need to cook the white part within a shorter period of time so it won't release too much water. By tilting the knife, the white part pieces are thinner and easy to cook through. The irregular shape further increases the surface area to help the white part absorb more sauce.
That's it! I hope this post helps you cut napa cabbage according to the dish you're preparing, so you enjoy this great vegetable even more!
More napa cabbage recipes