Weather in Beijing suddenly got nice and warm. Temperature raised from 10 degrees C to higher than 20 degrees in 2 weeks. Flowers started to bloom and grass is turning green. I can feel the spring is coming. The most exciting thing, the sun is still up in the sky when I step out of my office building! Like bear just waked from hibernation, I feel more energetic during the day and my mood gets brighter.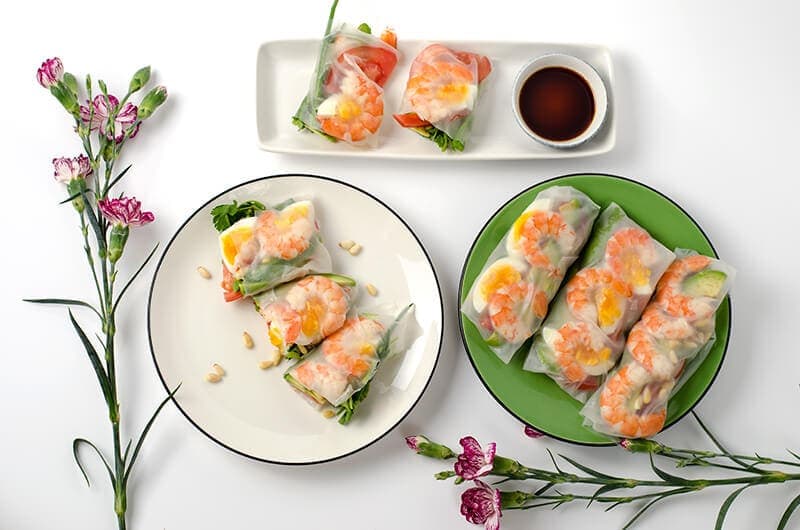 For celebrating the coming spring, I cooked those Vietnamese spring rolls today. Different from traditional spring roll, I made a fusion style by adding avocado and shrimps to make the filling. Those spring rolls are light and refreshing, yet with rich and creamy texture of avocado and eggs. Although it will go well with a thick and sweet sauce, I decided to enjoy it like the way of serving sashimi, with a few drops of soy sauce. The soy sauce won't overpower any nice character of the spring roll and can enhance its flavor and umami. If you "accidentally" have a bite with pine nuts, it'll bring a pleasant surprise to your palate.
All the ingredients in this spring roll are fresh and healthy. Moreover, I lowered the calories of this dish by using soy sauce. If you don't like the idea of using soy sauce for the dipping, you could replace it other types of sauce you like. For inspiration, check out this delicious spicy peanut sauce, or this special miso sauce.
What's your favorite way to make Vietnamese spring roll and which sauce do you like the most?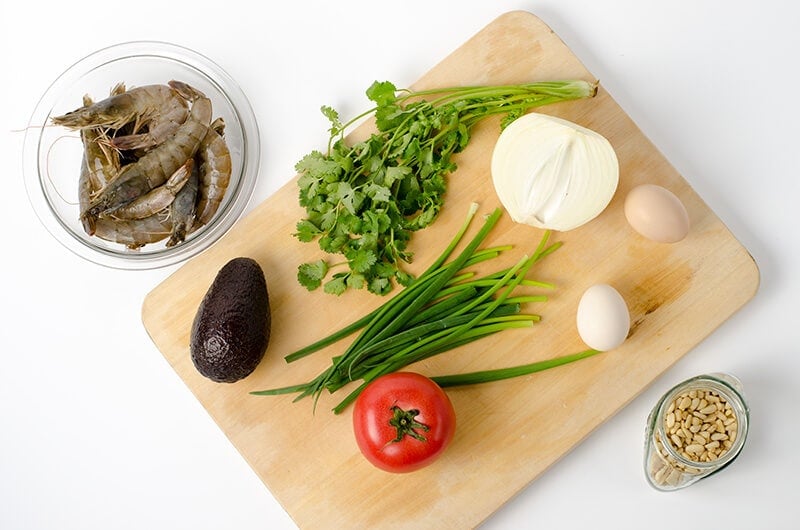 I also made a short video to walk you through the cooking process. If you like the video, don't forget to check out my YouTube channel! I have a collection of cooking videos that walk you through the delicious recipes at Omnivore's Cookbook. It is one of the fastest ways for you to get used to the techniques that are used in Chinese cooking!
Avocado Shrimp Spring Roll
Ingredients
8 rice paper wrappers (22 centimeters / 8.5 inches in diameter)
12 boiled shrimps, peeled and deveined
4 boiled eggs, sliced
1 tomato, sliced
1 avocado, sliced
1 batch cilantro, chopped
1/4 small onion, sliced
1 batch green onion, cut green parts to half lengthwise
4 tablespoons pine nuts
2 tablespoons sushi soy sauce or your favorite sauce
Instructions
Prepare shrimp and all the vegetables, place them near the working surface so you can easily reach everything.
Pour warm water into a large skillet and place a wooden cutting board nearby. Use a wet kitchen towel to wipe the cutting board to get it damp.
Work on rice paper wrappers one piece at a time. Place rice paper in the skillet for 15 to 20 seconds, until the wrapper started to soften, without turning too soft. Quickly transfer the wrapper to the cutting board and spread it. Place 2 to 3 pieces of shrimps, eggs, tomato and avocado on the middle of the wrapper by a shape of rectangle. Leave about 5 centimeter (2 inches) on both ends. Add a few cilantro, onion and 1 piece of green onion on top. Scatter a few pine nuts. Do not add too much ingredients, otherwise it'll be difficult to fold the wrapper.
Carefully fold the the rice paper to a spring roll - (1) fold one side to cover all ingredients; (2) fold both short ends to seal the ingredients inside; (3) flip all the ingredients onto the last side of rice paper, into a roll. (Watch the short video for the process)
Set the folded spring roll aside to let it rest. Work on the rest rolls by the same method.
Serve with soy sauce dip as appetizer. You could use other sauce you prefer.
The nutrition facts are calculated based on 1 of the 4 servings generated by this recipe.