Serve these steamed mussels in a refreshing and savory ginger oyster sauce, along with steamed asparagus and baked french fries. It's a lovely weekend meal that you can make with minimal effort. Perfect for a romantic dinner, a small party, or a cozy brunch.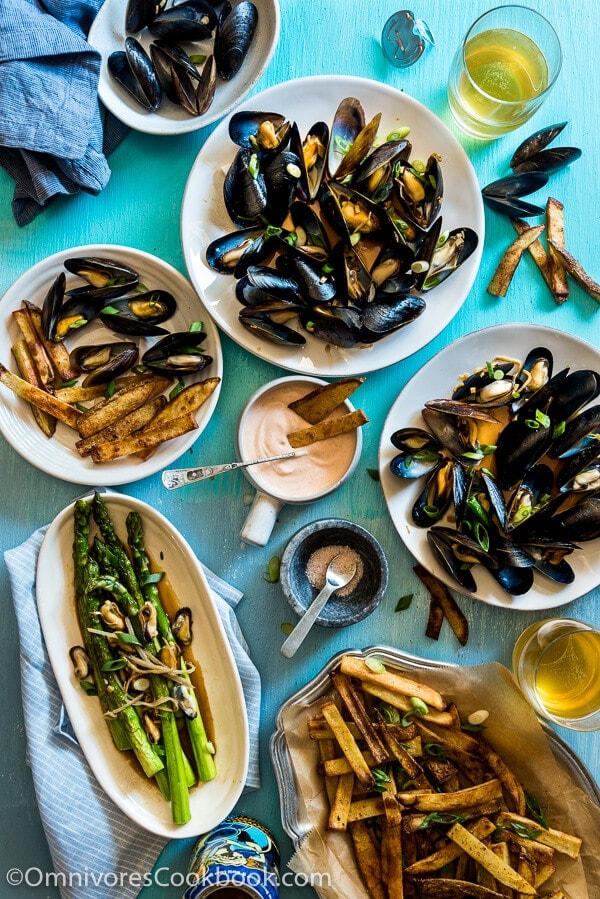 Growing up in Beijing, I seldom cooked with seafood. Seafood was, and still is, a luxury item. It's expensive and limited.
Back in China, my parents only cooked with seafood when relatives from a coastal region visited us. The relatives always brought bags of live crabs and mantis shrimp. The day would be a small festival for us. We'd steam the seafood briefly until just cooked through. Then we'd serve them with a gingery vinaigrette sauce that was slightly sweet. That's how my family has always enjoyed seafood.
Living in Japan for two years opened my eyes to all sorts of seafood and the various ways to enjoy them. I started to learn how to cook mussels and grill sea fish in my kitchen.
I would soon discover that cooking with seafood is the easiest thing in the world. Because when you get fresh shellfish, you can just use minimal cooking with a simple sauce to let the seafood itself shine.
When I moved to Austin, I was surprised by the great selection of seafood available in supermarkets. There are so many sea fishes and other types of seafood in the store, every day, and everything is very fresh. I guess I still have the old mentality toward seafood, that it should be very expensive. So I hadn't looked at them closely.
My mindset totally shifted last week.
We got some very fresh spring vegetables from Melissa's Produce and were planning to serve them the Cantonese way – steamed with a gingery sauce. I thought it would be lovely to steam some seafood as well, so we stopped by Central Market on the weekend. Much to my surprise, it only cost $10 for two pounds of mussels. It's not the cheapest thing ever, but was definitely way cheaper than in Beijing. We grabbed a bag immediately.
I steamed the asparagus and mussels with some wine. Cooked a gingery sauce with the mussel juice. And then poured the sauce over the veggies and the mussels. The sauce was savory and slightly sweet, perfectly bringing out the flavor of the mussels. It also made the veggies irresistibly delicious.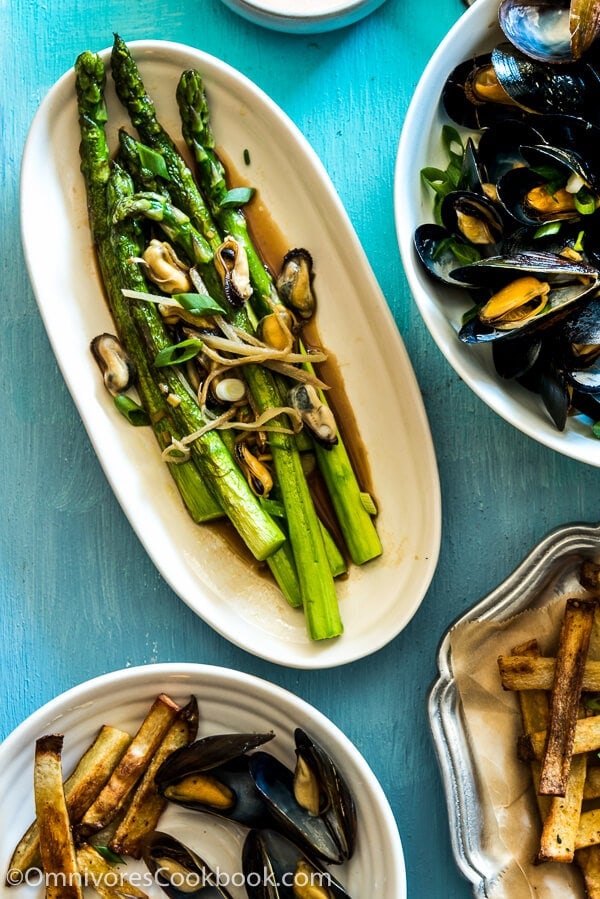 Before cooking the seafood, I baked some french fries to serve with it. This combo might not sound very Chinese, but I did make a sriracha honey dipping go to with the fries 😉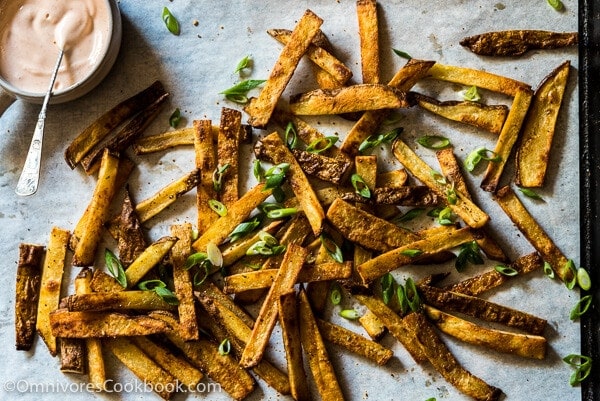 The baked fries took 45 minutes to get ready. The asparagus and the mussels were ready in 10 minutes, and I made them while baking the fries. You see, you can finish such a lovely weekend brunch or dinner in 45 minutes total. Crack open a beer or a bottle of champagne, and you'll be all set!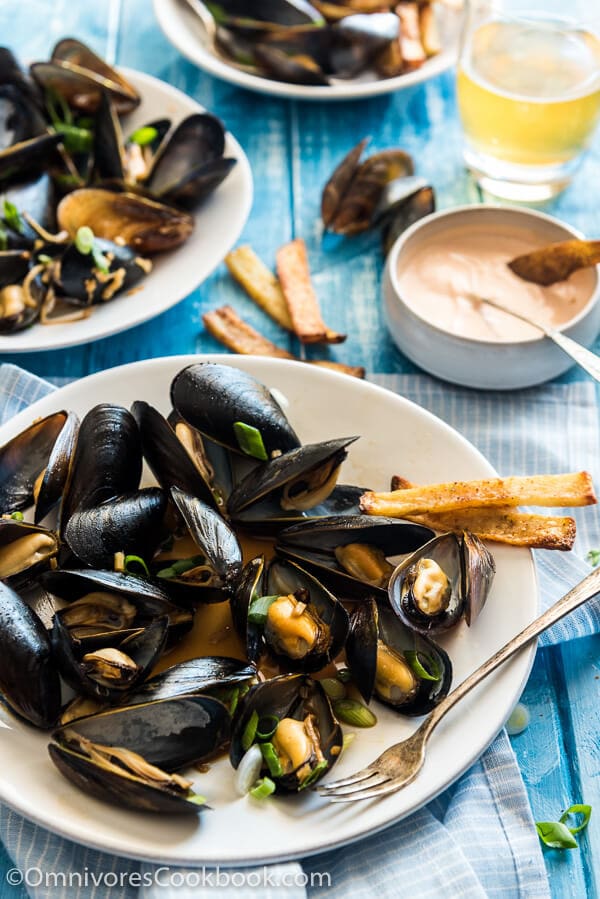 Cook with Mussels
Cooking with mussels is the easiest thing in the world. If you're not familiar with the process, just make sure you follow the few pointers below.
(1) Make sure the mussels are alive until the time of cooking. They should have tightly closed shells when you purchase them.
(2) Consume the mussels as soon as possible. Preferably on the same day of purchase.
(3) Store mussels on ice. If you're not going to cook and serve the mussels immediately, ask for a large bag of shaved ice when you're purchasing them. Place the mussels inside of the bag, and store them in the fridge, for half a day, up to overnight. Every few hours, drain the water and move the ice, to chill the mussels evenly.
If I'm planning to save the mussels for the next day, I will add larger chunk of ice onto a tray to make a bed of ice, and place the bag of mussels with shaved ice on top. The shaved ice will keep longer this way.
(4) Clean the mussels right before cooking. If the mussels look clean, you can rinse them with tap water. If not,  use a small nylon brush to scrub the mussels' shells and remove the dirt or seaweed. Then rinse with tap water.
(5) Examine the mussels again before cooking. Discard any broken shells, or ones that have their shells open and won't close.
(6) Do not overcook. Mussels are very easy to cook through. They're ready when the shells are wide open. Overcooking will cause the texture to be rubbery.
(7) Season lightly to bring out the flavor of the mussels. There are many ways to cook with seafood in China, but I tend to use milder seasonings. Any pungent spices will overpower the seafood.
That's it!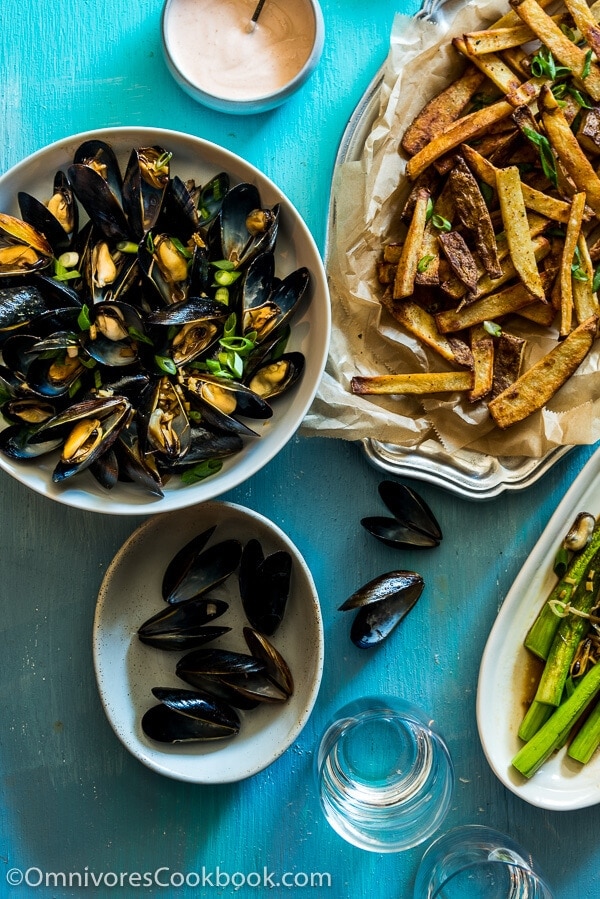 Do you like my recipes? Sign up our weekly newsletter to get the latest updates delivered to your inbox and a FREE e-cookbook that contains my top 30 most popular recipes!
Want to Know More?
Receive our 5-Day Chinese Cooking Crash Course & Recipe Updates! Subscribe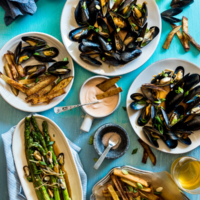 Steamed Mussels with Ginger Oyster Sauce
Serve these steamed mussels in a refreshing and savory ginger oyster sauce, along with steamed asparagus and baked french fries. It's a lovely weekend meal that you can make with minimal effort. Perfect for a romantic dinner, a small party, or a cozy brunch.
Ingredients
2

tablespoons

olive oil

6 to 8

asparagus spears

1

large thumb ginger

2

pound (1 kilogram)

mussels

1/4

cup

Shaoxing wine

(or Japanese sake, or dry sherry)

2

tablespoons

soy sauce

2

tablespoons

oyster sauce

2

green onions

, chopped
Instructions
Mussels and asparagus
Remove the tough skin on the lower third of each asparagus spear with a peeler.

Chop half of the ginger into thin slices. Mince the rest of the ginger.

Rinse mussels with cold tap water.

Heat olive oil in a 5-quart dutch oven or a large pan (do not use a nonstick skillet, the mussels will damage the coating) until warm. Add asparagus. Cook until the surface is charred. If the asparagus is not cooked through yet, add a tablespoon of water and cover. Let steam for a minute, until tender. Transfer to a serving plate.

You should have enough oil in the pan. If not, add a tablespoon of oil. Add the sliced ginger and turn to medium high heat. Stir a few times until fragrant.

Add mussels into the skillet. Pour Shaoxing wine over the mussels. Stir a few times. Add 1/4 cup water. Cover immediately. Turn to medium heat when the steam starts coming out. Steam until the mussels open, 5 to 8 minutes. Gently shake the pan a few times during cooking.

Transfer mussels to a large bowl with a slotted spoon. Save the juice in the pot.

Add the remaining minced ginger, soy sauce, and oyster sauce. Bring to a boil.

Pour a few spoonfuls of the sauce over the cooked asparagus. Pour the remaining broth over the mussels.

Garnish with green onion and serve warm with baked french fries.
Nutrition
Serving:
306
g
,
Calories:
300
kcal
,
Carbohydrates:
19.1
g
,
Protein:
28.6
g
,
Fat:
12.2
g
,
Saturated Fat:
2
g
,
Cholesterol:
64
mg
,
Sodium:
1287
mg
,
Potassium:
856
mg
,
Fiber:
1.2
g
,
Sugar:
5
g
,
Vitamin A:
700
IU
,
Vitamin C:
29.7
mg
,
Calcium:
80
mg
,
Iron:
10.1
mg