This post is sponsored by Everywhere Agency on behalf of FoodSaver®; however, all thoughts and opinions expressed are my own.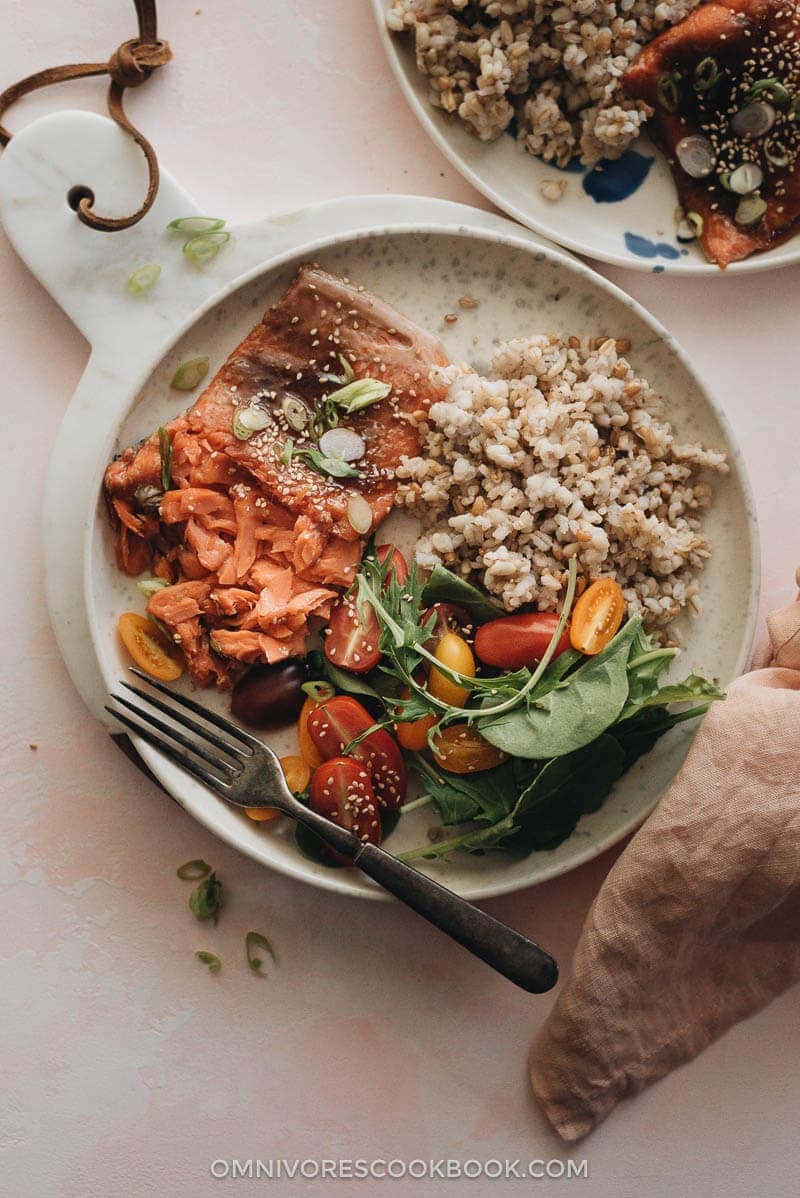 This five-ingredient sous-vide salmon is so moist and flaky. It's cooked in a rich, aromatic Asian sauce without marinating. It's a perfect dish for a weekday dinner.
Last Christmas we received a sous-vide precision cooker from my father-in-law. Since then, we've been using it to cook perfect steak and seafood when we want to indulge and have a Sunday dinner date at home.
What is sous-vide?
To cook sous-vide, you seal the ingredients (usually a piece of protein such as steak, chicken, or fish) in a plastic bag and place the bag in a water bath that maintains the target temperature. The food will cook very slowly, until it reaches the target temperature. Then you take it out and finish it with a quick sear to give it a crispy surface.
Compared to traditional cooking methods, not only does this scientific approach yield very consistent and perfect results every time, it also generates much more evenly cooked meat.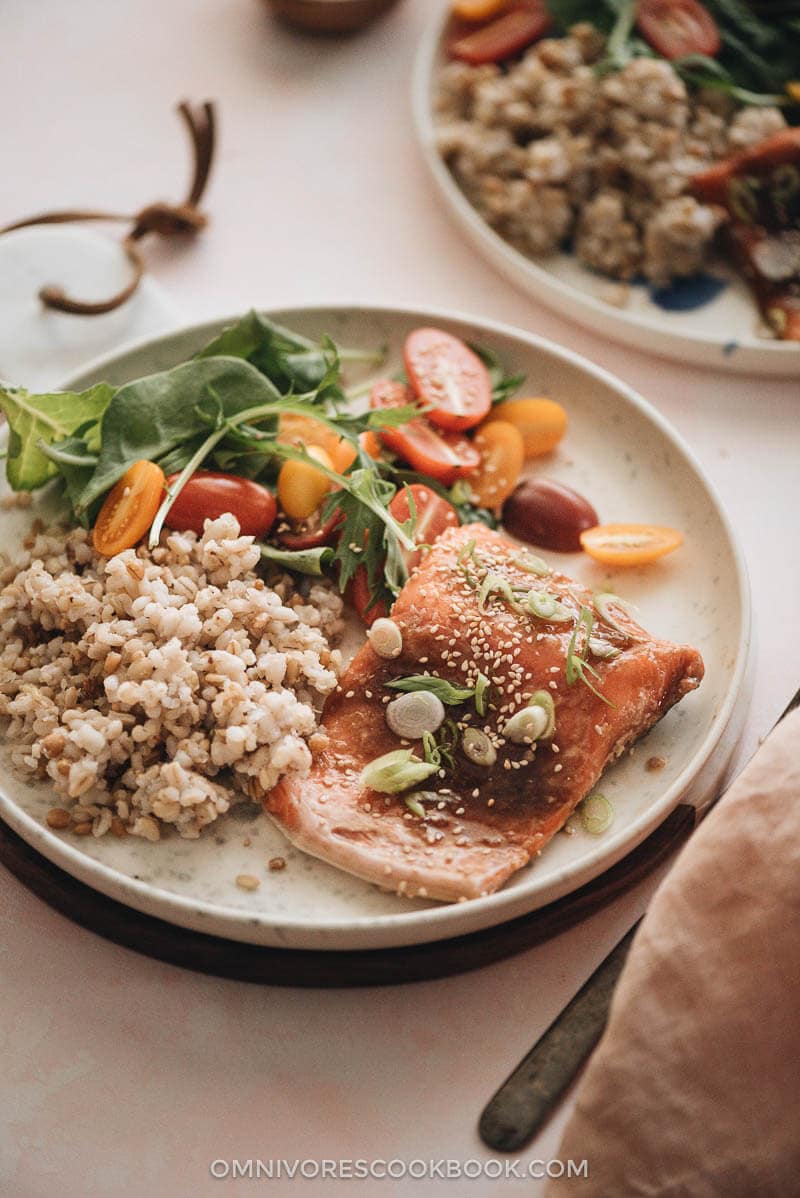 Why sous-vide?
Some of my favorite foods to cook in the sous-vide water bath include thick-cut steaks such as filet mignon and very large scallops. The sous-vide method makes sure that the thick cuts of meat and seafood are perfectly cooked to the degree we love, which is typically medium rare.
I also enjoy using the method to cook a large batch of chicken breasts for meal prep. I found out the sous-vide process is almost like a fast way of marinating. I simply need to season the chicken with salt and pepper, with a touch of dried spices. The chicken will come out super juicy, tender, and flavorful.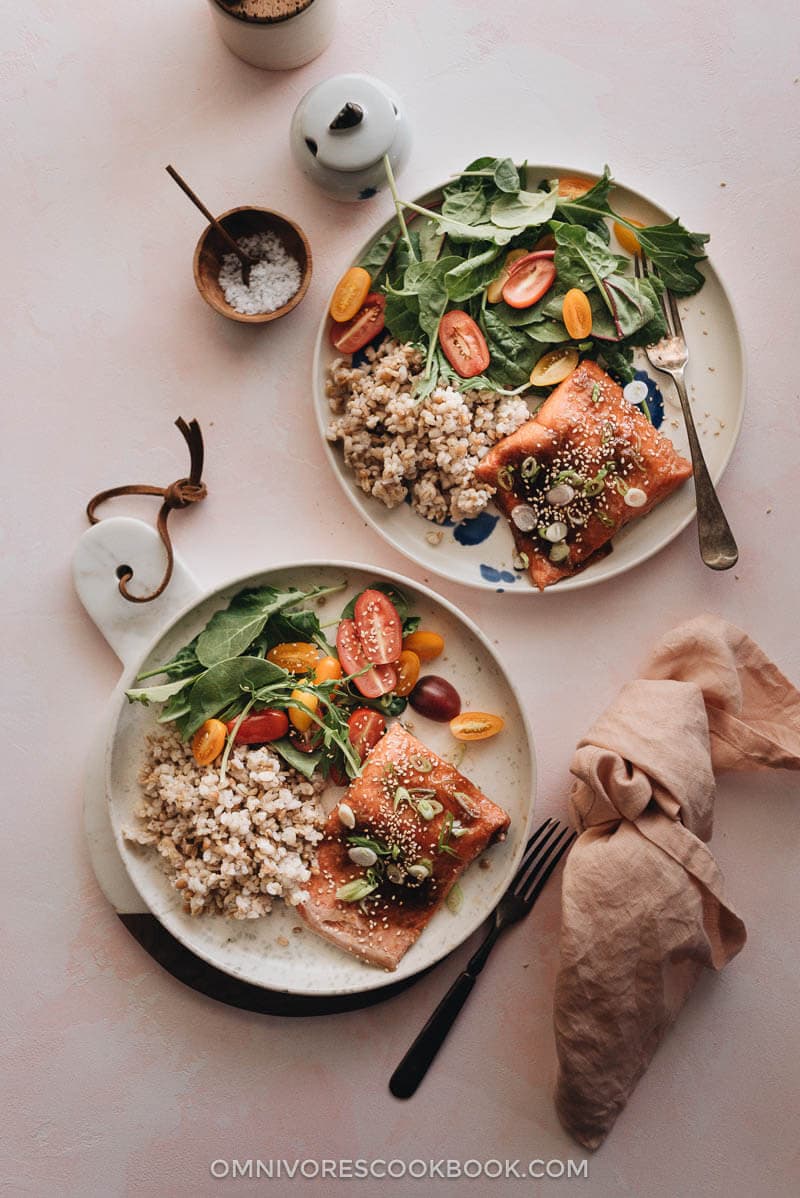 Why sous-vide salmon?
This sous vide salmon with Asian sauce is perfect for dinner, because it's easy to prepare, and the food is delicious and healthy. Using the sous-vide method, you can skip the step of marinating the fish, and still get a super flavorful result. The recipe also does not require any oil, which gives the dish extra points for healthiness.
The recipe requires just four ingredients for the sauce (aka marinade): oyster sauce, Shaoxing wine, ginger, and garlic. It makes a marinade that is savory and slightly sweet, with a gingery, garlicky fragrance that goes great with the fish.
You simply need to brush the sauce onto the salmon, seal the salmon in a plastic bag, and cook it for 45 minutes (up to 1 hour) in a water bath. Then you will get perfectly cooked, moist, flaky fish and a scrumptious sauce.
You might be thinking, this seems like a long cooking time! Well, it's 100% passive cooking time and you can do a lot of things in the meantime. For example, cook some rice and toss a salad.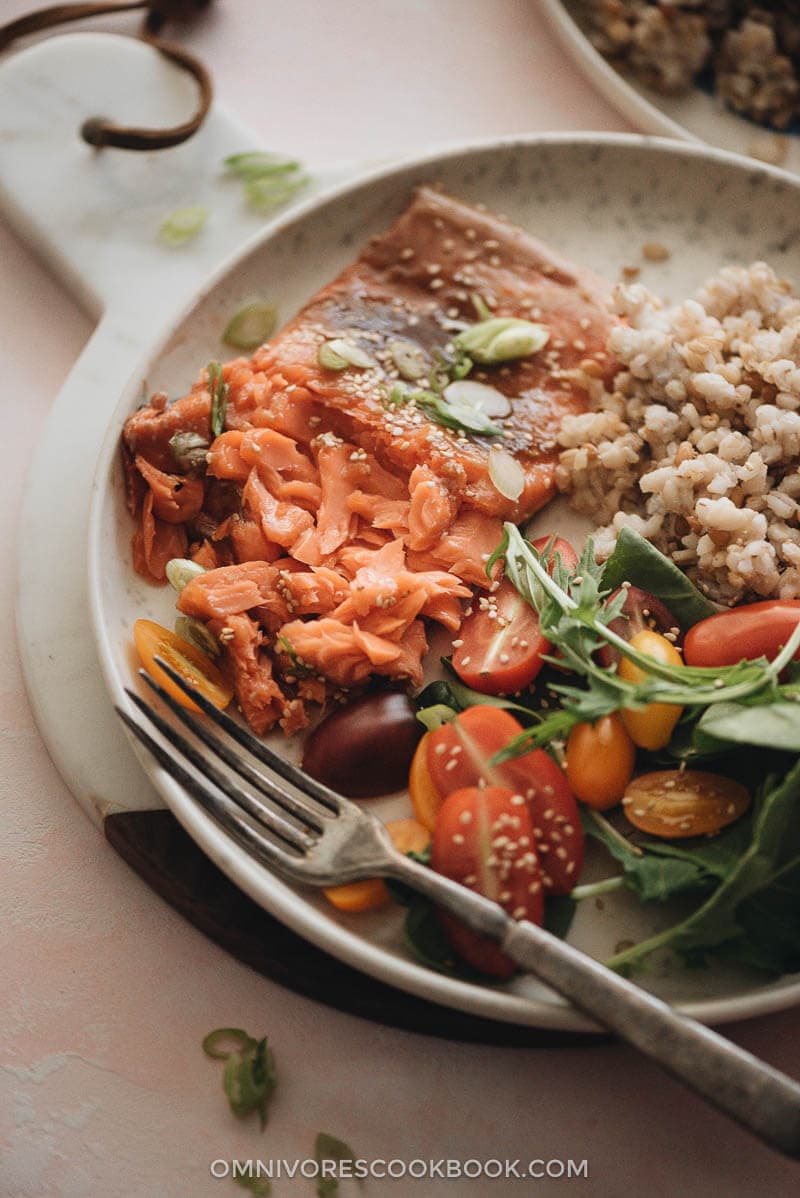 The best setup for sous-vide cooking
I've found that the FoodSaver® Sous-vide Vacuum Seal Bags and FoodSaver® FM2000 Vacuum Sealing System give you the best results when it comes to sous-vide cooking.
In the past, I've used regular ziplock bags to seal food for sous-vide. The problem is, it's very difficult to squeeze the air out completely. So the bagged food tends to float on top of the water bath. Using the sous-vide bags with the vacuum sealing system, you can make a completely airtight and air-free bag of ingredients. It gives you consistent cooking results and prevents floating during the sous-vide process.
The other thing I like is that the sous-vide bags come in different sizes. A lot of recipes call for oil to cook sous-vide salmon, so the fish fillets won't stick to each other once they're cooked. But I found that it's totally fine to skip the oil since you can seal pieces of salmon in one large bag with some gaps in between. The lack of oil makes your dinner a bit healthier.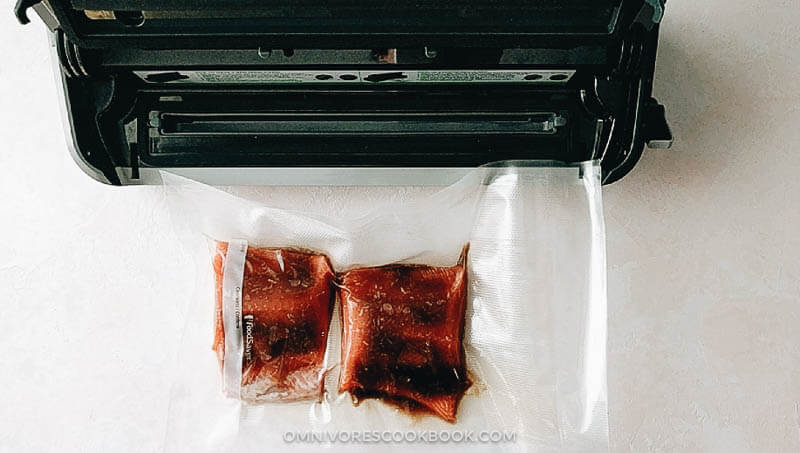 Quick tips
I also use my sous-vide bags to store raw and cooked food in the freezer. These bags have a multi-layer construction, so they seal food well to protect their freshness, and won't tear when you heat them up in a hot water bath or microwave.
When I batch prepare food for meal prep, I seal my protein with some marinade and store it in the freezer. Then I use the hot water bath to cook it directly without defrosting.
You can purchase FoodSaver® Sous-vide Vacuum Seal Bags (and the FoodSaver® FM2000 Vacuum Sealing System) in-store or online at Target. For the month of July, they are offering 20% off both products. Definitely check them out if you're interested in trying out sous-vide cooking.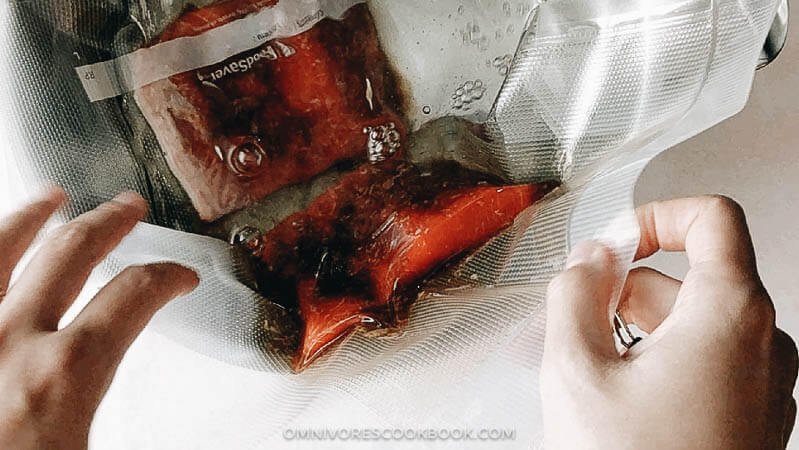 More seafood recipes
If you give this recipe a try, let us know! Leave a comment, rate it (once you've tried it), and take a picture and tag it @omnivorescookbook on Instagram! I'd love to see what you come up with.
Want to Know More?
Receive our 5-Day Chinese Cooking Crash Course & Recipe Updates! Subscribe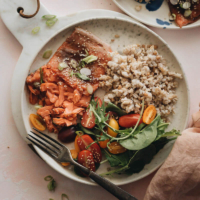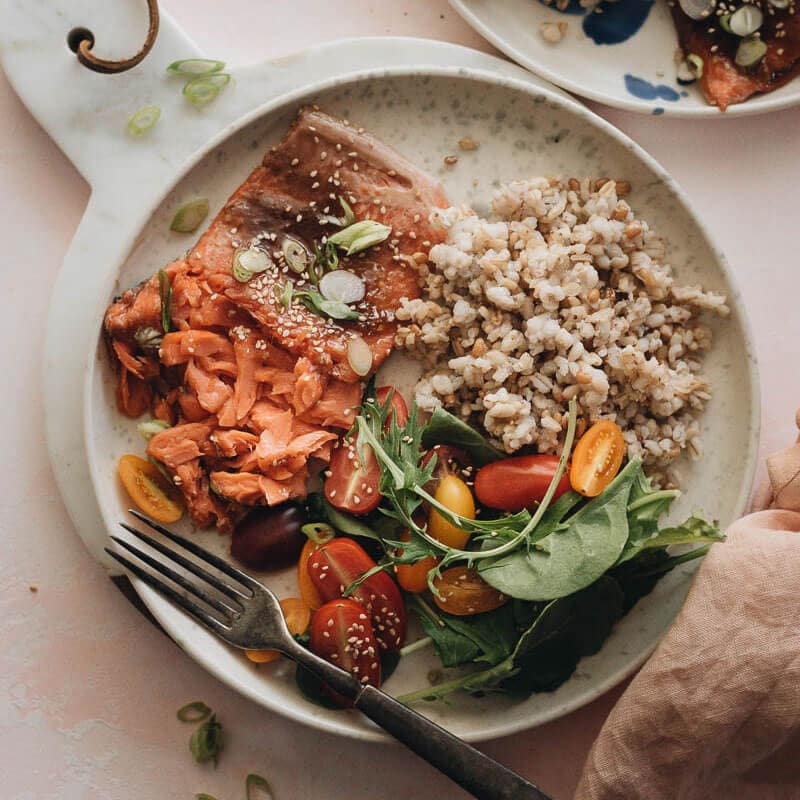 5-Ingredient Sous-Vide Salmon with Asian Sauce
This five-ingredient sous-vide salmon is so moist and flaky. It's cooked in a rich, aromatic Asian sauce without marinating. It's a perfect dish for a weekday dinner.
Ingredients
Special equipment
Sous-vide precision cooker

2

FoodSaver® Sous-vide Vacuum Seal Bags

2

FoodSaver® FM2000 Vacuum Sealing System
Instructions
Place salmon fillets on a large plate, skin-side-down.

Heat a water bath using your sous-vide precision cooker, 115°F (46°C) for medium rare, 120°F (49°C for medium), 130°F (54°C) for well-done.

Mix the sauce ingredients in a small bowl. Use a spoon to evenly brush the sauce onto the salmon fillets. Carefully transfer two pieces of salmon into each sous-vide bag. If you accidentally smear sauce on the interior top 3-inch portion of the bag (the end near the opening), use a paper towel to wipe it, so it does not interfere with sealing. Use the FM2000 sealing system to vacuum and seal the bags.

Cook at 120°F (49°C) for 45 mins if your salmon is 1 inch thick or less, or 1 hour if your salmon is more than 1 inch thick.

Once done, carefully remove the salmon from the bag, keeping the sauce on top.

To serve immediately, place the salmon skin-side-down on serving plates and serve as a main.

To serve with crispy skin, heat oil over medium-high heat in a nonstick pan or cast iron pan until hot. Carefully add the salmon, skin side down. Use your spatula to gently press the salmon so the skin will sear evenly. Cook until the skin turns crispy and browned, 1 minute or so. Immediately transfer to serving plates, skin side up. Serve hot as a main.
Nutrition
Serving:
4
g
,
Calories:
196
kcal
,
Carbohydrates:
3.8
g
,
Protein:
26.7
g
,
Fat:
8.5
g
,
Saturated Fat:
1.2
g
,
Cholesterol:
60
mg
,
Sodium:
203
mg
,
Potassium:
551
mg
,
Fiber:
0.2
g
,
Sugar:
1.1
g
,
Calcium:
40
mg
,
Iron:
1.1
mg