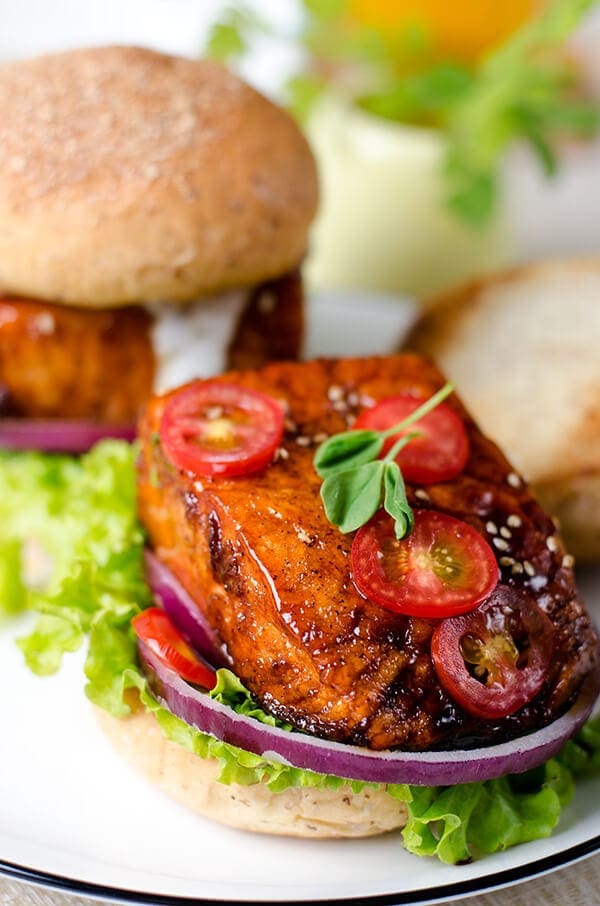 This salmon has crispy surface and juicy texture and is coated with the silky, savory and sweet teriyaki sauce. The creamy, garlicky yogurt brings the charred burger bun and the rich salmon together perfectly. With some colorful tomato and cucumber salad, you can have this fancy treat on the dinner table in less than 30 minutes, and the whole meal is only 545 calories!
This teriyaki salmon sandwich is a new experiment I made last weekend, which turned out as good as I expected. Starting from the proven combination "teriyaki" and "salmon", I didn't worry that anything would go wrong from there. Instead of cheese, I chose to use Greek yogurt. The creamy yogurt goes perfectly with flavor of the soy sauce, and its texture goes great with fatty salmon (just like the time I used it on crispy salmon with soba noodle). I really love to use Greek yogurt in all sorts of savory dishes. It can add a satisfying creaminess to a dish without increasing your waist size.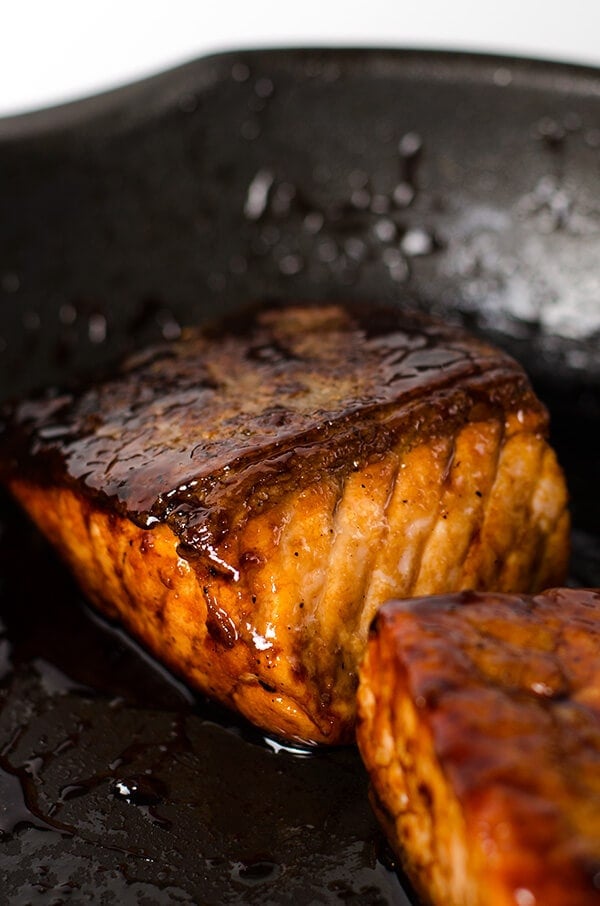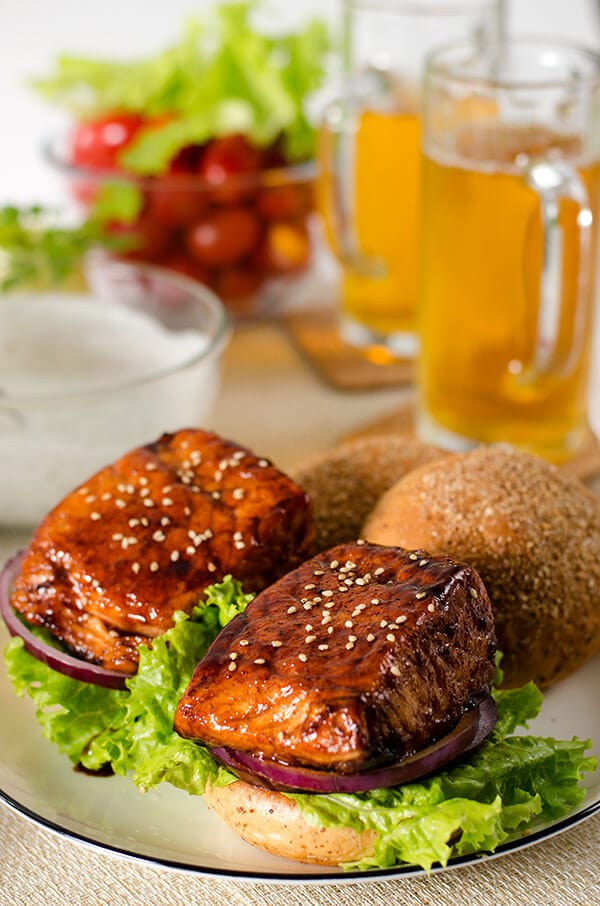 My first experience with teriyaki was at Yoshinoya in Beijing. I love their teriyaki chicken bowl and it's still one of my favorite choices for a quick lunch. By the way, the real Yoshinoya in Japan does not serve any teriyaki dish or any chicken. I was so surprised when I found that out while in Japan, and was a bit disappointed when I couldn't find my favorite dish on the menu.
Believe it or not, teriyaki is really easy to cook and you can even make a tasty one at home without certain ingredients.
I admit this recipe is not the authentic way to cook teriyaki sauce. Due to lack of ingredients and my compulsion to add ginger and scallions to every fish dish, this version is more on the Chinese side of the spectrum. The salmon is infused with of a savory flavor of herbs and is less sweet than the typical American teriyaki. I learned this cooking method from the teriyaki salmon recipe from Just One Cookbook. I suggest you check out that page if you want to recreate the real Japanese taste.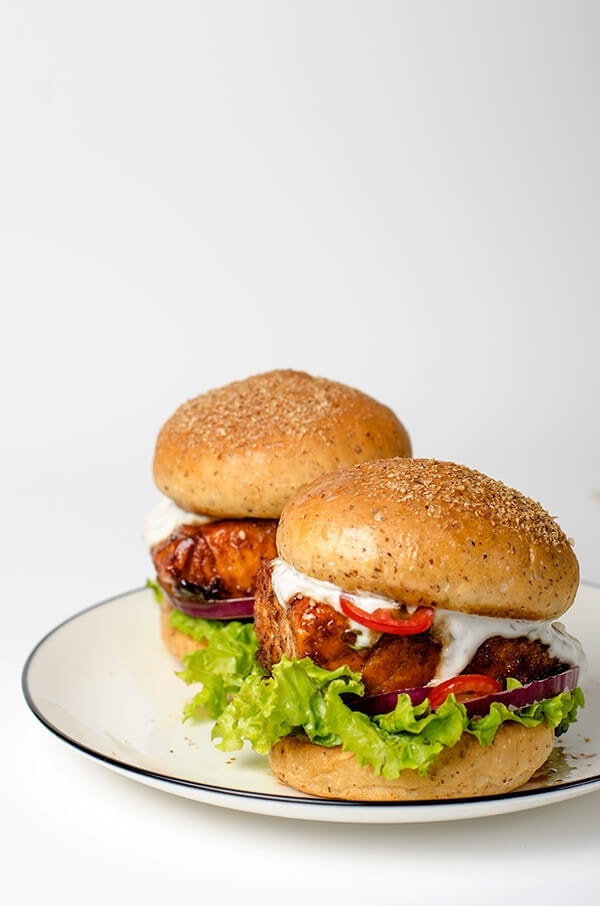 As for the result of my experiment, I'm happy to announce that you can cook very delicious teriyaki sauce without Japanese sake (rice wine) or mirin (Japanese sweet rice wine). This time I used white rum with water, and the dish turned out surprisingly tasty (if you happen to be a Japanese chef, please do not throw eggs at me!). The flavor is drier and more pungent, with different nuances than the one that is cooked with rice wine.
Again, this is not an authentic recipe. If you can get sake, I strongly recommend you use it, instead of any other type of alcohol. I found that sake is very important in all sorts of Japanese cooking and is a good ingredient (and drink) to keep in your pantry. Try out these quick and easy grilled chicken wings and you will find out what a great flavor sake can create with only salt and pepper.
Do you like salmon? What kind of salmon dish do you like the most?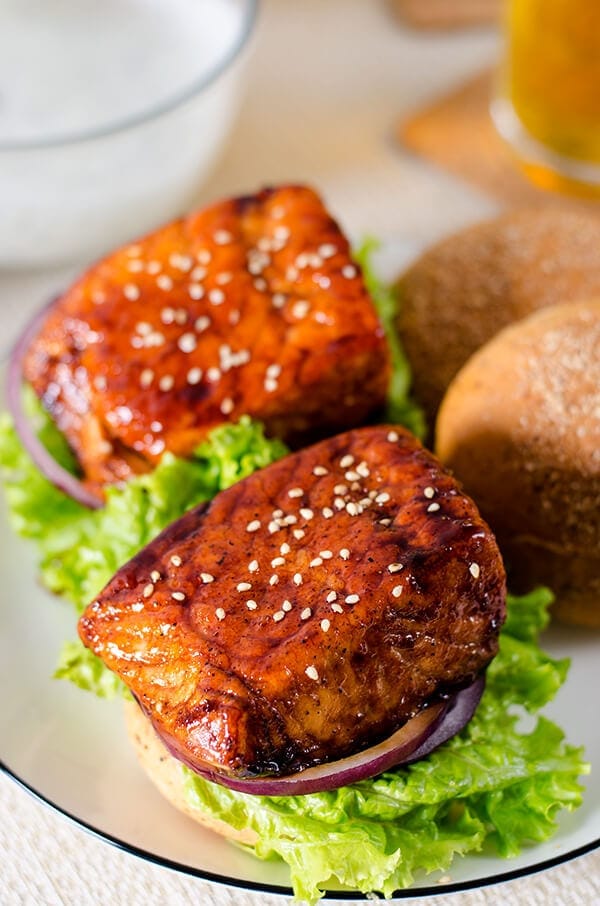 Want to Know More?
Receive our 5-Day Chinese Cooking Crash Course & Recipe Updates! Subscribe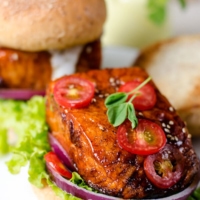 Teriyaki Salmon Sandwich
Ingredients
To cook salmon
2

pieces

salmon with skin on

180 grams / 6 ounces each (* see footnote 1)

salt and pepper

1

tablespoon

cornstarch

1

teaspoon

olive oil

or vegetable oil

1

tablespoon

Japanese sake

or 1 teaspoon rum / vodka
Teriyaki sauce
2

tablespoons

soy sauce

2

tablespoons

rice wine

or 2 teaspoons rum / vodka + 2 tablespoons water

1

tablespoon

sugar

2

pieces

ginger

4

tablespoons

chopped scallion

or green onion
Burger sauce
1

cup

Greek yogurt

2

cloves

garlic

smashed

1/2

teaspoon

dried dill

1/2

teaspoon

lemon juice

2

burger buns

split and toasted

optional chopped cucumber and tomato for side salad
Instructions
Dry salmon thoroughly with paper towel. Season both sides with salt and pepper. Rub with cornstarch thoroughly and shake off the extra.

Combine soy sauce, rice wine, and sugar in a small bowl. Slightly grind black pepper over it and mix well.

Combine Greek yogurt, garlic, dill and lemon juice in a small bowl. Set aside.

Heat oil in a nonstick skillet over medium high heat. When oil is warm, place salmon in the skillet, skin side down. Use a spatula to press the salmon against the skillet, so the skin will not crumble when heated. When the skin side is browned, after about 3 minutes, flip salmon and drizzle sake over it. For thick cuts of salmon, turn to low heat and cook covered until salmon is almost cooked through, about 2 to 3 minutes. For thin cuts, turn to medium heat and cook uncovered until salmon is almost cooked through. Transfer salmon to a plate.

In the same skillet, add ginger and scallions and turn to medium heat. Add teriyaki sauce and stir a few times. Add salmon back to the skillet, and gently flip it a few times to cover it well with sauce. If you use a thin cut of salmon, use a spoon to drizzle sauce over the salmon instead of flipping it, to avoid breaking. Stop heat when sauce has thickened, and transfer salmon to a plate.

Place salmon on the burger bun and serve warm with yogurt sauce. (* see footnote 2)
Notes
(1) I used a thick cut of salmon here in order to take better pictures. Personally, I prefer to use a thin cut of salmon belly with more fat.
(2) The burger might be a bit difficult to hand hold with the yogurt sauce. You could serve it in a big plate with the upper bun place next to the salmon, and yogurt sauce in a separated small bowl. You could also add some chopped tomato and cucumber salad aside. Drizzle yogurt sauce on the salmon and the salad while eating.
The nutrition facts are calculated based on 1 of the 2 salmon burgers generated from the recipe.