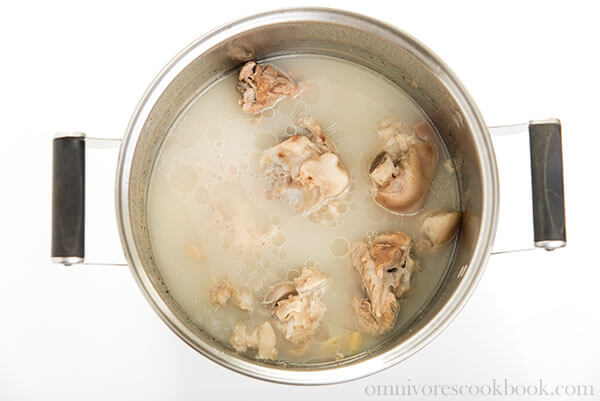 Update: I updated this recipe to a Chinese style pork stock on 24th December 2014. Please refer to the new Chinese Pork Stock recipe (picture above). Now I'm using the new version in all my noodle soup, stew and other dishes.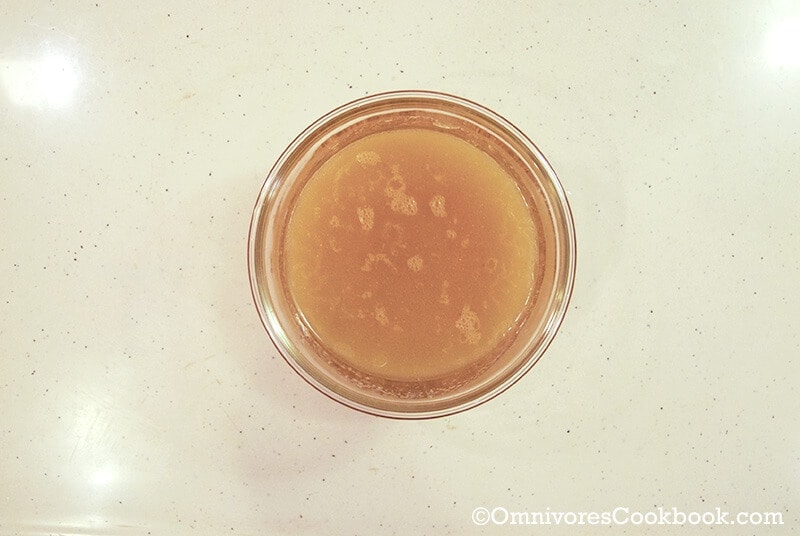 This pork stock recipe is one of several from the my ramen series. This recipe is adapted from the Food Lab. It took 6 hours to simmer and the result was quite satisfying. The broth was thick and rich with a nice flavor. I cooked the stock in order to use it as a base for Japanese style noodles, but it works perfectly as a broth for making any stew or soup.
However, please take note that the broth still doesn't taste like the real deal tonkotsu soup in a Japanese ramen restaurant, for example, Ajisen Ramen. The recipe for tonkotsu soup base is a trade secret for any ramen restaurant owner. It you do manage to get it, you already have the foundation to open your own ramenya.
If you are planning to make ramen from scratch, I suggest you cook the pork stock at least one day in advance. Like the chashu (braised pork belly) and marinated eggs, it takes a really long time to prepare and simmer. You won't be able to finish everything in one day unless you start really early. Plus, the chashu pork tastes much better if you refrigerate it overnight.
Making pork stock and ramen soup from scratch might sound like a lot of trouble. And yes, you can argue that it's a much better use of your time to spend 12 dollars at a neighborhood ramen place to get a good quality dish in under 10 minutes. However, if you enjoy the process of cooking and want to challenge yourself with something new, or if you happened upon some pork bones have no idea what to do with them, this will definitely a good option. A slowly simmered pork bone soup tastes hearty and satisfying. Even if you don't want to make ramen with it, you can still use it as a broth in a pork or vegetable stew, or add it into soup. The stock will add great flavor to a plain dish, and enhances flavors even better than MSG.  
In order to make a white colored soup like at a Japanese restaurant, you'll need to wash and boil the pork bones twice.  After the first boiling, discard the liquid and wash the bones thoroughly. Then fill the pot with tap water and boil again.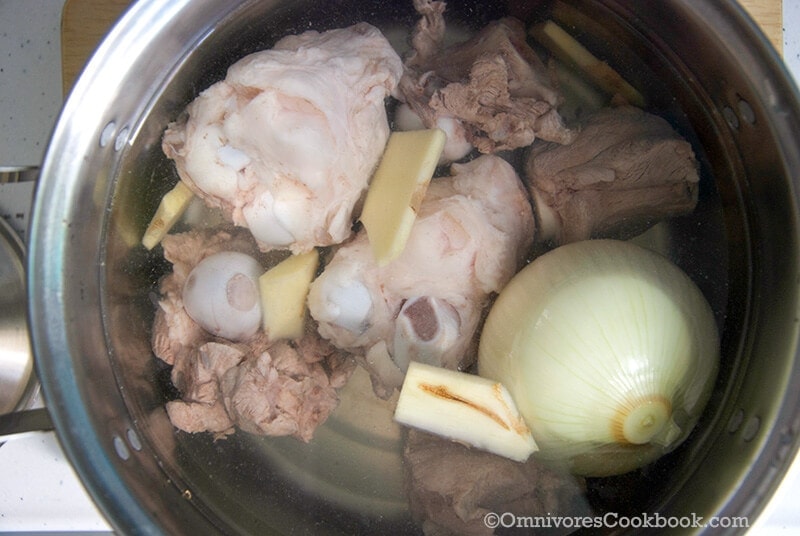 In order to fit the broth into a smaller container, I boiled the broth down to 1/3 the original volume. The bones fell apart nicely and the broth was very condensed and thick. The flavor was so rich that I had to dilute the broth with water to use it as a soup base.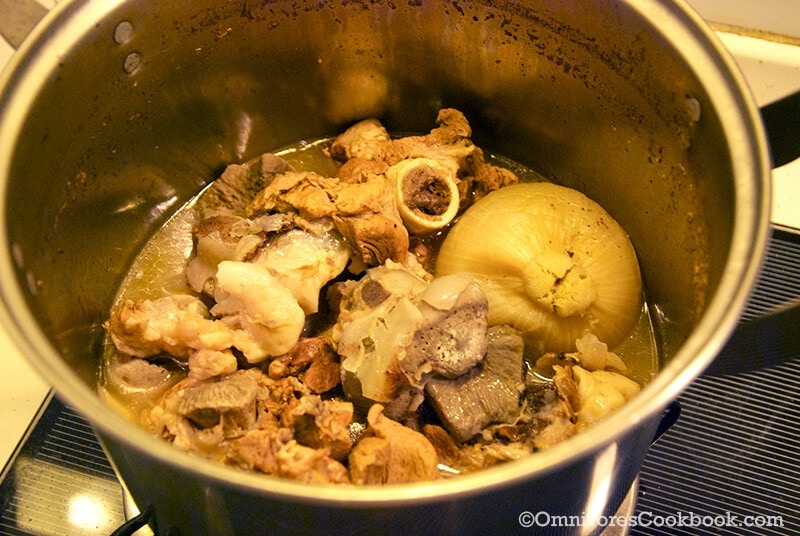 Want to Know More?
Receive our 5-Day Chinese Cooking Crash Course & Recipe Updates! Subscribe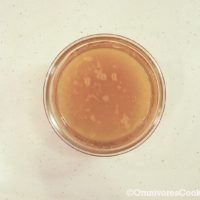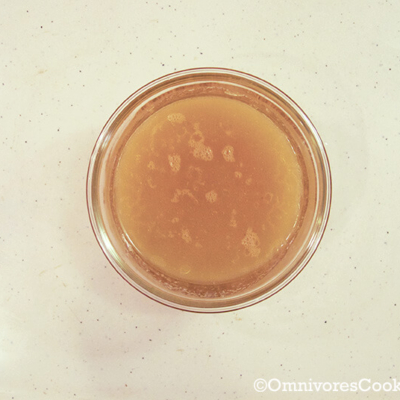 Pork Stock
Pork stock is an essential ingredient in the Chinese kitchen, especially in the winter. It has a white semi-transparent color and a meaty taste. It can be added to all sorts of vegetable soups, noodle soups, and stews as a flavor enhancer. Compared to chicken stock, pork bones can be had at a fraction of the cost of a whole chicken, and thus provide a more economic way to make a soup base.
Ingredients
1.4

kg (3 pounds)

pork leg bones

1

thumbnail ginger

approx. 1cm by 1cm by 3cm, thickly sliced

1

large onion

, peeled
Instructions
Put pork bones in a large pot and add water until the pot is 2/3 full. Bring to a boil over medium high heat. Turn off heat and discard the liquid. Transfer the pork bones into a colander to cool down. Rinse thoroughly under tap water.

Add pork bones back into the pot and add water again, until 2/3 full. Add ginger and the whole onion. Bring to a boil over medium high heat. Turn to low heat and simmer for 6 hours. Periodically skim the brown foam from the surface of the broth and discard it.

(optional) If there is lean meat attached to the bones, you could choose to leave it to simmer, or take it out and eat it. You can easily separate the meat from the bones with a fork or chopsticks after three hours of boiling. The meat will still be soft and moist. My favorite way is to serve the meat as a snack, with soy sauce and a few slices of ginger for dipping. If you boil the meat for the entire 6 hours, it will be too tough and flavorless to eat.

Turn the heat back to medium high to thicken the broth. The final broth should be about 1/3 the original volume.

Wait until the soup cools off and use an airtight container(*) to store it in the fridge for up to 1 week, or in the freezer for up to 3 months.

The broth can be directly used in a stew or as a soup base. Add water to dilute the broth to desired consistency if using in soup.

(optional) The first batch of broth is ready but the bones can be boiled again to make more broth. You can fill the pot halfway with water and boil another 2 to 3 hours. Store the broth the same way.
Notes
(*) Tip for storage:
Use paper cups to store condensed broth in small batches. Cover the cup with plastic wrap, seal with a rubber band, and store in the freezer. You can also store broth in an ice cube tray. Use 2-3 cubes to add flavor to a vegetable or noodle soup.
Other chapters of ramen making series
Chapter 1 … Chashu (braise pork belly)
Chapter 2 … Marinated Eggs
Chapter 4 … Tonkotsu Ramen
The post is updated on 28th Oct. 2014