Papery dried shrimps, xiā pí (虾皮) in Chinese, is a fantastic way to add sea-salty flavor to a wide array of Chinese dishes. Literally translated as 'shrimp skin' , it has a crunchy mouthfeel when eating raw. Once fried, it becomes crispy. And once boiled, it becomes very tender. Its pungency and versatility have made this ingredient a mainstay of home-cooked dishes such as wonton soup, omelets, dumplings, and stir fries.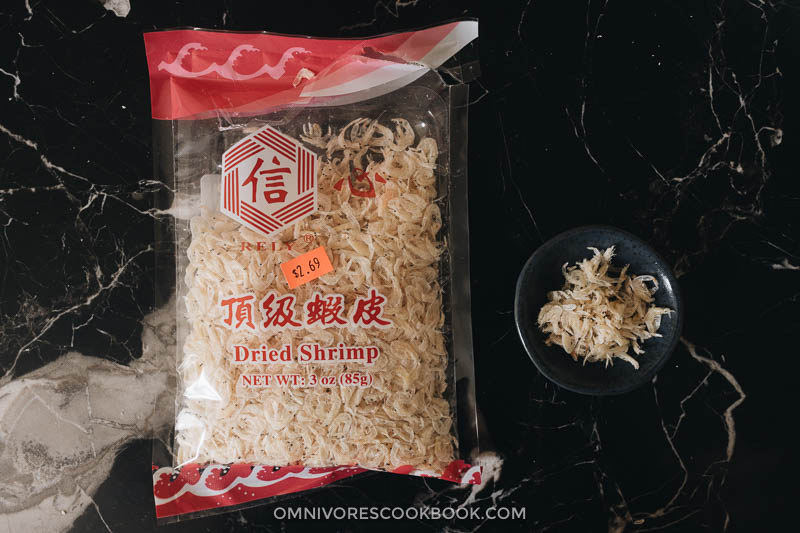 Understand
Papery dried shrimps are extremely tiny, unshelled, translucent dried shrimps. They are tender and delicate in texture but have a strong coastal, seafood taste. The sun-drying process reduces the individual shrimps to such a small size. The umami character of this condiment means that it can replace salt in many dishes. Since it can be stored for longer than fresh shrimp, papery shrimp has traditionally allowed families living far from China's coastal cities to enjoy the flavors of the sea on a daily basis.
However, it is not to be confused with the larger and meatier Asian dried shrimps (海米), which require rehydration before cooking.
Use
Generally used as a condiment, you don't need to rehydrate papery dried shrimps before cooking it or eating it. You can eat the papery dried shrimp raw, but I recommend you to cook it slightly before eating it. Gently toast a spoonful of them in hot oil will add a crispy texture and eliminate the raw taste before you combine them into your dish. Alternatively, you can sprinkle them into hot soups or incorporate them into eggs before cooking. It's a very handy ingredient to add umami to your soup, fried rice and stir-fries. For example, the traditional Wonton Soup, Stir Fried Little Bok Choy, and Chinese Chive Pockets.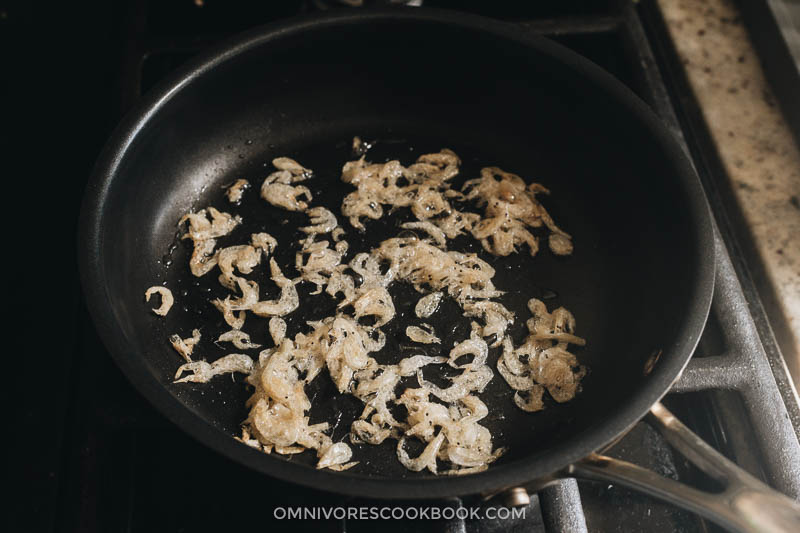 Buy
Papery dried shrimps are one of the most important seafood products in China. However, you might find it hard to source the ingredients oversea. You can usually find the packaged ones at your local Asian market or Chinese wet market. You can also find them on Amazon here.
Make sure you are buying the shrimp labeled 虾皮 (蝦皮 if written in traditional Chinese characters). Do not purchase 海米, which is the larger and pinker version but alway labeled as dried shrimps.
Store
Since it is dried, papery shrimp has a much longer shelf-life than fresh shrimp. However, to retain flavor, once opened, you should store the shrimps in a sealed plastic bag or container in the fridge or freezer. I find the most convenient is storing it in the freezer and just taking a tablespoon or two whenever I need it – this way it lasts ages.