You only need two ingredients to create the best baked asparagus – perfectly charred, flavorful, and tender.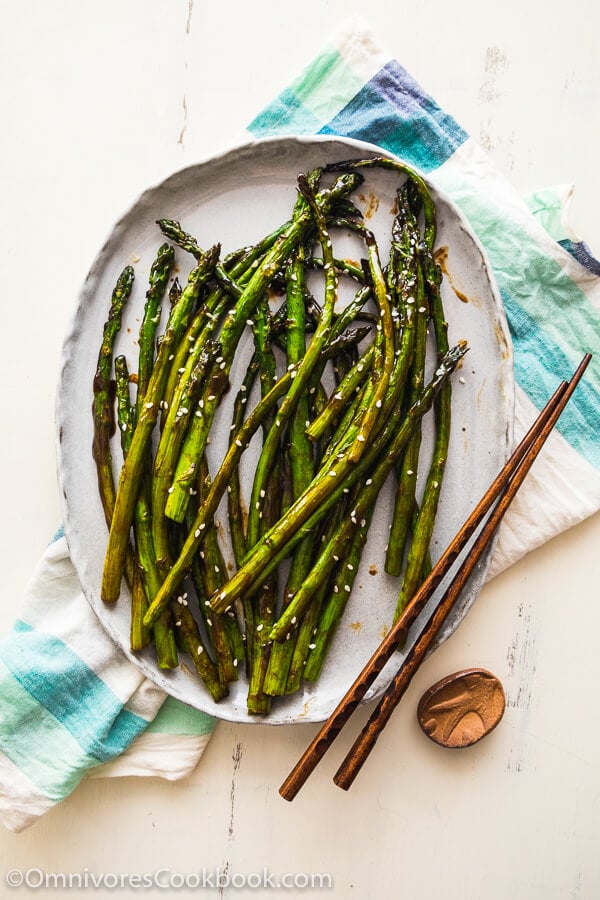 You only need two ingredients to create the best roasted asparagus – perfectly charred, flavorful, and tender.
Since I've been doing a lot of grilling this summer, I've been searching for an interesting grilled asparagus. I've tried many ways, including soy sauce glazed, soy-vinegar glazed, and many others. The asparagus has always turned out delicious, but not perfect. Finally I discovered that hoisin sauce is THE ONE.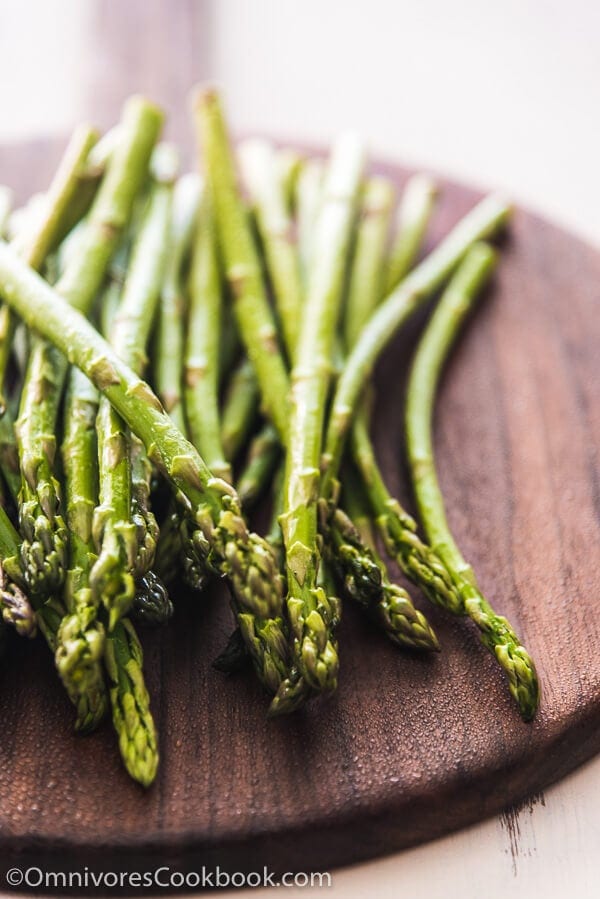 In this recipe, you just need two ingredients – olive oil and hoisin sauce. Simply toss the asparagus in them and throw them over direct fire. The asparagus will be charred beautifully and become tender in texture, slightly sweet, and extra flavorful. Of course you can cook this dish in the oven, too. We love serving this dish as a side for dinner because it takes just eight minutes to cook in the oven. I include both methods in the recipe.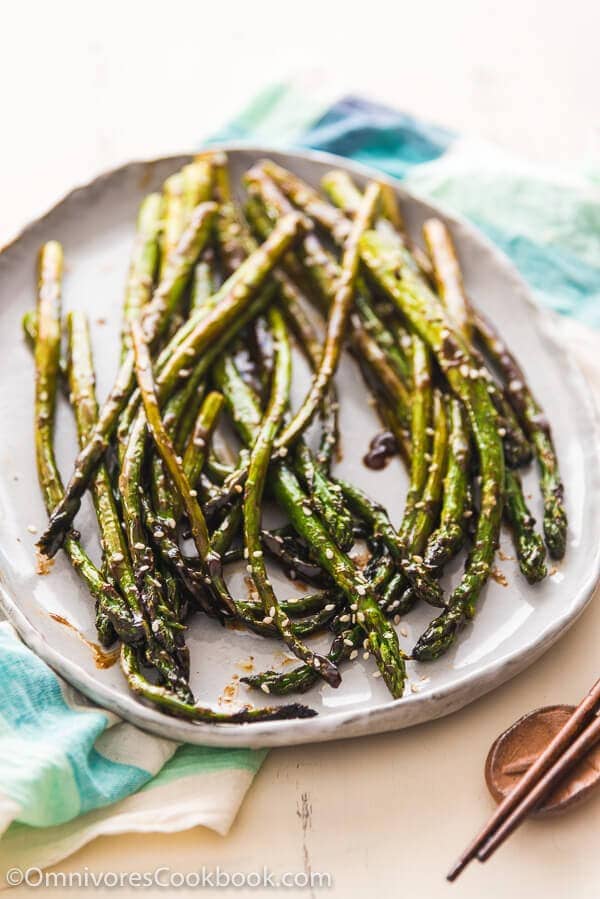 Don't have hoisin sauce in your pantry? Check out my homemade hoisin sauce recipe.
If you give this recipe a try, let us know! Leave a comment, rate it (once you've tried it), and take a picture and tag it #omnivorescookbook on Instagram! I'd love to see what you come up with. Cheers, friends!

Hoisin Roasted Asparagus
Ingredients
450 grams (1 pound) asparagus, tough ends removed (*see footnote)
1 tablespoon olive oil
2 tablespoons hoisin sauce (or gluten-free hoisin sauce for a GF version)
Instructions
Preheat oven to 230 degrees C (450 F).
Line a baking sheet with aluminum foil. Spread asparagus and drizzle with olive oil. Toss to coat well.
Add hoisin sauce. Toss again to cover asparagus evenly with the sauce. Arrange asparagus so that the thicker stems are near the rim of the baking sheet. Leave some space between the asparagus spears, so they will crisp up, not become steamed.

Bake for 5 minutes. The asparagus should be almost cooked through, but still a bit chewy. If you're using thicker asparagus, you might need to add another minute or two. Toss again and return the tray to the oven. Turn on broiler and cook for another 2 minutes, or until the sauce is slightly caramelized. You should watch it closely after turning on the boiler. When the asparagus is done, transfer the it to a serving tray immediately so that it stops cooking.
This recipe can be used on the grill, too. To grill asparagus, build a moderate two-zone fire and place asparagus over direct fire. Flip every minute, until the asparagus is cooked through. If the asparagus gets charred too quickly (mostly likely if you're using thicker asparagus spears), move them to the indirect fire and grill until they cook through.
Serve warm or at room temperature.
Notes
1. Try to select thin asparagus spears. They coat with hoisin sauce better and will be more flavorful.
The nutrition facts are calculated based on 1 of the 4 servings generated by this recipe.