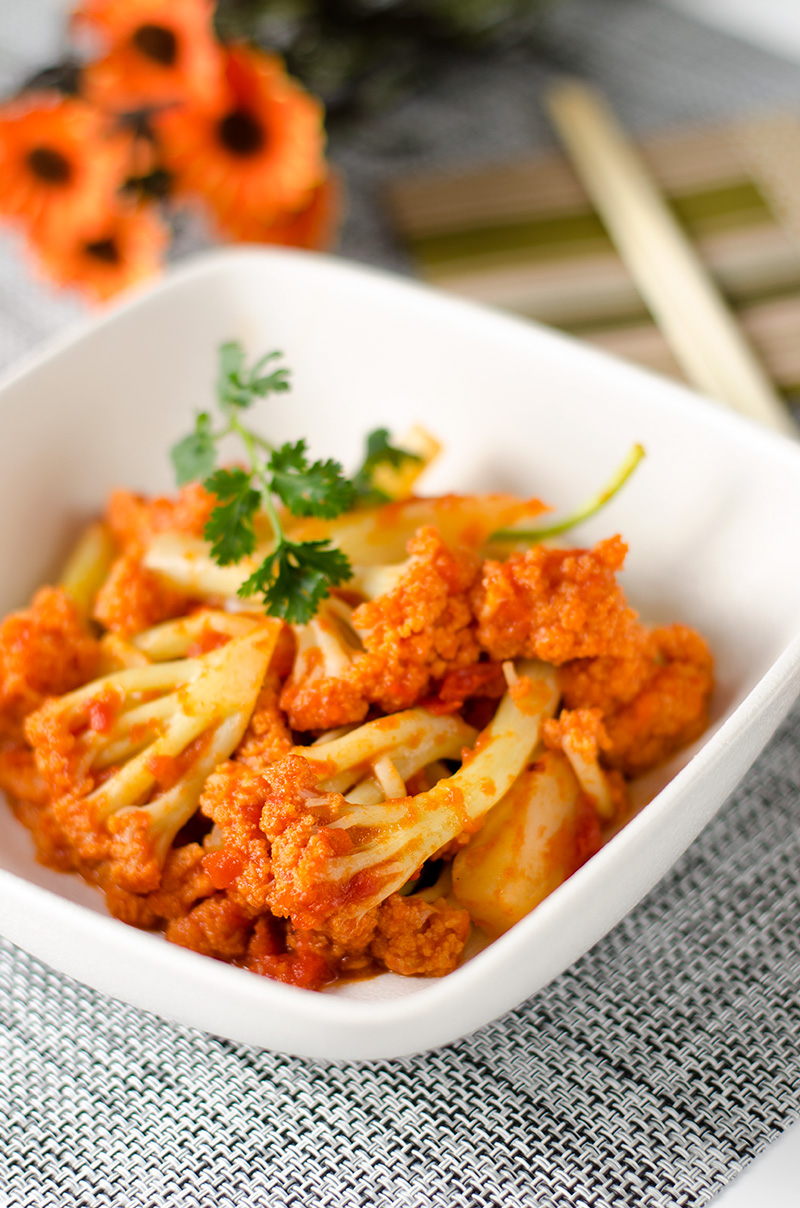 Stir-fried cauliflower with tomato sauce is a very simple and quick dish that is high in vitamins and dietary fiber. The cauliflower is blanched, then cooked in a hearty tomato sauce. The cauliflower absorbs the appetizing sweet-and-sour tomato flavor and its texture stays crunchy and crisp.
Most of the time, small Chinese restaurants cook this dish with ketchup to lower the cost and simplify the cooking process. But to make this dish healthier and richer in flavor, I made the sauce from fresh tomatoes and tomato paste. This way, you can get a healthier, more flavorful dish by spending five more minutes!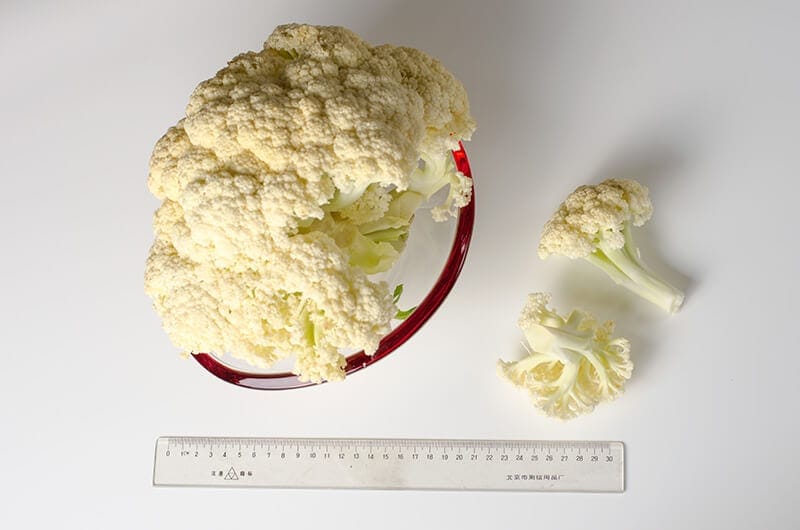 In this recipe, I chose to use a long stem cauliflower. A large head of long stem cauliflower is around 20*30cm (8*12 inches). It's a relatively new type of cauliflower but can now be found in most vegetable markets in Beijing. It has the color of white cauliflower and is sparse with florets, with a very long stem. Compared to a typical white cauliflower, this one is tougher in texture. It holds its shape very well and still has a crisp, crunchy texture after extended cooking. On the other hand, the florets of the standard white cauliflower will get quite soft after braising or stir-frying, and may easily fall apart.
In Chinese cooking, chefs choose the long stem cauliflower for dry fried and braised dishes. Using long stem cauliflower also results in more flavorful florets, since the stems are very sparse and thin, making it easier to absorb the seasoning. If you've never tried long stem cauliflower, try it with this recipe and you'll love it!
If you can't find the long stem type, use a regular white cauliflower instead, and shorten the cooking time. Blanch it for one minute instead of two. During stir-frying, mix the sauce in a gentle manner, to avoid breaking the florets.
Stir-fried cauliflower with tomato sauce is usually served warm, but its flavor gets more intense after it cools off. It can be served with or without rice and goes very well with chicken and pork dishes. Bon appétit!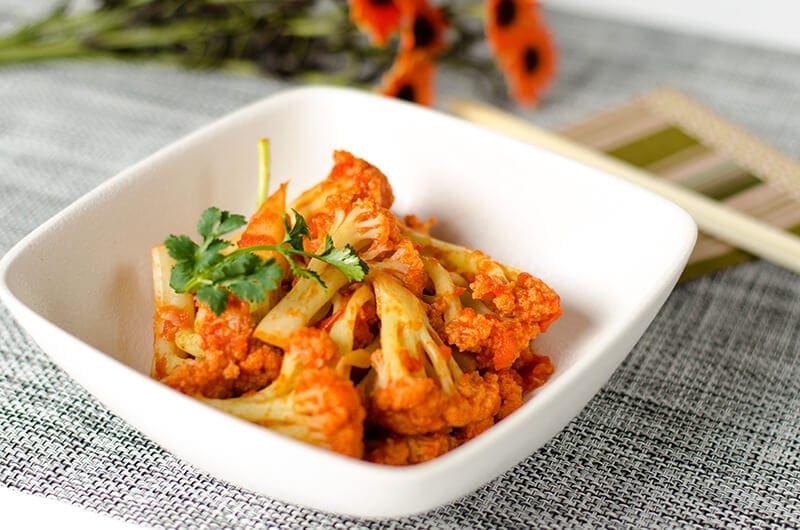 Want to Know More?
Receive our 5-Day Chinese Cooking Crash Course & Recipe Updates! Subscribe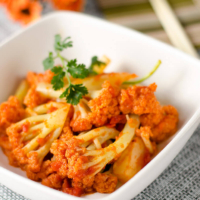 Stir-fried Cauliflower with Tomato Sauce
Ingredients
300

grams

long stem cauliflower florets

from 1/2 large cauliflower (* see footnote 1)

1

tablespoon

peanut oil

or vegetable oil

1 to

mato

chopped

2

cloves

garlic

sliced

2

tablespoons

tomato paste

2

teaspoons

sugar

1/2

teaspoon

salt
Instructions
Prepare a large bowl of water and set aside.

Bring a large pot of water to a boil. Add cauliflower and boil for 2 minutes, until the stem is half cooked, without getting too tender. Turn off heat and immediately transfer cauliflower to the bowl of water to cool down. This will stop the cauliflower from continuing to cook and help it stay crisp. Drain cauliflower with a colander.

Heat oil in a large nonstick skillet over medium high heat until warm, about 1 minute. Add tomato and garlic, stirring constantly. Chop tomato with spatula while stirring, until tomato turns into paste and the liquid is evaporated, about 5 minutes. Add tomato paste and mix well. Add sugar accordingly to adjust flavor of sauce (* see footnote 2).

Add cauliflower back into skillet and carefully use a spatula to scoop sauce from bottom over cauliflower. Keep mixing everything together, until cauliflower is soaked with tomato sauce, and extra liquid from cauliflower is evaporated, about 5 minutes. Sprinkle salt on top and mix well with spatula again. Adjust flavor by adding more sugar if needed.

Transfer cauliflower with sauce to a plate and serve warm.
Notes
(1) You can replace the long stem cauliflower with a regular white cauliflower. Regular white cauliflower is softer than long stem. Shorten cooking time by blanching it for 1 minute instead of 2 in step 1. During stir-frying, mix sauce in a gentle manner, to avoid break the florets.
(2) The amount of sugar you should add depends on the flavor of the tomato. If you don't like a sweet dish, reduce the amount to 1 teaspoon. You can always adjust flavor by adding more sugar in the end. The dish tastes best when sugar is well balanced with the sour flavor of the tomato, but doesn't overwhelm it.
The nutrition facts are calculated based on 1 of the 2 servings generated from the recipe.