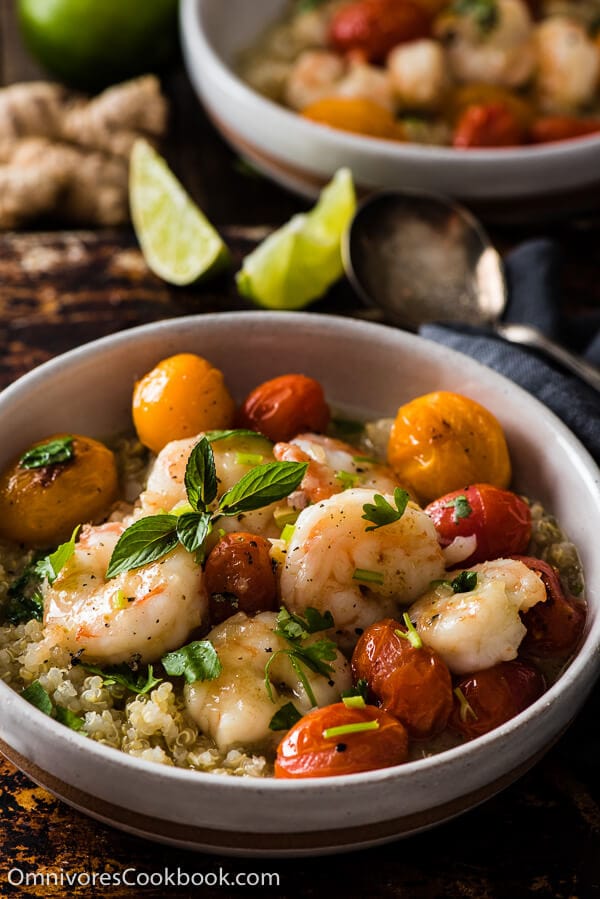 Green Curry Shrimp – A quick fix for a comforting, delicious, and healthy meal. The cooking is simple, foolproof, and forgiving. Learn all the tips for creating your own shrimp curry without a recipe.
Green curry shrimp is one of our favorite lazy foods. Upon first glance at this recipe, you might think the ingredient list is a bit long, but the cooking is so simple, foolproof, and forgiving that it will end up very delicious even if you skip a thing or two.
The other reason you'll love this dish is that it goes well with almost any staple food. I used quinoa in this recipe just as an example. You can also serve the curry with steamed rice, noodles (wheat or rice), flatbread, or any other type of bread.
Our favorite way is to serve it as a dip with tortillas chips. Try it once and you'll see how amazing it is to use green curry as a dipping sauce. It is super fast to cook and it goes great with beer and white wine. It sounds like a light appetizer, but it is actually quite filling and makes a full meal. It's a perfect dish to snack on with a glass of dry white, while watching your favorite TV show.
It has been very difficult for me to write a recipe for this one because we cook it differently every single time and it simply works no matter how we tweak it. Now, I'll share all my secrets and tips for green curry shrimp, so you can cook it without a recipe, too.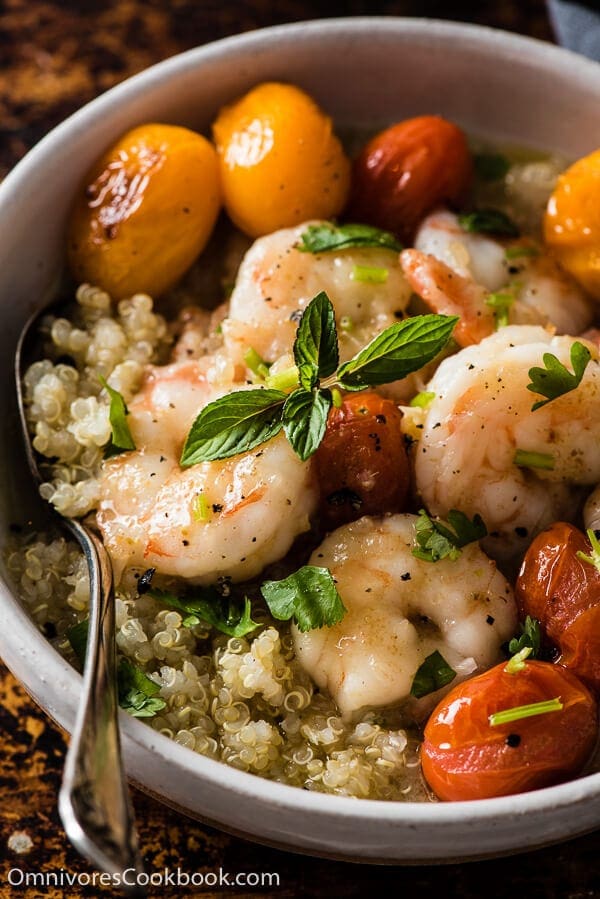 How to cook green curry shrimp without a recipe
Cooking a hearty bowl of green curry shrimp is really easy. An authentic Thai-style green curry recipe might require all kinds of fresh herbs that you might not have at home, such as lemongrass, kaffir lime leaves, and galangal. On the other hand, the dish works without any of those herbs. Just like when cooking with kimchi, green curry paste already contains a wealth of spices and is plenty pungent by itself, so it's OK to not add any further herbs.
A green curry shrimp recipe can be as simple as this:
Heat some vegetable oil until warm and saute the curry paste until fragrant. Add coconut milk and chicken stock. Bring to a boil. Add shrimp. Season with salt and sugar (to balance the spiciness). Cook until the shrimp is just cooked through. That's it.
On the other hand, there are a few things we can do, to make this curry dish taste much more delicious.
The first thing is, marinate the shrimp with some Japanese sake and cornstarch. This way, the shrimp will be more flavorful and tender after cooking. To make the shrimp taste even better, saute them with some oil in another skillet and add them into the curry in the end.
To cook the curry, you can add a few herbs before adding the green curry paste, to make the curry taste even more flavorful. I used shallot, garlic, and ginger in this recipe. You can use onion to replace the shallot. And you can skip the garlic if you don't care about the garlicky flavor. I found that ginger boosts this dish a lot, so I recommend you always add it. (Tip: you can grate and freeze a whole ginger root, so it will take no time to prep.)
To season the curry, you can use fish sauce, soy sauce, and oyster sauce or hoisin sauce, in addition to salt. They all add a very nice umami to the dish (with different characteristics, of course).
To add color and nutrition to the curry, the easiest way is to throw in some spinach (or greens) at the end of cooking. To make the dish paleo, you can blanch some cauliflower, broccoli or carrot, and add it into the curry. I used cherry tomatoes in this recipe because that's what I had on hand that day.
Again, you don't need to serve quinoa with the curry. It's just one of many options. You can choose from steamed rice, all kinds of noodles, flatbread (or even other types of bread), and tortilla chips (my favorite).
One last note, make sure you choose a normal variety of coconut milk instead of a "lite" or low-fat one. It makes a HUGE difference. The curry will be very watery if you use the thin type of coconut milk. If you only have lite coconut milk, you can still use it, but you'll need to boil down the curry for more than 30 minutes (instead of 5 minutes), to thicken it.
Isn't this the easiest dish to make?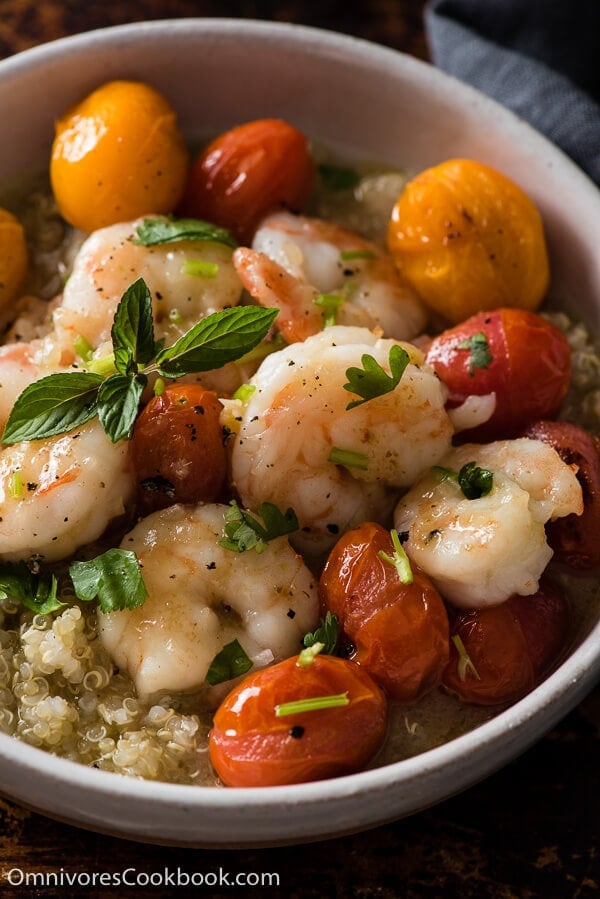 Do you like my recipes? Sign up for Omnivore's Cookbook's weekly newsletter to get the latest updates delivered to your inbox and a free e-cookbook! And stay connected via Facebook and Instagram. Thanks for reading and happy cooking!

Green Curry Shrimp
Ingredients
For the quinoa (Optional) (*See footnote 1)
1/2 cup uncooked quinoa
1/2 teaspoon salt
For the curry
1/2 pound (2 packs) SizzleFish shrimp
1 tablespoon Japanese sake (or Shaoxing wine or dry sherry)
1 teaspoon potato starch
2 tablespoons coconut oil (or vegetable oil)
1/4 cup chopped shallot (or onion)
2 cloves garlic, minced
1 slice ginger, minced
1 to 2 tablespoons Thai green curry paste (use more if you like your dish spicy)
1 (13- to 14-oz) can unsweetened coconut milk (not low-fat or lite)
1 and 1/2 cup chicken stock
1 teaspoon sugar (or more)
1 tablespoon fish sauce (or soy sauce, or oyster sauce, or hoisin sauce)
salt to taste
2 cups cherry tomatoes
2 tablespoons chopped cilantro
(Optional) 2 lime wedges
Instructions
To cook quinoa
Place quinoa in a fine mesh strainer. Rinse thoroughly with cool water. Drain and transfer to a saucepan.
Add 2 cups water and salt. Cook over medium heat until boiling. Turn to medium low heat, cover, and simmer for 15 minutes.
Remove the pot from heat and let sit covered for 5 minutes. Drain and transfer to serving plate.
To cook curry
Combine shrimp, Japanese sake, and potato starch in a small bowl. Mix well by hand. Let marinate for 5 minutes.
Heat 1 tablespoon coconut oil in a large nonstick skillet over medium heat until warm. Add shallot, garlic, and ginger. Cook and stir until it starts to sizzle.
Add green curry paste. Stir and cook for a minute, until the herbs are evenly coated with the paste.
Add coconut milk, chicken stock, sugar, and fish sauce. Cook until boiling. Turn to low heat. Let simmer until it thickens.
Cook shrimp separately while simmering the curry. Add 1 tablespoon oil to another skillet and cook over medium high heat until warm. Add shrimp. Cook and stir until both sides turn white, but the shrimp are not cooked through yet. Sprinkle with salt and black pepper, stir to mix well. Transfer shrimp into the curry and save the remaining oil in the skillet.
Add cherry tomatoes to skillet. Cook and stir over medium high heat until the tomatoes are cooked through and the surface slightly blistered. Season with salt and pepper. Transfer tomatoes into the curry.
Mix the curry and taste it. Adjust the seasoning by adding more salt, if needed. Garnish with cilantro and give it a final stir.
Pour curry with shrimp and tomatoes onto the quinoa. If you're serving the curry with other sides, transfer the curry to a serving plate. Garnish with lime wedges.
Serve warm as main.
Notes
1. You can also serve the dish with steamed rice, all kinds of noodles, flatbread (or even other types of bread), or tortilla chips (my favorite).
The nutrition facts are calculated based on 1 of the 4 servings generated by this recipe (without quinoa).