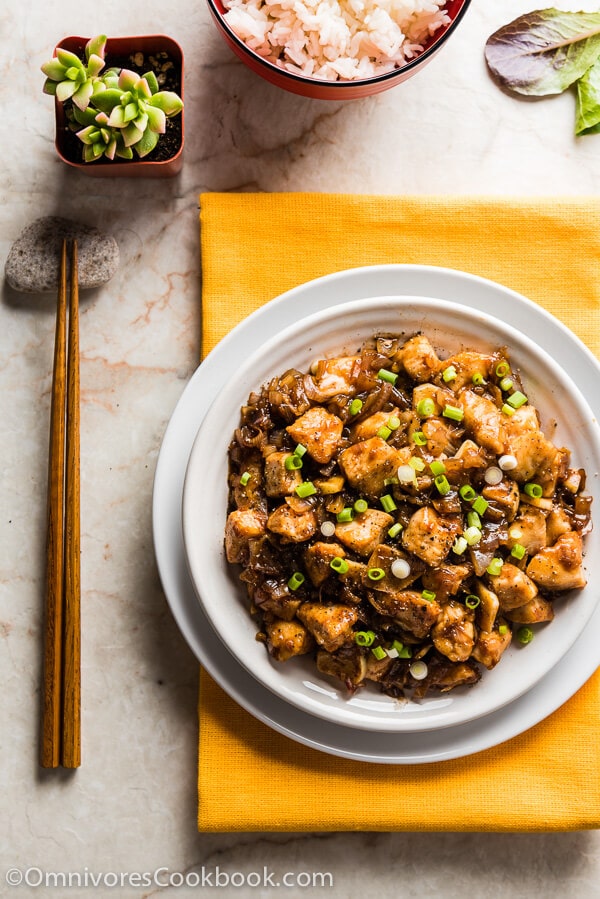 This stir fried chicken dish uses a simple and rich black bean sauce with tons of herbs to bring out the best flavor of the chicken.
Today I want to introduce a super simple chicken stir fry recipe with a delicious sauce – black bean sauce. If you're wondering where the veggies and greens are, let me make a quick introduction.
Unlike most takeout Chinese in the US, authentic Chinese stir fry recipes usually emphasize one ingredient and keep the dish really simple. For example, if it's a chicken stir fry dish, 80% of the dish will be chicken, and the remaining 20% of the ingredients will be seasoning and spices (unless it's a Szechuan stir fried chicken, in which case the dish might contain 50% chicken and 50% dried chili peppers). If a dish emphasizes vegetables, it might add a bit of meat (pork belly is commonly used), but only use its flavor to enhance the whole dish. If you visit China, you'd be surprised that you are not able to find "beef with broccoli" in any restaurant. We don't serve a stir fried dish that's anything like that.
The recipe I'm introducing today is a good example. You might be surprised at the generous amount of herbs used in this dish, on a single piece of chicken breast. Try it once, and you'll love the results you get. Although the sauce is already really rich and delicious by itself, adding tons of shallot, ginger, and garlic will largely enhance the intensity of the umami. This is the key to recreating the true flavor of China, even without a wok.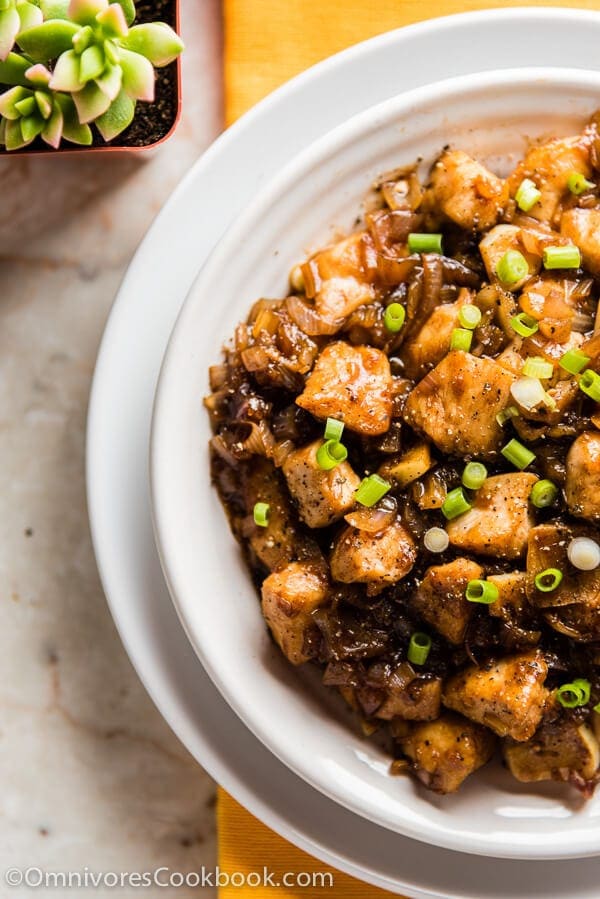 Speaking of the sauce, I'm in love with the LKK black bean sauce lately. If you're tired of using soy sauce to cook noodles and other dishes, give this sauce a try. The sauce uses fermented black beans to create a distinct savory flavor that goes great with black pepper. It's a popular sauce and is usually used in Cantonese recipes to cook meat and seafood. It's a great sauce for stir frying and steaming.
In the end, if you really want to add some veggies to this dish, make sure you cook the veggies separately and use those with low moisture. If you're adding blanched broccoli or asparagus, make sure to drain the water thoroughly. The sauce in this recipe was thick enough, so I didn't add cornstarch to it and dilute it. Prepare a potato starch slurry (1 teaspoon potato starch + 1 tablespoon water) before cooking. If the sauce doesn't thicken once you've finished stir frying, swirl in the slurry to thicken sauce.
I hope you enjoy this quick and easy stir fried chicken!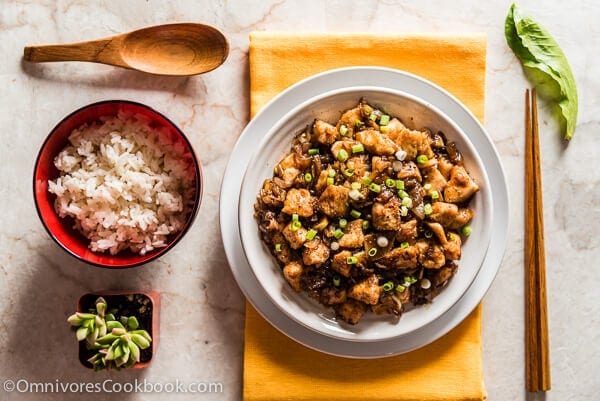 Do you like my recipes? Sign up for Omnivore's Cookbook's weekly newsletter to get the latest updates delivered to your inbox and a free e-cookbook! And stay connected via Facebook, Instagram, Pinterest and Google+. Thanks for reading and happy cooking!
Want to Know More?
Receive our 5-Day Chinese Cooking Crash Course & Recipe Updates! Subscribe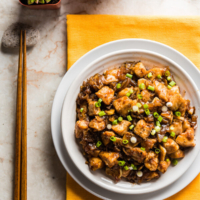 Stir Fried Chicken with Black Bean Sauce (豉汁干葱爆鸡球)
This stir fried chicken dish uses a simple and rich black bean sauce with tons of herbs to bring out the best flavor of the chicken.
Ingredients
Marinade
1

(270 grams / 9 oz.)

boneless chicken breast

(or boneless chicken leg), cubed

1

tablespoon

Japanese sake

2

teaspoons

potato starch

1/4

teaspoon

salt
Sauce
2

tablespoons

black bean sauce

1

tablespoon

Japanese sake

1

tablespoons

oyster sauce

1

tablespoon

water

1

teaspoons

sugar

1/8

teaspoon

black pepper

, freshly grounded
Stir-fry
2

tablespoons

peanut oil

(or vegetable oil)

1/2

teaspoon

ginger

, minced

4

cloves

garlic

, sliced

1

(200 grams / 7 oz.)

big shallot

, minced (or onion)

Green onion or cilantro for garnish

(Optional)
Instructions
Combine chicken breast, Japanese sake, potato starch, and salt in a bowl. Mix well and set aside.

Combine all the ingredients for the sauce in a small bowl.

Chop and prepare veggies and herbs.

Heat 1 tablespoon oil in a large nonstick skillet over medium high heat until hot. Spread chicken in the skillet without overlapping. Let cook for 30 seconds without stirring. Separate the chicken with a spatula (it might stick together due to the potato starch). Cook until the bottom side turns slightly golden. Flip and stir chicken to cook other sides, until the surface is cooked but the inside is still a bit pink. Immediately transfer to a plate.

Add the remaining 1 tablespoon oil to the skillet and turn to medium heat. Add ginger, garlic and shallots. Cook until shallots begin to turn soft, 30 seconds. Add sauce. Give it a quick stir. Add chicken back into the skillet. Stir and cook until the sauce thickens, 1 minute. Immediately transfer everything to a plate.

Serve warm over steamed rice.
Nutrition
Serving:
293
g
,
Calories:
529
kcal
,
Carbohydrates:
34.3
g
,
Protein:
43.1
g
,
Fat:
24.3
g
,
Saturated Fat:
5.2
g
,
Cholesterol:
120
mg
,
Sodium:
462
mg
,
Potassium:
747
mg
,
Fiber:
0.6
g
,
Sugar:
9.1
g
,
Vitamin A:
1250
IU
,
Vitamin C:
14
mg
,
Calcium:
70
mg
,
Iron:
3.1
mg