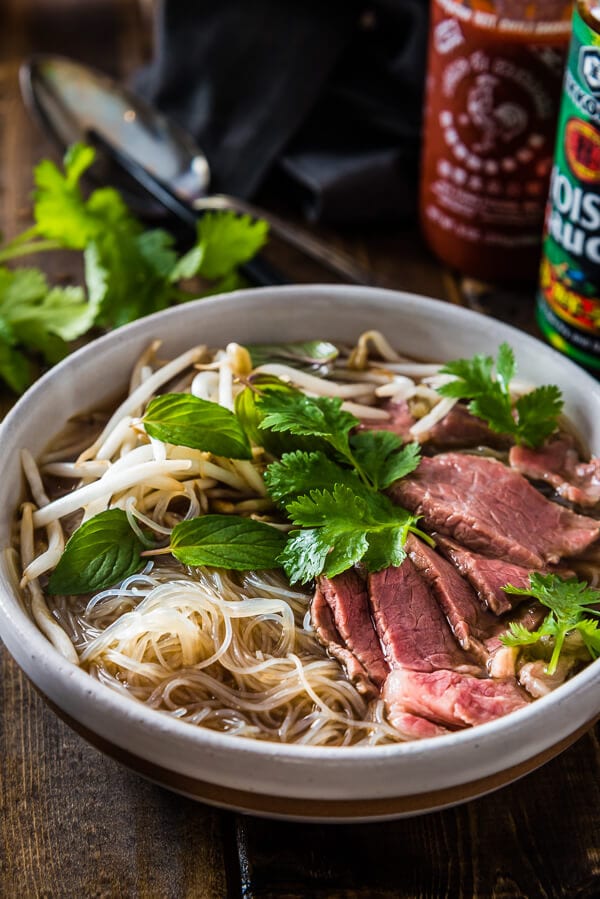 If you want to get a hearty bowl of Vietnamese pho noodle soup on the table within 30 minutes, look no further!
A bowl of traditional pho noodle soup requires an ingredient list of more than 20 items, plus at least six hours, to cook. It tastes great but is not really practical for everyday cooking. The other thing is, when I cook something complicated like this, I always have to cook a big portion, because it makes no sense to spend six hours on a soup that only provides one meal. Here comes the problem – I don't really want to serve pho three days in a row, either.
So, I invented this simple solution to cure my occasional craving for pho noodle soup.
I cooked a big pot of Asian beef stock, which you can also use to create Taiwan style red cooked beef noodle soup, northern Chinese clear soup beef noodle soup, and Vietnamese pho.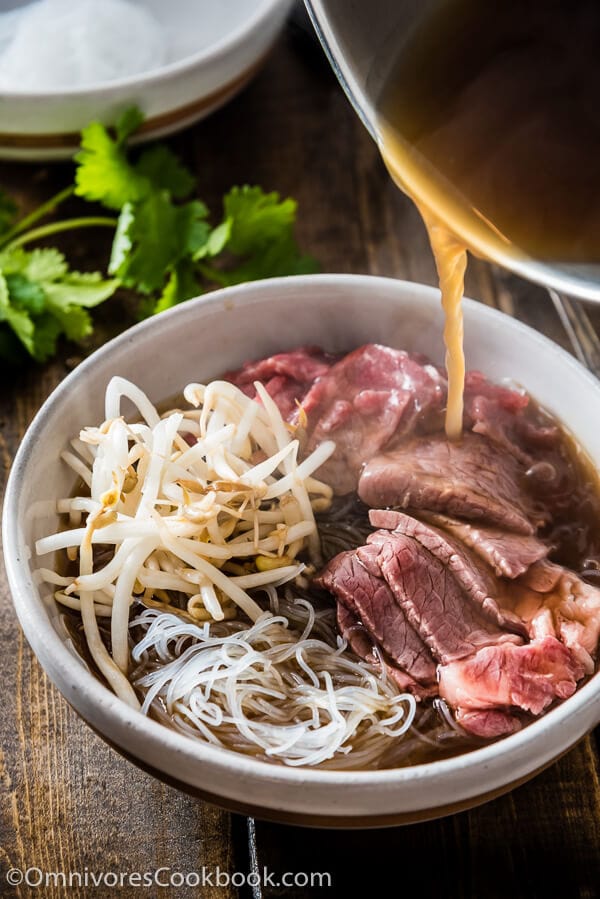 How does it work?
The short answer: When I was creating the beef stock, I used the most basic Asian aromatics as the base, to build a soup base that can easily be tweaked into other styles.
Cooking the soup base for conventional pho requires a long list of herbs and aromatics. However, a majority of those ingredients overlap with those found in other Asian beef noodle soups, including ginger, green onion, cloves, star anise, coriander, etc. When I used just these overlapping ingredients to make the soup base, the flavor was quite neutral. But you can easily tweak the soup into, say, Taiwanese style, by braising the beef with stronger flavored ingredients (chili bean paste, soy sauce, etc.) and blending the braising liquid into the noodle soup.
In the recipe below, we will boil this Asian style soup base with a few signature pho ingredients to make it more Vietnamese flavored – that means stronger tones of cloves, star anise, and fish sauce.
All you need to do is boil the stock with a few more spices while preparing the beef and veggies. Then you'll have a hearty bowl of pho on the table in 30 minutes. I admit, the flavor of the quick version isn't quite the real deal, but if it only requires 1/12 of the time to prepare, I can't complain!
Want to Know More?
Receive our 5-Day Chinese Cooking Crash Course & Recipe Updates! Subscribe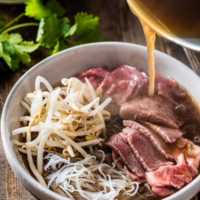 Easy Vietnamese Pho Noodle Soup
If you want to get a hearty bowl of Vietnamese pho noodle soup on the table within 30 minutes, look no further!
Ingredients
Broth
4

cups

Asian beef stock

(*see footnote 1)

1

big slice ginger

3

cloves

1

teaspoon

light soy sauce

(or soy sauce)

2

teaspoons

fish sauce
To serve
200

grams

raw beef short ribs

(or sirloin steak, or tenderloin) (*see footnote 2)

150

grams (5 ounces)

dried rice noodles

2

green onions

green part

1

cup

bean sprouts

1

cup

fresh herbs

mix of cilantro, basil, and/or mint

Sriracha and hoisin sauce

(or homemade hoisin sauce)
Instructions
Combine beef stock, ginger, star anise, and cloves in a pot. Bring to a boil over medium high heat. Turn to medium low heat. Add ginger, star anise, cloves, light soy sauce, and fish sauce. Cover and cook for 30 minutes.

Use a slotted spoon to remove all the solid ingredients and discard them. Return soup to the stove, cover, and heat over the lowest heat needed to keep it hot. If you have leftover cooked beef, you can add it into the broth now to reheat it.

While boiling the soup, slice the raw beef against grain into thin slices. You can freeze the beef briefly, about 10 minutes, so it will be easier to slice. Prep and cut veggies and set them aside.

Ten minutes before the beef broth is ready, bring another pot of water to a boil. Add rice noodles and cook (or soak) according to instructions, or until tender. It usually takes 3 to 8 minutes, depending on the type of noodles. Rinse with tap water and drain. Divide the noodles among the serving bowls.

Top beef slices, without overlapping, on the rice noodles and pour the soup over them, to quickly cook the beef. If you want the beef to be cooked more thoroughly, lightly press them into the soup to heat evenly. Garnish with bean sprouts and herbs. Serve immediately with lime wedges, Sriracha sauce and hoisin sauce.
Notes
If you boiled down your beef stock previously, you'll need to add water to dilute it. The amount of water will depend on how concentrated your stock is. You can start by re-heating the stock to bring it back to liquid form, taste it, and adjust the strength by adding water.
If you don't have any homemade Asian beef stock on hand, you can use store-bought beef broth instead. To make the broth taste more intense, you can refer to this recipe.
If you have leftover braised beef from making the beef stock

, you can reheat it with the soup after discarding the aromatics, and serve the beef and soup together.
Nutrition
Serving:
779
g
,
Calories:
357
kcal
,
Carbohydrates:
24.4
g
,
Protein:
39.8
g
,
Fat:
10.8
g
,
Saturated Fat:
4
g
,
Cholesterol:
91
mg
,
Sodium:
2263
mg
,
Potassium:
903
mg
,
Fiber:
1.4
g
,
Sugar:
0.7
g
,
Vitamin A:
700
IU
,
Vitamin C:
56.1
mg
,
Calcium:
80
mg
,
Iron:
4.1
mg