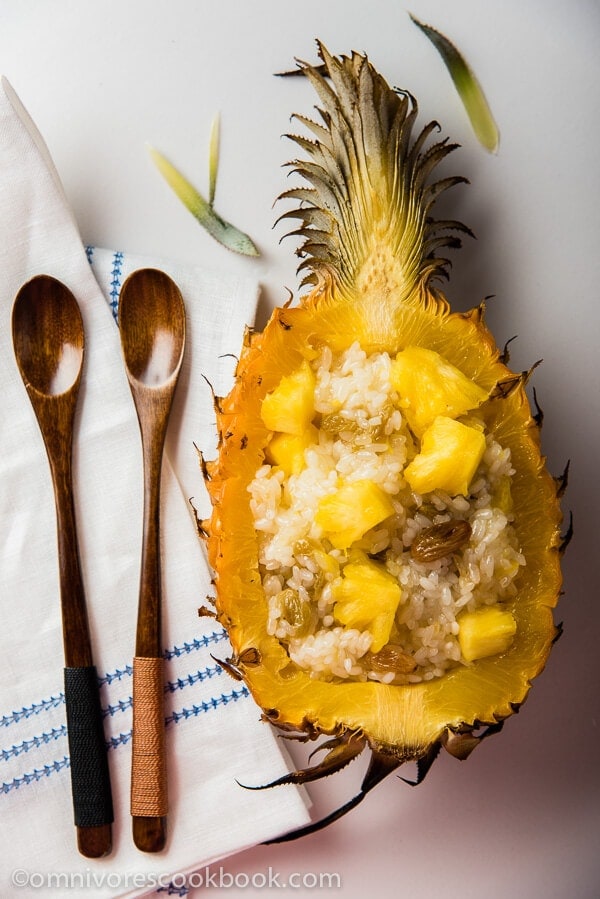 Chinese pineapple rice is gooey and sweet with a nice fruity aroma. It's a creative side dish that tastes as good as a dessert.
You might have heard of Thai style pineapple fried rice, but did you know that we also have a version of pineapple rice in China? It originated in Yunnan province, in the most southern part of China. It is adjacent to Myanmar and Vietnam and is very close to Thailand. As I mentioned in this other post, Yunnan food is vastly diverse due to its geographical location and cultural landscape, which make Yunnan cuisine a kaleidoscope of southern Chinese, Vietnamese, and Thai flavors. This pineapple rice is a great example of that.
The pineapple rice I'm introducing today has a texture is similar to that of Thai coconut rice. It uses glutinous rice, cooked with pineapple juice and cubed pineapple, to create a sweet, gooey rice with a wonderful fruity aroma. Although pineapple rice is usually served as a side, it's as satisfying and soothing as a dessert.

MY LATEST VIDEOS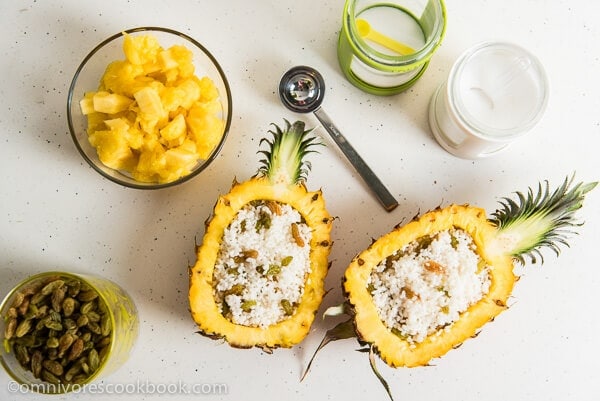 Why this version?
In the authentic version of this pineapple rice, the pineapple itself is used as the cooking vessel for the rice. The top of the pineapple is removed and used as a lid. This requires scooping the pineapple flesh from inside to make the pineapple into a jar and stuffing the glutinous rice with the pineapple juice and cubes inside. The whole thing is then steamed until cooked through.
When I was re-creating the dish at home, I used a different approach to make the process a bit easier.
My recipe requires less prep time. I split the pineapple in half, so it would be much easier and faster to scoop out the pineapple flesh.
You can cook this dish with a normal sized pot. The original recipe requires a steamer that is tall enough to hold the huge standing pineapple.
I also invented a method to use pre-cut pineapple. So if you don't feel like purchasing a whole pineapple and taking time to prep it, simply buy cubed pineapple from the grocery store and cook this dish with no fuss.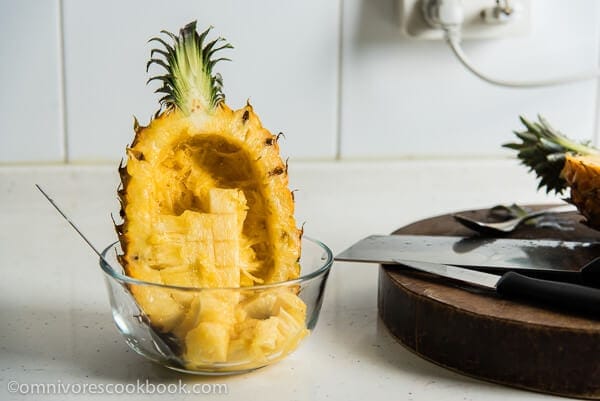 Cooking notes
Soak the glutinous rice beforehand, preferably overnight. This way, the cooked rice will have a more tender texture.
Do not add water to the rice. The pineapple contains enough liquid to cook the rice by itself.
You might need to slightly adjust the ingredient amounts, depending on the type of pineapple you use. It won't affect the flavor of the finished dish.
If you find the finished dish a bit watery, simply mix well and allow to cool. The rice will continue absorbing the liquid.
Make sure you use a plate to hold the pineapple while steaming. The juice will drip into the bottom of the steamer, which might burn quickly in the steamer (trust me on this – been there, done that).
Make sure you add plenty of water into the steamer, and add more water if necessary during cooking. Again, to prevent burning.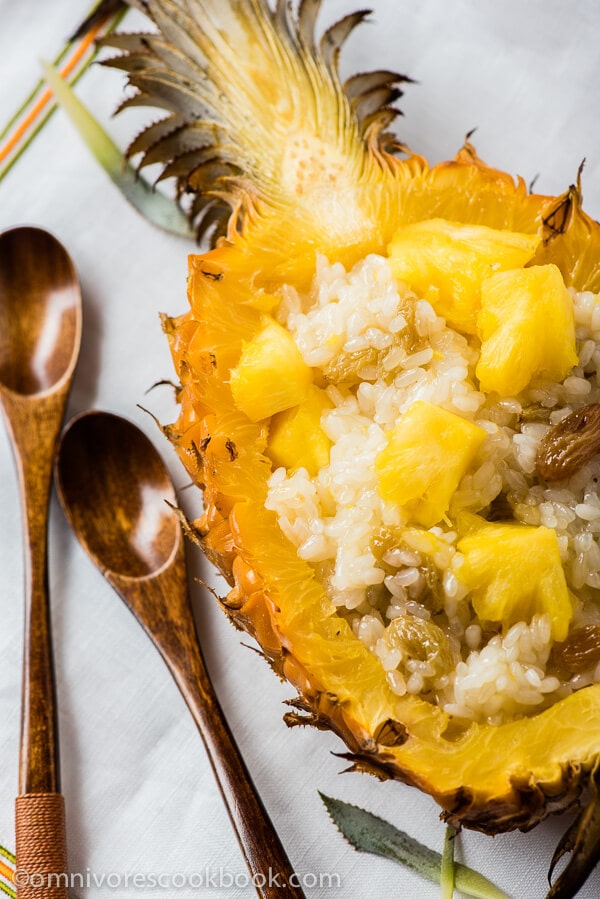 Once you cook this recipe once, you'll find it amazingly easy to make. It's a great side dish for your lunchbox or dinner, or to bring to a party. For the latter case, you can easily prepare it beforehand and serve it the next day. Be careful, the pineapple bowl will wither and collapse after steaming, so it won't look as great as a fresh one. If you want to surprise your guests, cook the rice in a bowl (see the method below) and stuff the finished rice into the pineapple before serving. The dish looks way better this way.
If you make pineapple rice, don't forget to take a picture and tag it #omnivorescookbook on Instagram. I love seeing your photos!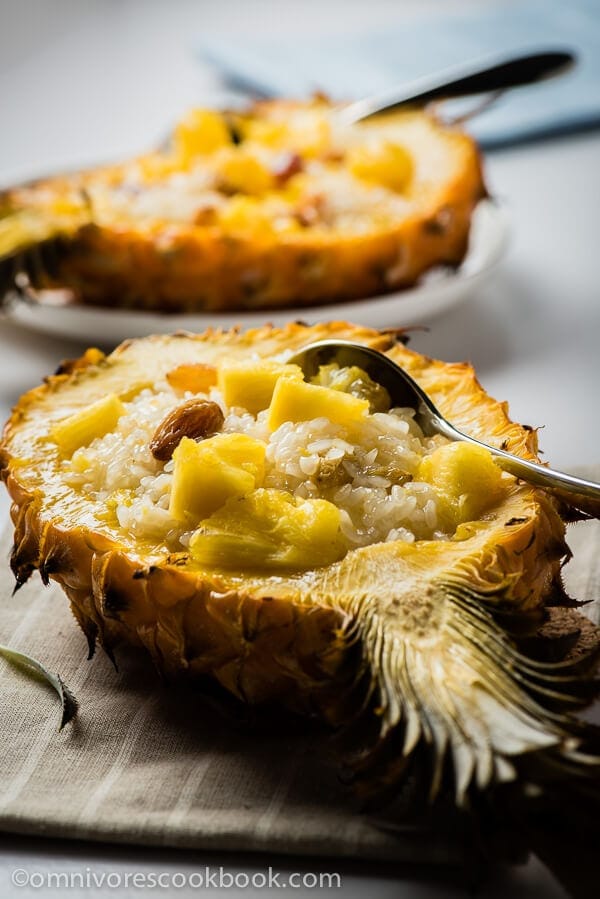 Print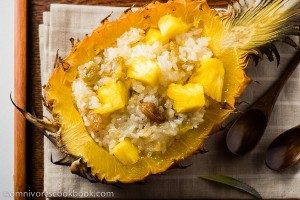 Yunnan Style Pineapple Rice (菠萝饭)
---
Author:

Prep Time:

20 mins

Cook Time:

1 hour 10 mins

Total Time:

1 hour 30 mins

Yield:

4

-

6

1

x
Category:

Side

Cuisine:

Chinese
Ingredients
1 cup

(240 grams) glutinous rice (US cups)

1

(1.2 kilograms) pineapple

2 tablespoon

s sugar

1/8 teaspoon

salt
(optional) 3 tablespoons raisins
---
Instructions
Cook with a whole pineapple
Add rice to a medium sized bowl and water to cover. Let sit for at least 5 hours (preferably overnight).
On the day of cooking, drain the rice.

Cut pineapple in half lengthwise. Carefully use a knife to carve a few crosses into each half, without piercing the rind.
Place pineapple in a bowl. Use a spoon to scoop the pineapple flesh, so the pineapple rind forms the shape of a bowl. Be careful to leave at least 1.5 centimeters (0.6 inches) of flesh on the rind, so the pineapple will hold its shape throughout cooking. Use the bowl to catch the juice that gets squeezed out in the process of hollowing out the pineapple.

Drain the pineapple cubes to separate the juice. You will get approximately 1/3 cup juice from one large pineapple.

Transfer glutinous rice to a bowl. Add sugar, salt and raisins. Mix well. Add the pineapple juice to the rice and mix again.

Stuff the pineapple with rice.
Add water to a steamer until the water almost reaches steaming rack. Place a plate on the steaming rack and place the pineapple on top.

If your steamer is not large enough to hold the two pieces of pineapple, cook them one at a time.
Cover the steamer and bring water to a boil over heat over high heat. Turn to medium low or low heat, to keep the water boiling without evaporating too quickly. Cook covered for 30 minutes.
Uncover the steamer. Check the water level and add more if the water is running low. Carefully use a spoon to mix the rice. Place a layer of pineapple cubes on top (you won't able to use all the pineapple).

Cover the steamer. Bring back to a boil over high heat. Cook over medium low or low heat for another 30 minutes.
Transfer the cooked rice to a bowl and gently mix again. Let it cool for a few minutes.
Serve warm or at room temperature.
If you cook the rice the day before serving, store the rice in an airtight container in the fridge. Use a microwave to warm up the rice before serving, to bring back its sticky texture.
To cook with pre-cut pineapple (in a normal bowl)
You will need about 2 and 1/2 cups (500 grams) pineapple cubes.
Place 1 and 1/2 cup pineapple cubes in a food processor or blender. Mix until pineapple turns to a paste. Drain the pineapple paste with a fine mesh strainer (or a clean kitchen towel or several layers of cheesecloth). Discard the pineapple fiber and bits. You should generate slightly more than 1/2 cup (150 ml) pineapple juice.
Cut the remaining 1 cup pineapple into smaller cubes. Set aside.
Mix the rice, salt, sugar, raisins, and pineapple juice in a bowl.
Cook the rice in a steamer using the method above.
After 30 minutes, stir the rice and add back all the pineapple cubes. Gently mix again and continue to steam for another 30 minutes.
Store and serve using the method above.
The nutrition facts are calculated based on 1 of the 6 servings generated by this recipe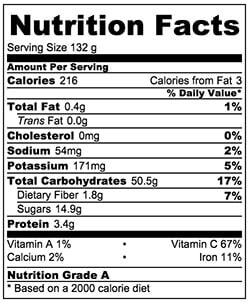 You might also like:
Black Rice with Coconut Milk and Fruits
Zongzi with Red Bean Paste (Sticky Rice Dumplings)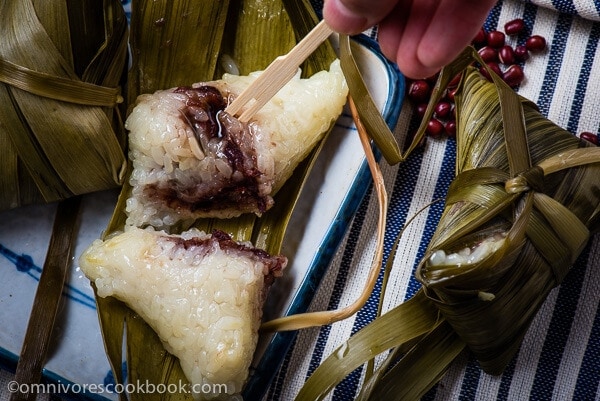 Honey Lotus Root with Sticky Rice (糯米藕)