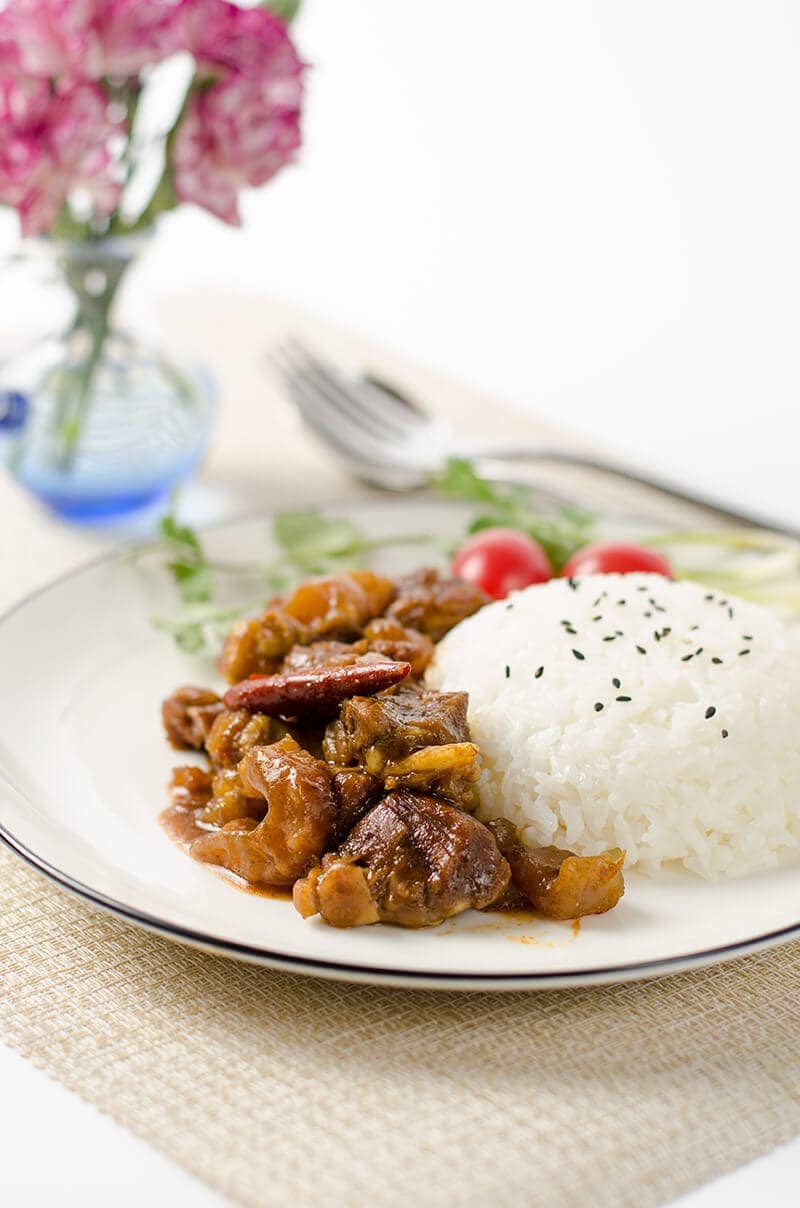 Why on earth should I cook beef stew with tendon? The short answer is, it's delicious. The long answer is, if you cook beef tendon in the right way, it will get super soft and start to dissolve into the soup, which increases the richness and creaminess of the stew and make the texture of stew tastes better. So the finished dish will literally create the melt in your month feeling.
The other great part of this recipe is its nuance of flavor. Several spices like soy sauce, wine, bay leaves, chili, curry and tomato paste are used, but they are balanced so well and they create this rich flavor without overpower the taste of beef. None of the spices will stand out too much, so it's neither a curry stew or tomato taste dish, but taste much better than any of them.
Beef tendon is a favorite cut in Asian dishes, although most people from American or European  countries find it unappealing. The main reason why I want to introduce this recipe is, it teaches you a good way to cook beef tendon that make the whole dish taste better. Also, this is a family recipe that handed down from my grandma to my dad, then to my mom, and now, me. In order to keep the originality of this family recipe, I kept then tendon part, although some people don't like it.
Of course if you really don't feel comfortable to eat this part of beef, you could still use the recipe. Just skip the steps that describe cooking the tendon, and instead braising the cut of beef you prefer till the end.  You will still get a very very flavorful and rich Asian style beef stew. If by any chance you get some beef tendon, instead of considering it inedible and throw it away, you could try to make experiment on it by following the steps below.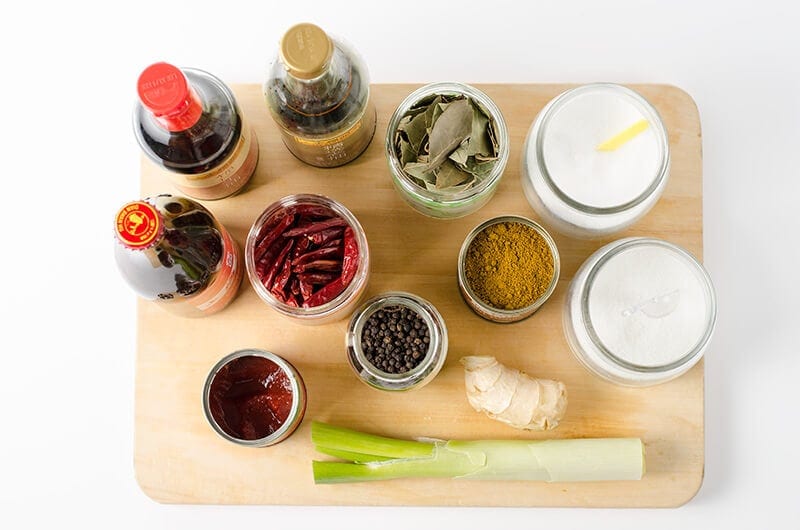 Before jumping into the recipe, I want to give you a brief idea of the cooking process, so you'll get an idea about how to cook a nice beef stew instead of rigidly follow the recipe.
1) Boiling beef tendon before braising and discard the water is a must. Because this part is quite smelly, so if you cook with them directly, the dish will end up with an unpleasant smell.
2) Simmering beef tendon in high pressure cooker for 30 minutes in order to reduce braising time. The tendon part is so tough that it takes many hours to braising on stove.
3) Boiling beef before braising and keep the broth. I like to keep the broth because it's quite flavorful. But if the broth smells bad, discard it and use water instead for braising.
4) Always add non-salty spices at the beginning and add salty spices later (including soy sauce, which contains salt), after half way through the braising, when beef starts to get tender. If you add salt at the beginning, the beef will take longer time to braise to get tender.
5) Use enough broth to cover the beef and simmer on low heat until beef gets soft, then turn to higher heat to reduce broth in the end. If broth reduced too much, it will get thick very fast and cause burning bottom of the skillet (or wok). Don't forget to stir the stew several times during simmering, and add broth if necessary.
6) Store beef in separate small container in freezer, so you'll always have meat dish during the week and don't need to worry about cooking several dishes after work. For a quick dinner, simply throw in some vegetables into the beef stew and boil together, for example carrot, broccoli and potato. A healthy and filling stew will be ready under 30 minutes, and goes well with rice or noodles.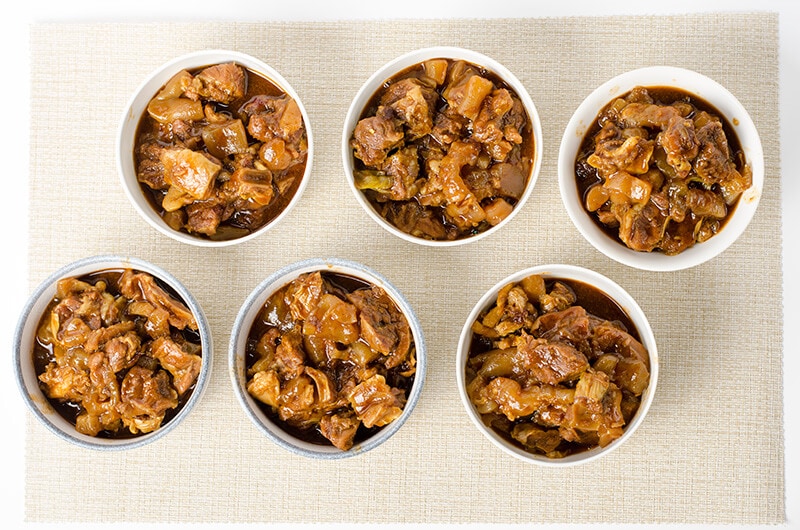 Mom's Best Beef Stew with Tendon
I used wok to in this recipe, because the shape of wok could hold big amount of beef. If you don't have a wok, use a big dutch oven instead.
Ingredients
2.4 kilograms beef plate, cubed into bite size
0.8 kilograms beef tendon, cubed into bite size
4 tablespoons Shaoxing wine
6 dried chili pepper
1 1/2 thumbnail ginger, divided into 3 thick slices, slightly smashed with knife
15 centimeters scallion, chopped (2 centimeters in length)
4 bay leaves
2 teaspoons whole black pepper
2 tablespoons curry
1 tablespoon sugar
4 tablespoons tomato paste
1 tablespoon dark soy sauce
2 tablespoons light soy sauce
4 teaspoons salt
Instructions
Place beef tendon into a high pressure cooker, add water to cover beef, cook under pressure for 30 minutes, release pressure in nature release method.
During simmering the beef tendon in high pressure cooker, prepare beef plate. Add water into a big pot, add beef, heat on high heat till bringing a boil, turn to medium low heat and keep boil for 10 to 15 minutes. During boiling, skimp the brown foam on top of beef and discard. Use a colander to transfer beef into a wok. Let the soup set for about 10 minutes, then pour the soup into wok till covers the beef completely. There'll be some clotted blood sinked on the bottom of pot, try to avoid adding them into wok. Leave the rest soup in the pot and set aside for later use.
Heat wok on medium heat. Add Shaoxing wine, chili pepper, ginger, scallion, bay leaves and black pepper (* see footnote) into wok and simmer with lid on for about 40 minutes, until beef tendon is ready.
Transfer beef tendon from high pressure cooker into the wok, discard the soup that left from cooking tendon.
Add curry, sugar and tomato paste into wok and mix well. Simmer with lid on for about 30 minutes, until beef starts to get softer.
Add dark soy sauce, light soy sauce and salt, mix well with beef and soup, simmer with lid on for 1 hour to 1 hour and half (the simmer time varies depend on the beef you use). During the simmer, stir the beef several times. Scoop beef from the bottom by a spatula, to avoid burning bottom.
After 20 minutes, check on the beef more frequently and adjust seasoning. If the liquid is getting quit thick, but beef is still tough, add more beef soup from the step 2 into the wok, 1/2 cup at a time. The liquid should be able to cover half of beef the whole time. Add more beef soup into wok later if necessary. However, do not add too much water at the end of simmer, when beef is already soft.
Till the end of simmering, adjust seasoning again. The beef should be very tender and soup quite thick. The seasoning should taste just right if you coat some liquid with a chunk of beef. If the soup is not thick enough, boil with lid off on medium heat, to thicken soup. Stand near the wok and stir beef constantly.
Serve beef stew while warm with steamed rice.
(option) For storage, Place beef stew in a air tight container in fridge for 1 week, or in freezer up to 1 month.
(option) To store the beef stew for your lunch box or dinner the next 2 weeks, place beef stew in small bowl, 2 to 4 serves in a bowl, set aside. After the beef stew is cooled down to room temperature, cover with plastic lap and chill down in fridge, till stew is clotted and could be easily take out from bowl. Store beef stew chunks in separated ziplock bags and place in freezer. You could take out the beef stew whenever you want to enjoy them. I always transfer the smaller serves from freezer to fridge the night before working, so I can pack them into my lunchbox the following morning.
(option 3) You also could add beans, potato, tomato, carrot or broccoli into the stew and boil together, to make a one dish meal.
Notes
I used a mesh tea infuser ball to trap whole black pepper. It'll be easier to take them out after the braising and throw away, to avoid biting into the pepper while enjoy the beef.
Because I couldn't find nutrition data for beef tendon, so I replace it with beef while input the data. The nutrition facts are calculated from 20 serves.