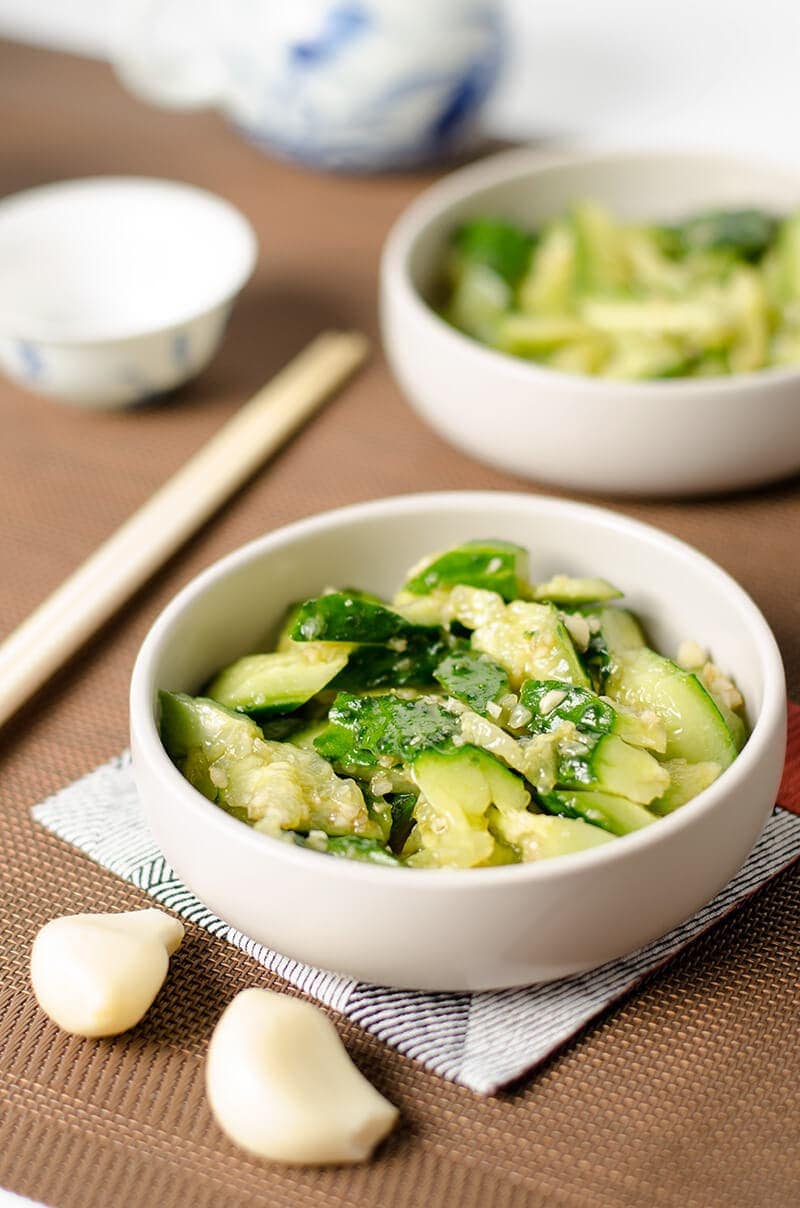 Smashed Cucumber Salad (拍黄瓜, pai huang gua) is a light and refreshing appetizer. The crispy cucumber is mixed with plenty of garlic, drizzled with an appetizing sauce mixed with soy sauce, vinegar and sugar, finished with a few drops of sesame oil. The sauce it light, yet has a distinct sour flavor with a hint of sweetness, enhanced by the strong aroma of garlic.
The cucumber salad only takes 5 minutes to get ready. It's low in calories and tastes very delicious. The salad goes very well with any Chinese dishes, stir-fry, braised, noodles, fried, you name it. It even goes very well with some western style food, for example bread and cheese. I consider it  one of the most convenient appetizer / salad to make for a week day dinner.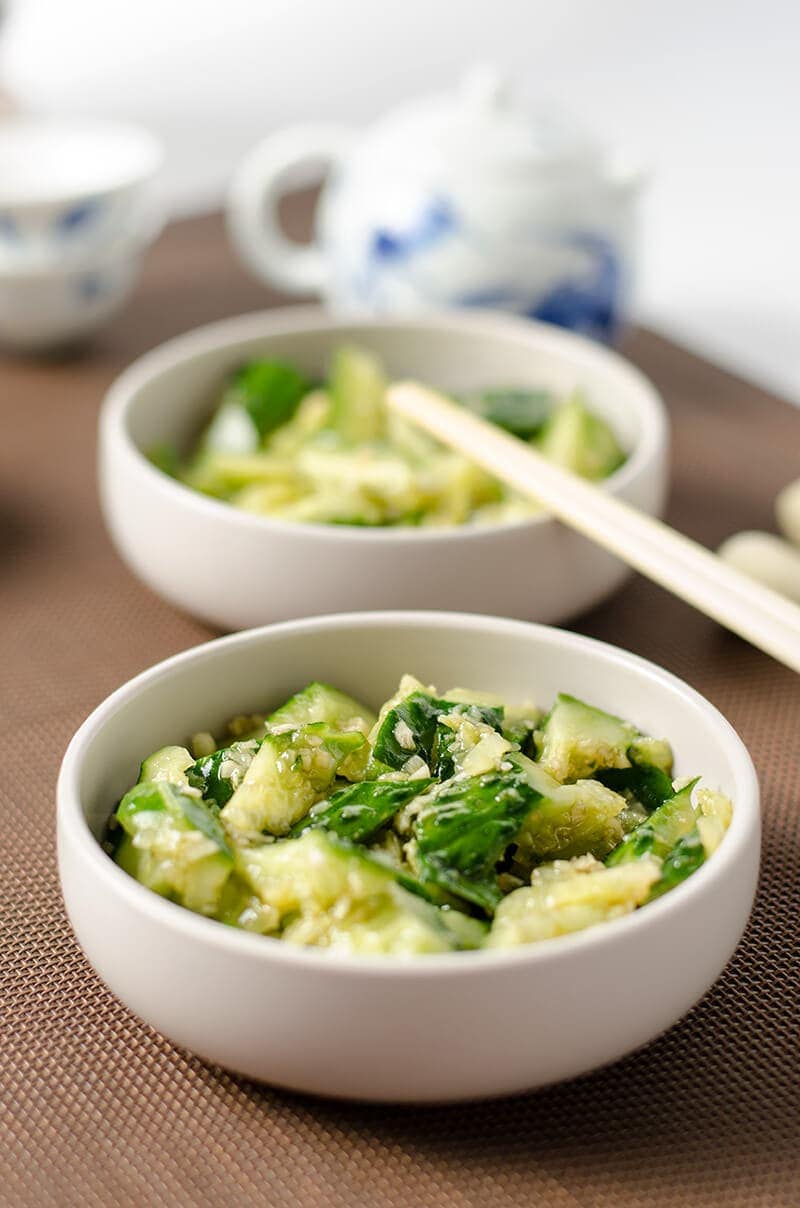 I used English cucumber in this recipe and did't peel the whole cucumber. If you don't like the skin, you could peel it. The skin part contains more fiber and adds nice color to the dish. If the cucumber is fresh, the skin shouldn't be so tough. You could only remove the tougher skin at the lower end of cucumber.
The secret of making delicious cucumber salad is, you need to smash the cucumber with a cleave first, then tilt the cleave to cut the cucumber to a diamond shape (you could check how to do this in my cooking video). This method will increase the surface of cucumber and loose its texture, so it will absorb more sauce. I used exactly the amount of sauce in this recipe to go with the cucumber. If you prefer more sauce for stronger flavor, do feel free to double the amount.
Easy Chinese Cucumber Salad (拍黄瓜)
Author:
Omnivore's Cookbook
Ingredients
2 English cucumbers, tough skin removed
3 cloves garlic, crushed and minced
1 tablespoon Chinkiang vinegar
1 tablespoon light soy sauce
1 teaspoon sugar
1/2 teaspoon salt
1/2 teaspoon sesame oil
Instructions
Dry cucumber with kitchen towel. Place cucumber on a large cutting board, carefully use cleaver to crush it. Then cut into bite size lengthwise and add into a bowl. Add garlic on cucumber.
Add vinegar, soy sauce, sugar, salt and sesame oil in a small bowl, mix well.
Right before serve, pour the sauce mixture on cucumber and mix well. (Do not add the sauce beforehand. It will cause cucumber losing water and the sauce will be diluted.
The nutrition facts below is calculated by 4 serving size.