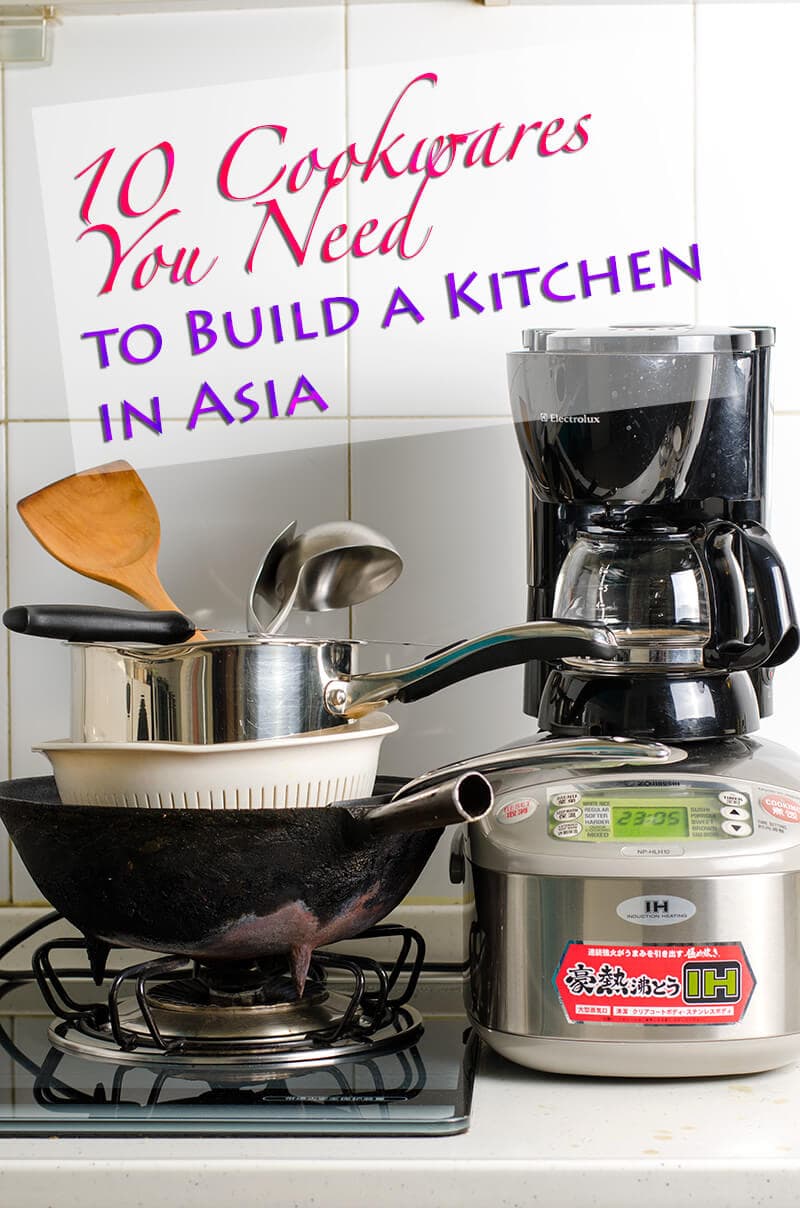 This post was inspired by my friend Chris. He just moved to Singapore and needed to build his kitchen from scratch. It reminded me of the good old days in Japan, when I had moved into a cozy little studio and gradually built it into a sweet home over the following months.
I still remember the first few things I bought the first day I arrived – salt, a dozen of eggs, some bread, vegetable oil, and a nonstick skillet. I was very proud of myself, that on my second day in Japan, I already could enjoy a real breakfast of toasted bread and a nice sunny side up egg at home! Yes, I was picky at breakfast, and I still am. But I admit, a good breakfast with nice cup of coffee will make the rest of every day better, won't it?
Those memories just flew by and I felt the urge to write them down. So I came up with a good idea. I decided to summarize the most important and basic cookware used in an Asian kitchen, so that if you move to an Asian country some day, this list can help you build a minimum shopping list to get you through the early days, or even early months. Believe me, you can cook so many nice and healthy dishes with this basic cookware, even if you've never learned to cook Asian food before.
The second reason I want to write this post is that an Asian kitchen is usually very small, even tiny, compared to one in the US. So the first thing you need to consider is, do not buy too many things you rarely use, and learn to use space in a smart way. I found the best way to achieve this is to get all the basic things at first, like those I listed here, then buy a few things at a time, to avoid over-purchasing.
The third reason I made this list is because I want to show you that you can use these very basic kitchen tools to make delicious Asian food. We all love prime rib and very cheesy pizza, but the fact is, most Asian kitchens don't have an oven, and buying cheese or a nice cut of meat can be expensive. On the other hand, there's hundreds of new and very delicious foods waiting to be discovered. If you learn to cook a few Asian dishes, it will make your grocery shopping much easier and cheaper.
The photo above is of my kitchen after I had been in Japan for two weeks. Back then, I barely knew how to cook at all, but the minimal equipment and ingredients got me through the first four months in Japan.
Now, let get back to the topic and have a look at the list below:
10 Cookwares You Need to Build a Kitchen in Asia
(1) Wok / Nonstick skillet
I consider this THE MOST IMPORTANT piece of cookware no matter where I live. This one is mainly for cooking stir-fried food. Stir-fried dishes, no mater whether meat, poultry, rice, or noodles, are the fastest and most convenient to cook on a daily basis. I put "or" here, because you can just choose one if you have limited space. A wok is versatile, and you can use it for stir-frying, deep frying, and braising. However, there's a bit of a learning curve if you've never cooked with a wok before. There are some tips for using a wok in this post. Although some stir-fried dishes require a wok for the best results, a good quality nonstick skillet does a good job in most cases. It's much easier to control, requires less oil, and is very easy to learn. For an example, see this cauliflower dish.
(2) Spatula
This one goes with the wok / nonstick skillet, of course. But I did forget to buy it when I had just arrived in Japan… I used chopsticks to flip the fried egg for my first breakfast… If you use a wok, you should buy a spatula made from metal, which is easy for flipping and scooping ingredients from the round bottom of the wok. If you use a nonstick skillet, use a wooden, plastic, or silicon spatula instead, since a metal one will ruin the the surface of the skillet.
(3) Medium Size Soup Pot
This pot is for blanching vegetables, boiling dumplings, and cooking soup and noodles. One of my favorite lazy ways to cook a quick dinner is to boil frozen wontons from the supermarket with several types of fresh vegetables, using chicken broth and spicy oil as the soup base. It's soothing, delicious, healthy, and filling for a quick dinner. You'll find so many brands and flavors of frozen dumplings and wontons in an Asian supermarket, and lots of them taste better than those sold in non-Asian markets. I highly recommend you stock a few bags in the freezer in case you want a quick and delicious dinner on a weekday evening.
(4) Soup Ladle
If you forget this one, you'll have some major trouble when you cook up a big pot of noodle soup.
(5) Sharp Knife
A sharp, medium-sized knife can help with chopping, peeling, and cutting. You don't even need scissors. If you decide to cook more often, I recommend you invest in a high quality knife, because an Asian kitchen requires more chopping, slicing, and mincing, especially for smaller ingredients like ginger and garlic. Also, vegetables and meat need to be cut into smaller and evenly sized pieces for a good stir-fry. A sharp knife will save you a lot of time and energy in the kitchen.
(6) Cutting board
I always prefer a wooden or bamboo cutting board over a plastic one, especially when it comes to cutting bigger chunks of meat.
(7) Colander
This is very useful in an Asian kitchen, since you can easily get green vegetables at the market and they'll need some careful washing before use. It's also a must-have for draining noodles, pasta, and boiled dumplings.
(8) Rice cooker
Every Asian kitchen should have one, because you can throw in rice and water and leave it there to cook, then go prepare other dishes while the rice cooker does its thing. Steamed rice is healthy, filling, and goes well with stir fried and braised dishes. Rice is a great replacement for bread in Asia, because it's cheaper and easier to get. Moreover, you can use the leftover rice for fried rice, pack it for lunch box, eat it for breakfast, or make congee. You can also use a rice cooker to make a single dish meal with vegetables and meat. Some people even use it to make sponge cake.
(9) Coffee maker / tea kettle
In my world, there are only two types of people, coffee people and tea people. For me, a coffee maker makes every day better from the start. I'm not a morning person, but I grind coffee beans to make a fresh cup of coffee every day. But if you're a tea person, get the kettle instead, and I won't judge you.
(10) Toaster oven / Microwave
Again, if you've got limited space, you might need to choose between these two. Personally, I would choose a toaster oven over a microwave. Because you can heat anything on the stove with a skillet or a pot, even it's a bit slower than heating it up in the microwave. However, I do need nicely baked pizza, roast beef, and various dishes with cheese on top once in a while. Also, it might be expensive or difficult to get nice western food, depending on where you live. Therefore, a toaster oven is a good choice, if you have urges for home cooked food. If you live in Japan, you might find that most gas stoves come with a tiny grilling space in the middle, like a small drawer. It's so convenient to grill fresh fish or half a pizza on it. It's a great substitute for a toaster oven.
Above are the most important and basic ten pieces of cookware you need to build a kitchen in Asia. If you also want to look at the basic ingredients for cooking Asian food, you can check my pantry section.
What do you think of this list? Leave a comment to let me know if this list is helpful or there's something missing.
In the end, I hope all of you who are living in Asia can have a wonderful experience and enjoy a lot of amazing local food! 🙂