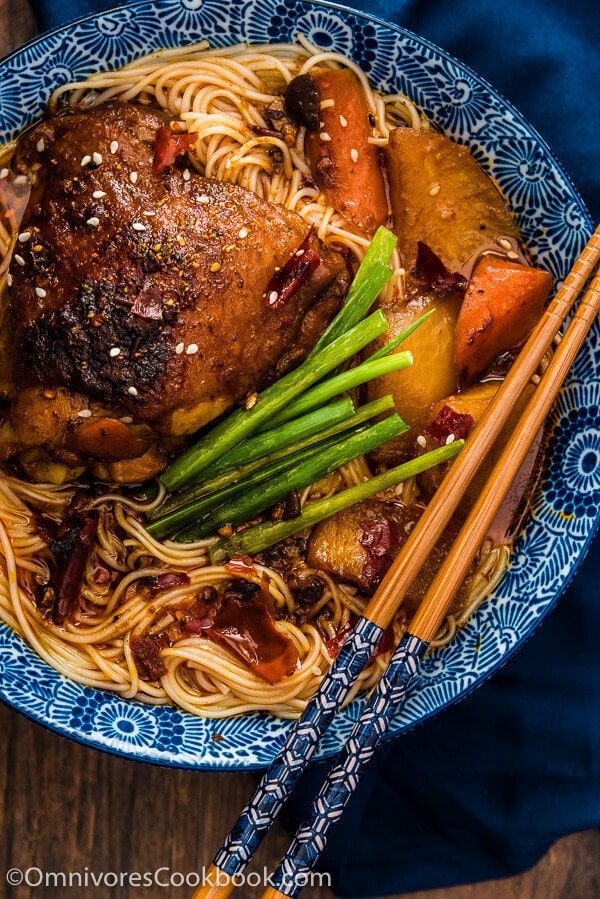 These spicy chicken noodles feature a super rich broth with juicy chicken. Learn to use the steam braising method to cook a very flavorful chicken in much less time!
This is not the usual Chinese chicken noodle soup you may be familiar with. Instead of using chicken stock to create a clear soup with boiled chicken, this recipe uses Chinese spicy paste (doubanjiang) to braise the chicken, and uses the rich sauce from that braising as the flavor base for the noodles, creating a super rich noodle soup in far less time.
Here I want to introduce a Chinese cooking technique – steam braising (焖, men). As compared to standard braising, steam braising uses a shorter time, much less liquid, and a richer sauce to braise the ingredients with the cover on. If you look at my braised chicken recipe, you'll see the difference. To steam braise the chicken, I marinated the chicken first, to infuse it with a great flavor. I then browned the chicken in tons of herbs and a spicy paste, to get a nice char and render the fat from it. A small amount of water, some radish (you can use potato too) and carrot are added before covering the skillet. The chicken is braised and steamed in the broth until just cooked through.
After cooking, you will have some very flavorful and juicy chicken, tender veggies, and a rich broth.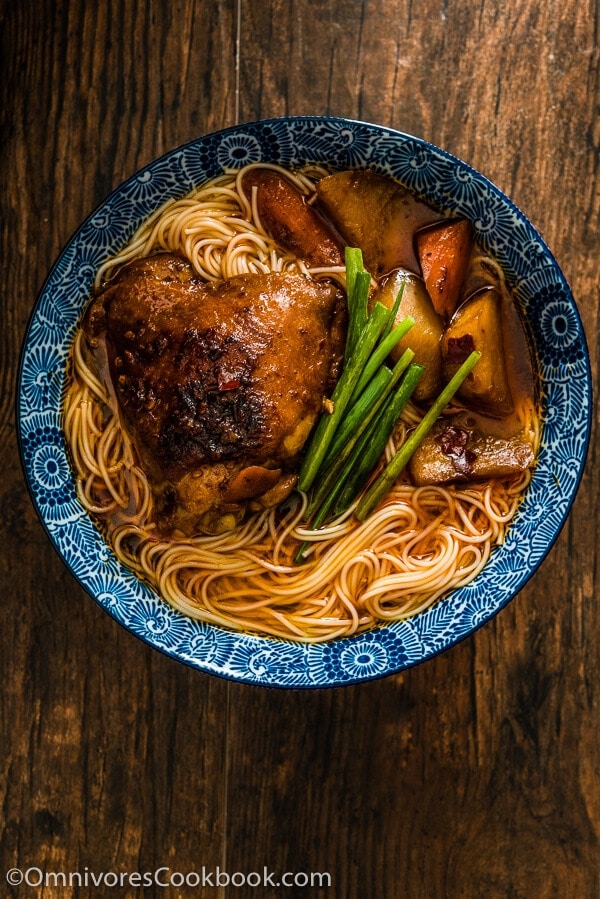 The advantage of steam braising is that it saves time. Instead of spending 1 hour to slow cook the chicken until tender, you can get some bone-in thighs done in 20 minutes. If you are using boneless thighs or a smaller cut such as bite size pieces, you can reduce the braising time to 10 minutes. The chicken will be full of flavor because you will have marinated it beforehand.
You can serve the dish either over rice or as a noodle soup; both make a great one-dish meal.
Making a bowl of hearty and rich noodle soup couldn't be easier! You just need to add a few spoonfuls of the rich spicy sauce from the skillet to the hot water you used to boil the noodles, and give it a stir. Then you add the noodles, place some chicken and veggies on top and voilà! Dinner is done!
The dish will taste even better if you prepare it ahead of time. We had some leftovers last time and made another batch of noodle soup the next day. The chicken became even tenderer! The ginger in the sauce tenderized the chicken even more and made it super flavorful. If you decide to serve this dish the next day, simply store the chicken and sauce in an airtight container in the fridge. You can heat up the dish in the microwave or on the stovetop whenever you're ready to serve it.
Bon appetit!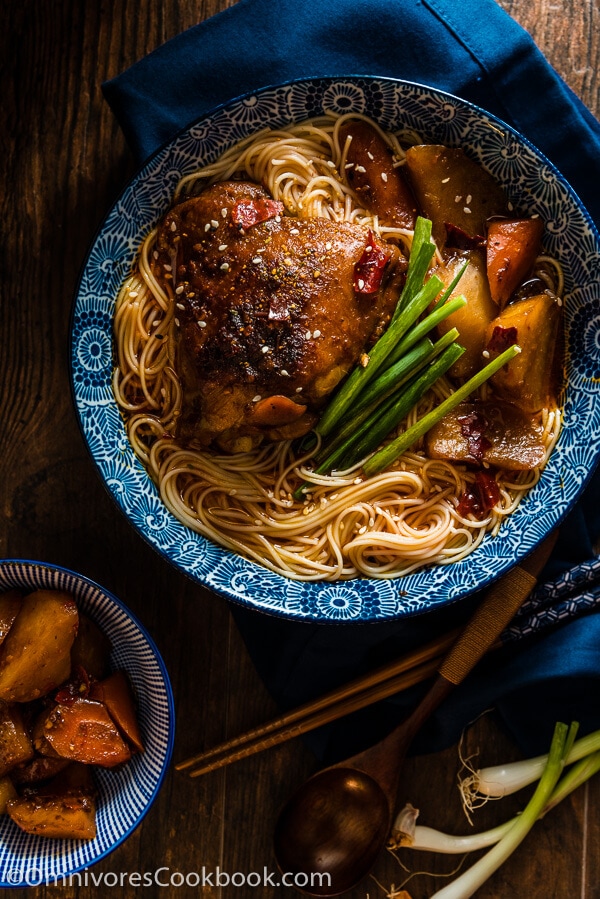 Do you like my recipes? Sign up for Omnivore's Cookbook's weekly newsletter to get the latest updates delivered to your inbox and a free e-cookbook! And stay connected via Facebook, Instagram, Pinterest and Google+. Thanks for reading and happy cooking!
Want to Know More?
Receive our 5-Day Chinese Cooking Crash Course & Recipe Updates! Subscribe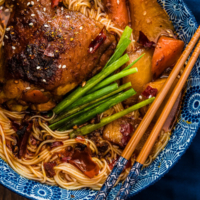 Spicy Chicken Noodle Soup (黄焖鸡面)
These spicy chicken noodles feature a super rich broth with juicy chicken. Learn to use the steam braising method to cook a very flavorful chicken in much less time!
Ingredients
Marinade
3

(700 grams)

chicken bone-in, skin-on chicken thigh, chicken leg, or boneless skinless thigh

(*see footnote 1)

1

teaspoon

ginger

, grated

2

cloves

garlic

, grated

1

tablespoon

soy sauce

1

tablespoon

Shaoxing wine

1/4

teaspoon

black pepper

, grated

1/4

teaspoon

salt
Chicken stew
1

tablespoon

vegetable oil

3 to 4

tablespoons

doubanjiang

Chinese fermented spicy chili bean paste, depending on your preferred level of spiciness

1/4

teaspoon

nutmeg

, grated or ground

1

daikon radish

(or potato, or broccoli, chopped)

2

small carrots

, chopped
Instructions
Combine chicken, ginger, garlic, soy sauce, Shaoxing wine, black pepper and salt in a large bowl. Mix well and marinate for 30 minutes.

Heat oil in a large skillet over medium heat until warm. Add star anise, doubanjiang and nutmeg powder. Turn to medium low heat. Cook and stir for 1 minute.

Add chicken and mix so that both sides are coated with the sauce. Cook and flip occasionally, until both sides turn golden brown. While browning the chicken, stir the sauce frequently to prevent burning.

Add 1 cup of water, the daikon radish, and the carrot. Turn to medium heat. Bring to a boil. Turn to medium low heat. Cover and simmer for 10 minutes. Uncover, flip chicken, and mix the radish and carrot with the sauce. Cover and continue to cook until juice runs clean when poking the thickest part with a chopstick, for 5 to 10 minutes.

While simmering the chicken. Add 4 cups of water to another big pot (*see footnote 2). Add noodles and cook according to the instructions.

Transfer cooked noodles with noodle soup into the bowls you'll serve them in. Add a few spoonfuls of sauce from the chicken stew. Top with chicken, radish, and carrot. Garnish with green onion.

Serve immediately as main.

Store leftover chicken with sauce in an airtight container in the fridge for 3 days or in the freezer for a month. The leftovers taste even better.
Notes
I personally prefer to use a bone-in cut, because it infuses more flavor to the noodle soup. However, if you're using bone-in, skin-on thigh, the chicken sauce will be a bit fatty, since the skin will yield a lot of fat.
For a leaner noodle soup, you can: (1) Use chicken legs or boneless skinless thighs,
OR (2) Use skin-on thighs but let the skin render fat first: Before proceeding to step 2, add chicken into the skillet, skin side down. Cook over medium heat for 5 minutes, or until the chicken skin turns slightly golden and is submerged in oil. Transfer the chicken to a plate and discard the oil.
If you are using a leaner and/or skinless cut, consider boiling chicken stock to cook the noodles and using the stock in the noodle soup, to enhance the flavor.
Nutrition
Serving:
269
g
,
Calories:
353
kcal
,
Carbohydrates:
11.3
g
,
Protein:
51.4
g
,
Fat:
10.7
g
,
Saturated Fat:
2.4
g
,
Cholesterol:
128
mg
,
Sodium:
1121
mg
,
Potassium:
449
mg
,
Fiber:
2.1
g
,
Sugar:
4.8
g
,
Vitamin A:
5600
IU
,
Vitamin C:
11.6
mg
,
Calcium:
50
mg
,
Iron:
1.8
mg