A super easy way to cook king oyster mushrooms with a teriyaki sauce to make a vegan dish that tastes better than meat! {Vegan, Gluten-free adaptable}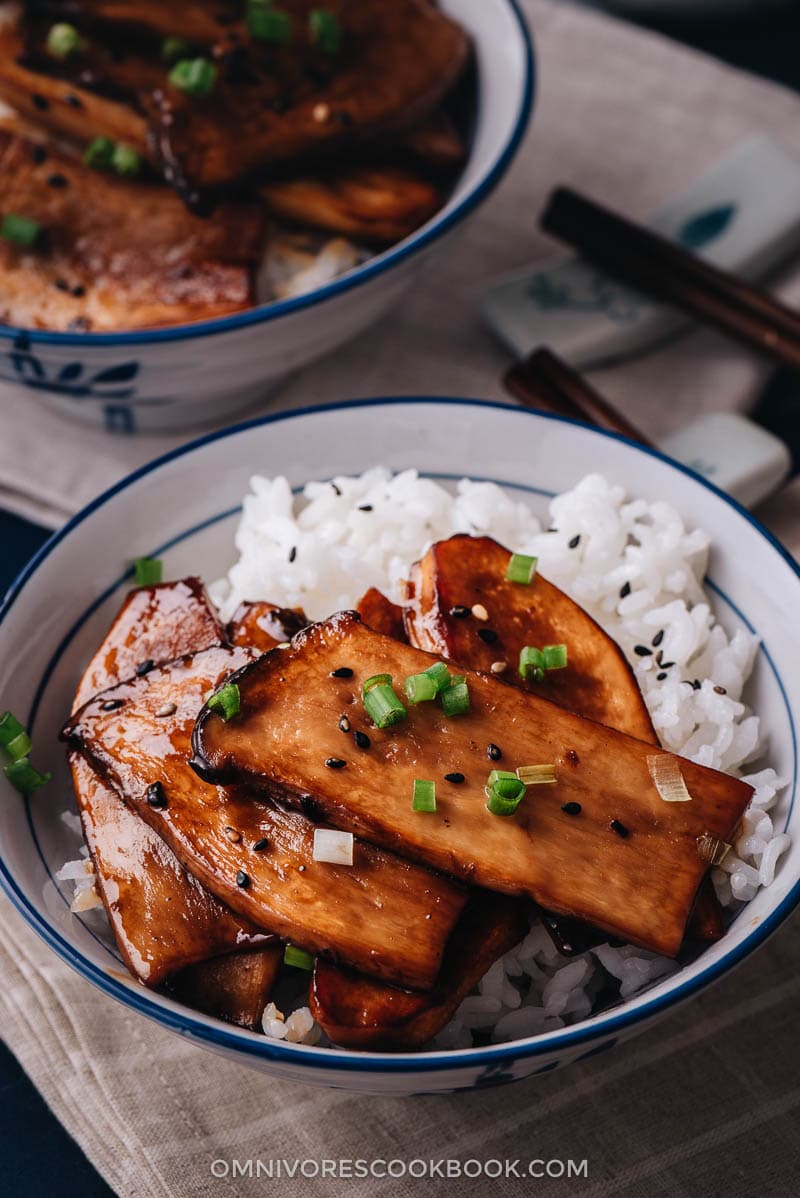 Why pan frying is better than stir fry
The teriyaki king oyster mushroom is not a typical stir-fry dish.
Conventional Chinese style stir-frying requires a powerful gas stove and a cast iron wok. If you employ the correct combination of a very short cooking time and extremely high heat, the ingredients will be cooked just right. They stay fresh and crisp, charred on the surface with a moist texture, and infused with a great flavor that you can only get from a wok.
However, this method is not practical for everyone.
What if you don't have a wok or a gas stove, or simply don't want your cooking to be very smoky?
Teriyaki king oyster mushroom provides a perfect solution to all these problems.
Unlike traditional stir fried dishes, this recipe uses a flat skillet to grill the mushrooms until crispy, and then quickly braises them in a simple teriyaki sauce to add a rich flavor.
The finished mushrooms have a dark color and shiny luster, with a spongy and meaty texture and a sweet, savory, rich flavor. The fresh green onion adds a refreshing citrusy taste. Top freshly steamed white rice with these mushrooms and you have a simple yet satisfying one-dish meal, ready in 30 minutes.
Believe it or not, this vegan dish even tastes better than meat.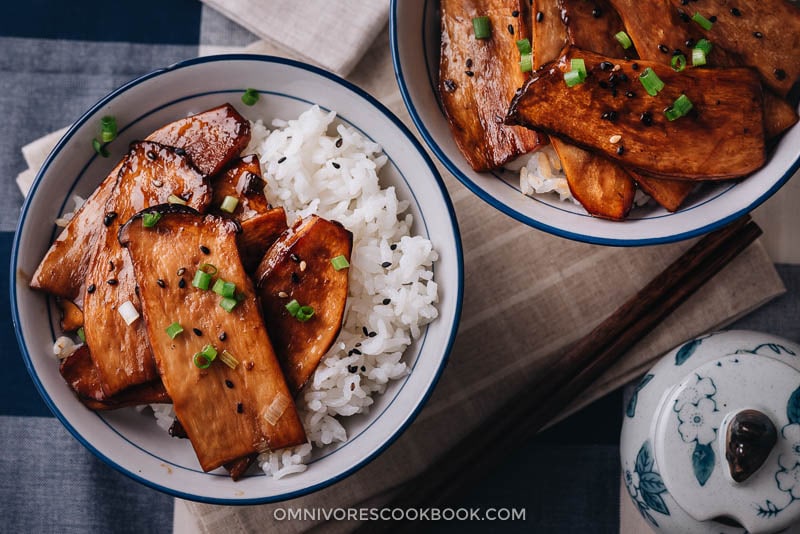 Cooking notes
1. Marinating makes a difference
In this recipe, I discovered the secret to cooking perfect king oyster mushrooms – to marinate them first and cook them slowly.
Oyster mushrooms have a drier texture than the average mushroom, and thus are not very suitable for a quick stir-fry. If you cook them over high heat without a lot of oil, the mushrooms will be easily burned on the surface, without any infused flavor inside, which makes it even worse. To add insult to injury, the mushrooms will start to release moisture at the end of cooking, giving you a paradoxically burned, soggy, and utterly flavorless dish.
By marinating the mushrooms first, they will be seasoned well and lose some moisture before cooking. Instead of cooking them over high heat, you should grill them slowly until charred and cooked through. In the last step, all the mushroom liquid and seasoning will be added back into the dish, which creates a super rich sauce with basically zero effort.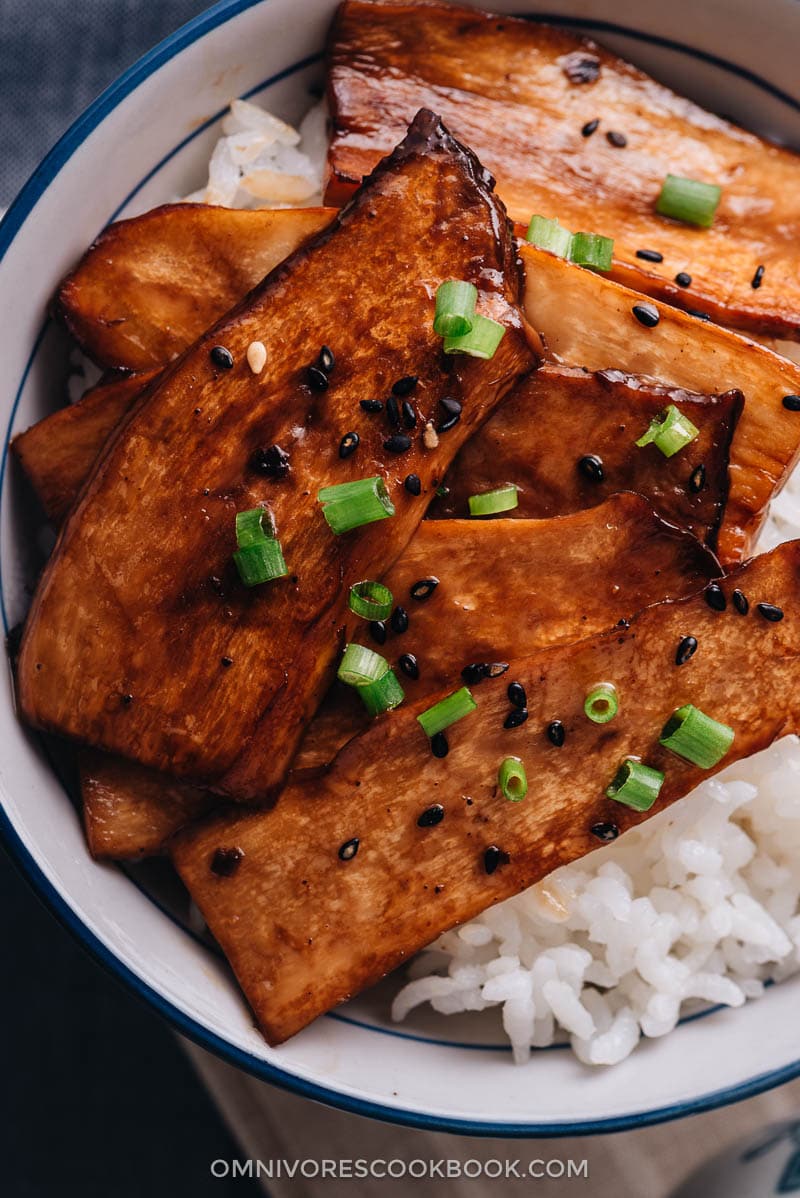 2. Easy teriyaki sauce
I replaced the mirin with Japanese sake and sugar (you can use this substitution in any Japanese dish). I also slightly adjusted the seasoning, utilizing less oil and fewer ingredients. If you want to use mirin instead, check out the original recipe. If you don't have sake, you could replace it with cooking wine or vodka (1 teaspoon vodka for 1 tablespoon sake). However, I think sake works best in this dish, because it has a more delicate and sweet flavor.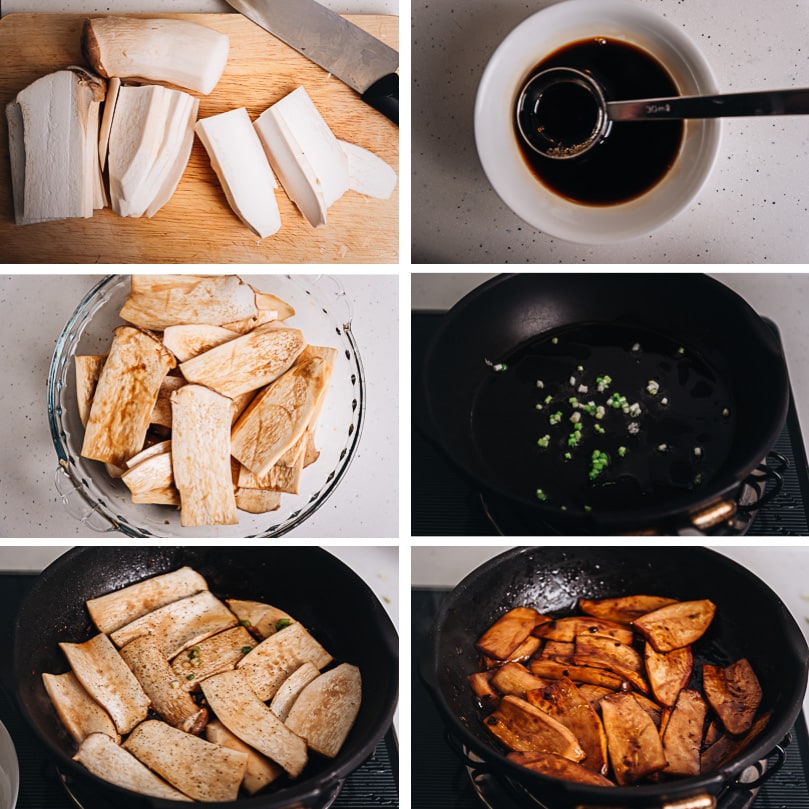 This teriyaki style is my favorite way of cooking king oyster mushrooms now. I hope it becomes yours, too!
More delicious vegan recipes
If you cook this recipe, don't forget to take a picture and post it on my Facebook fan page. I love seeing your photos!
Want to Know More?
Receive our 5-Day Chinese Cooking Crash Course & Recipe Updates! Subscribe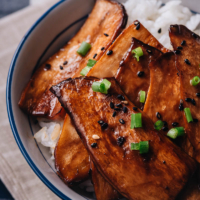 Teriyaki King Oyster Mushroom
A super easy way to cook king oyster mushrooms to make a vegan dish that tastes better than meat!
Ingredients
2

(14 oz. / 400 grams in total)

large king oyster mushrooms

2

tablespoons

light soy sauce

(or soy sauce, or tamari for gluten-free)

2

tablespoons

Japanese sake

2

teaspoons

sugar

2

tablespoons

peanut oil

2

tablespoons

onion

, chopped

Toasted sesame seeds for garnish

(optional)

2

servings

steamed white rice

, to serve with
Instructions
Halve king oyster mushroom lengthwise, then slice into 4mm (slightly more than 1/8 in, double the thickness of a 1-dollar coin) thick slices. Transfer to a big plate.

Combine light soy sauce, Japanese sake, and sugar in a small bowl. Mix well.

Use a dining spoon to distribute the sauce over the mushrooms. Mix with chopsticks until the mushrooms are evenly covered with the sauce. Marinate for 15 minutes.

Add 1 tablespoon peanut oil to a nonstick skillet and heat over medium high heat until warm. Add 2 teaspoons green onion and stir a few times.

Cook mushrooms in batches. Spread them across the skillet without overlapping them. Save the marinating liquid for later use.

Let mushrooms grill without stirring them. When the skillet gets hot, turn to medium heat (or low heat if the skillet starts to smoke). When the bottom side turns golden, flip with chopsticks (or tongs) to grill the other side. Keep grilling and flipping, until both sides turn golden brown, with slightly charred edges. The process took me 8 minutes, but your cooking time will vary depending on the type of stove you're using. Transfer the mushrooms to a plate and set aside.

Add the remaining 1 tablespoon of oil and 2 teaspoons of green onion. Continue to cook the remainder of the mushrooms. The cooking process will be shorter this time, since the skillet is quite hot already. Adjust heat between low and medium to cook the mushrooms slowly, with the skillet remaining hot. The mushrooms should be slightly charred and dehydrated without getting burnt. (I cooked two batches with a 9" / 24 cm skillet. You might need to cook more (or fewer) batches depending on the amount of mushrooms and the size of your skillet. Be sure to adjust the amount of oil accordingly.

When the last batch of mushrooms is cooked, add the previous batch(es) back into the skillet.

Pour the marinade over the mushrooms. Keep cooking over medium low heat until the liquid is absorbed, 2 to 3 minutes.

Place the mushrooms onto the steamed rice. Garnish with the remaining 2 teaspoons of green onion and the sesame seeds.

Serve hot over steamed rice.
Nutrition
Serving:
128
g
,
Calories:
120
kcal
,
Carbohydrates:
11.3
g
,
Protein:
0.6
g
,
Fat:
7.3
g
,
Saturated Fat:
1.1
g
,
Sodium:
531
mg
,
Potassium:
26
mg
,
Fiber:
1.1
g
,
Sugar:
5.2
g
,
Vitamin A:
50
IU
,
Vitamin C:
0.8
mg
,
Iron:
0.2
mg