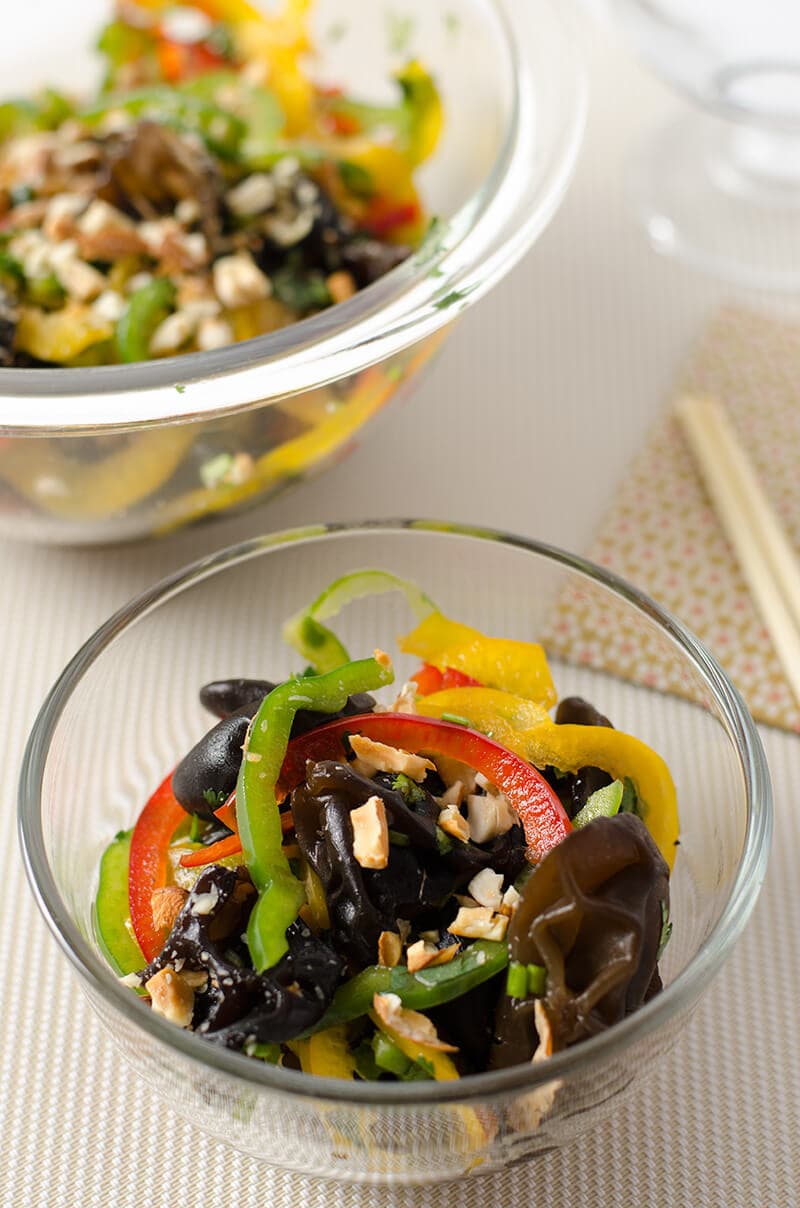 Black Fungus Salad (凉拌木耳, liang ban mu er) is a easy and refreshing Chinese appetizer that is not very well-known outside of China.
Wood ear (Mu'er, 木耳), also called black fungus, is similar to a typical mushroom but has a slightly crunchy texture. Chinese restaurants often use it as a main ingredient to create a basic and simple salad, usually with green onion, cilantro, soy sauce and mustard.
Instead of using wood ear by itself, I always add more vegetables to make a salad with it. Colorful veggies such as cucumber, pepper, and celery make the dish healthier, more balanced in nutrition and more beautiful. I've found that bell peppers go especially well with wood ear. They add a crisp and juicy texture, a sweet flavor, and nice color to the dish. For a salad dressing, I use plenty of soy sauce, dark rice vinegar, and sugar to create a sweet-sour-fruity flavor. The crushed almond flakes add nuttiness to the dish, in addition to sesame oil, to create a wonderful savory taste for your palate.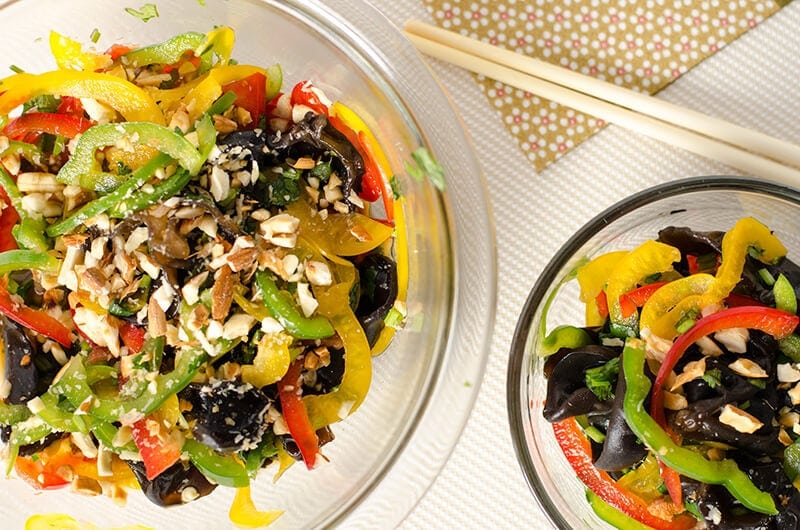 Wood ear mushrooms are extremely easy to prepare, low in calories, contain no cholesterol, and are very high in vitamin A and vitamin C. They make a perfect appetizer or side dish for a weekday dinner.
To make a successful wood ear salad with vegetables, the most important part is the sauce. After making this one so many times, I figured out that if you choose the right types of light soy sauce and rice vinegar, and don't forget sesame oil, there'll be no failure. The combination of different colored peppers is very flexible. For the best texture, keep the total amount of pepper the same as, or slightly more than the amount of wood ear used in the dish. Also, you can also use toasted sesame seeds to replace the almonds.
If you are new to wood ear mushrooms, make sure to go through my pantry page first. It will help you prepare and store your wood ears properly to keep them delicious.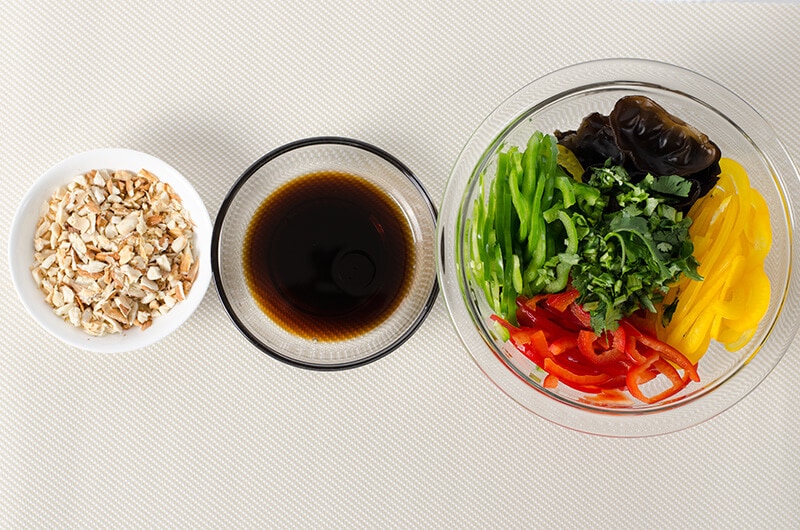 I noticed an interesting thing lately.
While I keep talking about how important it is to choose the right condiments in order to make a great dish, one reader's feedback totally surprised me. She replaced black rice vinegar with apple cider vinegar when trying my fish fragrant eggplant, and apparently the dish turned out very tasty. I haven't tried it myself yet, but the idea is very interesting and I'll definitely try it out later. It reminds again me that food is constantly traveling and evolving, so it's always good to keep an open mind towards trying out new things.
No matter whether you follow my recipe or use other condiments, drop me a message and let me know how it goes!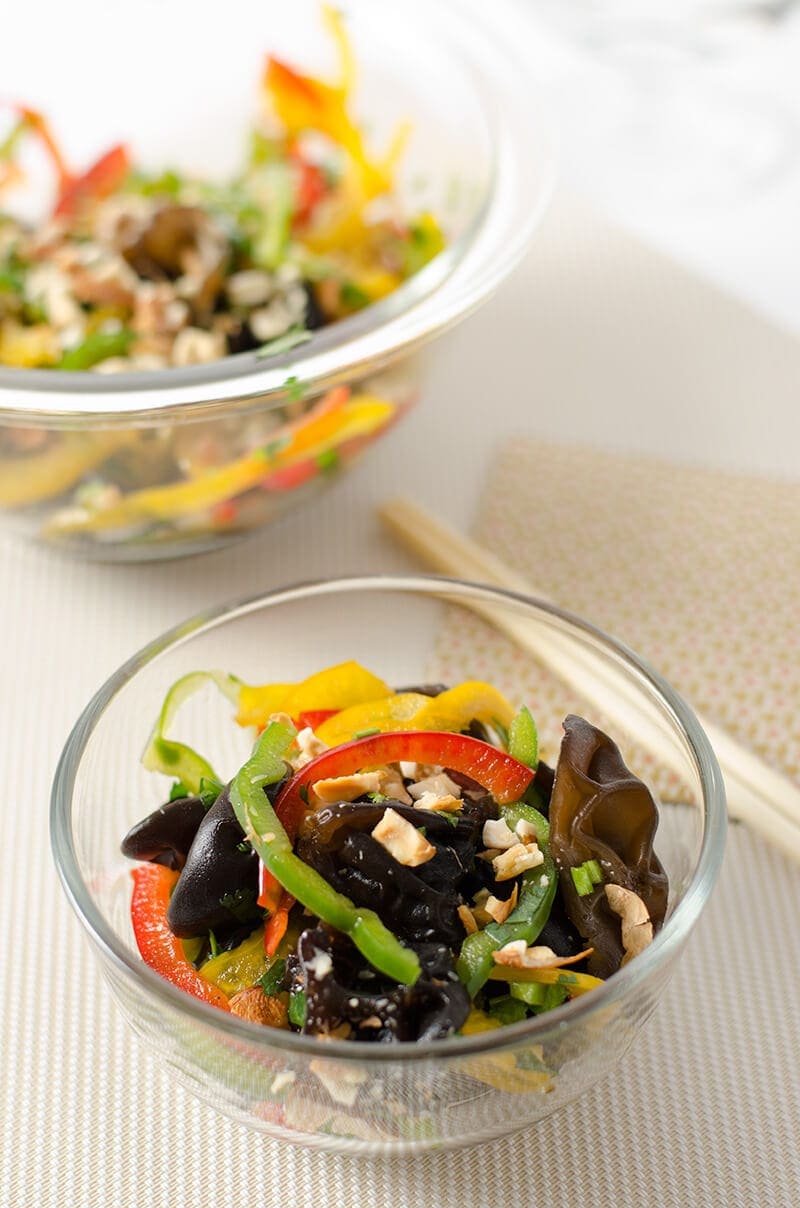 Want to Know More?
Receive our 5-Day Chinese Cooking Crash Course & Recipe Updates! Subscribe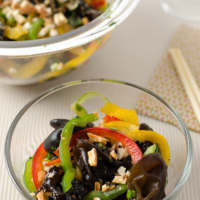 Black Fungus Salad (凉拌木耳)
Ingredients
1 1/2

cup

rehydrated wood ears

*see footnote 1 (or fresh mushrooms), washed and cut into bite sized pieces

2

tablespoons

light soy sauce

2

tablespoons

Chinkiang vinegar

or other Chinese black vinegar

1

teaspoon

sugar

1

teaspoon

sesame oil

1/2

green bell pepper

sliced

1/3

red bell pepper

sliced

1/3

yellow bell pepper

sliced

1/4

cup

cilantro

chopped

1/4

cup

almond

smashed
Instructions
Bring a medium-sized pot of water to a boil. Add wood ear mushrooms and cook for 2-3 minutes (*see footnote 2). Turn off heat and transfer wood ears to a colander. Rinse with tap water and drain. Set aside.

Combine light soy sauce, Chinkiang vinegar, sugar, and sesame oil in a small bowl. Stir well.

About 10 minutes before serving (*see footnote 3), add wood ear and all the bell peppers into a large bowl, pour in sauce, and top with cilantro and smashed almonds.

Mix well and serve as an appetizer or a side.
Notes
(1) You can use dried wood ear mushrooms. For rehydrating wood ears, soak dried wood ears in warm water for 1 hour or in cold water overnight. The texture of the wood ears will be better if rehydrated in cold water for over 6 hours. Click here for more information on how to prepare wood ears.
(2) It always safer to slightly cook wood ears before serving. Although rehydrated wood ears are edible, the sometimes contain dirt and could have been polluted during the dehydration process. Boiling will help sanitize the wood ears without changing their texture or flavor.
(3) Bell peppers will taste better after soaking in the sauce. However, if you mix in the sauce too early, the bell peppers will lose water and dilute the sauce.
The nutrition facts are calculated based on 1 of the 4 servings generated by this recipe.