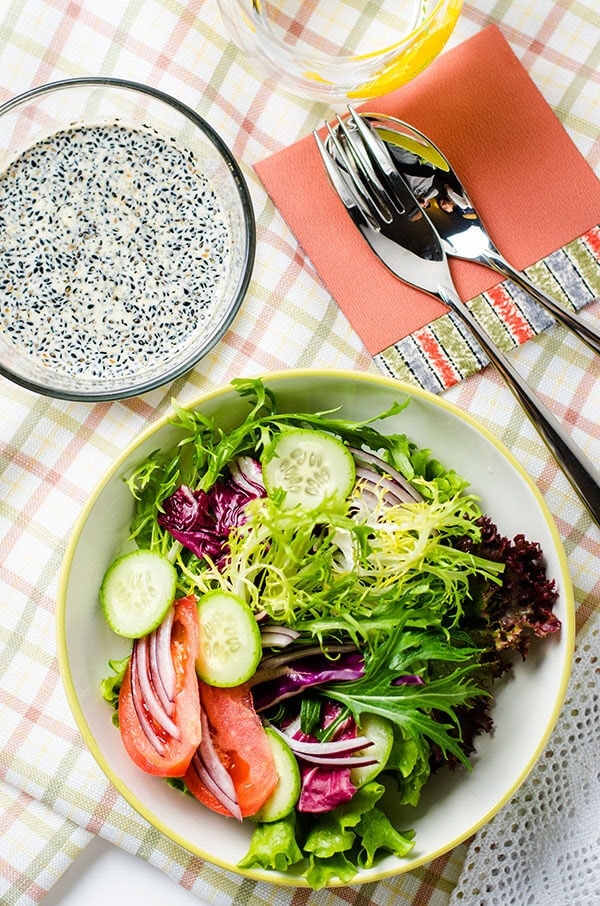 Black sesame dressing is a creamy sauce with a sweet, sour, and nutty flavor. It uses mayonnaise as the base, but the fruity vinegar gives the veggies a nice kick. I can devour a big bowl of salad in one sitting with this dressing!
Black sesame salad is a copycat recipe from one of my favorite Korean restaurants in Beijing. It was among the free appetizer dishes (banchan), but this one was different from the standard Korean cold appetizer. The first time I saw this dish, it seemed so plain, normal and huge. I didn't think I'd finish it because it didn't look special at all. It looked like any other lettuce salad with mayo, and there were two dishes of tender grilled beef waiting for me. But the first bite of salad totally blew my mind!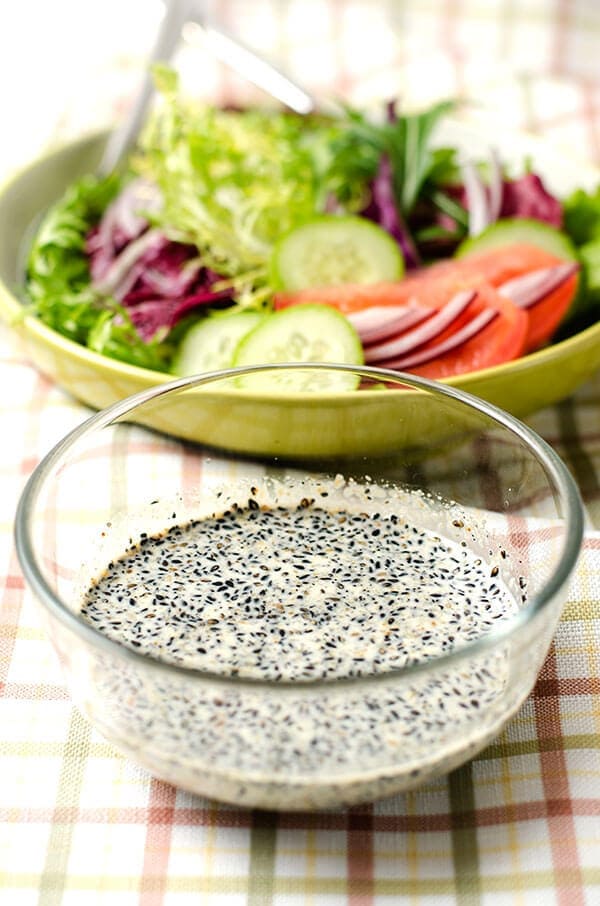 MY LATEST VIDEOS
The salad has a creamy texture and sweet flavor, just like sweet mayonnaise. But it also has a tangy, nutty fragrance from the toasted sesame seeds. Then I noticed the dressing had a pungent and sour flavor that was so appetizing that I couldn't stop eating until I had cleared the whole plate and wanted more!
I jotted down some notes on the flavor immediately, because I had to recreate it at home!
The cooking process didn't take too long. I started with a small batch, adding a drop of vinegar, a dash of sesame seeds, a pinch of salt and sugar. After a bit of tweaking and tasting, I figured out a good ratio of ingredients to create a very similar flavor to the one I had in that restaurant. Not identical, but close enough.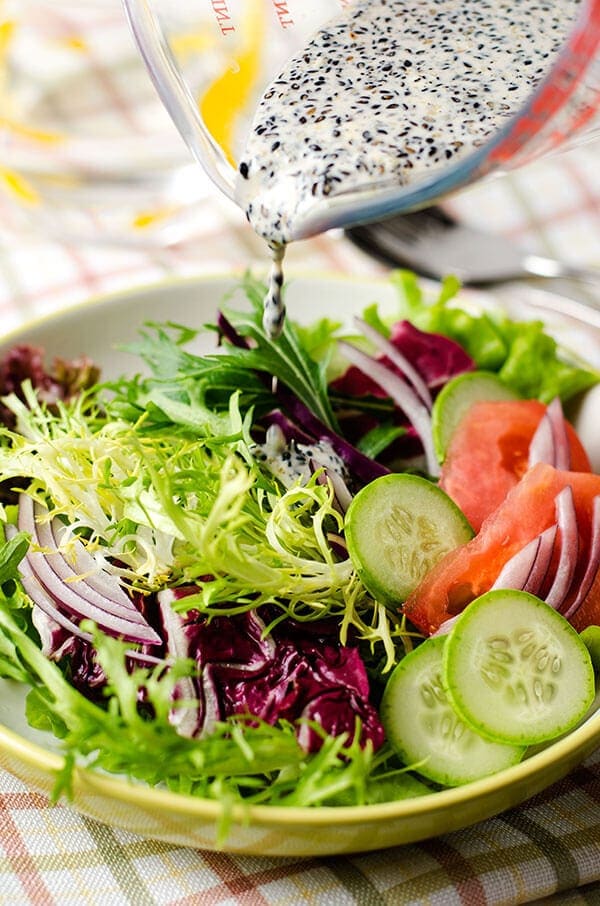 Highlights of This Recipe
Toasting cooked sesame seeds brings out great flavor. Although I used cooked sesame seeds in this recipe, I found that toasting them again helps to bring out a fresh nuttiness. To toast sesame seeds on the stovetop, cook them slowly on medium or medium low heat. It will take a few minutes and you should stand near the skillet to make sure they are cooked through without getting burnt.
Blend in sesame seeds gradually. I used 2 tablespoons of sesame seeds in this recipe because I wanted a strong nutty flavor. But if it's your first time trying this dish, use half the amount and gradually increase it to find your perfect balance.
The key is to create a balanced dressing that is creamy, sweet and sour. I used Japanese mayonnaise, apple cider vinegar, and sugar. If you use another type of mayo and the salad turns out a bit too sour, simply add some more sugar.
The dressing is simple and good to go with nearly any green salad. My favorite way is to grab a mixed salad from the supermarket and add a few more items on top. It's quick and easy!
Blend in the sesame right before serving, even if you make the salad ahead of time.
Try this dressing with roasted sweet potato and pumpkin. It will blow your mind!
I don't suggest you store the leftover dressing (you probably won't have any left, anyway!).
I consider this to be on the healthy end of the dressing spectrum. Although it contains mayo, the amount is moderate and one serving contains about 100 calories. I feel guilt-free pouring plenty of this dressing on my salad!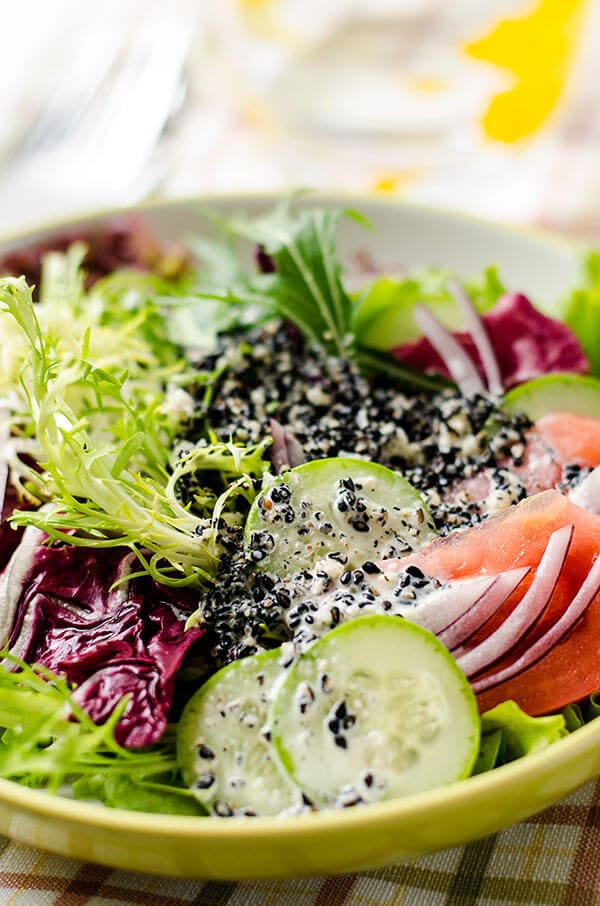 Print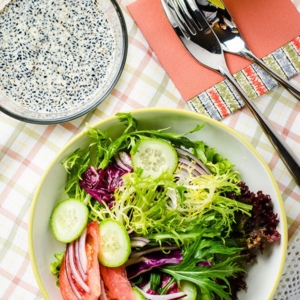 Black Sesame Salad Dressing
---
Author:

Prep Time:

10 mins

Cook Time:

5 mins

Total Time:

15 mins

Yield:

2-4

Category:

Side Dish

Cuisine:

Korean
Description
The recipe yield 1/3 of a cup of dressing.
---
Ingredients
2 tablespoons cooked black sesame seeds
3 tablespoons mayonnaise
3 tablespoons apple cider vinegar
1 tablespoon sugar
1/4 teaspoon salt
1 large clove garlic
4 cups mixed green salad to serve with (*see footnote)
---
Instructions
Heat a nonstick skillet over medium low heat and add black sesame seeds. Cook and stir occasionally until fragrant, in 5 to 8 minutes.

Transfer sesame seeds to a mortar and grind with a pestle until turned into coarse flakes.

Combine mayonnaise, vinegar, sugar, salt, and half the sesame seed flakes in a medium-sized bowl and mix well. Smash garlic into a paste and add it into the bowl. Taste the dressing and add more sesame seeds if you prefer it a bit nuttier. Mix well and let it stand for 10 minutes.

Wash and prepare vegetables.
Drizzle dressing on salad before serving.
Notes
The salad dressing goes well with with various veggies. Common items in a Chinese salad include lettuce, tomato, red onion, cherry (or other) tomato, bell pepper, and egg. For a winter salad, I also like to add some roasted sweet potato or pumpkin strips.
The nutrition facts are calculated based on 1 of the 4 servings generated by this recipe.