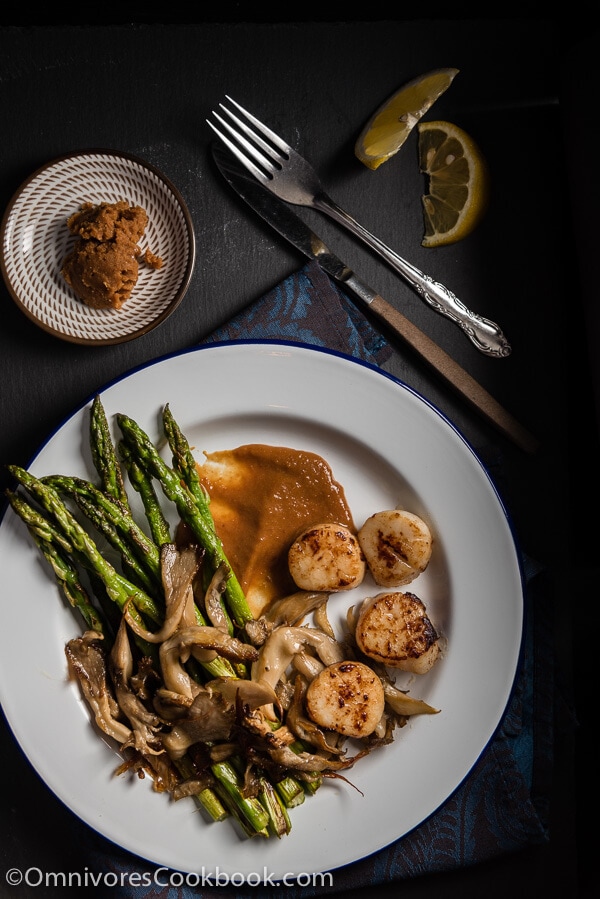 Miso butter scallops make a perfect appetizer for a celebration, romantic dinner, or party. The scallops are pan-seared until perfectly charred and served in savory, nutty miso butter with grilled asparagus and mushrooms.
Scallops are a delicacy that we only cook at home a few times a year. They are quite expensive to purchase, especially those of better quality. Just as when setting your mind to deal with a whole beef brisket, you'll go through countless recipes and make the tough decision of which to use. Plus, you'll continuously feel nervous that you'll do something wrong up until the point you get the dish done, properly. That's why when I received two packs of scallops from SizzleFish, I did quite a bit of brainstorming and research to determine how to serve them.
Long story short, I came across this pan-roasted asparagus with a poached egg and miso butter recipe from Momokufu, the famous book by David Chang and Peter Meehan. When I saw this simple yet scrumptious miso butter sauce, I knew it would go perfectly with pan-seared scallops.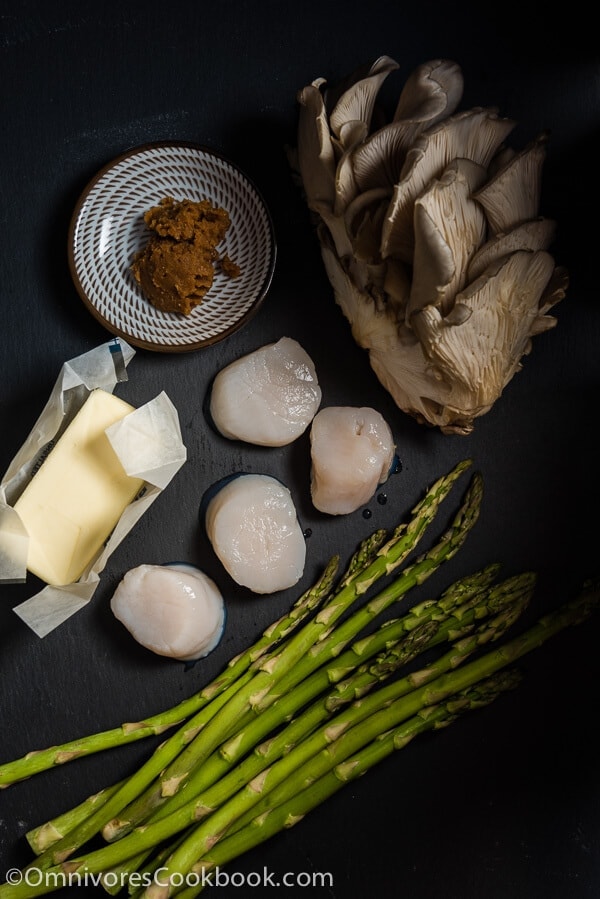 The outcome of the dish was excellent. The scallops were seared in butter until nicely browned, with a tender buttery texture and a hint of sweetness. The nutty, savory miso butter added depth of flavor and made the scallops stand out really well. Just as David describes in the book, you should always make more miso butter than you need and store the extra, because it makes everything taste better. Needless to say, it tasted wonderful on the grilled asparagus and mushrooms, too. The flavor combination of the dish was perfect, and we were craving more after scraping the last bits of sauce from our plates.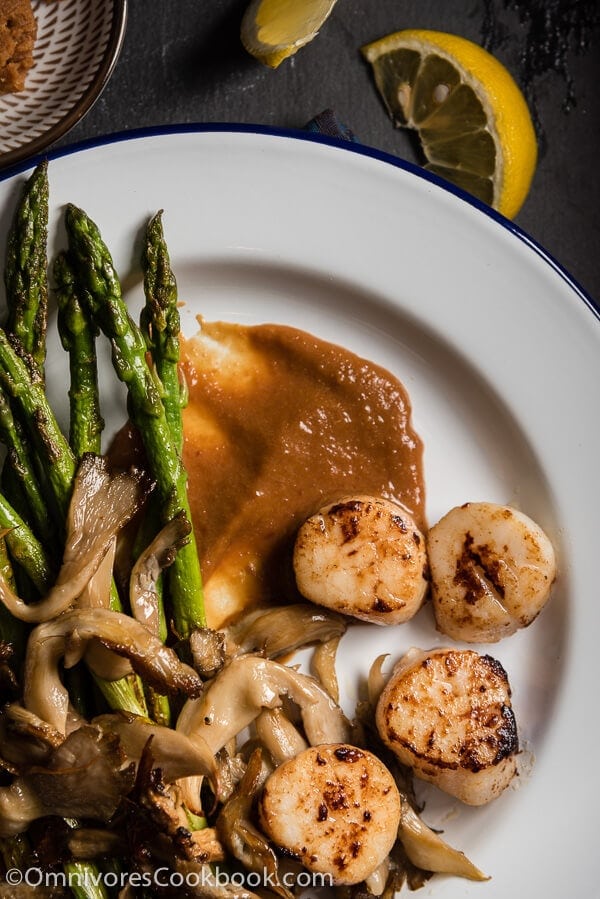 Dry packed scallops vs. wet packed scallops
If you decide to cook with scallops, no matter whether you're using this recipe or not, make sure to look for dry packed scallops. Short answer, they'll yield very tasty results without tasting "soapy".
Long answer, most scallops sold in the supermarket (in the US) are wet packed. This means the scallops have been soaked in a phosphate solution with other chemical additives to whiten the color and prolong the shelf life. Without proper prep, the cooked scallops will have a very unpleasant taste, almost like soap. Last time I was cooking with some really expensive scallops, they didn't turn out the way I like. I was wondering what I had done wrong!
Anyhow, it's quite difficult to find dry packed scallops in the supermarket, so I was very surprised to find that SizzleFish scallops are dry packed. Cooking with them is really easy. All you have to do is to melt butter in a hot pan and cook the scallops until charred. It yields tender scallops with a nice sweet aroma and a taste of the sea, just like the ones you'd find in an Italian restaurant.
On the other hand, if your scallops are wet packed, soak them in a solution of 1 quart cold water, 1/4 cup lemon juice, and 2 tablespoons table salt for 30 minutes before cooking. And you should not add salt to the scallops during or after cooking, otherwise they will turn out too salty.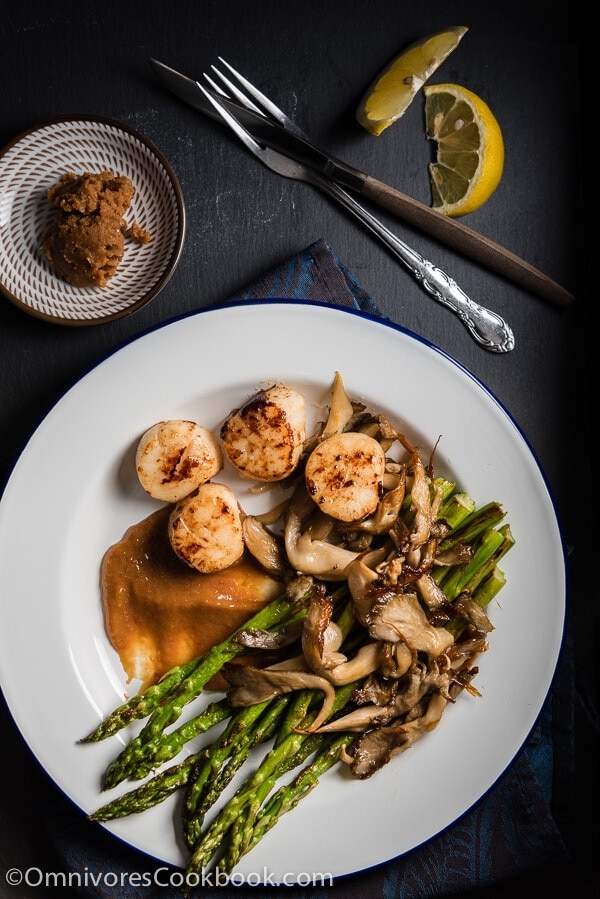 Want to Know More?
Receive our 5-Day Chinese Cooking Crash Course & Recipe Updates! Subscribe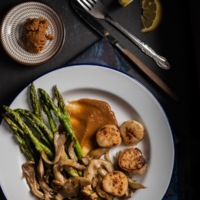 Miso Butter Scallop
Miso butter scallops make a perfect appetizer for a celebration, romantic dinner, or party. The scallops are pan-seared until perfectly charred and served in savory, nutty miso butter with grilled asparagus and mushrooms.
Ingredients
Miso butter
3

tablespoons

red miso

(*see footnote 1)

3

tablespoons

unsalted butter

room temperature

1/2

teaspoon

Japanese sake

1/2

teaspoon

balsamic vinegar
Ingredients
1

and 1/2 tablespoons

olive oil

1/2

pound (200 grams)

oyster mushroom

Sea salt

2

tablespoons

butter

1

pack (4 ounces / 110 grams)

SizzleFish scallops

1/2

pound (200 grams)

asparagus

2

wedges lemon
Instructions
Preheat oven to 450 degrees F (230 C).

To make miso butter: Combine miso and butter in a small bowl. Beat with spoon until the color becomes consistent.

Rinse and separate oyster mushrooms at the stem. Tear mushrooms into smaller pieces by hand. Dry completely with paper towel.

Line a baking tray with aluminum foil (or use a large metal baking dish). (see footnote 2)

Toss mushrooms with olive oil and lightly season with sea salt. Bake for 10 minutes. Toss the mushrooms again and continue baking until the mushrooms are nicely charred, about 15 minutes.

While baking the mushrooms, rinse asparagus and snap off the tough ends. Shave and discard the tough outer layer of each stalk with a peeler, about 1/3 to 1/2 of the way from the bottom.

Ten minutes before the mushrooms are done, heat the 1 tablespoon butter in a large skillet over medium high heat. When the butter is about to smoke, spread asparagus in the skillet without overlapping. Cook in small batches if the skillet won't fit all the asparagus. Cook until the bottom side is charred, 2 to 3 minutes. Lightly season with salt. Flip and turn to medium heat. Continue to cook until the asparagus is tender but not too soft. Transfer to a plate. Move the skillet off the stove to cool.

Heat rice wine and balsamic vinegar in a small sauce pan over medium heat until the pan is warm, about half a minute. Add miso butter and turn to low heat. Turn off heat when the butter is slightly loosened (but not melted), and remove the pan from the stove.

Add the remaining 1 tablespoon butter to the same large skillet and heat over medium heat. When the butter is about to smoke, add the scallops. Grill for 2 to 3 minutes, until the bottom side is charred. Flip and turn to medium low heat. Cook until the other side is charred, 2 to 3 minutes.

Add miso butter onto the serving plate, top with asparagus, mushrooms, and scallops.

Serve immediately with lemon wedges. Squeeze lemon juice and enjoy!
Notes
I did a bit of tweaking to the original recipe. Instead of white miso, I swapped it for red miso, which I alway have in my fridge. Because red miso has a deeper and stronger flavor, I increased the amount of butter to balance the sauce. If you want to follow the original recipe, use 1/4 cup white miso plus 2.5 tablespoons butter instead.
Using aluminum foil or a metal baking dish will char and crisp the mushrooms more quickly.
Nutrition
Serving:
333
g
,
Calories:
419
kcal
,
Carbohydrates:
15.2
g
,
Protein:
16.4
g
,
Fat:
34.9
g
,
Saturated Fat:
16.4
g
,
Cholesterol:
80
mg
,
Sodium:
433
mg
,
Potassium:
759
mg
,
Fiber:
3.9
g
,
Sugar:
8
g
,
Vitamin A:
1600
IU
,
Vitamin C:
18.2
mg
,
Calcium:
50
mg
,
Iron:
5.4
mg