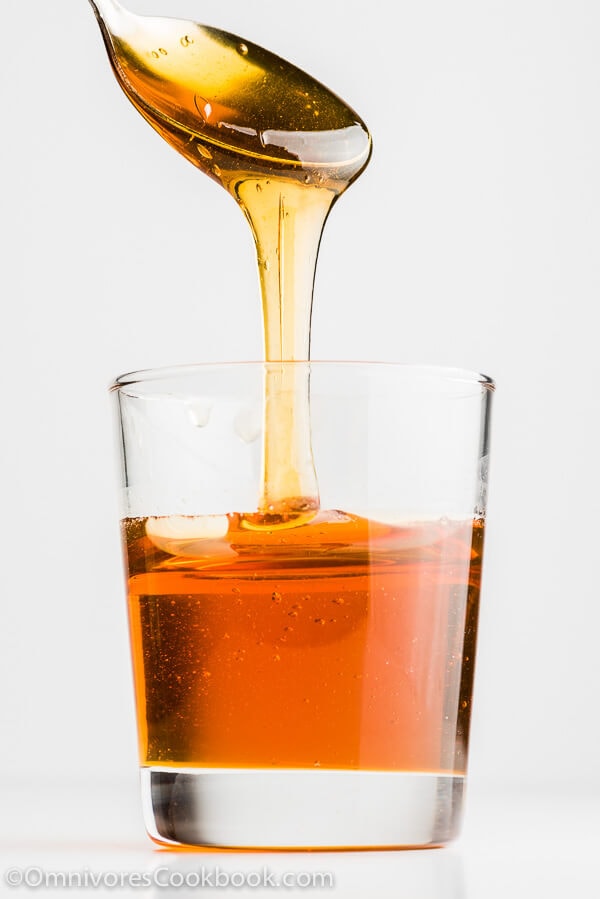 This homemade golden syrup recipe was created to be used for traditional Cantonese mooncakes and other Chinese desserts.
Golden syrup is a type of inverted sugar syrup used in traditional Cantonese mooncakes and lots of other Chinese desserts. It's a type of inverted sugar that has a beautiful amber color, a rich and fruity aroma, and a very creamy texture.
But what is inverted sugar?
According to Wikipedia, inverted sugar is a mixture of glucose and fructose. Compared to sucrose, the granular sugar we use every day, inverted sugar is sweeter. By adding inverted sugar to a dish, you prevent sugar in it from crystallizing.  Products made with it tend to retain moisture, have a tender texture, and thus have a better mouthfeel. It is an ingredient often used in bakery and pastry shops. It is also used in the process of making ganache, jelly, fudge, taffy, and ice cream.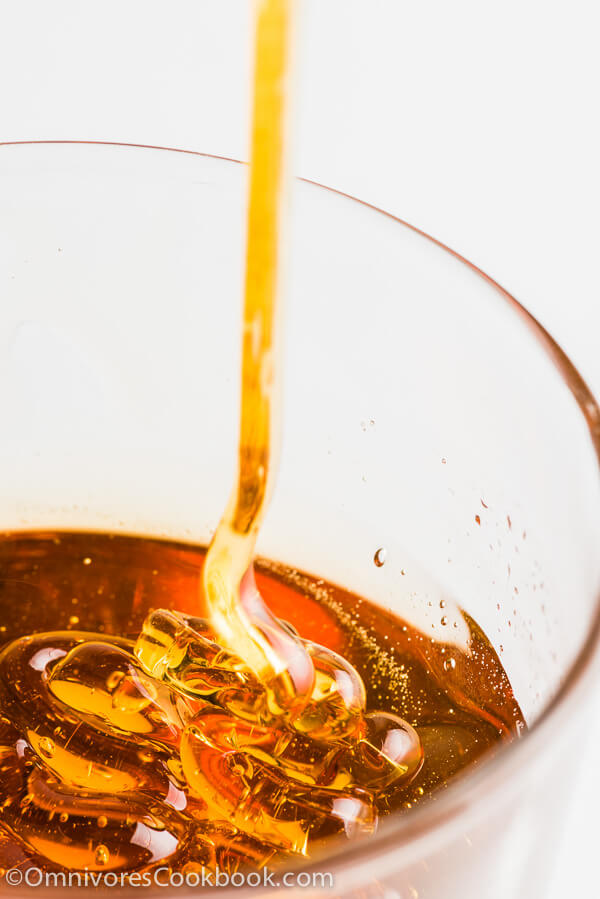 When I attempted to make mooncakes the first time. I purchased Lyle's golden syrup from Amazon. It is a great product, but quite pricey. After some research, I found it's very easy to make golden syrup from table sugar. It is a bit time consuming, but the process is very easy and the cost extremely low.
The logic is simple. If you add sugar into water and boil it long enough (40 to 60 minutes), the sucrose will be inverted and produce a golden colored syrup. This process includes introducing acid (lemon juice in this case). It speeds up the inversion process and prevents the sugar from crystallizing.
I used this homemade golden syrup to cook mooncakes, and the results were great, but the story doesn't end here.
When I was experimenting with two batches of mooncakes, one with homemade syrup and one with store bought syrup, I found a surprising result.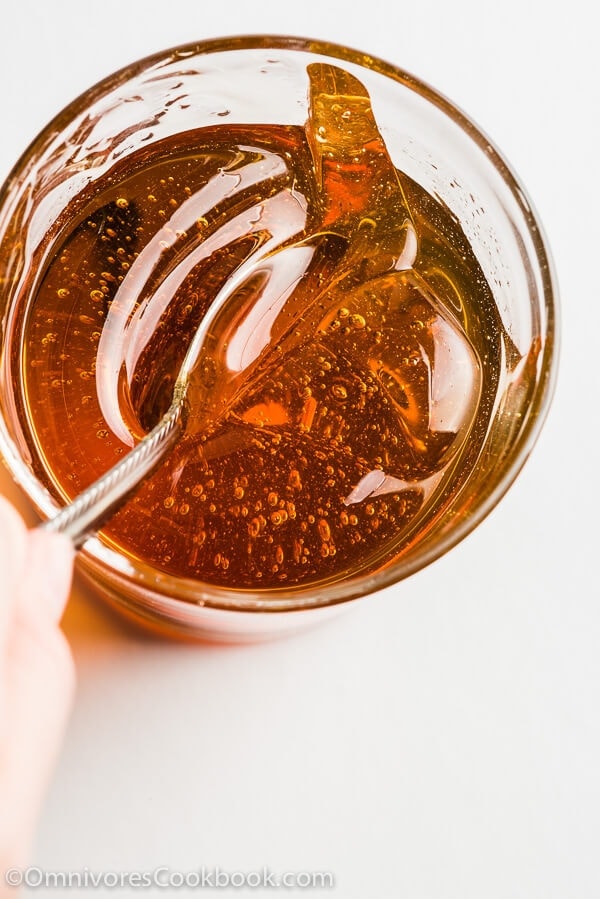 The difference between homemade golden syrup and store-bought
A quick introduction to making mooncake dough – it requires use of golden syrup and an alkaline solution (also called kansui). The golden syrup will create a tender and moist cake which keeps its shape despite being paper thin, and can be shaped into delicate patterns (those you see on the beautiful traditional mooncakes). Kansui is used to neutralize the acid that is introduced by the golden syrup, resulting in a sweet pastry with no sourness. The amount of kansui also determines the tenderness and color of the cake (light yellow to dark brown), and slightly increases the fluffiness of the cake without causing it to rise too much.
When I started using homemade golden syrup to make mooncake dough, I found the syrup emulsified once it was introduced to the alkaline solution. Later on, I learned that this emulsification is actually an important step in dough making. It didn't happen when I used the store-bought golden syrup.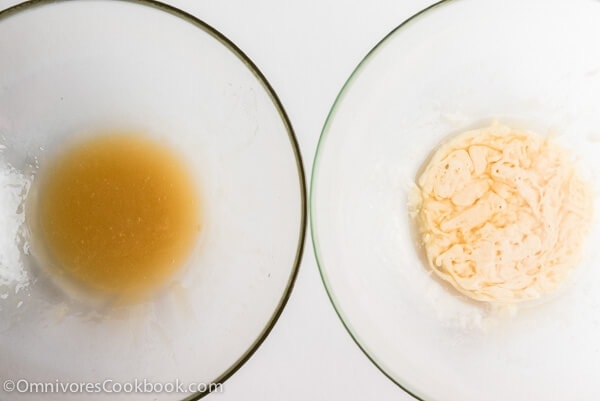 So I checked the label on the bottle of syrup. It contains only cane sugar. Then I found out there are two ways to make golden syrup. It can be made (1) in the process of refining sugar cane or sugar beet juice into sugar, or (2) by treatment of a sugar solution with acid (from Wikipedia). Evidently, the store-bought golden syrup is made by the former method, and the homemade one takes the latter approach. The commercially prepared syrup does contain acid, but the amount is very low, only 0.1%. The homemade syrup has a much higher acid content.
What matters here, is since store-bought golden syrup contains much less acid, there is no reason to use a lot of alkaline water to neutralize it. When I thought back, I found that the mooncake batches made with store-bought golden syrup had a darker color, which would logically result from adding too much alkaline solution.
A darker colored mooncake is not necessarily a bad thing. But please note, homemade golden syrup has different contents than a store-bought one. When you are using a mooncake recipe that includes store-bought golden syrup, using a homemade one might yield a lighter color.
The other thing you need to note, is that while you're cooking golden syrup, the inversion percentage of sucrose varies depending on the temperature of the sugar solution. To make mooncakes, the golden syrup needs to register 230 to 239 degrees F (or 110 to 115 degrees C) at the end of boiling. However, even if your golden syrup registers within this range, the water percentage will vary (from 15% to 25%), which might require some adjustment to the amount of flour added to the mooncake dough.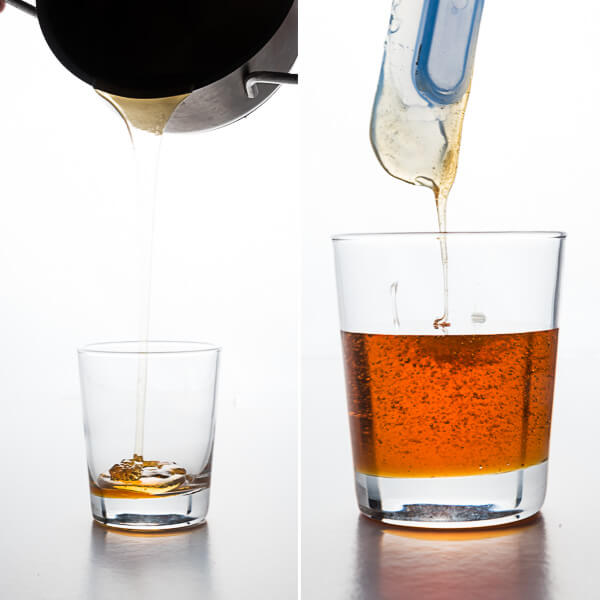 That's it. I hope this doesn't sound confusing or complicated. The truth is, as long as you follow the instructions below, you will get a rich and fruity syrup that will allow you to create beautiful mooncakes.
Want to Know More?
Receive our 5-Day Chinese Cooking Crash Course & Recipe Updates! Subscribe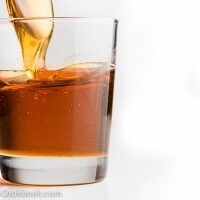 Homemade Golden Syrup (转化糖浆, Invert Sugar Syrup)
This homemade golden syrup recipe was created to be used for traditional Cantonese mooncakes and other Chinese desserts.
Ingredients
50

ml (1/4 cup)

fresh lemon juice

, strained (from 1 big lemon)

400

grams (2 cups)

caster sugar

200

ml (3/4 cup plus 2 tablespoons)

filtered water

, and more to brush on the pot
Instructions
Juice one big lemon. Drain lemon juice through a coarse strainer, discard the seeds and fruit bits. Place a funnel (or the funnel part of a coffee machine) over a cup and line a coffee filter inside. Pour in lemon juice and let drain. If the coffee filter gets clogged, change to a new filter. Alternatively, you can use several layers of cheesecloth or a fine strainer to drain the lemon juice. Measure 50 milliliters lemon juice in a bowl. Set aside.

Prepare a cup of filtered water and a silicon blush.

Combine caster sugar and 200 milliliters filtered water in a small stainless pot (or ceramic pot). The deeper the pot, the better. (*see footnote 1) Do not use a pot made of aluminum or cast iron. Heat over medium heat until bringing to a boil.

Add lemon juice. Keep cooking until it reaches a boil again. Turn to low heat and let the solution simmer. I used a heat level of 2.5 out of 10 on an electric stove. (*see footnote 2)

Do not stir the syrup from this point forward.

While simmering the sugar. Dip a basting brush in water and brush along the walls of the pot to let the water run down into the syrup. This helps prevent the sugar from crystallizing along the walls of the pot. You might only need to do this at the beginning of the cooking.

Check on the syrup every 10 minutes during simmering. If you notice any crystal-like masses appearing on the walls of the pot (close to the surface of the syrup), brush water over the mass to dissolve it and let it run down into the syrup.

It takes 40 minutes to 1 hour to cook the syrup. Keep close watch after 35 minutes. You should notice the color of the syrup turning darker and more bubbles appearing on the surface in the last 10 minutes of cooking. The pictures below shows the the syrup after 30 minutes and 40 minutes of simmering.

When the syrup color turns amber, measure with a clean thermometer. The temperature should register 230 to 239 degrees F (or 110 to 115 degrees C). It took me 54 minutes to simmer the syrup. (*see footnote 3)

If the temperature of the syrup raised too fast while its color still pale, you can add more water and let simmering a bit longer.

When the syrup is done, remove pot from heat and let cool completely.

Transfer the golden syrup to a clean, airtight jar and store in room temperature. If you sanitize the jar, the golden syrup can be stored up to a year.

The golden syrup will be ready to use after 24 hours. The taste gets much better after 2 to 3 days. The bubbles will disappear and the sourness will reduce significantly, thus producing a fruity aroma and more concentrated flavor.
Notes
The syrup will thicken and make a lot of splatter on your stove if you use a shallow pot.
It's very important to let the syrup cook slowly so the water won't evaporate too quickly. The longer you cook the syrup, the darker it will become, and the more sugar will be inverted. If you let the water evaporate too quickly, you will end up with a lighter syrup.
I highly recommend you use a thermometer during the cooking process. The syrup thickens relatively quickly towards the end of the cooking, and it's very difficult to tell when it's done by simply observing the color. The color of the syrup should reach a golden amber that is not too dark. And you're looking for a texture that is very runny and thinner than honey. The texture will thicken a lot as the syrup cools down. And it will become even thicker after two days.