My galbi marinated steak recipe gives you the super succulent and juicy, slightly sweet beauty of the Korean BBQ classic in a format you can cook with a grill or skillet, and it's even great with the more affordable cuts! It's perfect for weekend dinner guests or a date night at home.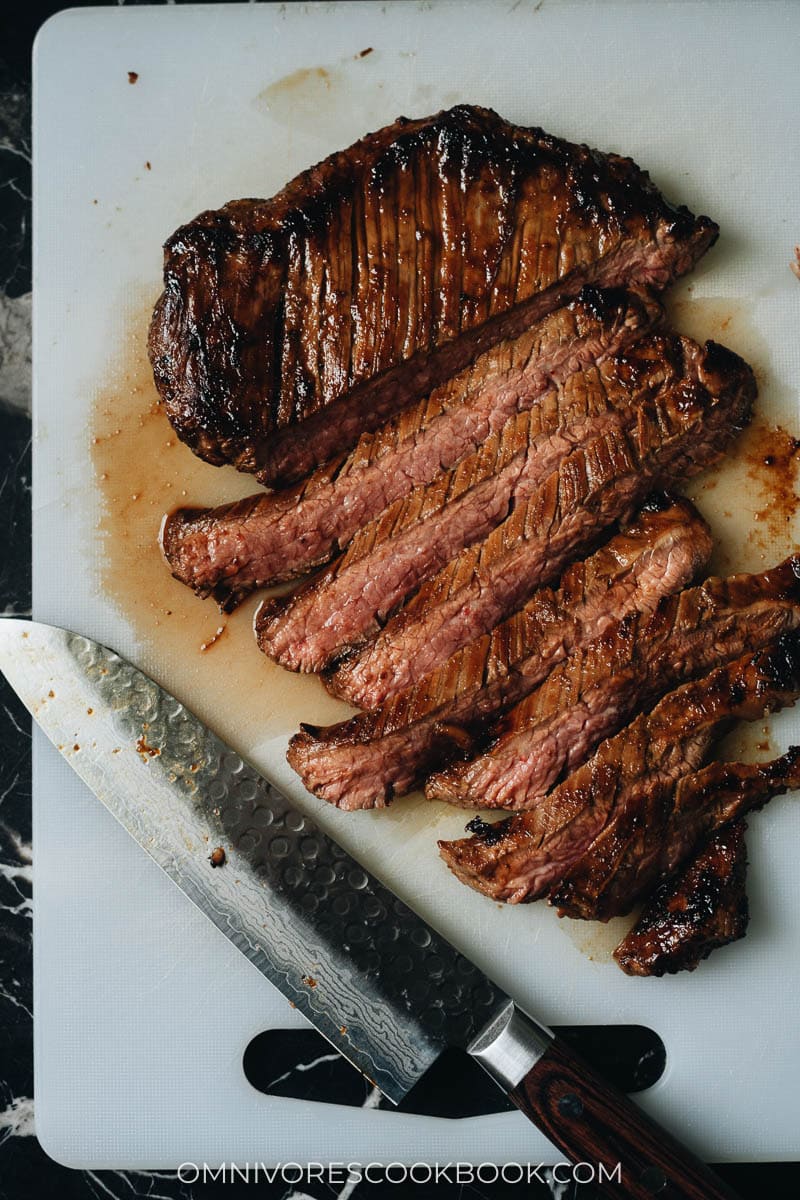 Galbi Marinated Steak: A Korean BBQ Classic
If you've ever been to a Korean BBQ restaurant, perhaps you've had the chance to try galbi. Sometimes spelled "kalbi," this popular Korean dish is made with a sweet yet savory marinade that renders short ribs ultra-tender. Finished up on a charcoal grill, this signature taste of Korea is one of the most popular dishes you'll find on the menu at Korean BBQ.
This galbi marinated steak recipe is my tribute to this scrumptious dish. It uses the delicious marinade from Korean galbi on your choice of flank or skirt steak, making for a delicious summer grill-out or steak dinner with zero fuss.
Kiwi in the Marinade Tenderizes and Adds Flavor
With Korean galbi, Asian pear is used to add a fruity flavor and natural sweetness. In this galbi marinated steak, I used kiwi instead. Kiwi has a type of enzyme that naturally tenderizes the steak. I prefer using it on less marbled cuts of beef so that it becomes more tender.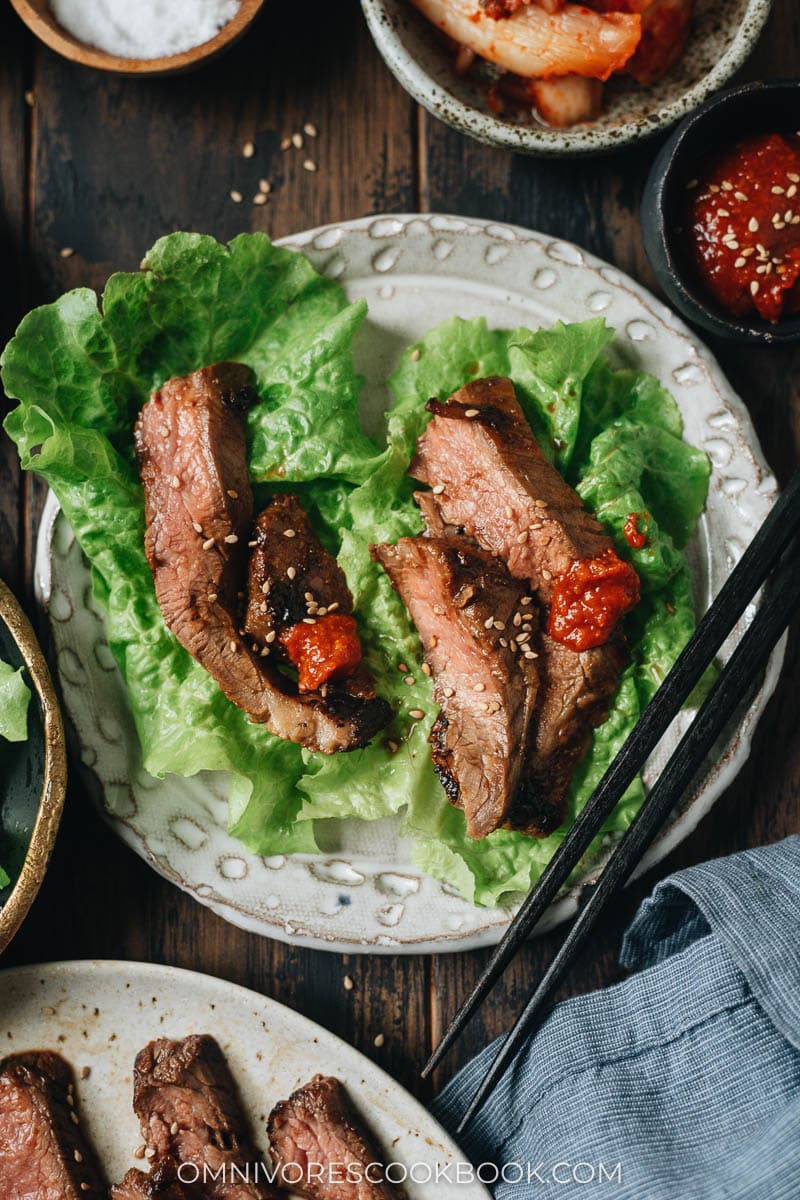 Wrap it Real Nice
I haven't included the lettuce wraps in the recipe below, but this steak is just perfect in a Korean BBQ style lettuce wrap.
Find some nice green leaf lettuce and break the leaves apart so you can wrap one or two pieces of steak in there.
For the sauce, ssamjang is the classic, but I used a mixture of gochujang and doenjang. You can actually use any kind of sauce that you'd normally enjoy with a steak.
Just be careful with how much sauce you add – you don't want to overpower the lovely taste of the galbi!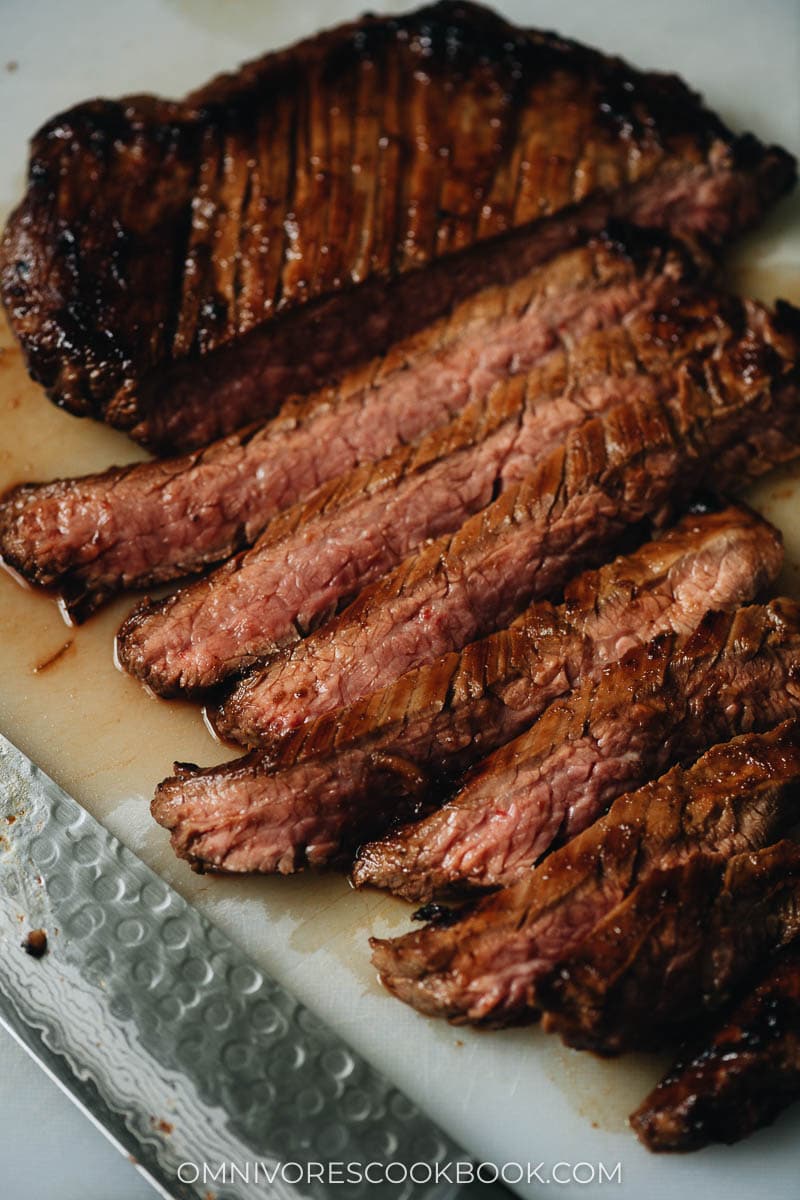 Tips on Marinating
While you can marinate it up to 24 hours, the trick is not to go beyond that. Otherwise your galbi marinated steak will fall apart. I usually prepare it in the morning, pop it in the fridge, and then cook it that evening.
Of course, you can speed things along by marinating the steak at room temperature for about 2 to 3 hours though going this route, I wouldn't marinate galbi marinated steak for more than 12 hours.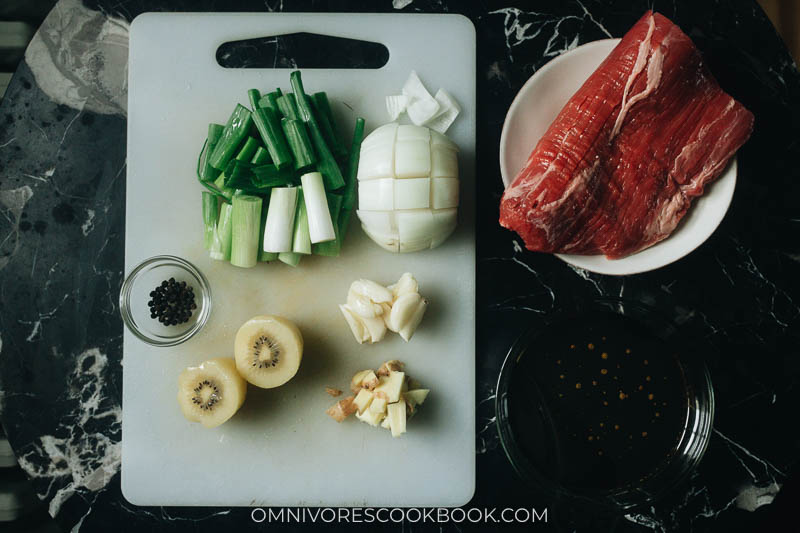 Alternatives and Substitutions
No Kiwi? Try Pear or Apple!
The kiwi is the best way to make your galbi marinated steak nice and tender but you can also use half of an Asian pear or an apple to get that sweetness. The marinade also uses onion, ginger, garlic, green onions, black peppercorns, and sesame oil, and they all help carry the flavor of the dish.
Soy Sauce, Sugar, and Mirin Options
Light soy sauce is called for but you can use regular if that's all you have. Brown sugar adds some more sweetness and helps get that charcoal perfection though honey works just as well. And if you don't have mirin, feel free to use sake or Korean soju instead.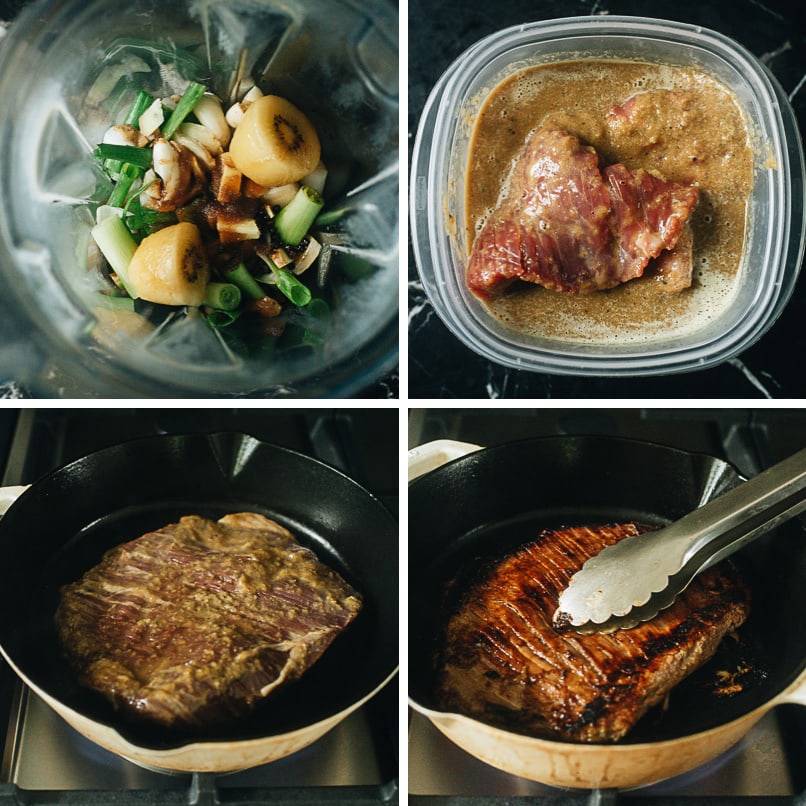 The Skillet is Just as Nice as the Grill
And if you don't have a grill to finish your galbi marinated steak on, you can just use a skillet over high heat. The results will be just as delicious! Serve it by carving it up and topping it onto a bowl of rice or noodles, or do it the way they do in Korea by wrapping the meat in lettuce leaves with a dollop of ssamjang (a thick and spicy Korean BBQ paste) or your favorite hot sauce.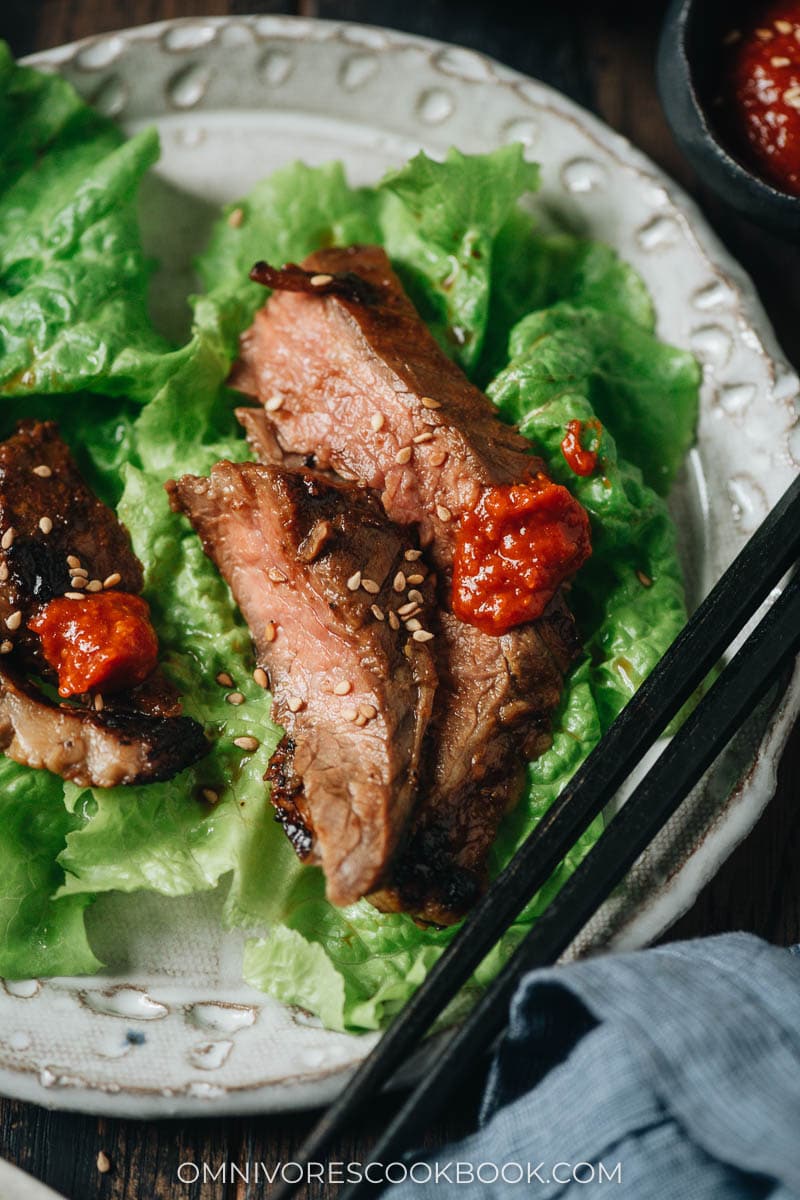 Want to Know More?
Receive our 5-Day Chinese Cooking Crash Course & Recipe Updates! Subscribe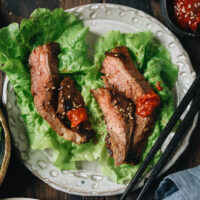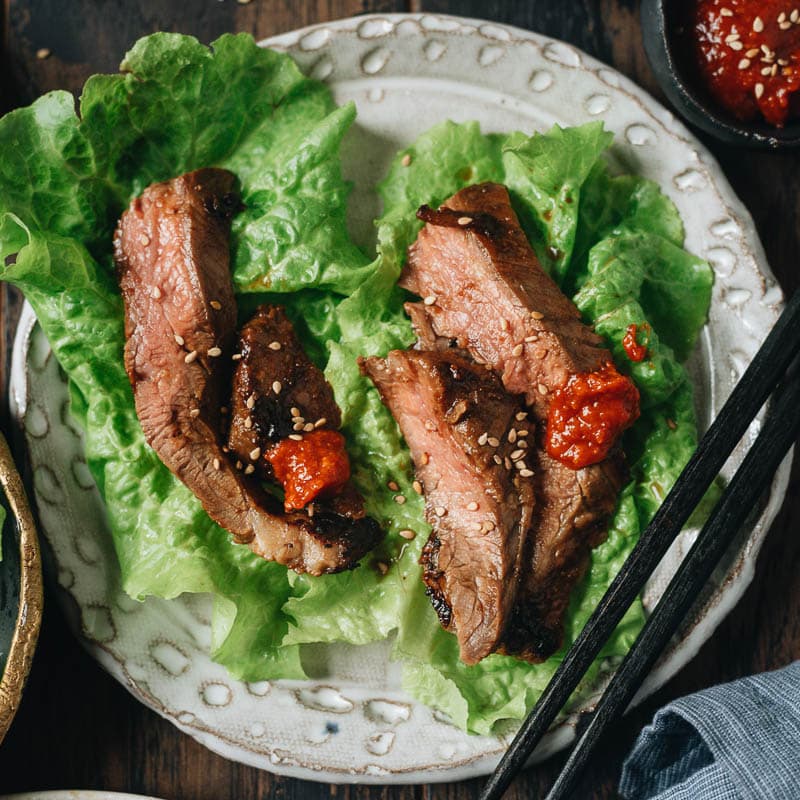 Galbi-Style Marinated Steak
My galbi marinated steak recipe gives you the super succulent and juicy, slightly sweet beauty of the Korean BBQ classic in a format you can cook with a grill or skillet, and it's even great with the more affordable cuts! It's perfect for weekend dinner guests or a date night at home.
Ingredients
1

(12-16 oz / 340 g-450 g)

flank steak (or skirt steak)

1

teaspoon

canola oil
Marinade
1

kiwi

, peeled (or 1/2 an asian pear or apple, core removed)

1/2

onion

, chopped

1/2

" (1 cm)

ginger

, chopped

4

cloves

garlic

, smashed

2

green onions

, chopped

1/2

teaspoon

black pepper

3

tablespoons

brown sugar

(or honey)

1/4

cup

mirin

(or soju, sake)

1/4

cup

light soy sauce

(or regular soy)

2

tablespoons

sesame oil
Instructions
Add the marinade ingredients in a blender or food processor. Blend on high until mostly smooth.

Place the steak in a ziplock bag or tupperware container. Pour the marinade over the flank steak. If using a bag, squeeze out as much air as possible then seal it. Marinate for a minimum of 1 hour at room temperature, or up to 24 hours in the fridge. Be careful not to over marinate when using kiwi, the fruit can begin breaking down the meat if left too long. (*Footnote 1)

(Optional) If you store the steak in the fridge, move it to room temperature about 30 minutes or so prior to cooking, so the steak will return to room temperature.

Transfer the marinated steak into a big plate without wiping off excessive marinade liquid from its surface. Preheat a grill or a skillet over high heat until smoking and add the oil. Carefully add the steak. Cook without moving for 3 to 5 minutes, or until the bottom turns golden brown. Flip and cook the other side for another 3 to 5 minutes for a medium-rare steak. Transfer the steak to a big plate and let rest for 10 minutes before carving.

Slice thinly against the grain and serve as a main dish. (Footnote 2)
Notes
If you plan to make the dish the same day, I highly recommend marinating the steak 3 to 4 hours ahead of time at room temperature. It gives the steak a good amount of time to be seasoned without breaking down too much.
You can also serve the meat the Korean BBQ style, with lettuce and Ssamjang.
Nutrition
Serving:
1
serving
,
Calories:
187
kcal
,
Carbohydrates:
3.1
g
,
Protein:
23.9
g
,
Fat:
8.2
g
,
Saturated Fat:
3.1
g
,
Cholesterol:
47
mg
,
Sodium:
306
mg
,
Potassium:
296
mg
,
Sugar:
2.1
g
,
Calcium:
14
mg
,
Iron:
2
mg
More Asian Grilled Goodies
Lilja Walter is a part of the Omnivore's Cookbook team and worked closely with Maggie to develop and test this recipe.