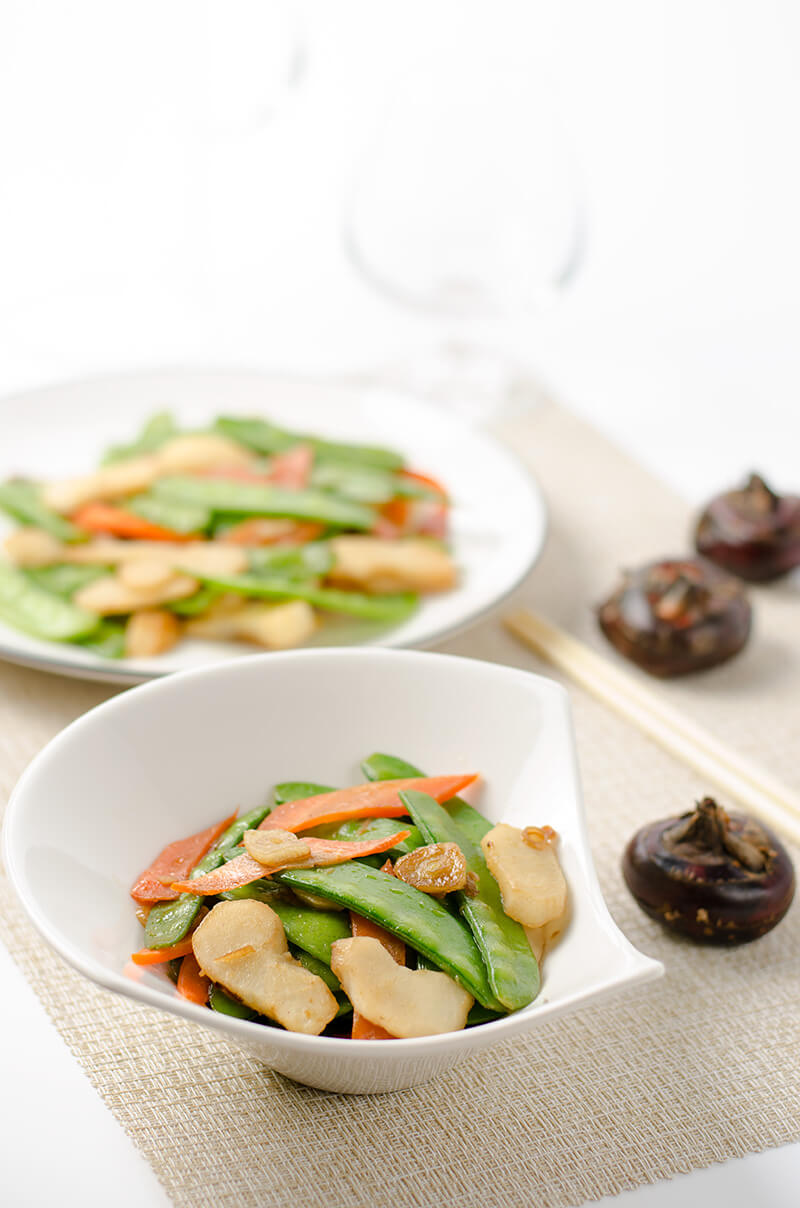 Stir-fried snow peas and water chestnuts is one of my favorite spring vegetable dishes. It's colorful, with vibrant green, orange and white. It's sweet, like the fragrance of newly blossomed flowers. It's crispy, like the warm wind that touches my face.
The other great thing about this dish is that it's super easy to prepare and cook. Don't believe me? Check out the video above and you'll know I'm right.
Moreover, this dish also has quite a few health benefits. It contains no cholesterol, is high in dietary fiber and very high in vitamins A, B6 and C.
Somehow, it reminds me of the good old days in Japan when I used to enjoy this dish. Maybe it is because of the color. It does resemble the bright red shrine, white cherry blossoms and green grass.
Back then I would usually travel along with a not-so-good point-and-shoot camera. The quality of the photos I took might be not as good as nowadays, but I miss the time when I had few travel experiences and everything seemed new and exciting.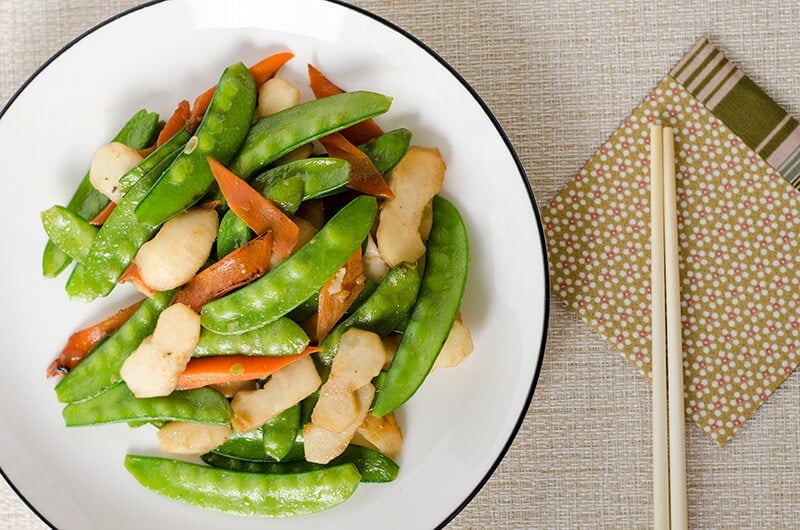 Back to the dish. Although the stir fried dish is very simple, you still need to be careful about the doneness of each of the vegetables. Since the carrot is slightly more difficult to cook through than the water chestnut and the peas, you should add it first, to cook it a bit longer. Another thing to take note of is, do not over stir fry the vegetables. The vegetables should taste soft but still be crispy. They should be sweet, without any raw grassy flavor.
The ratio of snow peas, water chestnuts and carrots is not so strict. But since snow peas are more difficult to infuse with flavor during stir frying, limiting the amount of water chestnuts and/or carrots to half of the dish will result in a tastier dish.
If you're reading this post from an RSS feed or email, you might not able to see the video. You can watch the cooking video on my YouTube channel.
What's your favorite spring vegetable? Leave a comment below to share it with us! 🙂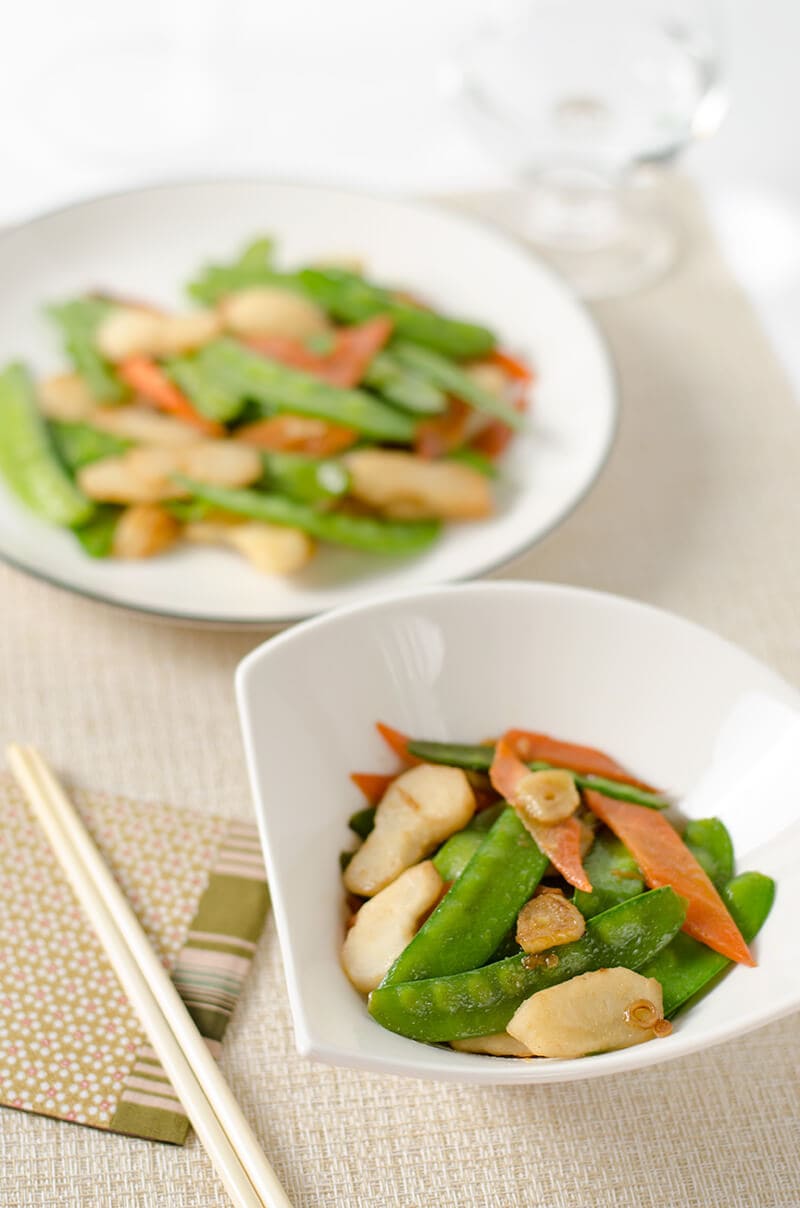 Want to Know More?
Receive our 5-Day Chinese Cooking Crash Course & Recipe Updates! Subscribe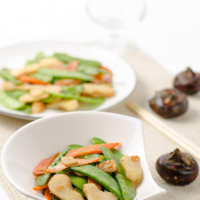 Stir-Fried Snow Peas and Water Chestnuts
Ingredients
1

tablespoon

peanut oil

3

cloves

garlic

sliced

1

small carrot

sliced

1.5

cups

water chestnuts

peeled and sliced

2

cups

snow peas

1

teaspoon

salt
Instructions
Heat a non-stick skillet on medium high heat, add peanut oil. When oil is hot, add garlic and stir until fragrant. Add carrot and keep stirring until carrot is half cooked, around 40 seconds. Add water chestnuts and snow peas, keep stir frying for around 2 minutes. Add salt and stir for another 1 minute, until all vegetables are cooked through but still crispy.

Place all vegetables on a plate and serve while warm.
The nutrition facts are calculated based on one of the two servings produced by the recipe.