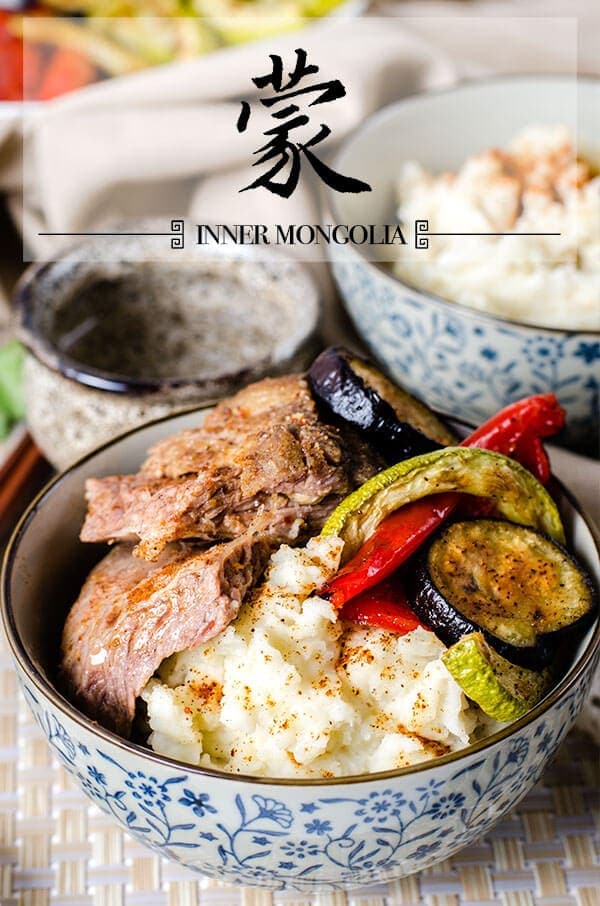 The lamb is nicely charred and crispy on the surface, its meat tender and moist. The simple cumin and chili seasoning brings out the aroma of the lamb without tasting overwhelming. Your kitchen will get messy but smell heavenly!
Mongolian Food – Lost in Translation
You might have heard of or tried a dish called Mongolian beef, but this Mongolian lamb or any authentic Mongolian dish is nothing like it.
Seasonings of real Mongolian food are very simple and minimal. Salt and pepper are commonly used, sometimes with the combination of cumin powder and chili flakes. When we are talking about Mongolian food in the context of China, we often refer to Inner Mongolia, an ethnically Mongolian province of China that borders the country of Mongolia. Its food and seasonings are also affected by the rest of China.
For the main ingredients of Mongolian food, mutton and lamb will be at the top of the list, way above other meat, such as beef and chicken. Other important ingredients in daily life also include flour and milk, with very limited amounts of vegetables. When it comes to cooking, roast whole lamb, roast lamb leg, and naan bread are the most popular and commonly known items. Compared to mainstream Chinese food, Mongolian style roasting often features bigger cuts and larger chunks of meat.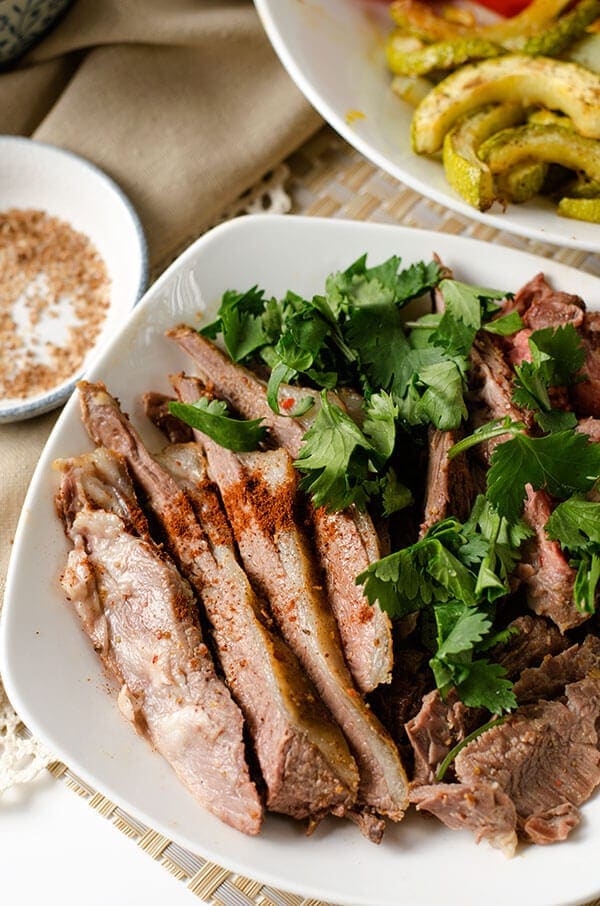 Hunting for the Right Cut
Expats in China are often annoyed that they cannot find the right cut of meat for a decent steak or lamb chop, as Chinese butchers generally cut meat differently from Western butchers. I face the same problem even when cooking Chinese food.
When I was trying to find lamb shanks at local markets, I came home disappointed and empty handed a few times. There was one time I even hunted down a halal butcher next to a small hidden mosque. I found that their lamb cuts were still very huge, with thick and tough meat. Later on, I realized that people here tend to raise the lambs to a bigger size, in order to get more meat.
Don't get me wrong, you can still find nice lamb chops if you're in a fancy neighborhood. But I found it's much easier to get a cut of lamb spare ribs at the average supermarket, as it's way cheaper.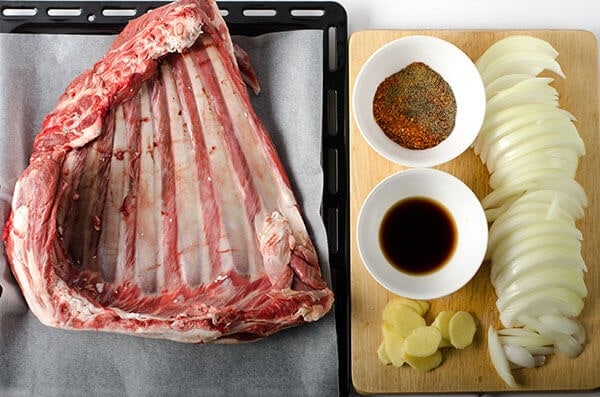 It might be difficult to judge the size of the piece of lamb above, but it weighs 1.5 kilograms (3.3 pounds)! Can you imagine how tough the meat was? Continue to read and you will find out how to tackle this problem!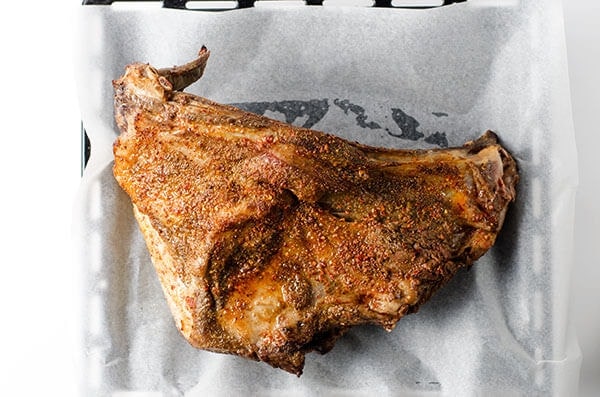 Lamb meat is wildly popular in China and we simply don't have enough pastures to raise the sheep. As a result, lamb meat is pricey and sometimes difficult to get (I don't even want to start on the topic of the rampant fake lamb meat). You can find the most common cuts in a big supermarket (in Beijing), which normally includes lamb leg, spare ribs, and lamb breast (because there is a conspiracy theory that the restaurants get all the good parts first…just kidding. I hope!).
Cooking and Tips
Today, I want to introduce a Mongolian-style dish that uses chili and cumin to season and roast a whole piece of lamb spare ribs.
To specify the cut, the spare ribs I'm using here are a Chinese style cut, which contains both the bone-in breast and most of the rack (in the US terminology). In China, we usually separate the entire backbone and cook it in a stew. The backbone is a popular cut (羊蝎子, yang xie zi) here.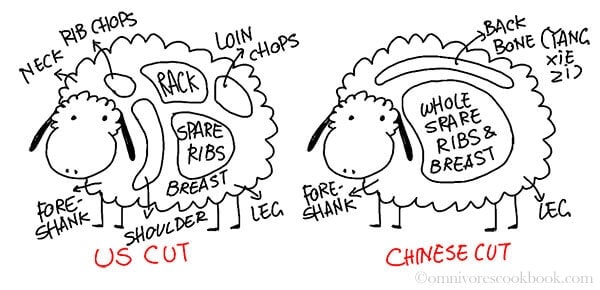 For lamb spare ribs, the most common home cooking method is a stew or braised dish. The whole piece is just too huge and the meat is quite thick and tough. However, I found a great way to roast the whole piece in the oven, and the result was great.
Cooking alert! Making this is quite messy and you should expect your kitchen counter and hands to get very greasy. But believe me, it's totally worth it!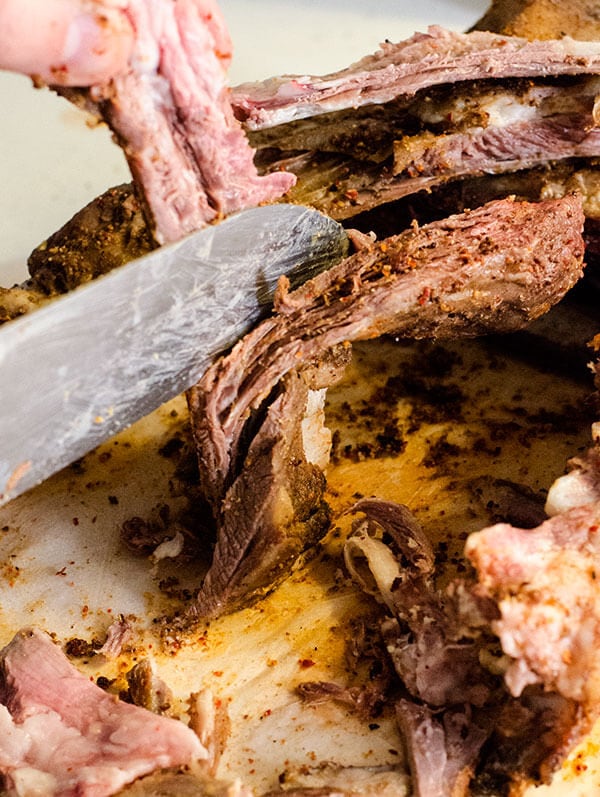 To cook this recipe, I did a lot of research online and learned the tips and tricks from various recipes. Here are a few tips.
Use the whole piece of spare ribs without splitting it, so the meat won't dry out in the oven.
Make sure you marinate the lamb for enough time.
Transfer the lamb from the fridge and let it return to room temperature before roasting.
Carefully peel of the plastic wrap off and throw it away! Believe it or not, I almost forgot to do this before putting the lamb in the oven. Oopsy!
Rub a thick layer of spices onto the lamb for marinating, and again in the middle of roasting.
Roast the lamb first in aluminum foil at low temperature until tender, and then without the foil at high temperature to get a crispy surface.
Slice the meat from the bone into smaller pieces before serving (skip this and eat with your hands if you want it the authentic way!).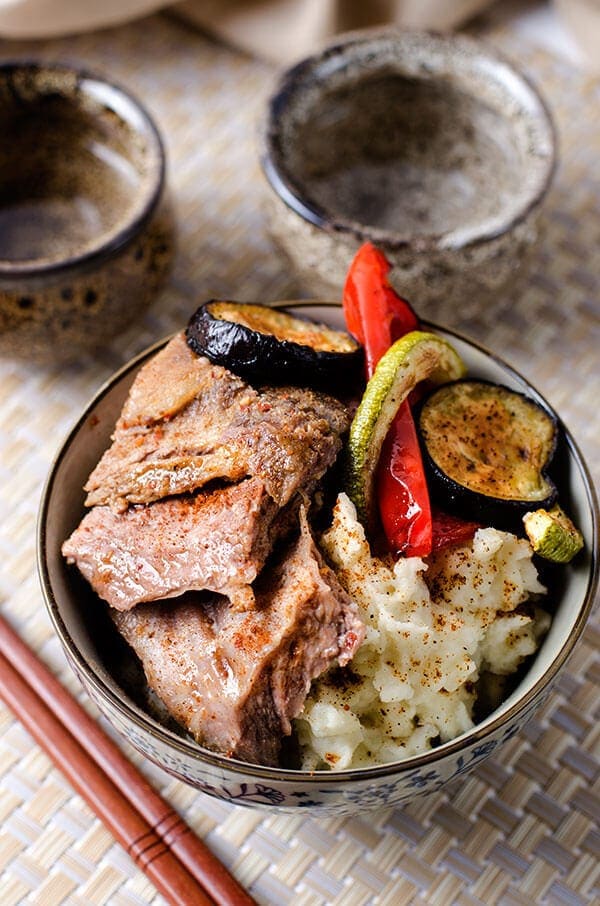 Want to Know More?
Receive our 5-Day Chinese Cooking Crash Course & Recipe Updates! Subscribe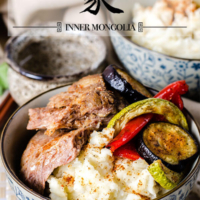 Mongolian Roasted Lamb Spare Ribs
Ingredients
1

onion

sliced

4

tablespoons

cumin powder

4

tablespoons

chili flakes

1

tablespoon

soy sauce

1

tablespoon

Shaoxing wine

1.5

kilograms

3 pounds lamb spare ribs (contains rack and bone-in breast)

sea salt

10

cloves

garlic

coarsely sliced

2

thumbs ginger

sliced

1/2

teaspoon

black pepper
Instructions
Combine onion, 2 tablespoons cumin powder and 2 tablespoons chili flakes in a large bowl. Add soy sauce and Shaoxing wine. Mix well until the onion is evenly coated with spices.

Place lamb on a large working surface, meat side up. Grind a generous amount of sea salt over the top side of the lamb and rub to season.

Spread plastic wrap on a working surface without cutting it, a bit larger than the size of the lamb breast. Spread half of the onion, garlic and ginger evenly over the plastic wrap and place lamb on top of onion, meat side down.

Grind sea salt over the bone side of the lamb and pat several times to let salt absorb well. Spread the rest of the onion, ginger, and garlic evenly over the lamb, taking care to not leave any inch of the lamb uncovered.

Wrap lamb in several layers of plastic wrap, until every inch of the lamb is covered well. Place in a large plastic bag and seal with a clip (or in a large tray sealed with plastic wrap). Marinate in fridge for 24 hours.

Transfer the lamb from fridge to kitchen counter and let it return to room temperature before roasting, at least for 1 hour.

Preheat oven to 190 degrees C (370 F).

Spread aluminum foil over a baking tray, shiny side up (*see footnote). Unwrap lamb and discard the plastic wrap (be careful not to leave any piece of plastic wrap on the lamb). Transfer the lamb, and all the onion, garlic and ginger to the foil. Wrap the lamb in several layers of foil until the lamb is fully covered, shiny side facing inward. Bake at 190 degrees C (370 F) for 50 minutes.

Transfer lamb to kitchen counter and allow it to cool down a bit until you can handle the foil.

Increase the oven temperature to 220 degrees C (430 F).

Mix the remaining 2 tablespoons cumin powder and chili flakes in a small bowl.

Unwrap foil carefully with tongs. Remove the onion and discard it. Sprinkle half of the cumin and chili mixture evenly over the lamb.

Carefully flip the lamp and place it on a roasting rack, and spread the remaining cumin and chili mixture on the other side.

Bake on the middle rack at 220 degrees C (430 F) for 20 minutes, until the lamb is cooked through and the surface is nicely charred.

Transfer lamb to kitchen counter and allow to cool until you can handle the lamb, about 15 minutes. Split the ribs and slice meat into thin slices.

Serve warm as a main over rice or mashed potato.
The nutrition facts are calculated based on 1 of the 6 servings generated from this recipe.