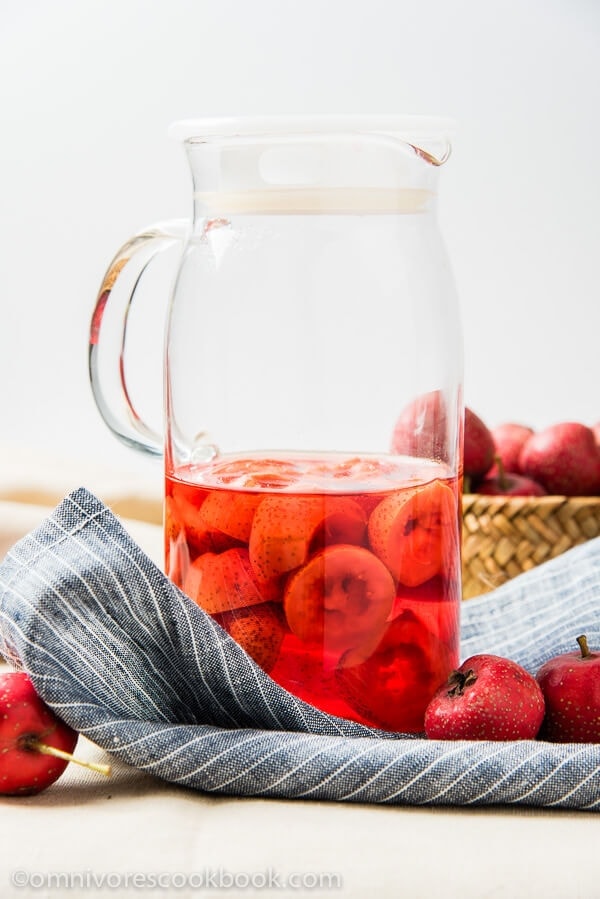 Hawthorn berry juice with fruit is a healthy treat in the winter. The juice is so rich, sweet, and fruity in flavor. The hawthorn berries are soft and tart. This combination makes a refreshing dessert after a heavy meal.
Enjoying hawthorn berry desserts is an important winter pastime in northern China. In this part of the country, the variety of winter fruits is extremely limited. So hawthorn berry comes in handy, because it can be stored for months without any problem. In my family, we have a family secret recipe to enjoy hawthorn berries and juice, that I want to introduce today.
Compared with an apple, a hawthorn fruit has a stronger and fruitier flavor, similar to that of other berries. The finished hawthorn juice has a color and flavor resembling that of cranberry juice, and freshly made hawthorn juice only tastes better.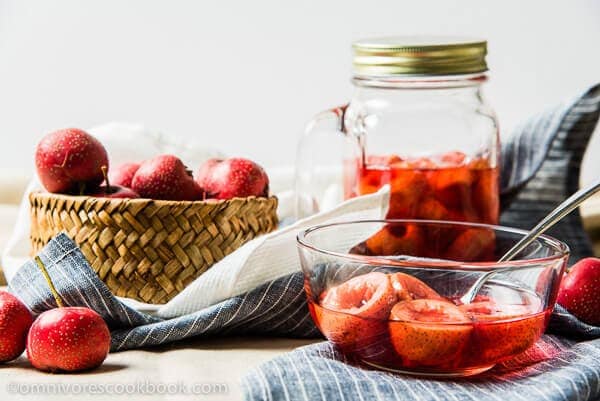 If you add enough hawthorn berries, like in this recipe, the juice will be quite thick and rich. So instead of drinking the juice and discarding the fruit, we serve them in a small bowl and enjoy them together as a dessert. The hawthorn berries are quite sour by themselves, but after being heated and soaked in sugar water, their astringency disappears and the berries taste far less sour.
I especially enjoy serving chilled hawthorn juice with the berries after a heavy meal. The sweet and sour juice helps digestion and is quite refreshing.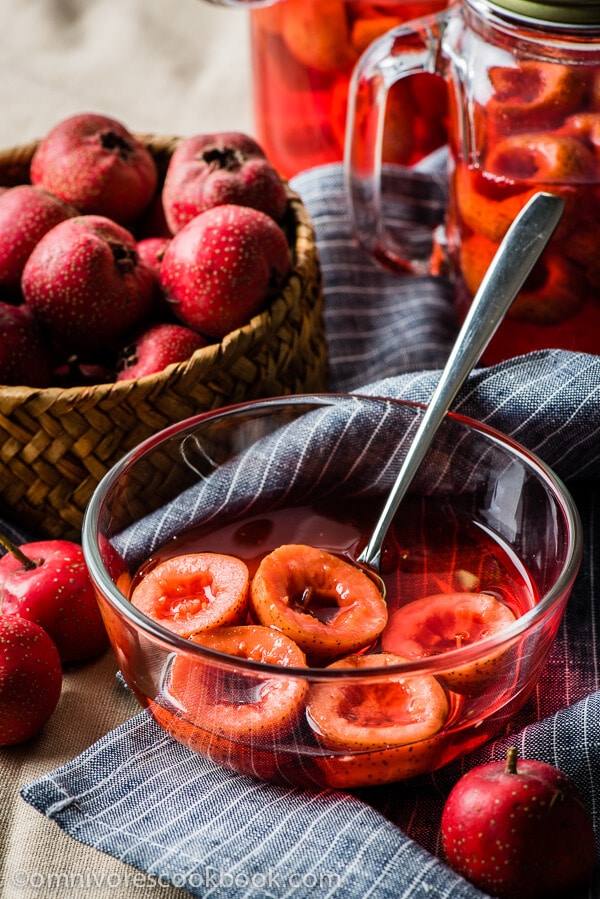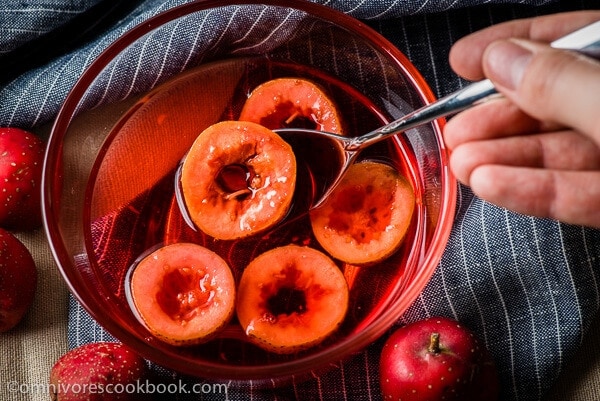 What is hawthorn fruit?
Chinese hawthorn berry, or the fruit of the crataegus pinnatifida (山楂, shan zha; 红果, hongguo), is a small bright red fruit that resembles a crabapple. It is about 1 inch (3 centimeters) in diameter, has a smooth, dark red surface, and a white interior that is creamy and less juicy than that of an apple. The fresh fruit has a tart and astringent flavor such that it is not especially tasty if eaten raw. So it is usually processed into snacks and desserts. One of the most famous Chinese desserts is tanghulu (糖葫芦) – candied hawthorn berries.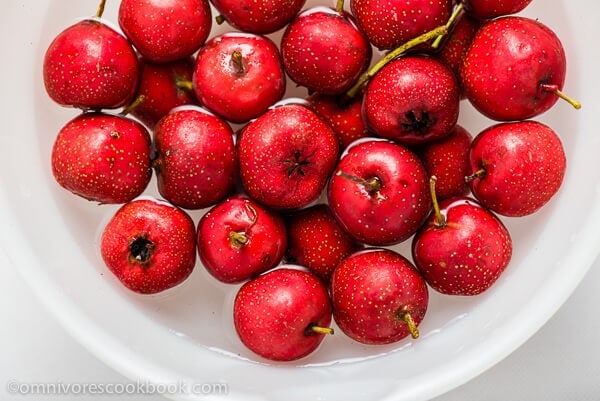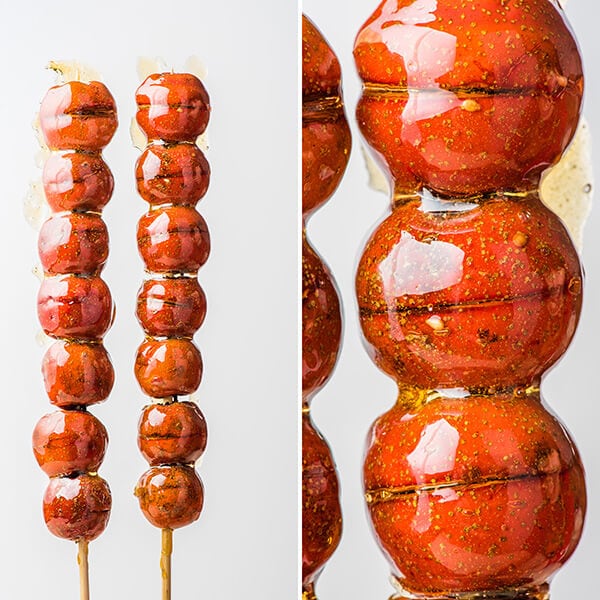 Hawthorn berries have massive health benefits, such as treatment of heart disease, regulating  high and low blood pressure, improving the digestive system, and lowering cholesterol (according to WebMD, anyway). If you are using it as treatment and looking for a way to work it into your diet, this hawthorn juice recipe will be a great addition to your collection.
In my family, we've never considered this dish to be medicinal, but rather just a healthy dessert. We really enjoy the great flavor of the homemade juice, which tastes better than any bottled juice from the supermarket. It is really easy to make in large batches and it lasts a few months if you store it properly. My mom usually makes a huge pot of hawthorn juice that can last us one to two months (it can be stored longer but we always finish it before it goes bad).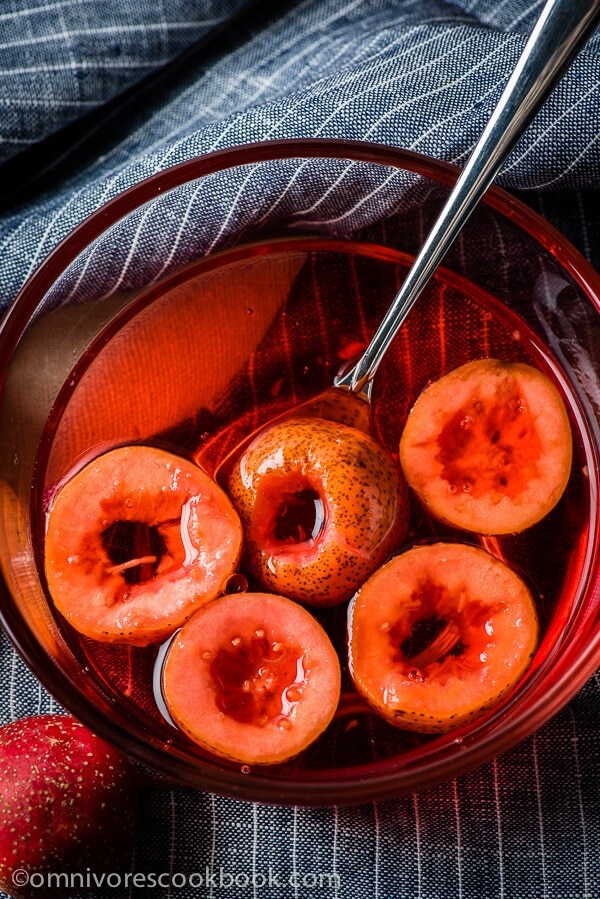 Last week, we just made a new batch, while fresh hawthorn berries were still available at the market. We know we will need this refreshing dessert after overindulging in meat and protein during the coming Chinese New Year!
I made a short video to show you how easy it is to cook this beautiful hawthorn juice. If you like the video, don't forget to check out my YouTube channel! I have a collection of cooking videos that walk you through the delicious recipes at Omnivore's Cookbook. It is one of the fastest ways for you to get used to the techniques that are used in Chinese cooking!
Want to Know More?
Receive our 5-Day Chinese Cooking Crash Course & Recipe Updates! Subscribe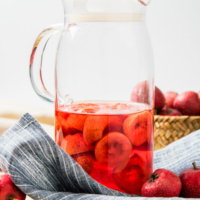 Hawthorn Berry Juice
Ingredients
1.2

kilograms

2.6 pounds fresh hawthorn berries

1/2

teaspoon

salt

200

grams

7 ounces rock sugar
Instructions
Add hawthorn berries into a large pot and rinse several times with tap water.

Add water to cover the hawthorn berries. Sprinkle salt over the water and mix well. Let sit for 5 to 10 minutes, in order to clean the fruit thoroughly.

Rinse with tap water again. Transfer to a colander to drain. Set aside until the berries are dry.

To prepare hawthorn berries, use a knife to cut the fruit in half against the seed. Hold each piece of the fruit with both hands and gently squeeze and pull until the fruit separates in half. Use the knife to gently pry the seed out. Use the knife to cut off the tough end of the bottom. Set aside and prepare the rest of the hawthorn berries in the same way.

(Optional) If you are using multi-crystal rock sugar, the sugar might come in large chunks. To break it into small pieces (so they dissolve better), place rock sugar into a paper (or plastic) bag and hit it with a small hammer (or the back of a cleaver).

Transfer all the hawthorn berries to a large pot. Spread rock sugar on top.

Bring 1.4 liter (1.5 quarts) water to a boil. Let it cool for 5 to 10 minutes.

Pour the hot water over hawthorn berries and give it a quick stir with a ladle. Cover and place the pot in a cool place for 24 hours (or place in the fridge after it cools enough to do so).

When the hawthorn juice is ready the next day, use a ladle to mix again. Transfer the juice and hawthorn berries into clean airtight jars (you can refer to this article about how to sterilize jars).
About storage
I don't often sterilize jars, because my family generally consumes the juice within a few weeks. Using clean jars that are washed with dish detergent and air dried, I can store the hawthorn juice (with fruit) in the fridge for up to 2 months without any problem.

Shelf life varies and you should always judge the juice based on its color and smell. If the juice starts to lose its transparency or there is white mold on the hawthorn berries, you should discard the whole jar of juice. If you open a jar and don't finish the drink, you should consume it as soon as possible, within a week.