Maltose (麦芽糖, mài yá táng), also known as maltose syrup, is a super thick syrup that's commonly used in traditional Chinese cooking. It is the secret ingredient that gives char siu its beautiful glossy look. It is often used in processing caramel sauces, candy and jello, juice drinks, wine, dairy products, beer, canned goods, soy sauce, bean pastes and other condiments. It's in almost everything you can think of.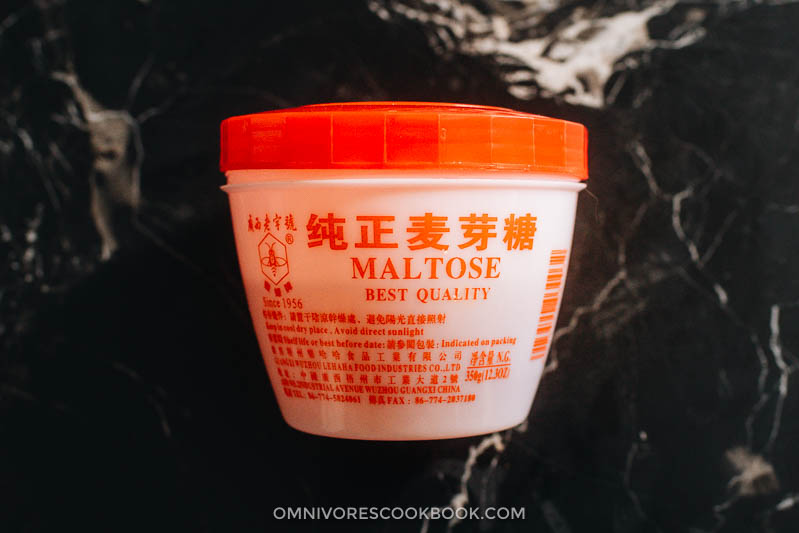 Understand
Maltose or malt sugar is produced in germinating grains such as wheat, corn and rice. Thus foods like cereals, certain fruits and sweet potatoes contain naturally high amounts of this sugar. Its making and use in China goes as far back as the Shang dynasty.
This glucose substance exists as a golden-colored syrup, which has a sweet taste, but is only about 30-60% as sweet as sugar, depending on the concentration. Maltose has different concentration levels, with 60% or less being normal maltose syrup, and anything above being high-maltose. Be aware that it has a very high glycemic index of 105, making it unsuitable for diabetics.
At room temperature, it's ten times thicker than your regular syrup: it won't fall from the cup if you turn it upside down. If you dig your spoon into it, it will feel tough and difficult to stir. It will become more runny once heated up, but still quite sticky.
It does a good job of preventing crystallization in other sugars, so it's often used in making jams and jell-os. It also has the capacity of extending the shelf-life of many foods it's added to, as well as having a low freezing point. It has good fermentability, so is widely used in the production of bread, cake and beer.
Plus, it's much better for your teeth than normal white sugar!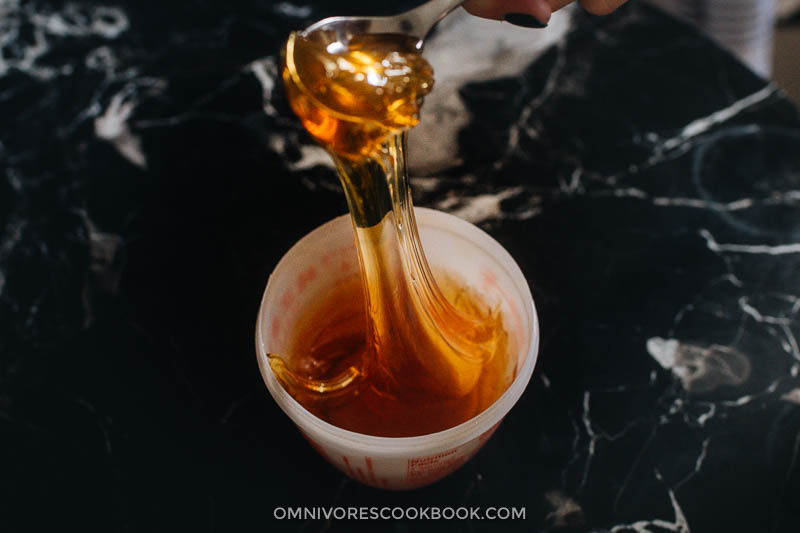 Use
Because of its thick consistency, maltose syrup gives BBQ pork a better glaze that sticks to the surface than most other kinds of syrup. It's an essential ingredient for the glaze on Char Siu Pork, the Cantonese dish that is famous for its sweet, sticky sauce and signature shiny red texture.
It is also popularly used for dishes such as sticky rice, Beijing roast duck, and mooncakes. In Southern China, Taiwan, Hong Kong and Macau, maltose is a common ingredient in confectionery. The most common way is to put a layer of maltose inside two pieces of biscuits (usually crackers).
To use maltose syrup, microwave in the jar for 20 seconds to soften, otherwise it's very hard to measure the correct amount. Once heated, the syrup gets extremely hot. Avoid touching the hot sugar with your hand.
A quick tip: coat your measuring spoon with a thin layer of oil before scooping out the maltose. The syrup will fall from the spoon much easier.
If you don't want to use maltose, you can use honey or caramelized brown sugar to replace it. The coating will not stick as well, but it will still taste sweet.
Buy
Maltose is available for purchase as a syrup (sold in small tubs) or a powder (in boxes). In China, vendors sell maltose 'lollipops' and fruits glazed with maltose solution.
These days you can easily get maltose syrup on Amazon, although you can get a jar under 2 dollars if you visit your local Asian market.
Store
The recommended storage temperature range for maltose is between 110 – 130°F. Given its longevity, it can last a really long time, even after it's been opened. But syrups stored for extended periods (over 6 months) should be checked periodically before use.