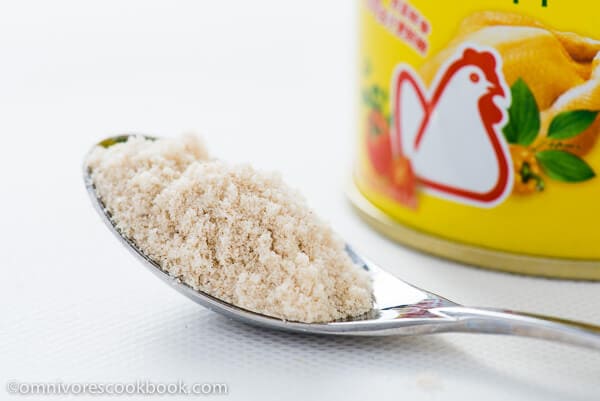 Chicken Bouillon Powder (鸡精, ji jing) is a pale yellow powdery seasoning that is salty and has a concentrated chicken broth flavor. Different from the cubed chicken bouillon stock, Asian brands of chicken bouillon powder often contain MSG, along with dehydrated meat stock.
Use
Chicken bouillon powder is a flavor enhancer that is widely used in preparing simple Chinese dishes, including salad, soup, and stir-fry. Although homemade chicken stock has a far superior flavor and is healthier, chicken powder is more convenient in everyday cooking and provides a quick way to enhance the flavor of quick stir fried dishes. Example include, ham fried rice, broccoli bacon stir-fry, moo shu pork and shrimp fried noodles.
If you prefer not to use ingredients that contain MSG, you can always replace chicken bouillon with salt. Be aware, however, that chicken bouillon is already 50% to 70% salt, so you should generally replace 1 teaspoon chicken bouillon with 1/2 to 1/4 teaspoon salt, or to taste.
Buy
You can find Asian style chicken bouillon powder on Amazon or at an Asian supermarket.
Store
Once opened, chicken bouillon powder can be stored in an airtight container in a cool, dry place for up to a year.