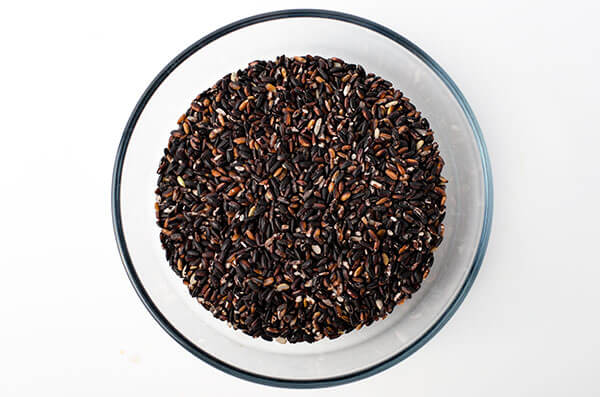 Black rice (紫米, zi mi, lit. "purple rice") is a type of glutinous rice. A grain of black rice has the shape of a date seed and is longer than white rice. The raw grain has an opaque dark brown surface, which turns deep purple when cooked. It contains as much as fiber as brown rice and has a similar texture to glutinous rice. The cooked rice has a spongy and sticky texture with a nutty flavor.
Usage
Black rice is commonly used in Chinese and Southeast Asian cuisines. In China, people like to blend black rice into white rice to make a richer steamed rice. Black rice is also used to cook eight treasures porridge/steamed rice (八宝饭) and black rice cake (紫米糕). In Thai cuisine, steamed black rice can be served with coconut milk as a dessert. Ground black rice flour can be also used in making steamed buns and popsicles.
To cook
Rinse black rice with tap water 2 to 3 times and drain
(optional) soak black rice in cold water for 4 hours to overnight
Cook black rice with a rice cooker or boil black rice in a normal pot (rice water ratio 1: 2)
Black rice is chewier in texture than white rice. If you want the cooked rice to have a tender and moist texture, you should always pre-soak the rice before cooking. On the other hand, if you like a spongy and chewy texture (like that of authentic Italian risotto), you should steam black rice directly without pre-soaking, or reduce the soaking time to 1 hour.
To buy
You can find black rice in Chinese and Asian markets. You can also easily find it on Amazon and other online shops.
Recipe