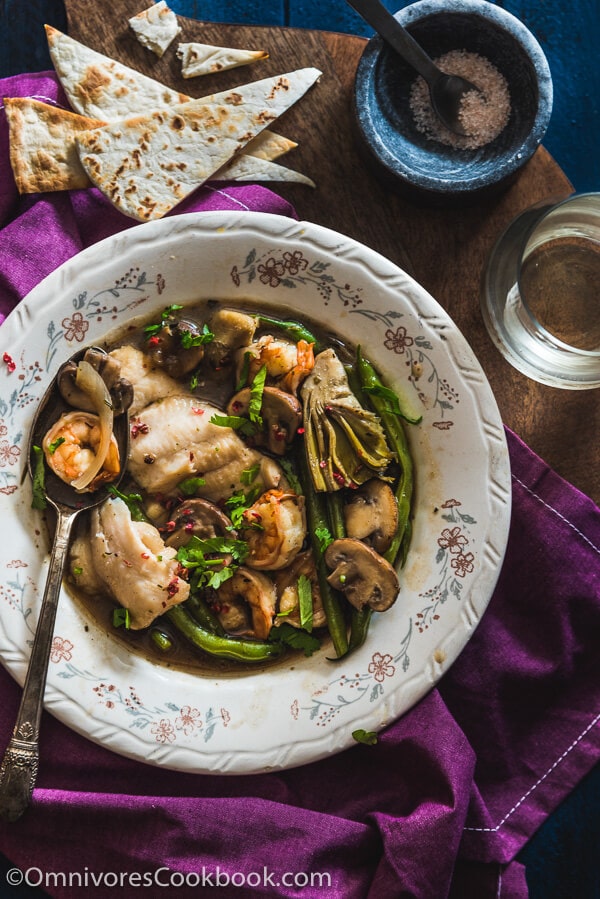 This mushroom seafood stew is packed with lean protein and vegetables. A hearty weekday meal that you can have ready in under 30 minutes!
My husband and I love seafood. We usually cook it in a healthy way, but we also do a lot of things to make our dishes tastier. To make our seafood stew extra rich, we sometimes stir fry some bacon from the beginning and finish up the broth by adding heavy cream. Of course it yields great results. But when we're cooking it more than once a week, we find ways to reduce the fat content in the dish.
Today I want to share this mushroom seafood stew with you.  It uses Asian cooking techniques and flavors to make the seafood stew creamy and extra rich in flavor, without adding bacon or heavy cream.
3 Tricks to make a seafood stew even healthier
Marinate the shrimp and fish in Japanese sake, soy sauce, and potato starch. The wine and soy sauce enhance the nice umami of the seafood. The cornstarch prevents them from becoming overcooked. When you add the seafood into the stew, the potato starch will thicken the broth. So you get a creamy texture without using heavy cream.
Add extra mushrooms and artichokes. They become a part of the essence of the broth.
Mix curry powder into the broth as a subtle flavor. You can barely taste it in the end, but it makes the stew extra flavorful.
We chose Australis Barramundi (Asian sea bass) to cook this stew. It contains extra lean protein and only half the calories of salmon. This frozen fish is produced by Australis Aquaculture, a brand I discovered recently. It is a farmed sea bass, but is raised without antibiotics, hormones, or colorants.
I love the fact that the quality of the fish is as good as a fresh one, but lower in price. The fish is mild and has a buttery taste. The texture is firm and meaty. You can find it at Whole Foods, Costco, HEB, and Central Market, at $7 to $8 per pound. A bag usually contains 3 fillets. By adding a bit of veggies, you can easily make a meal for four.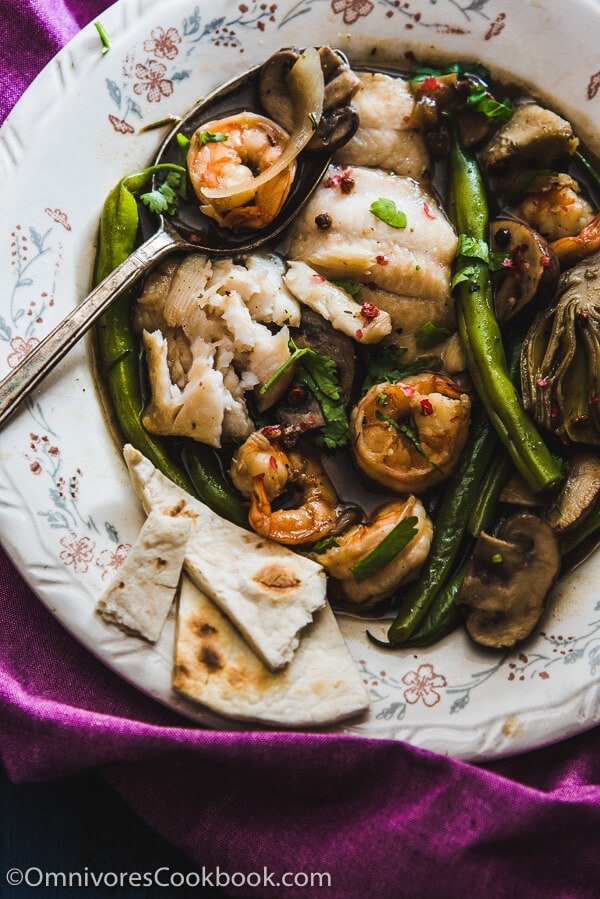 Join us to celebrate #BarraMonday and promote sustainable seafood by cooking this delicious stew for dinner!

Mushroom Seafood Stew
Ingredients
Seafood
Stew
2 tablespoons olive oil
2 tablespoons minced garlic
1/4 onion, thinly sliced
220 grams (1/2 pound) green beans
220 grams (1/2 pound) mushrooms, sliced
120 grams (4 ounces) canned artichoke hearts, drained and sliced
2 cups mushroom broth (or chicken broth, or water)
1/2 teaspoon dried marjoram
1/2 teaspoon dried tarragon
1/2 teaspoon dried thyme
1/2 teaspoon garam masala powder
Salt to taste
Instructions
Place sea bass fillets and shrimp onto a plate. Mix Japanese sake, soy sauce, and potato starch (or cornstarch) in a bowl until fully incorporated. Pour over the seafood and gently mix by hand. Let marinate for 10 to 15 minutes.

Heat olive oil in a dutch oven (or a skillet large enough for stew) over medium heat until warm. Add garlic and onion. Cook and stir until tender.
Add green beans. Cook for 4 to 5 minutes.

Add mushrooms and artichokes. Cook and stir until the beans turn soft, 4 to 5 minutes.
Add broth, dried marjoram, tarragon, thyme, and garam masala. Cook until boiling.

Add seafood, along with all the liquid, into the pot. Let simmer until the seafood is just cooked through, 2 to 3 minutes.
Adjust seasoning with salt. Gently mix the broth with a spatula. Be careful not to overcook the fish, or it will fall apart.

Serve warm as main.
The nutrition facts are calculated based on 1 of the 4 servings generated by this recipe.